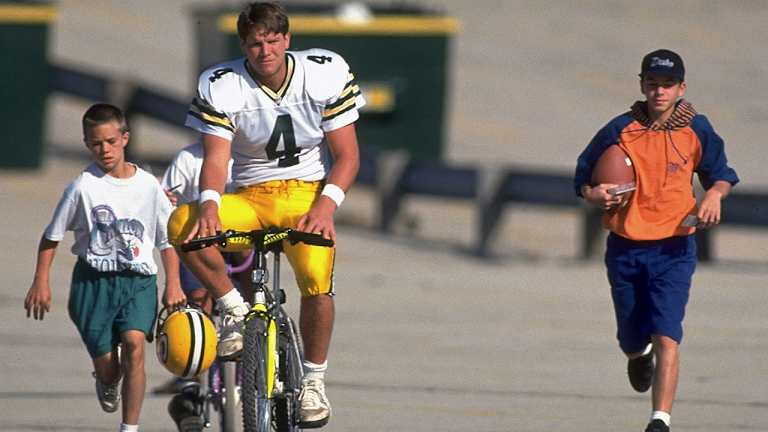 Say Cheese
The heart of dairyland revealed itself to the author during his tour last summer of the NFL's five north woods training camps
Searching for large men in the heartland...Pie Cheese...Natural air conditioning
I was somewhere past Shakopee on the edge of the Minnesota River, headed toward Mankato and the start of the Cheese League, when I saw the sign: KARAOKE—THURSDAY NIGHT. A good sign, I felt. Even out here in the darkening Minnesota farmland, an eerie terrain to a soul more accustomed to the pulsing grid of suburbia, it said that we are a community bound by shared yearnings. Tomorrow night I could drive to the little town of Chaska, stop at the advertised roadhouse and sing Elvis tunes to canned music with dairymen and their people in a custom invented by the Japanese. I was comforted.
I continued down Minnesota Route 41 and crossed' the river to 169 South. I passed the town of Jordan and thought of Michael, the Chicago Bull who would soon be a Birmingham Baron. Jordan could buy the sky-blue water tower and put it in his yard, a trophy to rival his own ambitions. And wouldn't he like this billboard: DISCOVER GERMANY IN NEW ULM?
I was hungry. I stopped at a roadside restaurant called Emma Krumbee's, because it had a picture of a cheery, aproned lady on its sign, and because it boasted of an apple orchard, a bakery and 12 kinds of pies. I ordered apple.
"Coffee?" asked the waitress.
"Please," I said.
"Ice cream?"
"Oh, sure."
Then she looked up from her pad, seeming to test me.
"Cheese?" she said.
I didn't hesitate. "Absolutely," I replied.
The Cheese League started, more or less, when the Chicago Bears moved their preseason training camp to the University of Wisconsin-Platteville in the summer of 1984. Mike Ditka, the Bear coach at the time, liked the idea of getting away from such urban blight as fans, writers and girlfriends and reveling in the tranquil air of a southwestern Wisconsin hamlet. Platteville (pop. 10,000) is 150 miles from Chicago as the crow flies, but 150 light-years away as culture flies. The Bears joined the Vikings (near the Wisconsin border in Mankato, Minn.) and the Green Bay Packers (at St. Norbert College in De Pere, Wis.) to form a triangle of NFL teams in the north woods. This was a remarkable development in a lightly populated, agrarian region where logrolling, fly tying and sausage-making are considered summer sports. When the New Orleans Saints moved their preseason camp to the University of Wisconsin-La Crosse in 1988, and the Kansas City Chiefs arrived at the University of Wisconsin-River Falls in 1991, the miracle was complete: Five NFL teams now cast their regal shadow on a geographical area renowned for milk, muskies and manure.
The governor of Wisconsin, Tommy Thompson, has rolled out the red carpet for the NFL, even traveling to the 1992 owners' meeting in Phoenix to sing the praises of his state. Wisconsin has great university facilities, friendly people and, most important, "natural air conditioning," said the governor. One leaflet in the current Cheese League information kit, distributed by the Wisconsin Sports Authority, states, "Wanted: More NFL Teams." California is the only other state that hosts four NFL training camps, but California cannot offer such amenities as beer-cheese soup and fish boils. And what do the NFL teams bring to Wisconsin? Recognition, people, money. Not necessarily in that order. When Thompson took office in 1987, tourism was the fifth-largest industry in the state. Now it is second, with gross revenues of $5 billion last year. The NFL camps bring in fans who spend an estimated $9 million in the local communities, while making a pleasant but historically hokey state (visit Mt. Sterling, says the Wisconsin tourism guide, for the goat cheese) seem hip. "We think we can offer football many of the same things [Phoenix] offers baseball in the spring," Sports Authority president Joe Sweeney told NFL owners last year.
The Cactus League. The Grapefruit League. The Cheese League? Well, Wisconsin is the Dairy State. And it's too late to switch to a more dignified title, because the T-shirts are already out there, the ones that say CHEESE LEAGUE and show mice in NFL helmets framed against a Wisconsin-shaped slab of Swiss cheese.
If you think about it, as I find myself doing while sailing past turnoffs to New Prague and New Sweden (the poor man's Europe?), Cheese League wouldn't be a bad name for a group of baseball teams. The High Cheese League. (A pitchers' league.) The Cheese and Taters League. (Pitchers and power hitters.) But I think of my buddy's tale, of how the cheese appellation fits the nastiness of pro football best of all. My buddy is a Wisconsin native, and one day he was visiting an elderly farm woman for some business purpose or other, admiring her stone cheese house near Sun Prairie, filled as it was with cool wheels of Wisconsin's finest. "If there were a nuclear exchange," he said in appreciation, "you could live in here."
The lady looked dubious, then downright offended. "Shoot," she replied. "And you'd be all bound up!"
A curious hobo...The Albatross...The last limo ride...
What does that cardboard sign say? MANKATO IF YOU PLEASE. The old guy holding it does not look dangerous. Rather he looks bemused. A backpack, a bedroll, hiking boots, an engineer's hat. The sun is starting to set. Mankato is just 15 miles away. I see the geezer receding in my rearview mirror. A mile down the road I turn around and head back. The old guy has walked across the deserted two-lane highway and has started to make his way into the green leafiness that precedes the forest on the east side of the road.
"Want a lift?" I yell.
The man slowly turns around and walks toward my car.
"Why, thank you," he says, carefully placing his gear in the backseat. He looks me over, and I him. He's small, wiry, gray-bearded.
"As you can see, I'm bound for Mankato," he says as we head south.
"What were you doing over there?" I ask. "By the trees."
"I was wondering if there were a river nearby," he says. "Do you know?"
Yes, there is one, I tell him, a meandering, swollen one. What was he going to do if he found it?
"Look at it," he replies. "I'm a curious fellow."
In 20 minutes we've arrived in Mankato, and I ask my guest—who is 76 years old and was born John Francis O'Connor in New Haven but goes by the name Sidedoor Pullman Kid—if he wants to settle the dust while I find out where the Vikings are located. He says that's fine with him. He more or less hails from Phoenix these days, where he keeps a tiny apartment paid for with Social Security checks, but his real address is a boxcar moving somewhere down the track. He's a career hobo, he says. Not a bum. A restless soul. Do not make that mistake, he says. A bum is a bum. A hobo will work if he needs to. He hitchhikes, he adds, only when he has made a "mistake." He should have taken the Sioux Line to Mason City, Iowa, somewhere back there. No big deal. He's on his way to the National Hobo Convention in Britt, Iowa, but it's not for three weeks yet. Minnesota and Wisconsin are beautiful states, he says, good for observing and riding through. "I hear the old steam whistle of one of them big boys, a Union Pacific 16-wheeler coming out of Cheyenne...." His blue eyes cloud up. "I get so passionate, I cry."
Where do you hear a steam whistle these days? I ask.
"On tape."
We grab a beer in a pub called T.J. Finnegan's in the heart of the small town, and I learn that the Vikings are up the hill behind us, checking in at one of the Mankato State dorms. Today is the first day of camp. New quarterback Jim McMahon has the locals abuzz.
I ask Sidedoor if he has heard of McMahon.
He sips his beer and thinks. "I believe so," he says. "A fine gentleman. He appears to be pretty sure of himself. As am I."
Sidedoor accompanies me to the university, where we find that the Vikings are already deep into meetings and will have no time to talk before the 10:30 curfew.
We drift across the street to the Albatross Bar, a college hangout, where the fellow at the door tells us that McMahon and tight end Mike Tice have already made a brief appearance. "But they have drug-testing tomorrow," he notes. I leave Sidedoor at the bar and go back to the dorm.
Viking publicist Dave Pelletier and I sit by the elevator and watch as players trickle in. Pelletier had been the assistant p.r. man with the Dallas Cowboys for 11 years, and he's used to training camps being hot. It's 65° now. "This is not Austin," he says.
A tree frog hops across the tile floor. Veteran tight end Steve Jordan walks in carrying a cooler, avoiding the tiny animal. Jordan is wearing shorts, sandals and a tuxedo T-shirt. He came to camp, as he has the last few years, in a stretch limousine driven by a liveried chauffeur. Already he looks weary. "They say there are only two times you ride in a big Cadillac," he says. "Coming in and going out."
Running back Terry Allen waits with a group of players for the elevator. He spots Pelletier. "I'm not talking to that guy anymore," Allen says angrily to Pelletier. "What's his name, that writer. Lenihan. He printed my salary and all that. No more." He looks at Pelletier. "No more."
The elevator takes the group away. The Vikings haven't even practiced yet.
"Lenihan got it from Allen's agent," says Pelletier with a sigh.
I find Sidedoor still on his stool at the Albatross, mesmerized by the activities of several female students playing electronic darts. We drive back down the hill, through a darkness resonant with the chirrups of crickets, katydids and peepers. We drive through the motionless town, past Cherry Street, past Plum Street, with Sidedoor peering all about. "Aha!" he says at once. "What have we here?"
It is a grain elevator, and nearby is a small train yard. "A place to slumber," says Sidedoor. "At the convention they have a Milwaukee Road boxcar for us, and about 10 of us bed down there. This will suit me."
I stop the car and we shake hands. I notice he has a tattoo of the Cracker Jack sailor on his right forearm. "Merchant marines," he says, noticing. He assembles his gear. "You give that boy Torretta my regards," he says. The 1992 Heisman Trophy winner and a rookie quarterback in the Viking camp, Gino Torretta was the only name Sidedoor could place in the entire world of football. Other than McMahon.
"In Phoenix we have a basketball team called the Suns," he says. "And I do know Majerle made eight three-pointers in one game. Our buses were painted, GO SUNS! That was a riled-up city."
He salutes me graciously, and then he is gone. I retire to the Holiday Inn, where I read in the paper that Viking backup quarterback Rich Gannon is unhappy about his position on the team and wants to be traded. And practice hasn't even started yet.
No place to hide...Transfusions..."Big farm boys"...Old Joe...
Only six NFL teams train in a state other than the one they call home, and Wisconsin has three of those teams. Rumor has it that the Tampa Bay Buccaneers and the Jacksonville Jaguars are considering cheesing it to Wisconsin to beat the Florida heat; and if a new team ever is awarded to St. Louis, Wisconsin thinks it will be able to snare those folks, too. Cheese Leaguers not only have pleasant surroundings in which to work; they also can get together easily for interteam scrimmages. With the reduced NFL team rosters—there are no more 150-man camps—sometimes it's nice just to have other bodies to beat on. And no one need be concerned that the tranquillity of the land might soften up a team. "There's no place to hide now!" screeched Viking defensive line coach John Teerlinck in this morning's paper. "Don't lend anyone any money or marry their sister. It's time to knock each other around and produce some blood."
Near the football fields at Mankato the first spectators quietly watch the players walk across the street, keeping their distance except for the occasional child who bolts forward to ask shyly for an autograph.
"In Austin they yell so loud you can't hear," says Pelletier. "People are so polite here you don't even need ropes."
"They're just courteous," agrees wide receiver Cris Carter, stopping to adjust his pads, wondering if the pleasantness exists because there is no large city nearby or because of the temperate climate. "Basically, this is a piece of cake. I remember in Philly in 1989, it was so hot we got IVs in the dorm after every practice. Only thing you have to worry about here are the mosquitoes. They call them the state birds."
Torretta, late of the University of Miami, is stunned by the 73-degree weather. "This is 10 times nicer than what I'm used to," he says. "We scheduled all our home games in Miami at noon in the Orange Bowl. The northern teams would come down and die."
So does he give a big thumbs-up to the Cheese League?
He looks quizzical.
"What's the Cheese League?" he asks.
No, it's not a big deal yet, this pentagonal arrangement of massive summer campers way up here, and the name is unknown even to some of the participants. But the aroma will spread. Why not vacation here? Bring the kids. Buy a hamburger, see a hamburger drill. Vacationers are always looking for local color. Here's a headline in today's St. Paul Pioneer Press: BEWARE OF SQUIRREL-EATING MUSKIES! You won't find that everywhere.
Driving down Hickory Street in Mankato at noon, who should I see but the Sidedoor Pullman Kid, walking and eating a sandwich. "I have the lay of the land now," he says. I ask him if he would like to see the Vikings' afternoon practice, and before I know it, we're together again.
Sidedoor watches coach Dennis Green lumber out to the sidelines, silently appraising the fellow who has grown large with success. He watches the first players arrive and begin loosening up.
"Big farm boys," he states. "How old is Torretta? Twenty-four? I got suede shoes older'n him."
Torretta himself scurries toward the field, stopping to chat briefly with Sidedoor, who has offered his hand in a gesture of kindness, as though the two are bunkmates or frat brothers. Sidedoor starts to tell the quarterback about the joys of freight-hopping. But there isn't much time, and the quarterback pats the hobo on his back, looks worriedly toward the field and dashes off. "A nice guy," says the old man thoughtfully. "Just needs to keep smiling."
It's time to leave. The Cheese League camps are opening like flowers, one after the other, and I have to be back in Wisconsin, in River Falls, tonight for the arrival of the Chiefs. Where docs Sidedoor want to go?
He shrugs. "It's all pretty," he says. "Down the road?"
Rolling Minnesota farm country passes us by. Trout streams. Ponds, bogs, lakes. "Ten thousand lakes," says Sidedoor, correctly.
Ten miles east of Elysian, just before the Wisconsin border, we stop to take a dip in Cannon Lake. I swim and Sidedoor bathes, washing his socks, brushing his teeth in the cool water. I tell him he's the first hobo I've seen who has sunscreen in his pack. He informs me that he is health conscious, that, in fact, he's recovering from a recent bout with prostate cancer. "The doctor said, 'Get up on this table and let me see what you're made of.' Then he asked me when I was going to settle down, and I said, 'At age 80.' "
We come to the town of Northfield, and I ask Sidedoor why I have heard of this place before. "It could be that Jesse James passed through," he says. Of course, I reply. We get a hamburger and a Pig's Eye beer at Grundy's Corner Bar across from the very bank that James and his buddies tried to loot in 1876. We offer a toast. "To Jesse, Frank and those Younger boys," says Sidedoor.
Less than an hour later we're in the lovely village of River Falls (pop. 9,200), where every light pole on Main Street carries a banner stating WELCOME TO RIVER FALLS, SUMMER HOME OF THE KANSAS CITY CHIEFS. A large sign in a store window says SUCKER MINNOWS; a first-run movie is showing for $2 at the tiny theater; and beer costs less than a dollar a glass at any bar in town. "Nice town," says Sidedoor. "No railroads, though."
I get him a room at the Motel River Falls for $24, and he almost faints. "Oh," he says. "Really."
The Chiefs fly from Kansas City to Minneapolis and then bus the 30 miles to River Falls. Thus, most of the players don't have wheels for getting around town. In 1991, the first year the team was in River Falls, players bought motor scooters "from a guy who was unloading them right off a truck," recalls Chief publicist Bob Moore. But after linebacker Percy Snow broke his ankle in a scooter crash that year, the vehicles were banned by coach Marty Schottenheimer.
Now players, such as linebacker Dino Hackett, rent cars at whatever local rates they can get, or they buy junkers they hope will last four weeks. "One year Tracy Rogers and Mike Dyal bought an old truck, painted it and named it the War Wagon," recalls Hackett, who feels he got ripped off by the fellow who rented him a car this year. "At the end of camp they left the War Wagon in a parking lot with a note saying, 'The keys are in the glove compartment. Take it if you want.' "
But walking is pleasant enough in this town that Hackett aptly describes as "Mayberry." In Bo's 'N' Mine on Main Street the Chiefs' famous new quarterback, Joe Montana, sits with backup quarterback Dave Krieg at the end of the bar, drinking beer and chatting with locals. It's 10 p.m. and the Chiefs haven't even practiced yet. Could Montana, a three-time Super Bowl MVP, do this in many other places? And what about that drug test all players must take tomorrow? "They don't test for alcohol," says a clearly sober Montana, before leaving to make curfew.
The Chiefs' publicity staff remains at a corner table, saluting the opening of another camp. "Ask people for anything here, and they'll do it," says Moore. "Once Marty's shower at the dorm put out a pretty hard stream of water when he first came in. Somebody asked if he had any problems. He said, 'The shower's a little harsh.' The next day the whole wall was torn out."
Wisconsin is an unusual place. Glaciers carved it and northern Europeans settled it. Milwaukee has a greater percentage of citizens from a single ethnic group—German—than any other city in the nation. The little town of Hayward has a 4½-story steel and fiberglass muskie. There are more than 130,000 wild turkeys in the state. Two Rivers is the birthplace of the ice cream sundae, created in 1881. Wisconsin farm cats kill more than 28 million songbirds and 15 million rabbits a year. The polka is Wisconsinites' favorite dance. People are polite.
In the morning, all showered and slick-haired, Sidedoor says, "I'm feeling bright-eyed and bushy-tailed." We eat breakfast at a cafe in town, and I get change back from a five-dollar bill.
At the Chief camp we wait for the players to finish with their meetings. Sidedoor lounges in the grass. "Wiry and quick will beat big and slow anytime," he says after a while. "Most hobos I've seen are wiry and quick."
Montana comes out of a building and talks to the press and signs a few autographs before heading toward the cafeteria. He sees Sidedoor, conspicuous in his beard and engineer's cap, and Sidedoor reaches out to shake the quarterback's hand. A bright red scar rests on Montana's right elbow like an earthworm, the reminder of the surgery that kept him out of action for over a year and nearly finished his career.
"We thought we might have gotten you down in Phoenix," says Sidedoor. Montana smiles. "Ever hopped a freight?"
"I've tried," says the quarterback. "But the things were always going too fast."
"If it gets too much," says Sidedoor, meaning everything, gesturing at the surroundings, the lobby of the school, the coaches walking past, the parking lot, "I'll teach you."
"O.K.," says Montana. He smiles, nods at Sidedoor and moves on.
Back on the road the old man nods appreciatively. "I like his style," he says. "You can be relaxed with him. An ordinary Joe."
Stuffed animals and cheese...Little House on the Prairie...Farewell to the hobo...
We must stop. The sign says TAXIDERMY & CHEESE in big letters on a parked tractor trailer, and, well, we must stop.
Inside a building at the end of a driveway in the middle of nowhere is a room filled with animal skins and the stuffed remains of various local beasts—bear, deer, raccoons, ducks, geese, coyotes, walleye, trout, pike, even a frog—and, by god, there in a wall cooler is a wide assortment of Cloverleaf-brand cheeses. Is this how you use the entire animal?
"We stuff animals here," Rollie Koch replies with a chuckle; the owner, David Brummel, just happens to have a wife whose family runs a cheese factory in nearby Stanley.
And what is that animal there, the mounted rabbit with wings and small antlers coming out of its head?
"A flying jackelope," says Koch.
And the fish with fur?
"A foxy Northern."
I ask him what sort of snack he would recommend.
"Cheese curds travel well," he says.
In the car I hand the bag of curds to Sidedoor, finding them disturbingly squeaky when chewed. We both look out at the high bluffs of the Mississippi as we head south on Route 35 toward La Crosse.
A marker by the side of the road quotes William Cullen Bryant as saying this vista "ought to be visited in the summer by every poet and painter in the land."
In the river town of Pepin we stop to observe a shrine to Laura Ingalls Wilder, who wrote the Little House books and was born in a log cabin seven miles from here in 1867. The author, says the plaque, was stunned by her literary success: "I was amazed because I didn't know how to write. I went to little red schoolhouses all over the West and I never graduated from anything."
"I graduated from the College of Hard Knocks," says Sidedoor.
In La Crosse, a city of 50,000 with no particular charm except its location on the Mississippi, we head straight for the Heilemann's brewery, home of Old Style beer, to see if we can scare up a draft or two. Unfortunately, the last tour ended an hour earlier. Sidedoor looks at me, then looks at the big bridge arcing over the river and into southern Minnesota.
"I'm starting to feel guilty," he says. "Traveling's what I'm best at." He'll take that bridge, he says, into La Crescent and then hop a Sioux Line down to Dubuque and Cedar Rapids and maybe over toward Grinnell and Newton and Anita and places west. I drop him at the downtown McDonald's. He thanks me for the ride, thanks me for the free room, the shower, the breakfast. He wants to give me something, but I tell him I don't need anything and that the pleasure has been all mine.
"I'll tell the hobos about this," he says. "I will." My last view of him is through the windows of the restaurant, the buildings of La Crosse reflected dully in the glass, him drinking coffee, waving, looking chipper.
Precipitation...A large tattooed man...Log Boom...Nausea...
It's raining again, and nosetackle Jon Kirksey, the Saints' eighth-round draft pick this year, likes it. "I'm from South Carolina, and it rains all the time there," he says while sitting in the lobby of his dorm at Wisconsin-La Crosse. Kirksey stands 6'3" and weighs 354 pounds, and he has his last name tattooed in script across his right biceps. Why is that, I ask him.
"In case I get lost," he says.
The Saints will be leaving Wisconsin soon for a preseason game in Tokyo. I mention to Kirksey that the Japanese revere extremely large men, due to the sumo wrestling culture there. He ponders this.
If they like me, I just might stay there," he says.
Then I notice his hands. They are flawless, remarkable hands. No cuts, no calluses, no cuticles, perfect nails shining under clear polish. Incongruous. Like a boxer with a thin nose. "I work on them," Kirksey says. "Buff them, nail hardener, that kind of thing. It's a form of relaxation."
Down by the river the second annual Mississippi River Log Boom is under way, in the rain. Women and men try to roll each other off logs floating in a tank, while lumberjacks grind away at tree stumps with crosscut saws. "We have canceled the five-pound underhand axe-chopping contest because of safety conditions," comes a voice over the loudspeaker, and one can understand why.
Back up the bluff at the Saint camp quarterback Steve Walsh, a Minnesota native, smiles knowingly at the habits of the locals. "It's almost like home to me," he says. "Some things may seem a little unusual, like the beer-cheese soup they serve, but it's a refreshing change up here from the way people are in other cities."
Like New Orleans? He has no comment. He doesn't know it yet, but this will be his last year with the Saints.
And how about logrolling? I ask.
"In the lake that I grew up on, one of our neighbors had a log. We'd roll on it a little, barefoot. I could get about three steps." He looks toward the door. He grins. "Now here's a logroller."
Veteran safety Gene Atkins, from Tallahassee, waves his hand in disgust, walking past, looking for messages at the front desk.
This afternoon in the rain the Saints are timed in a 300-yard shuttle run, watched by maybe 10 soaked spectators. But it's just as well nobody is here today to watch some of the Saints' big men complete their two runs. Rookie tackle Willie Roaf pulls up half lame before the finish line. And the last man to run, the mountainous Kirksey himself, comes down the final chute walking and in obvious great oxygen-deprived pain, a glazed look in his eyes, oblivious to the shouts of his teammates, as though he is ready to murder someone or die.
The rain pours down harder as I set off for the other side of the state, 175 miles to De Pere and the Packers. In Necedah a sign in a restaurant window says FRESH LEECHES. No, it must be a bait shop. I stop in the Down the Hatch Bar in the same little town, hard by the surging Yellow River. The occupants are a female bartender and two old fishermen in front of jumbo cans of Old Style. "Anybody catching anything?" I ask, cracking the can in front of me.
One of the men turns to me. "Mosquitoes are good," he says. "Cut off the head and fillet around the ribs."
Nose scabs...A terrible night...Tales of Vince...The Platteville 500...
Mist hangs over the dark St. Norbert campus. The Packers are in their own dormitory, with a courtyard patrolled by security guards. Two blocks away at the Westchester Abbey Grill and Pub, the bartender remembers the days when former offensive lineman Tony Mandarich would ride up to the bar on his big Harley hog. "Chuck Cecil came in sometimes, too," the man says. "He used to pick the scab on his nose to get blood all over him during games, so he could make the All-Madden team."
Suddenly, I realize I have a problem. There are no vacant hotel rooms here in De Pere, and none in nearby Green Bay or Ashwaubenon or Kaukauna. "None even down to Appleton," says the woman behind the desk at the Ramada Inn. "Kids at soccer camps, spillover of vacationers from Door County, and then the Packers."
The only place, she says, shaking her head as though this isn't really an option at all, is the Titletown Motel. "But it's rough. I don't know."
Rough? The Titletown? Named, no doubt, for what people used to call Green Bay during the Lombardi glory days. How could something so celebratory be rough? I find the Titletown down past some railroad tracks in a wasted, darkened part of town, and it is a cross between a bomb shelter and the House of Usher. It is 1 a.m. but eyes watch me furtively from the edges of upstairs windows as I check in. Forty dollars, cash, no refunds, snaps the clerk. I walk cautiously up the filthy stairwell. Norman, is that you? My room has never been cleaned. There may be a corpse in the lopsided cabinet above the...water bed. There is no hot water. The light bulb is a strange flickering object that casts a ghastly light on the cinder-block walls. No air conditioner. No fan. No screens on the windows.
In the morning I am out of there like a shot. The Packers only eat, sleep and study at St. Norbert. They practice a few miles away at their usual facility next to Lambeau Field off Lombardi Avenue in Green Bay, where I soon arrive. At nine o'clock Sunday morning, in the rain, Packer fans are lined up four-deep, in worshipful silence, around the practice field.
After practice, coach Mike Holmgren looks wonderingly at the people mobbing his players for autographs. "It really does mean a lot to people here," he says. Many of the players meet up with small boys on bikes, who climb off and let the uniformed players get on the seats and then ride the boys on the handlebars across the wide parking lot to the dressing room. Even defensive end Reggie White does this, enveloping bike and boy like a walrus coat.
"Each player latches on to one kid," explains fan Al Olson, who holds his three-year-old son, Tom, on his hip. "It's their butler for the season. Some have the same kid year after year."
While I ponder this, it dawns on me that I have locked my keys in my car. Lack of sleep, no doubt. It's still raining, and finally a helpful cop calls a locksmith for me.
The man who arrives is named Tom Waldorf, and he was a Green Bay policeman for 28 years. He worked right here in this lot during Packer practices and games. While he opens my door, he tells me about Lombardi. "He was a tyrant. He yelled at us cops all the time. And the funny thing is, he used to lose his car all the time, right here in Green Bay, and we'd have to find it for him. Some kids tipped over his tower on Halloween one time, and he actually cried about it. He cared about things like that."
I pay the man the $18 charge, and in five hours (counting a meal stop) I've driven the 200 miles to Platteville in the far southwest corner of the state. The first thing I notice in town is that the local Kwik Trip store has a big sign saying WELCOME MARKUS PAUL AND THE BEARS. Then I see a sign at the nearby Subway stating WELCOME ADOPTED BEARS LEMUEL STINSON AND JOE CAIN.
Every player, I soon learn, has a local business blowing the trumpet for him. Well, that's nice. This is where it all started. The Bears and the city of Platteville got this Cheese League thing going. The city throws a pig roast each year for the Bears, and it was at that function several years ago that Ditka called star defensive end Richard Dent "Robert," thereby starting a feud that ended only when Ditka was fired in 1993.
In front of the Bears' dormitory, media pundits wait with cameras, microphones and notepads ready in case Dent should suddenly appear. Over in the parking lot defensive tackle Steve McMichael unpacks enough items from his car to last him several years in camp. He also brings his chihuahua, which he cradles in his arms like a crystal goblet. Defensive tackle Tim Ryan, who, like McMichael, has a leg tattoo, walks his young but large puppy through the quadrangle. What is this, a kennel club?
I ask a fellow scribe if he doesn't find this dog thing strange, but he waves me off. Dent has arrived. Dent is swarmed. I listen in as the millionaire says to all, "Hopefully, you know, I can have the things I've always wanted. You know."
(Funny, but Dent won't find those things even next year when he turns down $2.3 million from the Bears to sign, inexplicably, for much less with the San Francisco 49ers.)
I look around through the mist. I don't see any motor scooters. There used to be so many here, driven by players to every function, that the campus resembled Oz beset by flying monkeys. But then I recall that offensive tackle Keith Van Home, also currently a holdout, nearly decapitated himself on a scooter several years ago when he ran into a chest-high rope on a dark path. Maybe new Bear coach Dave Wannstedt has banned scooters, as Schottenheimer has already back at River Falls.
I wonder to myself why I am wondering about this.
Obviously, it is time to leave. I watch some of practice the following morning, see the fans studying players stretching groin muscles and quadriceps, and then I point my car southeast and head for the barn.
They call the Bears' return sprint to Chicago at the end of camp the Platteville 500, and cops love to reel in the burners who are in states of high excitement from having 1) broken camp; 2) made the team; or 3) not made the team. Some years the police just stand by the side of the highway near Darlington and wave players over like buckaroos cutting cattle. Walter Payton once took a helicopter back to Chicago to avoid the showdown.
I think about this as I soar through Green County toward the Illinois state line, a thousand miles already under my belt, remembering from a brochure that 78 million pounds of cheese are produced annually in this county, at 23 cheese plants, from the milk of 48,000 cows. And I wonder where the Sidedoor Pullman Kid is, the only man I've ever shared curds with, a fellow who travels well.
ILLUSTRATION
GARY
LOCKE
ILLUSTRATION
GARY
LOCKE
California has four NFL camps, but it doesn't offer beer-cheese soup or fish boils.
ILLUSTRATION
GARY LOCKE
The Chiefs fly from Kansas City to Minneapolis and then bus the 30 miles to River Falls.
ILLUSTRATION
GARY LOCKE
"I like his style," said Sidedoor. "You can be relaxed with him. An ordinary Joe."
ILLUSTRATION
GARY
LOCKE
In the rain, lumberjacks were grinding away at tree stumps with crosscut saws.
ILLUSTRATION
GARY LOCKE
Young autograph seekers get handlebar rides from the players.
ILLUSTRATION
GARY
LOCKE
The cops stand by the highway and wave players over like buckaroos cutting cattle.