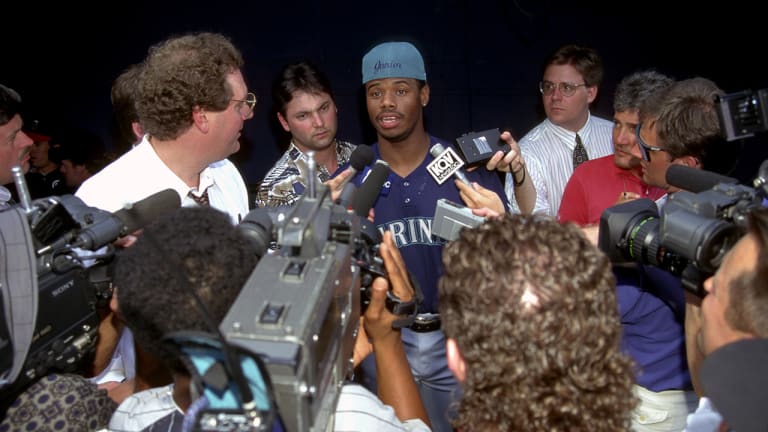 Junior Comes of Age
Ken Griffey Jr. has matured into more than a star—he's the new straw that stirs the game
A passing of the mantle is an occasion deserving of some pageantry, and so it was fitting that Ken Griffey Jr. confirmed his standing as the new Image of Baseball amid the banners and balloon releases of this year's All-Star Game in Pittsburgh. The telltale sign that Griffey had indeed reached the top of the game's marquee was not Chicago White Sox superstar Frank Thomas's dropping to his knees before the All-Star Game workout to salaam Griffey, nor was it Junior's jaw-dropping performance in winning the Home Run Derby. It was only when Griffey sought out Reggie Jackson, eagerly offered a soul handshake and then absorbed a 20-minute lecture from Mr. October on what exactly he was getting himself into that Griffey seemed at last to fully embrace his position as the game's leading man.
Griffey stood as rigid as a cadet on the turf of Pittsburgh's Three Rivers Stadium, his eyes fixed on centerfield, with one of Jackson's massive arms draped across his shoulders. During that momentous conversation, Reggie leaned in and spoke hard into Griffey's ear about pressure, expectations, the media and all the other pitfalls of being on top. He spoke of the colossal responsibility of having The Game strapped to your back. It was a speech that Jackson had been waiting to give for some time, but nobody had wanted to hear it before now. Occasionally, Griffey bowed his head ever so slightly as Reggie spoke. It was a nod of understanding, and acceptance.
Reggie: "We love Ken Griffey Jr. because he is everything we would like to be. He's young, he's good-looking, he's got the best smile in the world, and he's a heroic athlete. He is a shot in the arm for baseball. He is what this game needs right now. He is creating excitement and making headlines just by his presence. There hasn't been anyone like that since ... Reggie Jackson."
Say what you will about Jackson, but he was the last baseball folk hero, the last man who was as big as the game itself and ensured that the national pastime was exactly that. Baseball folk hero can be a thankless job, laced with peril, and it is a post that has been vacant since Reggie stopped being the straw in the early '80s. The superhero's cape has slid from the shoulders of a generation of stars. There have been those who were too modest (Nolan Ryan, Don Mattingly, Ryne Sandberg), too surly (Barry Bonds, Roger Clemens) or too self-destructive (Dwight Gooden, Darryl Strawberry, Jose Canseco) to pick up where Reggie left off. But now there is Griffey, the Seattle Mariners' 24-year-old centerfielder, with his sugary swing and candied smile. He and Jackson have more in common than just the fact that chocolate bars have been named for them. While Griffey lacks Reggie's bombast, he has, like Jackson, captured the fancy of the fans with the force of his personality as much as with his exploits on the field. "Reggie was what I would classify—in a nice way—as a villain when he was playing," says Seattle manager Lou Piniella, who played with Jackson on the New York Yankees from 1977 to '81. "People came out to root against him. With Kenny, people come out to root for him, to be swept up by his enthusiasm and amazed by his talent. But what they share, and this is what makes them special, is the same ability to turn the fans on."
How big a turn-on is Griffey? He waltzed into the All-Star Game with 6,079,688 fan votes, a mere 1.8 million more than any other player has ever received. Griffey's appearance at the All-Star workout set off a skirmish reminiscent of a Lollapalooza mosh pit, as frenzied media members literally tried to elbow their way to him. And he is now officially the biggest thing in the state of Washington. Griffey superseded Mount Rainier on July 23 with his 36th home run, a 381-foot blast against the Boston Red Sox. Junior's 36 dingers through Sunday have traveled a distance of 14,645 feet, putting him 235 feet ahead of Rainier and only about 10,000 feet behind Roger Maris. Meanwhile, despite all the suffocating attention and weighty expectations, Griffey continues to romp around the ballpark with the energy of a colt feeling his legs for the first time.
Griffey has been a standout player and a fan favorite since he was a 19-year-old rookie, in 1989, but in the past he only dipped his toe in the pool of celebrity. This season he has taken the plunge. "I've always felt like it isn't the fans or the press that make you a big star; you have to play yourself to that level," Griffey says. "Before, I wasn't real comfortable doing commercials or being in the spotlight, because I wanted to establish myself on the field."
Last year, when he hit .309 with 45 home runs and 109 RBIs and won his fourth straight Gold Glove, Griffey finally convinced himself that he had earned the right to start saying yes to his commercial suitors. During the '93 season he signed a large endorsement deal with Nintendo, and this April the video-game maker introduced Ken Griffey Jr. Presents: Major League Baseball, backed by a $4 million ad campaign. According to Griffey's Cincinnati-based agent, Brian Goldberg, Junior is on the verge of deals with Oakley sunglasses and a mysterious brand that Goldberg will identify only as "a national food company of considerable size." Griffey is also endorsing Franklin batting gloves, Rawlings fielding gloves, Louisville Slugger bats and Upper Deck trading cards. And as of the second inning of this year's All-Star Game, he also had his own Nike ad campaign.
"We feel like Ken is going to be as big a star as baseball has ever seen," says Terdema Ussery, the president of Nike Sports Management. "Ken is the type of person that kids can love and adults can respect. He is a true role model, and that is something baseball sorely needs."
Junior has been sporting Nikes since the early 1980s, when his father, Ken Griffey Sr., began wearing them while playing for the Yankees. By the end of last season both Nike and Griffey Jr. knew the time was right for an advertising blitzkrieg, and a campaign was put in the works. Griffey's terrific first half this season only accelerated its release. A print campaign began, and Nike outfitted a traveling "Griffmobile" stocked with T-shirts and hats reading 62 IN '94 and HOLY cow, the latter being the tag line from the commercial that was unveiled during the All-Star Game. Because baseball cleats are a limited consumer product, Nike is set to launch a Griffey cross-training campaign anytime now. Never mind that Griffey considers baiting a fishing line to be his primary off-season workout.
For a player from a market as small as Seattle, and a team as hapless as the Mariners, to distinguish himself from all the other young studs in baseball is no small feat. It is a testament to Griffey's charisma and talent. Consider the case of Frank Thomas (preceding story), Chicago's businesslike first baseman, who plays for a championship-caliber team in the country's third-largest market. While he lacks Griffey's defensive prowess, Thomas may be the game's premier offensive player, and he is handsome and well-spoken to boot. But he seems destined to play Ted Williams to Griffey's Joe DiMaggio, always overshadowed by his rival's popularity. "The thing about Junior, he has that golden smile," Thomas says. "He is like a kid on the sandlot. We're all competitors, we all play to win, but he always seems to be having more fun than the rest of us."
Along with that comes a sense of wonderment at Junior's exploits. Compared to the sides of beef with whom he is competing in this season's home run race, Griffey seems almost skinny, and that lends an oh-my-gosh quality to his longball deeds. Griffey is in fact a well-put-together 6'3", 200 pounds, but he has the loose-limbed litheness of a basketball swingman. "The other guys, all they have to do is use their big butts and big python arms to hit homers," Griffey says with a smile. "Me, I'm the little guy in the group. People always root for the little guy."
That was evident when Junior made his motion-picture debut in the recent Castle Rock Entertainment film Little Big League. Griffey played himself and proved to be a natural. "He has a real screen presence," says Andy Scheinman, Little Big League's director. "When he is on the screen, your eyes just naturally go to him. He's like Tom Cruise in that sense. We had a number of big-name ballplayers in the movie, but when Griffey was on the field, it was like a different world. He is just a huge, huge star."
Because the love affair between Griffey and his fans is so rapturous, it inevitably brings to mind the lamentable falls in recent years of other Generation Hex heroes, young luminaries who saw their stars dulled because they were unable to handle their fame. But Griffey seems squeaky-clean, and he greets a query on the topic with a look that says, What did you sprinkle on your Wheaties this morning. "I've always been able to stay away from that stuff," he says. "My parents told me from the beginning, I could be a ballplayer or I could be a what-if. I have pride in myself, pride in my family and pride in my teammates. I wouldn't want to do anything to jeopardize any of those three."
In fact, Griffey's only public transgression so far has been a speeding ticket for going 84 mph, and he got that when he was 16. Of course, just about every 16-year-old gets leadfooted occasionally, but Griffey found himself reading about his violation during his rookie year, when a Seattle paper dug up the scandalous news and printed it. "They made me out to be Mario Andretti," Griffey says. But that characterization has some merit. It seems that Griffey, too, is finding life in the fast lane to be a pretty smooth ride.
Reggie: "It's hard to be The Guy. You need perspective, you need to be able to step away. When everything you do or say is the story, it wears you out mentally. You have to control it, or it will control you. You must make time for your family, for your friends, or find the time to be alone and be yourself. Without that, the burdens will eat you up."
It is well past midnight, the All-Star Game is over, and only the most motivated autograph seekers remain outside Three Rivers Stadium. As Griffey steps out of the long corridor leading from the locker room and into the muggy night, the fans beg for him to sign. But Griffey resists their overtures and makes a beeline for a small group being tended to by three uniformed guards. Griffey gives a hello kiss to his wife of nearly two years, Melissa; then he goes through the group of relatives and greets each of his two dozen uncles, cousins, nieces, nephews and aunts, all here for the All-Star Game from Griffey's birthplace, in nearby Donora, Pa.
Finally Griffey returns to his wife and takes from her arms Trey Kenneth Griffey, their seven-month-old son, and strolls back toward the locker room. Griffey is hoping to find some stragglers so he can show off his little cherub, but the only ballplayer left is California Angel designated hitter Chili Davis. Chili inspects the baby's huge hands and feet and says, much to Griffey's delight, "Looks like an athlete." They exchange some more small talk before Davis gets in his parting shot: "Good thing the kid looks like his mother," he says. With that, Griffey returns to his relatives, says his goodbyes and then jumps into a long white limousine with Melissa and Trey in tow. The limo whisks the sleepless Seattleites to the airport, where a Learjet that Griffey has chartered is waiting to take them home.
Those around Griffey say that having a family has made him more mature. But it was not so long ago that Griffey himself was known as the Kid, and it is both surprising and touching to hear the sincerity with which he speaks of his own. "Every day, I pinch myself and say I can't believe I have a baby," Griffey says. "He's mine. You could take away baseball, take away all my material things, but I would still have him. That means everything to me."
But even with his myriad talents and obvious enthusiasm, Griffey occasionally whiffs on the curveballs that parenting throws his way. "Changing diapers, now that's rough," he says. "He does this to me: He picks up one leg, and when I push it down, he picks up the other. It's hard work." Simply holding his son is not much easier for Griffey. "He's so little, I just don't want to drop him and break him," he says. Reminded that these same supposedly suspect hands have brought him those four Gold Gloves, Griffey says, "Well, these hands are still a little shaky when it comes to Trey."
Melissa is a lovely 25-year-old who had the pluckiness to ask Griffey to dance five years ago at an under-21 club, which had appealed to both of them because it was alcohol-free. She stands out among the Griffey clan as the only one who seems to get excited about her husband's exploits. When she met Junior, Melissa didn't know a Mariner from a marine. Sitting on a couch in the back of the family's Kingdome luxury suite, she still expresses amazement at her husband's popularity. "It's crazy out there," she says. "When we go out together, which we rarely do, I can't believe the things people do. I'll say to Ken, 'Why are they acting that way?' and all he says is, 'I may be Ken to you, but I'm Junior to them.' "
The Griffeys have become aware of the high price that can accompany that degree of fame. In June, Griffey was alerted by the FBI that a threat had been made on his life, and on Melissa's and Trey's as well. When Griffey talks about the threatening note, which he has not been shown, his face loses its boyishness and his voice lowers. "I understand that things like this come with being who I am," he says. "There are crazy people in this world. That's why I'm not a public person. When I want you to see me is when I'm at the ballpark. That's it. It's bad enough that people have found out where I live, but they also know when I'm gone, too. It's in the paper every day."
Griffey claims that he has never allowed a public picture of him with his wife and child, and he plans to continue that policy in the future. His home, 25 miles outside of Seattle, is protected by a security gate and four rottweilers. Four of his boyhood friends have moved to the Seattle area, and they serve as Griffey's makeshift security force.
In order to escape the growing worries and frustrations of being in public, Griffey has tailored his off-field amusements to keep him away from strangers as much as possible. His activities of choice include fishing and having paint-gun fights with his friends. Melissa shares his enthusiasm for both. The reason Griffey chartered the Lear at All-Star Game time was to give him and his wife a full day off together. It was spent, naturally, jet-skiing.
"My perfect day," Griffey says, "would be to have all my boys over, my family, and just spend the whole day laughing." Then he adds, "And not to see another person the whole time."
Reggie: "Being on a winner makes a world of difference, no question. I wouldn't have played as long, and I couldn't have been as successful. Winning keeps you going, it makes the sacrifices worth it."
The chair next to Griffey's locker in the Seattle clubhouse looks as if it should be able to ease any pain. It has been crafted with sumptuous dark-gray leather, and it features an adjustable back and variable massage settings. This morning, though, it seems to offer little comfort. Griffey is slumped in the chair, looking weary and surprisingly small. The night before, for the second game in a row, the Mariners scored eight runs and lost to the Yankees. Griffey slammed a double and two homers, drove in five runs and made a circus catch in centerfield. It wasn't enough.
"It's rough. Very rough," he says, staring at his shoe tops. "These things are going to happen. But it seems like they're always happening to us."
The Mariners are a young team with a solid offense, but their defense is shaky and their pitching atrocious. They are in last place in baseball's weakest division.
"Mama always said there would be days like this," Griffey says, leaning back into his chair and flicking on one of the massage buttons. By now he has learned to play good soldier, and he forces a smile and tries, unsuccessfully, to find solace in the clichè. "But she didn't say how many."
Griffey's frustration boiled over near the end of May, and he ripped his teammates for a lack of heart and said he didn't sec himself staying in Seattle when his contract expired at the end of 1996. He has backed off since and now is coy about his future, but the Mariners' poor play still wears on him. "It was something I felt at the time, and I'm not sorry I said it," Griffey says of those remarks. "What I regret is that I didn't choose my words carefully enough. I didn't mean heart. This team has heart. But just going out and playing is not enough. Winning is what matters."
This has become Griffey's mantra. He has a closetful of individual honors, but last year when Seattle scrapped its way to an 82-80 mark, it was only the second time in the Mariners' history that the team had a winning record. Seattle has never finished better than fourth. Some of Griffey's best friends in baseball—Bonds, Thomas, David Justice—have been to the postseason and look to be headed back soon. As Griffey is increasingly compared with the giants of the game's past, he becomes more and more conscious about what they have achieved.
"It's always out of my hands," Griffey continues. "That's the frustrating thing. If some of the guys around here don't improve, they won't be here next year. That's the way the game is, and that's how it has to be here."
Reggie Jackson is in town after the All-Star Game, observing the Yankees in his role as a special adviser to the team, and he and Griffey spend a half hour talking during batting practice before one game. Junior is asked what his impressions are of Jackson. "All those championship rings" is his only answer.
Reggie: "Ken Griffey is loved everywhere he goes. Kids love him, the other players love him, everybody loves him. The reason why is, he seems approachable. He makes people feel welcome. He genuinely enjoys making people happy, or making them laugh. There are a lot of players who are the opposite—they go out of their way to scare people off. In some ways that is a lot easier."
Picture day at the Kingdome. Thousands of fans are lingering in the outfield, waiting for the home team to emerge from the protective cocoon of the clubhouse. Protocol for the Mariners is to stroll along the periphery, mug for a few photos, press some flesh and spread as much goodwill as they can muster. Naturally, the players approach this annual promotion with the same enthusiasm they might muster for dinner at the in-laws'.
Standing in the third base dugout, Griffey casts a forlorn look at the crowd. His eyes narrow on the flimsy yellow rope that has been set up to separate the players from the fans. "Man, every kid in Seattle is going to be coming under that rope," he says with a shake of his head. "The object today is to get in and get out."
Griffey trots out of the dugout and offers a stiff wave as a galaxy of flashbulbs explode around him. He blows past the first 100 feet of fans, ignoring their collective plea to stop, sign or smile. Get in and get out. For most of the crowd, this is as close to their hero as they will ever get, and their disappointment hangs in the air as visibly as the Seattle fog outside the Kingdome. Griffey, of course, is too sensitive not to notice this, and his icy facade begins to melt. He wanders over to the rope and, gingerly, shakes a few hands. Naturally, a few soon turns into a bunch, and soon Griffey is working the crowd. As he slowly makes his way down the line—shaking, posing, smiling—Griffey is energized by the people, and his actions seem genuine, not forced.
When an especially bright flashbulb pops, Griffey makes his eyes bug out, and he pretends to stagger and fall. It is good theater, and the fans eat it up. As always, he gravitates toward the kids, slapping low fives, patting babies on the head and squeezing many of the youngsters in his arms for pictures. Laughter follows him like the wake behind a boat. "Hey, mayor, hurry it up," a teammate calls to him, but to no avail. Gradually the other players leave the field, and soon it is just Griffey. The fans don't seem to mind. They have come to see Junior, to be a part of, if only for a moment, the delirium that is his life. As usual, he does not disappoint.
Somewhere Reggie is smiling.
PHOTO
WALTER
IOOSS JR.
PHOTO
CHUCK
SOLOMON
Compared to the sides of beef in this year's home run race, Griffey seems almost skinny.
PHOTO
CHUCK
SOLOMON
At last month's All-Star Game, Mr. October gave Griffey an earful about the pressures of stardom.
PHOTO
DAMIAN
STROHMEYER
A complete player, Griffey can get his team off on the right foot with his speed on the base paths.
PHOTO
OTTO GREULE/ALLSPORT
"People come out to root for Kenny, to be swept up and amazed by his talent," says Piniella.
PHOTO
CHUCK SOLOMON
"Junior always seems to be having more fun than the rest of us," says Thomas.