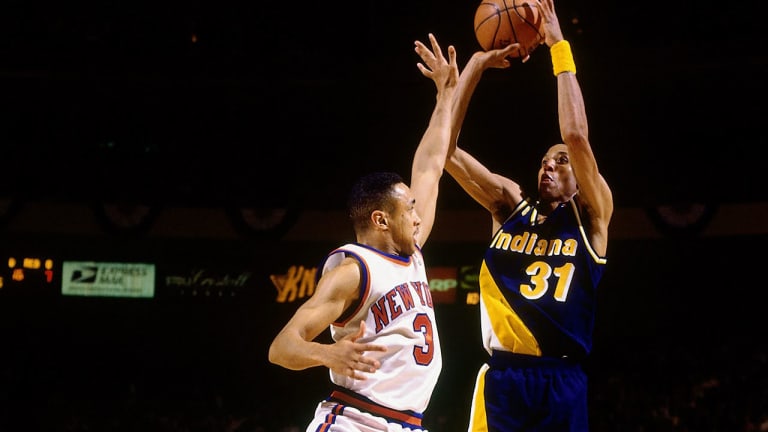 Oh, What a Feeling!
The Indiana Pacers' Reggie Miller recalls last spring's most memorable quarter, shot by unerring shot
Reggie Miller slid the cassette into the VCR and sighed heavily. "You gotta understand, this is a little tough for me," he said, sitting back and folding his fingers behind his head in the Indiana Pacers' executive offices in Market Square Arena. "Not this particular game, of course, but memories of the whole series. I don't like to think about it."
"This particular game" was Game 5 of last season's Eastern Conference final, played on Wednesday, June 1, in Madison Square Garden. On that night, in the fourth period, the Pacer guard changed the weather pattern in New York City by raining jump shot after jump shot upon the heads of the dazed Knicks. When Miller finished one of the most remarkable quarters in NBA history—scoring 25 points on five three-point baskets (a playoff record for one quarter), three field goals from mortal range and four free throws—he had led the Pacers to a 93-86 victory and a 3-2 lead in the blood-and-guts series. New York, however, went on to win Games 6 and 7 and thus captured the Eastern title.
Game 5 confirmed Miller's status as the league's premier practitioner of the ancient art of jump shooting. (During his rampage he also strengthened his reputation as the game's premier lip-flapper by going one-on-one with film director-Knick superfan Spike Lee, who was sitting at courtside.) Except for the free throws and one 15-foot field goal, none of Miller's shots came from closer to the basket than 19 feet. He made jumpers from both sides of the court, off the dribble and from behind screens, in heavy congestion and far from the madding crowd. One of his three-pointers was a what-the-hell heave from about 27 feet, but it was still a classic Miller jumper, arms extended above the head, elbow on the shooting arm (the right) slightly askew, eyes following the ball. (For the record, he did miss two of the 10 field goals he attempted in the period.)
What sets Miller, an eight-year veteran and a member of last summer's Dream Team II, apart? Is it something in the Pacer offense that gets him more long-distance opportunities than other guards? And what will happen to his 19.3-point career scoring average (21.8 over the last five seasons) now that the three-point line has been moved in from as far as 23' 9" to 22 feet, a chip shot for a man who in practice routinely makes 5 of 10 from 30 feet?
To a large degree the art of jump shooting remains a mystery. Miller admires several shooters—he names the Cleveland Cavaliers' Mark Price, the Phoenix Suns' Dan Majerle and Danny Ainge, the Denver Nuggets' Dale Ellis and the Detroit Pistons' Joe Dumars—but doesn't see much stylistic resemblance among them. If he wanted to be a textbook shooter, Miller knows that he would have to keep his right elbow in, tucked close to his body. But his elbow flies out to the side. Like many great shooters, he is somewhat superstitious and subscribes to a pregame routine that does not change: He always puts on his compression shorts first, then his game shorts, then his jersey, then a T-shirt over the jersey. Then he takes a variety vitamin pack as well as an Advil because—endorsement alert!—"I know I'm going to be talking a lot, and I don't want to get a headache."
It is then 90 minutes before game time, and he spends exactly 30 minutes shooting around, with Pacer assistant coach Billy King as ball retriever. Miller starts with the right wing and moves around the perimeter with no particular number or type of shots in the ritual, "just whatever I feel."
Yet he does not always treat his shooting like high church. One recent Pacer practice ended with Miller engaging his teammates in bank-the-free-throw and shoot-the-free-throw-lefthanded games for $200 and $100, respectively. He easily won the first and hit seven of 10 to earn a tie with John Williams in the second.
"The common denominator among shooters is that we all worked hard to develop our shot," says Miller. "I don't think kids do that today. These days you don't go to the playground to shoot your J. You go to try to dunk on someone's head. I did that, too, but I always brought my jump shot with me."
But some answers did evolve as the expansive Pacer captain, now clearly relishing the memory, reviewed the Game 5 tape.
Indiana trailed 70-58 entering the fourth period, and Miller to that point had made only six of 16 shots from the field. "But it was a good six for 16," he said without irony. "It seemed like every one of my misses had gone in and out. I made a decision that I was going to shoot us right back in the game or shoot us right out of it."
Miller's first basket of the fourth quarter came 50 seconds into the period, when, as he ran leisurely on the wing of a controlled fast break, he stepped back behind a pick set unconsciously by teammate Kenny Williams and hit a three-pointer. "The key to that was that I had studied the Knick defense," said Miller. "Their strategy on fast breaks is to retreat to the paint and then to spread out. So, I trotted up slowly, saw [Knick defender John] Starks back in the paint playing penetration, used Kenny as a screen and got off the three. Easy."
Miller's second basket came on an in-bounds play at 10:23. Starks had been replaced by 6'5" guard Hubert Davis, who was now assigned to cover Miller. "I was aware they had made a lineup change, of course, and I knew I could run circles around Hubert," said Miller. He found himself out on the right side all alone and took a pass from Williams for another three-pointer.
"Our offense has no set plays to get me a three, except if we need one at the end of the game or something like that," said Miller. "But in this case, I could see that Tank"—the Pacers' muscular frontcourtman LaSalle Thompson—"was going to get Davis, pick him off and take him right out of the way. So I floated out and was all alone. My theory on shots when I'm all alone is that I should make 70 percent of them. I don't think other players set standards that high. That's a mistake."
Miller's third field goal came at the 9:14 mark, when he drove right on 6'2" Knick reserve guard Greg Anthony, pulled up, pump-faked and swished a 15-footer. "I feel I have an advantage on most defenders because of my height [6'7"] and long arms, and when I keep the ball up I'm tough to stop," said Miller.
"I can remember my shot in sixth and seventh grade—a one-handed push shot that started way down by my hip. It wasn't until my sophomore year in high school that I got a real jump shot."
Miller's fourth basket was a 20-footer from the left corner with no Knick within six feet of him. Starks, who was now back guarding Miller, got caught in a pile of bodies as Miller, using various picks, crossed from the right side to the left. The play clearly illustrated the fact that half of a shooter's battle is running an obstacle course as he attempts to get open. "Most teams' strategy in stopping Reggie is to beat him up before he gets the ball," says Pacer assistant coach George Irvine. Miller professes not to care. He says he has gotten stronger by working in the weight room (though you can't tell it by his pipestem arms) and enjoys the hand-to-hand combat that goes along with being a jump shooter.
"There are all sorts of techniques you can use, but they're hard to talk about because you have to see them develop in the game," says Miller. "For example, an aggressive team like the Knicks is always stepping out and giving you a shot, chucking you as you go by. Your own guy chucks you. Then, as you run past a screen, the guy guarding the screener steps out and chucks you. That's O.K. Sometimes if you delay, then suddenly speed up, you can make the defender hit his own guy. That's fun.
"Or, if he's real aggressive, he's going to take himself out of position if you use change of pace. It's all reading the court. It's part of the jump shooter's game."
That fourth field goal also showed Miller's relative disregard for the three-point line; he could have stepped back and taken a trey but did not. "I never want to be conscious of the line," he said. "I never get ticked off, like some guys do, if my foot's on the line and I get a two instead of a three. It's too difficult just to get open. My eyes are looking ahead of me, to the point where I'm going to get the pass and take my shot, so they can't be looking down at the floor.
"Will it be different with the new three-point line? It might be. I don't like it," Miller declared. "There'll be more of a tendency to look down now and see where you are, and I don't think that's a good thing."
The fifth shot was remarkable. Miller found himself directly in front of the basket, 27 feet away. He still had his dribble, and he saw Thompson heading toward him to set a possible screen, but he just squared up and let fly. The ball whistled through the net cleanly, as do most of Miller's field goals, "like somebody drops the ball straight down from the center of the arena," as Pacer president Donnie Walsh puts it. The three-pointer gave Indy a lead, at 75-72, that it never surrendered.
"Shooting is concentration and rhythm," said Miller, "and sometimes it is pure confidence. Sometimes things are going so right you feel you can will the ball into the basket. My least favorite spot on the floor with the old three-point line—there are no hard spots with the new distance—was right in front of the basket, but I never had a doubt about this one.
"When I was growing up [in Riverside, Calif.], my father had a little area of concrete for our backyard basket," Miller recalled. "My first goal was to master every shot in that area. After I did that, I said, 'Dad, we need more concrete.' Eventually we had an area that went back maybe 22 feet from the basket. Any more than that was in my mother's rose garden, and I shot from there, too. I apologize, but it paid off."
Miller's sixth basket came on a three-pointer from the right side at the 6:59 mark. The play actually began with Miller setting a pick down on the baseline. "A lot of times I begin the play by being the screener," said Miller. "That's because if a shooter goes down and sets the screen, chances are the defense won't double on the guy he's setting the screen for because that means a shooter will be free. Like with the Utah Jazz, you always see John Stockton setting the screen for Karl Ma-lone because that makes it hard for the defense. You can't slough off either one." In this case Miller eventually got free when he came off a down screen. Then he got the ball from Thompson and released a three-pointer a split second before Starks ("John was almost crying by this time," Miller said) could recover.
"There's no way to learn quick release except practice," said Miller. "The best I ever saw was Drazen Petrovic [the New Jersey Net guard who died in a car accident in Germany in June 1993]. Man, what a release. I think it's a real advantage for a shooter."
Miller's seventh basket was a fortuitous bit of business that occurred when Pacer forward Dale Davis drove to the hoop on a fast break, nearly running over Starks and the other New York guard, Derek Harper, and awkwardly passed the ball out to a wide-open Miller. Standing just a few feet from the Knick bench and their wildly gesticulating coach, Pat Riley, Miller drained his fifth and final three-pointer of the quarter. (Why Starks by this point was not stuck on Miller like flypaper is anyone's guess.)
After Miller released the shot, he kept his right arm extended in the air for a few seconds, a gesture that has infuriated opponents in the past. "I don't do it to taunt anyone," Miller said. "I do it because when my father taught me to shoot, he taught me to extend that arm and keep it up there real high. That's how you assure yourself that you're following through." That's probably true, but by now Miller is clearly aware of the taunting aspect, too.
"I also keep my eyes on the ball after I let it go, whereas most players watch the basket," he said. "But if I watch the ball, I can see the rotation, the way it looks in the air, and maybe learn something for the next shot. I watched Joe Dumars when we were teammates on Dream Team II, and he does the same thing."
Miller's eighth and final field goal came at 3:24 and gave Indiana an 83-79 lead. Moving left to right, he took a pass from forward Derrick McKey and simply jumped over the 6'5" Starks, who was now playing him tight, to release a 19-footer. Nothing but net.
"I don't really distinguish between long jumpers and short jumpers," said Miller. "The more important difference is which way I'm moving. That kind of shot, moving toward the right, is obviously a more natural shot for a righthander because you're making the catch on the same side of your body where you're going to go up for the shot. I get that off faster and almost always lean in toward the basket.
"The harder shot is the one coming the other way, when I'm coming off a pick from right to left," Miller said. "A lot of times I fall away on that shot and make an adjustment with my body, maybe throwing my right leg up in the air to keep the defender away from me. In practice you should work on both kinds of jumpers. They won't let you have one side or the other in the NBA."
The tape concluded with Miller, having made four free throws down the stretch, taking an inbounds pass at the final buzzer and slamming the ball off the Garden floor in jubilation.
But the scene in the office ended with Miller slamming his hand off a chair in frustration. "The Knicks should not have made it to the Finals!" he said. "We were the better team. This year it's us. I'm going to take us there."
Indeed, Indiana has a shot. And that's largely because Reggie Miller has one.
TWO
PHOTOS
GEORGE
KALINSKYPHOTOMANNY MILLANPHOTOPAUL BERESWILL/NEWSDAY
"Sometimes things are going so right you feel you can will the ball into the basket"
"I was aware they had made a lineup change, and I knew I could run circles around Hubert."
"If a defender is real aggressive, he's going to take himself out of position if you use change of pace."
"We were the better team. This year it's us."