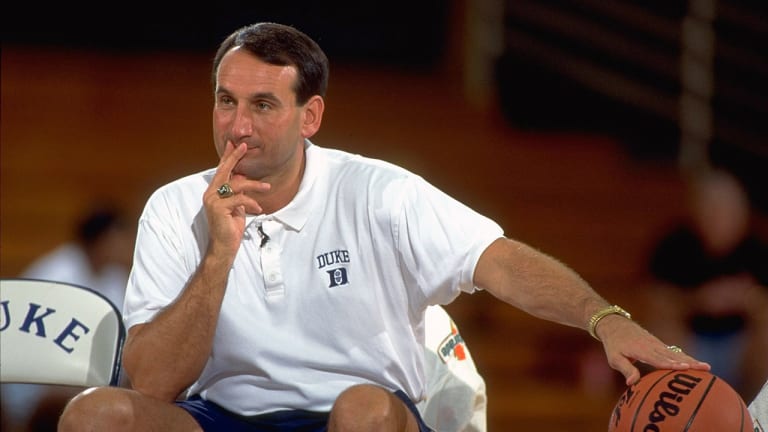 Duke Takes A Dive
The absence of Mike Krzyzewski has hastened the Blue Devils' fall
Confetti drifted down from the rafters, and the Florida State band played enthusiastically enough, but the celebratory hoopla moments after the Seminoles beat Duke 78-75 in Tallahassee last Saturday was noteworthy only because it wasn't all that noteworthy. Heck, it was only Duke. They never win anymore. Florida State fans were so unfazed that nobody in the stands even tried to storm the court. The best they could do was a lousy chant: "0 and six, 0 and six."
Six ACC games. Six Duke losses. Stuff like this just doesn't happen to the Blue Devils. At least it never has before. This is the same team, after all, that coming into this season had won 287 games over the past decade, by far the most in the NCAA; the same school that had gone to seven Final Fours in that decade, more than any other conference had. But this year's Duke team, like its ailing coach, Mike Krzyzewski, is flat on its back, and the prognosis is uncertain.
On Sunday, Duke athletic director Tom Butters announced that Krzyzewski would not be returning to the sideline this season. The coach had gamely tried to come back from off-season back surgery, but in retrospect, he had returned too quickly and tried too hard to make up for lost time. The official announcement said that the 47-year-old coach was suffering from exhaustion and that neither his best interests nor those of the school would be served by his returning this year."Coach K is a Duke treasure,' " said school president Nan Keohane,"and we want to take care of our treasures."
In many ways Duke's decline began last April, the moment Arkansas's Scotty Thurman sank the decisive three-pointer with 50 seconds left in the NCAA title game in Charlotte, denying the Blue Devils their third national title in four seasons. Duke's four freshmen missed so much class time on the road to the Final Four that they had to attend summer school to stay abreast of their studies. Krzyzewski felt compelled to cancel a summer tour of Australia that he had hoped would provide cohesion for this year's team, his youngest in eight years.
It was also during the summer that Krzyzewski began suffering lower-back pain caused by a bulging disk. When it became difficult for the Duke coach to walk or sit, he opted for surgery on Oct. 22, news of which was overshadowed around the Durham campus by a most unlikely development: Duke's normally mediocre football team was still undefeated and on its way to a berth in the Hall of Fame Bowl, only its second bowl bid in the last 32 years.
To recover from the kind of back surgery Krzyzewski underwent, doctors usually recommend a month of inactivity and two more months of limited activity. The coach was studying game film within days and was back at practice after a week and a half. Having already missed the chance to work on some of the team's weaknesses in Australia, he had to work harder than he might have liked.
Although sophomore Jeff Capel and junior Chris Collins were returning starters in the backcourt, Coach K decided to let his three prized freshmen recruits—Trajan Langdon, Ricky Price and the team's only true point guard, Steve Wojciechowski—push them for starting jobs. Fifth-year senior guard Kenny Blakeney also figured in the backcourt mix. Matters were further complicated when Collins suffered a broken foot on the first day of practice and couldn't play until mid-December. On top of that, recruit Joey Beard, once highly rated, played himself out of the frontcourt rotation, contracted mononucleosis and decided to transfer to Boston University.
Despite these distractions, Duke held its own during a rigorous early schedule, winning nine of its first 11 games, including victories over Illinois, Michigan and Georgia Tech. But while the team thrived, its coach suffered. Krzyzewski was sometimes spotted lying on the floor at practice, trying to alleviate his recurring back pain. Then came the Rainbow Classic in Hawaii in December and the long flights that further aggravated his condition. Still, entering the Clemson game on Jan. 4 Krzyzewski's troops were ranked a comfortable No. 7 in the AP poll. Then the sky fell.
That night in Cameron Indoor Stadium, Duke was soundly thrashed by an undermanned Clemson team that hadn't won in Durham since 1984. Two days later the Devils were about to board a bus to the airport on their way to play Georgia Tech when Krzyzewski informed the team that he was not making the trip but instead would check back into the hospital. He would be replaced by his longtime assistant, Pete Gaudet, who would delegate some of the coaching chores to the other assistants, Mike Brey and Tommy Amaker.
Without Krzyzewski, Duke played tough in Atlanta but lost to the Jackets 75-68. Foreshadowing the misery to come, Blakeney said after the game, "It's tough to win when you have three freshmen in the lineup and no head coach."'
At Wake Forest four days later. Duke proved Blakeney's theory, shooting 31.9% from the field—the worst since Krzyzewski took over at Duke 15 years ago—and losing by 10 points. For the first time in memory, opponents sensed weakness in the Blue Devils. They weren't facing Christian Laettner, Bobby Hurley and Grant Hill, and they knew it. "Look at the talent Duke had," said Wake Forest guard Randolph Childress. "They were one of the best teams in NCAA history. You can't just replace those guys."
But the bitter reality of Duke's decline didn't really sink in until the next game, on Jan. 14 against Virginia. The pumped-up Blue Devils jumped out to a 40-19 halftime lead, and the Cameron Crazies were jubilant. But the Cavaliers rallied in the second half, scoring on 19 of their final 22 possessions in regulation to force the game to overtime, before winning in double OT—the biggest comeback victory in an ACC game in the past five years. Duke's locker room was a morgue. "I am definitely in shock," Capel said. "In my wildest dreams I would never have imagined we would start the conference with four losses or, for that matter, lose four games in a row anytime this season. I don't want to say it's time for panic, but it seems like it is getting to that point."
Four days later the misery was supposed to end when North Carolina State arrived in Durham. The Wolfpack hadn't beaten Duke in their last eight meetings and hadn't won an ACC road game in its last 19 tries. Surely, this would be the streak-stopper. But freshman guard Ishua Benjamin scored 23 points for the Wolfpack, and the Blue Devils were run out of their own building, 77-60. The loss dropped Duke out of the AP Top 25 for the first time since December of the '86-87 season, ending the nation's longest streak at 153 weeks.
Finally, at Florida State last Saturday, it looked as if Duke might suffer total meltdown.The Seminoles jumped out to a 15-point lead with 8:35 left in the first half. But behind 24 points from center Cherokee Parks and 22 from Capel, the Blue Devils nearly stole a win. Twice in the final seconds, Duke had wide-open three-pointers that might have sent the game to OT, but each rimmed out. It's been that kind of season. "I think they've lost some of their mystique," said Seminole guard Bob Sura after Duke's sixth straight loss,something no Blue Devil team had suffered since the 1938-39 season. "In the past, Duke wins this game in the last two minutes."
Said Wojciechowski, "We've all grown up watching Duke succeed. We don't want to be the team that everybody looks at and says, 'What the heck happened to Duke?'"
That is the question everyone is asking, however, and the answers are too obvious.
After losing Hill, Antonio Lang and Marty Clark to graduation, Duke's regular rotation this season basically consists of two centers, Parks and 6' 10" Erik Meek, and a smorgasbord of six perimeter players. Without any natural forwards, Duke has shuffled its personnel, starting seven different lineups in the first 17 games.Only Parks (20.0 points a game) and Capel (11.8) have emerged as reliable offensive threats. Of the three freshman guards, only Price is shooting over 40% from the field, and Collins has struggled mightily, hitting only 27% from the floor and 17% from three-point range.
Perhaps most damaging of all is Duke's lack of its trademark suffocating defense. In ACC play the Blue Devils are allowing opponents to shoot 49% from the field and 52% from three-point range. They have also turned the ball over 18 more times than their opponents, and they are last in the conference in steals. "One of the things that teams have feared is our defense," says Parks, "but now it seems like teams can't wait to get on offense against us. We're trying. We're working hard, and that's why it's so confusing, even frustrating. We shouldn't be down like this, but we don't know what to do about it."
"Once we lost a few games, we lost our confidence, and that's something we've always thrived on at Duke," says Amaker, who helped build the Duke tradition as the team's point guard from 1984 to '87. "That's where these guys miss Coach K. They feed off his enthusiasm, and it's been a tough adjustment without him."
Gaudet is a capable leader, but he is not Mike Krzyzewski. In fact it is odd to think that as the "restricted earnings" coach at Duke, Gaudet is now making just over $300 a week to pilot one of the highest-profile programs in the country. At least Gaudet is familiar with the job of stepping in to replace Krzyzewski, having taken over at Army when Coach K left that post to come to Duke. "Yes, but it was easier the first time," Gaudet says. "Then I wasn't replacing a legend."
Following doctor's orders this time, the legend has spent the past three weeks in seclusion. He is rehabilitating his back through daily physical therapy and walks on the Duke golf course, while his wife, Mickie, screens his phone calls. Even old friends like Portland Trail Blazer coach P.J. Carlesimo and Wake Forest coach Dave Odom have been unable to get past her via the phone.
One of the few people to see the reclusive coach in the past three weeks was Vince Carter, a blue-chip recruit from Daytona Beach, Fla., who visited Krzyzewski at his home on Jan. 15. "He was up and about," says Carter. "He didn't seem like a guy who has had all these back problems. He's just anxious to get back. He misses his players."
Krzyzewski will apparently have to wait until next fall to rejoin them, and how much rebuilding he'll have to do then remains to be seen.
"I'd be lying if I said I didn't think about this team's future," says Capel. "It's hard to believe, but we're 0-6 and, looking at the big picture, there's a very real chance we won't make the NCAAs."
Duke, 9-8 overall at week's end, has only five home games remaining on its schedule, and two of those are against highly ranked North Carolina and Maryland. To avoid missing the NCAAs for the first time since '83, the Blue Devils will probably have to win at least seven of their final 10 conference games. Either that or win the ACC tournament.
Indeed, the picture is so bleak that maybe Blakeney was speaking for the entire program,the entire dynasty, when he said recently, "To be losing like this is stunning. I'm tired. I'm drained."
Just 217 more days until football season.