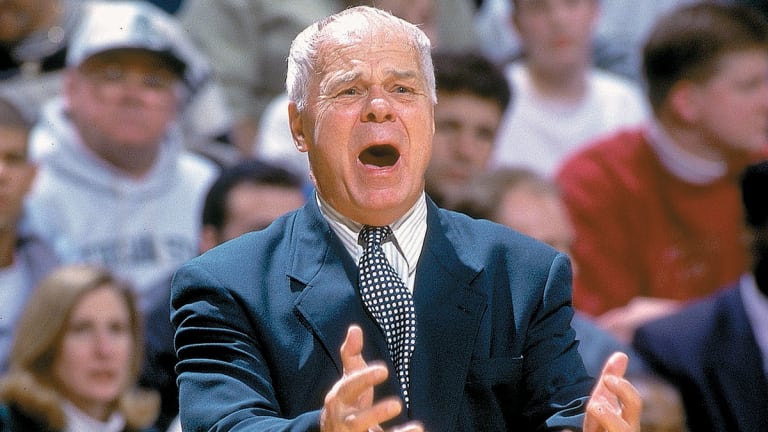 The Last Harrumph
Crusty Jud Heathcote of Michigan State is Calling it Quits After 45 Years in Coaching—And He's Going Out a Winner
This can't be fun. For openers, he's limping. His arthritic left knee might have to be replaced someday, and his "damn doctors''—that's what he calls them—can't seem to do anything about the heel bruises that are killing his handball game. His long arms hang limply at his sides. His head is down, and his broad shoulders are hunched, as befits a man with the weight of the basketball world upon them. His face is a jigsaw puzzle of discontent, pieces all over the place, mouth going one way, nose another, eyes rolling toward the heavens. His acid indigestion index must be off the scale. George Melvin (Jud) Heathcote, the last man to win an NCAA championship while dressed in green plaid pants, is coaching his basketball team, and it just doesn't look like fun.
"Hell, no, it's not fun,'' says Heathcote. "I'm 67 years old, and it's as hard as it ever was.'' Heathcote has just met with a half-dozen staffers from The State News, the Michigan State student newspaper, which is devoting a special section to Heathcote's last home game (on Saturday against Wisconsin) in this, his swan-song season. "I have the headline written for them,'' says the coach: HEATHCOTE ERA OVER! THANK GOD!
For the better part of five decades Heathcote has taken arms against all varieties of windmills—administrators, referees, reporters, even other coaches—but his biggest battle has always been against imperfection in the game. What matters most to Heathcote is to have basketball played the right way, and to his veteran eyes that was not what was happening during a practice session early last week at State's Breslin Center.
"Eric,'' he says to his point guard, Eric Snow, who has just been victimized on an alley-oop play, "why don't you see that?''
"I do,'' says Snow.
"You see it?'' says Heathcote in what can only be described as a loud squeak. "Well, get up and jump then. You're our best jumper, and you look like a midget.'' Away from Heathcote's line of vision, Snow, a senior who has been called much worse than a midget over the last four years, flashes a small smile.
"Ray, Ray, Ray!'' Heathcote shouts to backup guard Ray Weathers, who has passed up an open jumper. "If no one's on you, don't fake the student body. They're not playing. Shoot!''
No one is immune. When player of the year candidate Shawn Respert blows a layup, Heathcote wonders aloud, "Are we going to convert on the fast break at all? Shawn? Today?''
And then forward Quinton Brooks messes up a set play. "Q, you've got to run low to make the play work,'' squeaks Heathcote. "Jesus, run our play, not yours!''
In demeanor, philosophy, treatment of his players and even fashion sense, Heathcote has been compared to Indiana coach Bob Knight, and that's fine as far as it goes. But Heathcote, unlike Knight, has a warmth about him, an awkward, gruff-uncle charm. He is most comfortable when turning his needle inward, and, unlike Knight, he is incapable of taking himself seriously.
"I think Jud will be the sentimental favorite in this year's NCAA tournament,'' says his wife, Beverly, whom Jud calls Bevo. Indeed, the "Can Jud get to Seattle in his final season?'' story line is as good as the 1995 tournament has to offer, and even Heathcote acknowledges that. Sort of. "The Final Four would be a dream come true,'' he says. Then he thinks a moment. "But, hell, I know 63 coaches who don't give a damn whether Jud Heathcote makes it to Seattle or not.''
The tournament has been both kind and cruel to Heathcote. It was kind in 1979, when he and Michigan State won their only NCAA title in what remains the most celebrated championship game ever—the Magic Johnson-Larry Bird matchup in Salt Lake City. It was cruel in '86, when during the Midwest Regional semifinal at Kemper Arena in Kansas City, the game clock was inadvertently shut off for about 15 seconds, helping Kansas rally to defeat the Spartans 96-86 in overtime. It was also cruel in '90, when the Spartans were beaten in the Southeast Regional semifinal in New Orleans by a Kenny Anderson shot that, replays showed, was released after the clock ran out. The bucket sent the game into overtime, and Georgia Tech went on to win 81-80. And to think that those nightmares happened after Heathcote's minor heart attack in September 1984.
But he has been able to keep the postseason pretty much out of his mind this winter as what Respert smilingly calls the Jud Heathcote Farewell Tour rolls on. The Tour has provided the backdrop to an outstanding season, with Michigan State ranked No. 10 and tied with Purdue for the Big Ten lead with a 13-3 record (21-4 overall) after a 67-61 win over Indiana on Sunday. On The Tour, Heathcote has received a putter from Boilermaker coach Gene Keady. From Knight he got a green leather recliner. From Steve Fisher, his smiling foil at Michigan, he got a big-screen TV. From Illinois coach Lou Henson he got an antique watch and a football helmet with a face mask, the latter in recognition of the time Heathcote angrily threw a ball at the floor only to have it bounce up and almost break his nose. ("I never let anybody know how much that hurt,'' says Heathcote, "but, god, did it hurt.'') From Penn State he got a Nittany Lion statue, from Ohio State a set of golf clubs, from Minnesota a stool.
A stool? See, over the years Heathcote has repeatedly disparaged the Gophers' Williams Arena, where team benches are set about three feet below the court. When asked a few years ago about renovations made to Williams that didn't correct that problem, Heathcote said, "Well, it's like when you have outdoor plumbing and you finally get indoor plumbing, but you don't hook up the water.''
The thing is, The Farewell Tour wasn't even supposed to happen. By the middle of last season Heathcote had decided that 1993-94 would be his last campaign. He confided this only to Beverly. "I didn't want a whole year of goodbyes,'' he says. "I thought it would be embarrassing and distracting for my team.'' But then, on Feb. 28, 1994, a confidential memo, written by Michigan State's associate athletic director, Clarence Underwood, to university president Peter McPherson, was leaked and published in The State News. The memo recommended that Underwood be authorized to tell Heathcote to retire at the end of the season, and stipulated, "if he does not accept this option, that Jud Heathcote be terminated from the men's basketball program effective March 31, 1994.''
A public relations disaster ensued, and McPherson threw his support behind Heathcote, saying that the coach would make all decisions about his own future. The Michigan State hierarchy has tried to put the whole affair behind it, but the incident remains an unsavory part of the school's athletic history. As for Underwood, he said he meant nothing "against Jud on a personal basis.''
Jud, however, took it "on a personal basis.'' One of the dominant themes of his life has been the disloyalty he thinks has been shown by school administrators to veteran coaches -- men such as Marv Harshman, Heathcote's mentor, and Don Monson, his closest friend, who were given the gate at Washington State and Oregon, respectively. Heathcote was determined that the same thing would not happen to him, and on March 30, about a month after the memo was leaked, he announced that he would be back for one more year. "I didn't want anyone to think I'd been fired,'' says Heathcote. "That would've been too painful after all these years.''
Sixteen winters have passed since that championship game in Salt Lake City, and Heathcote's reputation as an unintentional court jester may have obscured his accomplishments as a tactician, motivator and first-rate molder of backcourtmen like Johnson, Scott Skiles, Steve Smith and now Respert and Snow. Heathcote is the only major college coach, for example, who forcefully thunks his forehead with his hand when things go wrong. He says that in the old days he used to tap his head lightly with his index finger as a sign that a player should start thinking, "but, gradually, the tap became a thunk.'' Heathcote still runs in place comically to protest calls. He still twists his face into expressions that would impress Jim Carrey.
He still wears sport coats of various shades of green to all games, a tradition that started with his first game at the helm of the Spartans, on Nov. 29, 1976. "And green isn't even his best color,'' says Bevo. To which Jud responds, "I have no best color.'' Beverly buys the jackets, two or three at a time, and the Heathcotes give them to Goodwill after a couple of years. "They pass from the homely to the homeless,'' says Jud. He still combs his wispy hair forward, having formed an alliance years ago with Henson and Keady to make sure the Big Ten is the nation's official Bad Hair Conference.
But put aside all that and believe this: The man has always been able to coach, ever since he first draped a whistle around his bull neck at West Valley High in Spokane in 1950. Michigan State's success this season is a result of many things, including the maturity and leadership of the smooth-shooting Respert, the evolution of Snow from a liability at point guard into a probable NBA player and perhaps even a touch of collective revenge for the Underwood memo. But the best thing about the Spartans' success is that it ensures that Heathcote's talent will not go unrecognized in his final season.
"One thing I don't think people realize is that Jud is a great, great shooting coach,'' says Respert, a great, great shooter. "He changed a lot of things I did, made my release quicker, got me shooting more with one hand, got me using my legs.'' (Heathcote, who was a forward at Washington State, says that the only one of his players who could consistently beat him at H-O-R-S-E was Skiles.) And because Heathcote looks and acts a bit, well, retro, observers believe that his theories are retro. "It drives me crazy when people call Jud old-fashioned,'' says Tom Izzo, who was named Michigan State's head coach-elect two years ago. "We run more than any team in the Big Ten. There's nothing conservative about him except his insistence that things be done right.''
It is a fact, though, that Heathcote's relentless search for perfection has alienated some players. "Like Bobby [Knight], I'm a negative coach,'' says Heathcote. "I'm always harping on what's bad rather than praising what's good. Yes, I've hurt some kids, and I've been bad for some kids. But one thing I'm always proud of is that our players get coached. And I think most of them get better every year.''
Respert, living proof of that, agrees. "Coach can make you or break you,'' he says. "He almost broke me, I admit it.'' When Respert was redshirting in 1990, rehabbing a knee injured in high school, Heathcote's badgering almost drove him away. "How close was I to leaving?'' Respert asks. "Well, my mother talked me out of it. Otherwise, I don't know. But I came to realize the only thing Jud wanted was for me to be a better player. I am where I am today because of him.''
Of course, a lot of players never even made it to State because of Heathcote's manner. His inability to accentuate the positive kept away many big-time recruits, some of whom later modeled the maize and blue of archrival Michigan. "I never promised anyone, not even Magic, that he would come in and start,'' says Heathcote. "What I did was paint a picture of how a player could start. But it was up to him.''
A man can't be what he can't be, and Heathcote could never be a sweet-talker. What he is is what Hall of Fame coach Chuck Daly calls a lifer, a simple man who turned off the lights in the high school gym, learned the game from the bottom up, lived it, breathed it, let it tear up his insides and coached the living hell out of it during every practice session and every game. And when he's gone, whether it's after the first round or the final round of the NCAA tournament, college basketball will be a little less disciplined, the postgame press conferences will be a little less fun, the coaching fraternity will be a little less interesting.
He delivers his own epitaph. "The one thing about this game,'' says Heathcote, "is that it makes fools of us all. I'm living proof of that.''