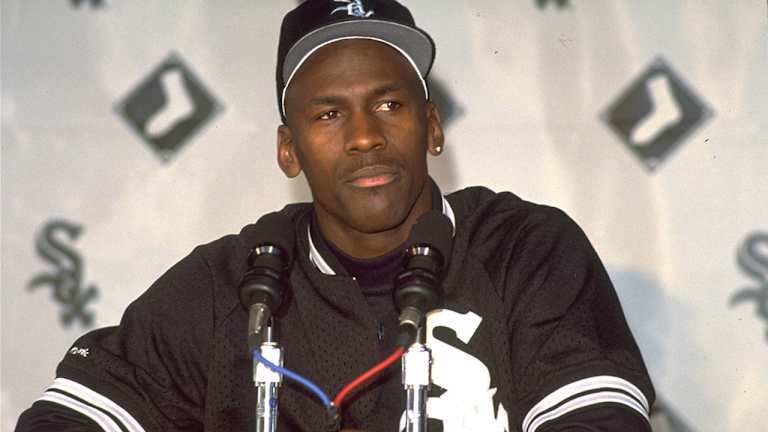 What Goes Up ... Must Come Down, Or So It Seems
Nearly five months after Michael Jordan's number was raised to the rafters in Chicago, and 21 months after his last NBA game, His Airness is thinking about donning the Bulls' colors again
As deeply as Michael Jordan is worshiped in Chicago, at last check he had not had a book of the Bible named after him. So the Bull fan who held up a placard during a game at the United Center last week that read MICHAEL 3:16 was not referring to some New Testament passage but perhaps to the date by which he hoped Jordan's return to the Bulls, the NBA's version of the Second Coming, would become official. It was an appropriate sign, because Jordan is a basketball deity, and the impact of his return on the NBA, should it come to pass, would be of Biblical proportions.
It was also fitting because, as SI went to press on Monday night, NBA fans had to take his unretirement on faith. While rumors swirled around him, the person saying the least about Jordan's potential return was His Airness himself. Last Friday he released a statement through his agent, David Falk, announcing his retirement from baseball, in which he had spent a season and part of a spring training as a minor leaguer in the Chicago White Sox' system. But otherwise Jordan kept silent, putting Bull fans through a delicious agony. The only thing that seemed certain was that this rumor of Jordan's return had more substance than the dozens that had preceded it during the 17 months since he shockingly quit the NBA just before the start of the 1993-94 season. But without confirmation from the man himself, the celebration couldn't begin in earnest.
Starting on March 8, when reports of the comeback surfaced, fans burned up the Chicago sports-talk-show phone lines, and two days later several hundred rooters gathered outside a downtown hotel at which Jordan has offices, waiting for a glimpse of him, as if they expected him to come jogging out in his Bull uniform. Quaker Oats, the makers of Gatorade, which Jordan endorses, quickly printed up T-shirts that captured the mood perfectly: MICHAEL CHILLS . . . CITY SWEATS!
But there was no need for anxiety among fans eager to see Jordan in flight again, because the wheels that will bring him back to the NBA, barring any 11th-hour glitches, were already turning. He worked out with the Bulls three times last week and sat in on a film session, and there were hints that Chicago's March 24 home game against the Orlando Magic would mark Jordan's reentry. ``It's the return of a guy to doing something he loves to do,'' said Bull coach Phil Jackson, sounding very much like he was discussing a fait accompli. ``I'm sure during the year and a half he's been away from basketball that he's run into many people who have told him how much they miss him playing basketball. He's a Michelangelo out there. He does things no one else does.''
Jordan, who remained on the Bulls' payroll during his retirement, has two years left on an eight-year, $26 million contract that will pay him $3.85 million this year. If he decides to return for more than the rest of this season, as is likely, that contract would probably be restructured. But it was clear that before Jordan committed himself to a comeback of any duration, he wanted to be certain about what he was coming back to. Sources close to him indicated that he wanted Bull owner Jerry Reinsdorf to assure the continued presence in Chicago of disgruntled All-Star forward Scottie Pippen by renegotiating Pippen's contract. Pippen, who has an acrimonious relationship with Bull general manager Jerry Krause, has asked to be traded, and Chicago has tried to accommodate him. Before Jordan came back into the picture, the Bulls were expected to deal Pippen after the season. Only Pippen knows what effect, if any, Jordan's return will have on his desire to leave Chicago, and he's not telling. His only comment on the Jordan situation was decidedly noncommittal. ``I would be glad to have any of my past teammates back,'' he said.
The rest of Jordan's once-and-future teammates were clearly glad to have him back on the practice court last week. The highly secretive Bulls prohibit the media from watching team workouts -- they happily permitted reporters to watch the end of Friday's shootaround just to prove that Jordan wasn't there - - but reports from Chicago players have been glowing. Guard Ron Harper, asked if the 32-year-old Jordan had lost anything, replied, ``Just his hair.''
``The only thing that looks different is his jump shot, which hasn't been going in regularly,'' said guard Steve Kerr. ``As for his moves, you know how they are. You can't write them down on paper, you can't describe them, you just have to watch them. He's made plenty of those moves in practice and had us gaping.''
It all sounded as if Jordan was back in his element. His efforts to play baseball were noble, and although he hit only .202 for the Double A Birmingham Barons last season, baseball people were sorry to see him leave. Said Terry Francona, Jordan's manager at Birmingham, ``The only part that's disappointing is that we're not going to get to see how good he could have been. People who saw him this spring, especially those who hadn't seen him in a while, were really impressed. He really improved last year. I don't know if he could have kept up the pace of that improvement, but it would have been interesting to see.'' White Sox manager Gene Lamont, while conceding that improvement, still thought that Jordan wasn't ready for the majors. ``He might have been called up in September,'' Lamont said, ``but to me, that's not getting there.''
If nothing else, Jordan's return to the NBA would ensure that some good will have come of the baseball strike. Without the work stoppage, he now might well be chasing curveballs in the White Sox' spring training camp in Sarasota, Fla. Jordan was one minor leaguer who had a strong alternative to becoming a replacement player, and he was angered at White Sox management for pressuring him and his fellow minor leaguers to play in replacement games. So he walked out of camp on March 2, never to return.
But Jordan was entertaining thoughts of a hoop comeback well before spring training. He and Jackson discussed the possibility as far back as last fall, shortly after Jordan's number had been retired and a statue of him had been unveiled at the United Center in a Nov. 1 ceremony. ``I was asking him why he went through the retirement ceremony when I was hoping he was going to come back,'' Jackson said. ``It was in kind of a joking manner, but it ended up being a more serious conversation than just patter between people who were joshing each other.''
Perhaps that conversation was on Jordan's mind at the start of spring training this season, when he was having a casual discussion with a group of reporters about the escalating salaries in the NBA. With the time approaching when a player would command a $100 million contract, he was asked if he would return to the NBA for that kind of money. ``My wife would make me,'' he said. ``Look, when I return to the NBA. . . .'' Then he caught himself and smiled. ``If I return to the NBA. I said if.''
Jordan's return couldn't come at a better time for the league, which has been hit with a torrent of negative publicity in recent months, including a report last week that late Boston Celtic star Reggie Lewis may have died from the effects on his heart of cocaine use (page 26). Last Friday, just the rumor of Jordan's comeback helped the Detroit Pistons sell 2,000 tickets for their April 12 game with the Bulls. The same day fans in Atlanta bought 1,800 tickets in seven hours for the Hawks' March 25 game against Chicago.
Even those whose championship hopes could be dashed by Jordan's return realize the overall good his comeback will do. ``They will be doing an Irish jig on the desks of the NBA office,'' said Pat Williams, general manager of the Eastern Conference-leading Magic. ``I am sure the clubs in the East who feel this is the year they can [win it all] would say to themselves, `Oh no, Michael, wait until July.' On the other hand, when you think about the impact on the game and what it would mean to the NBA, it would be an enormous jolt to a league.''
Jordan's impact on the NBA's TV ratings, image and ledgers is undeniable. But what about on the court? Will he make the Bulls immediate championship contenders again? ``With Michael Jordan, Yakima [of the CBA] would be an NBA championship contender,'' said Houston Rocket point guard Kenny Smith. ``The man is that good.''
That feeling is not unanimous. ``If Michael can pull it off, it will be one of the great sports stories,'' said Houston coach Rudy Tomjanovich. ``But if it doesn't work, it takes away the clean ending of his career. I thought he went out strictly on his terms. Some other guys have tried to come back, and it didn't work out as well as they had hoped.''
But most of those other athletes -- Bob Cousy, Gordie Howe, Sugar Ray Leonard, to name three -- didn't come back in their primes. The 6'6" Jordan is still at his playing weight of 212, and it isn't as if he has been inactive since he announced his retirement. Still, there is the question of how close he will be, after such a long layoff, to his old self (chart). The consensus seems to be that only Jordan could make up for nearly two years away from the game in a matter of weeks. ``Two years?'' said Magic guard Nick Anderson. ``Man, please! That's like a timeout for him.''
There seems to be little evidence that Jordan has lost any of his competitive juices. To the contrary, Chicago players reported that in his three practices last week he was as intense as ever and evinced the same caustic wit. ``He was the best trash talker in the league, and he still is,'' said Harper, who, like his teammates, avoided asking Jordan if the comeback rumors were true. ``The only thing we asked him,'' he said, ``was to stay home, 'cause he was embarrassing guys.''
But if Jordan hasn't changed, the Bulls--31-31 through Sunday-- certainly have. Several key players from the Chicago team that Jordan led to consecutive championships in 1991, '92 and '93 are gone, most notably power forward Horace Grant. Without Grant, who went to the Magic as a free agent before the start of this season, the Bulls have had problems contending with opponents who have a strong inside presence, and that won't change even with Jordan. Still, the Bulls now will cause more problems than they will face. Jordan, Pippen, forward Toni Kukoc and guard B.J. Armstrong give Chicago as potent a four-man nucleus as any team in the league.
Should he indeed rejoin these Bulls, Jordan will play for the first time with the 6'11" Kukoc, a maturing second-year player whose remarkable passing skills will be enhanced with Jordan on the receiving end. Jordan's and Pippen's resentment of Chicago's long courtship of Kukoc, who at $3.25 million a year is the highest-paid Bull, is common knowledge, but any remaining bitterness is directed far more at Krause than at Kukoc. The blending of the talents of Jordan, Pippen and Kukoc is certain to produce some breathtaking basketball, while Armstrong should slide easily into his old role of spotting up for open jump shots when opponents double-team Jordan and Pippen.
If Jordan doesn't immediately make the Bulls championship material, he will at least make them a team no other club wants to draw in the playoffs. His return sets up some intriguing potential matchups. If the Bulls beat out the Atlanta Hawks for the sixth seed in the East- ern Conference -- as of Sunday, Chicago trailed by a half game -- they would likely face the New York Knicks, who were seeded third at week's end, in the first round of the postseason. That would be a revival of what was the fiercest rivalry in the league before Jordan retired. Further down the line, there is the possibility that Chicago would meet Orlando and Jordan's old teammate, Grant, as well as center Shaquille O'Neal and guard Anfernee Hardaway, who entered the league last season and has never played a regular-season game against Jordan.
Leading the Bulls through that postseason obstacle course to the championship would be an unprecedented achievement, but bettors, at least, apparently have faith in Jordan. As his return seemed to grow increasingly likely, a Las Vegas line on Chicago's winning the title fell precipitously, going from 40 to 1 to 5 to 1.
Of course, odds are the last thing that Jordan or the NBA would like to talk about. When Jordan quit, he was the subject of a gambling investigation by the league, a probe that was ended soon after his retirement with a finding of no wrongdoing. There was speculation that Jordan retired because he knew he was facing a probable suspension -- which league officials denied vehemently after he left the NBA -- but Jordan said he had nothing else to prove in basketball.
In fact, when Jordan was considering retirement 17 months ago, Jackson asked what it would take to persuade him to continue playing. Jordan said that he would have to be allowed to appear in only about 20 regular-season games and the playoffs, which was exactly the schedule he seemed to be orchestrating last week. Jordan may have given himself a more manageable season, but he also was allowing himself less time to work his magic with the Bulls. Could Michelangelo take a mediocre work and transform it into a masterpiece almost overnight? The answer was less important than the fact that the artist seemed at long last ready to return to the canvas where he belongs.