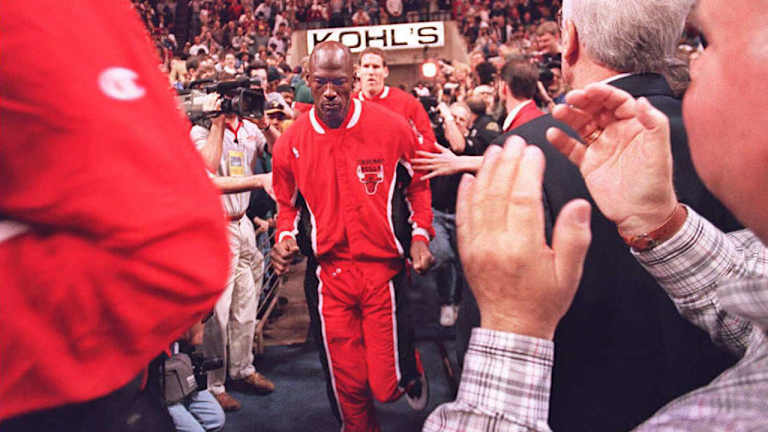 Resurrection
Michael Jordan's return to the NBA was greeted like the second coming, even if his play was at times ragged
A man cannot win when he confronts his own legend. Michael Jordan knows this better than anyone. His 21-month absence from basketball has only enhanced his greatness in our memories, and to live up to his larger-than-life image, he would have to have been more than just spectacular in his return to the NBA on Sunday -- he would have to have been magical. He would have to have simply materialized at center court, a genie in black and red, capable not only of soaring over the Indiana Pacers for poster-perfect dunks but also of making the Chicago Bulls champions again with a wave of his hand, or perhaps a wag of his tongue.
But Jordan refuses to compete with his own ghost, and if that surprises some people, it is only because they have not paid attention to his hints. He wore number 45 on Sunday, the number he wore in his baseball fling with the Chicago White Sox organization, refusing to take his retired Bull number 23 down from the rafters because, he said, his late father, James, saw the last game he played wearing that uniform, and he wants to keep it that way. But the new number also seems to be his way of saying that this is a new era, a new Jordan, and that nothing he accomplishes or fails to accomplish in this new incarnation should have the slightest effect on our memories of the old one.
His written statement the day before the nationally televised Indiana game consisted of simply the two words ``I'm back,'' and he promised no more than that. In time, we will ask more of him, and he will demand more of himself than the 7-for-28 shooting performance he delivered in a 103-96 overtime loss to the Pacers at Indianapolis's Market Square Arena. But on Sunday it was enough just to see Jordan's shaved head slick with sweat again and his tongue poking out on drives to the basket. He is back -- not better than ever, not even as good as ever quite yet -- just back, and for now, that is enough.
It didn't seem like it would be enough in the days leading up to Jordan's comeback. As the media and fans searched eagerly for confirmation of his return, Jordan did his best Howard Hughes imitation, becoming a recluse and refusing to utter a public word. That only heightened anticipation, as reporters and fans speculated on when he would come back and how effective he would be. As the rumors escalated, so did the expectations. ``It was a little embarrassing,'' he said when he finally broke his silence in a postgame press conference on Sunday. ``I'm human like everybody else. Everyone was treating me like a god.''
Some news organizations got carried away in their pursuit of the story. At the Bulls' practice last Thursday at the Berto Center in suburban Deerfield, Ill., one reporter disabled the electronic gate to the parking lot in hopes of keeping Jordan from driving in without a word before practice. (Jordan heard about the maneuver, alerted the Bulls and had the gate opened manually.) On Saturday night the NBC affiliate in Indianapolis broke into regular programming to show the Bulls' bus arriving at the team hotel. Unfortunately, Jordan wasn't on it. He flew in on his private plane on Sunday morning and stayed at a different hotel from the rest of the team. After the game Indiana coach Larry Brown captured the manic mood perfectly. When reporters approached him, Brown said, ``You guys made my day. The Beatles and Elvis are back, and you came to talk to me.''
Jordan, of course, knew better than anyone how rusty he was after nearly two seasons away from the NBA, and he seemed to expect a difficult first outing. Like a producer opening a show out of town before taking it to Broadway, he chose to make his debut on the road against the Pacers instead of at Chicago's seven-month-old United Center, where the Bulls next play on March 24 against the Orlando Magic. ``I certainly didn't want to go through this type of game at home,'' he said.
His decision to come back in this Sunday-afternoon game was fortuitous for NBC, which already had Chicago-Indiana on its broadcast schedule for 53% of the country. The network quickly expanded coverage to include all but the Charlotte and Salt Lake City markets, which saw the Charlotte Hornets-Utah Jazz contest. According to preliminary Nielsen figures, Jordan's return was easily NBC's most watched NBA regular-season telecast in five years, swamping CBS's competing NCAA coverage. (Jordan insisted that neither the network nor the NBA influenced his timing.)
No one can accuse Jordan of choosing to work his way back gradually. He was in the starting lineup, played 43 minutes and, despite his ragged shooting, finished with 19 points, six rebounds, six assists and three steals. Moreover, he elected to make his reentry against the Central Division-leading Pacers and one of his fiercest antagonists, All-Star guard Reggie Miller, who clearly got the better of their duel, scoring 28 points. As the Bulls mounted a furious fourth-quarter comeback from 16 points down to force overtime, Jordan and Miller stopped the hearts of every Bull and Pacer fan, not to mention NBA and NBC executives. With the score tied at 92 and three seconds left in regulation, Jordan crashed into Miller, fouling him in the act of shooting, and the two went down in a heap. Both were painfully slow in getting up, and Miller suffered a right-thigh contusion, courtesy of Jordan's knee, and returned only briefly in overtime.
The Pacer fans, who had given Jordan a huge ovation when he took the floor, now booed him, but Miller was untroubled. ``It was a good play because he knew he had a foul to give,'' Miller said. ``It was just unfortunate that I got hurt on it.''
``Playing your first game in two years against one of the best guards in the league is a lot to ask of any player,'' said Brown. ``Michael might be the closest thing to Superman, but Reggie can make a lot of guys look like Clark Kent.''
It's easy to look at Clark Kent and see Superman just beneath the surface, and that was the case with Jordan against the Pacers. Even though he shot poorly, several signs of the old Jordan were in evidence. His quickness hasn't left him; when he was isolated against a defender one-on-one, he had little trouble shaking free for a good look at the basket on his jump shot; and he was able to drive to the basket when he chose to.
Jordan's biggest problem was simply conditioning. One of the most remarkable aspects of his nine-year, prebaseball NBA career was his apparent tirelessness. ``It would be the fourth quarter, he'd have about 40 points, and you'd look at him and he wouldn't even be breathing hard,'' says Chicago guard B.J. Armstrong. But on Sunday, before the first quarter had ended, the 32-year-old Jordan was bending over and tugging on his shorts, the universal symbol for fatigue, and in the overtime he developed leg cramps. Asked if he was disappointed that he didn't get a chance to dunk, Jordan replied, ``I was cramping so bad I didn't really want to.''
Not all of the adjustments Jordan will have to make are physical. He will also have to familiarize himself with a Bull team that is vastly different from the one he left. Armstrong, forward Scottie Pippen and center Will Perdue are the only current teammates who played on the Bulls' three title teams, and despite several practice sessions the lack of familiarity was evident, as several of Jordan's passes were fumbled by teammates who weren't expecting the ball. ``We were really out of sync at times,'' said coach Phil Jackson. As Jackson pointed out, most of these Bulls are new to playing with Jordan, and one or two might be a bit in awe of him.
Toni Kukoc was clearly among the awestruck on Sunday. Kukoc, a Croat, left Europe to join the Bulls two years ago largely to fulfill his dream of playing alongside Jordan, only to see him retire before they ever took the court together. Kukoc's dream came true Sunday, and he seemed unable to do much except stand around and watch. He finished with seven points in 27 minutes. ``Toni really had a bad game,'' Jordan said. ``I did all I could to talk to him and help him relax.''
Now the challenge for Jordan will be to get to know his teammates while he is finding out about himself. There were moments on Sunday that were reminiscent of his prechampionship days with the Bulls, when he was a brilliant one-on-one player who was not always sure of when to take matters into his own hands and when to get his teammates involved. He eventually developed an almost perfect instinct for such decisions. On Sunday that instinct wasn't always there.
The rest of the regular season will be an interesting experiment for the Bulls. They will try to improve their playoff position (at week's end they stood sixth in the Eastern Conference with a 34-32 record) while they help Jordan hone his game. On Sunday, for instance, Jordan seemed determined to take his jump shot even though he was struggling with it, because he needed the practice, like a pitcher in spring training who keeps throwing his curveball even though he can't get it over the plate. It would probably take a full training camp for Jordan and his new Jordanaires to feel completely comfortable with one another. Although Jordan returned with more than the rest of this season in mind -- ``I don't want to make this a cameo,'' he says -- it's far from definite that he's back for the long term. He says he has no assurances from Bull owner Jerry Reinsdorf regarding his hope that Pippen, Armstrong and Jackson will receive contract extensions or renegotiations, and says he hasn't been promised, implicitly or otherwise, a new deal of his own. His current eight-year, $26 million contract expires after next season. ``There's nothing under the table,'' he says. ``I wish there were. I didn't have any stipulations as far as Scottie or B.J. or Phil. I asked, certainly, for my own knowledge. But I didn't request.''
Jordan emphasizes that he returned ``for the love of the game,'' and he sounds like a complete innocent when he insists he has done no behind-closed-doors negotiating with Reinsdorf about his future with the Bulls. But he is much shrewder than that, and it is hard to imagine that he would make a long-term commitment to a team that isn't a realistic championship contender. Once a new collective bargaining agreement is signed and the moratorium on contract renegotiations agreed to by the NBA and the players' association is lifted, expect Jordan and the Bulls to begin talking about a contract that would pay him quite a bit more than his current deal.
Yet Jordan never sounds more sincere than when he says, ``Eventually I just decided that I loved the game too much to stay away.'' Ironically, his baseball teammates were instrumental in helping him develop the itch to put on the Bulls' uniform again. ``When I was down in the minor leagues, every guy wanted to play me in basketball,'' he says. Jordan obliged some of the minor leaguers by playing pickup hoops with them, and in the process his passion for basketball was rekindled. At Sunday's press conference, he said of his baseball buddies, ``Maybe they're like me. They believe they can be a basketball player like I believe I can be a baseball player.''
For the moment Jordan is back to believing he is, first and foremost, a basketball player. It may be a week before he is the same basketball player he was two years ago, or it may be a month or a year. But for a little while longer maybe we should simply enjoy the knowledge that Jordan still loves the game and that even when he is at less than his best, the game still loves him back.