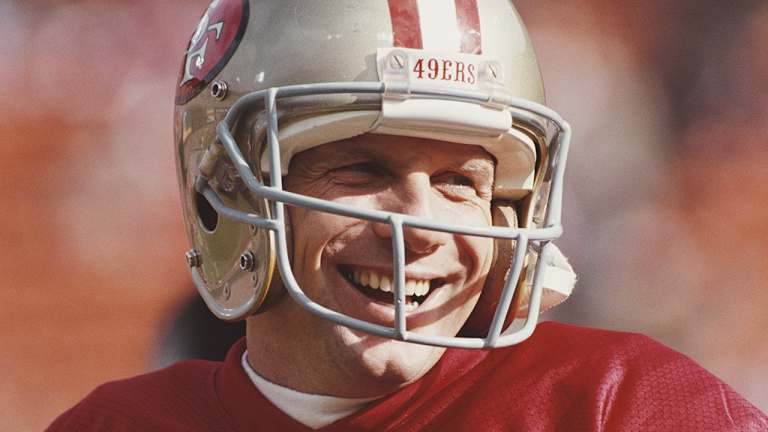 All Hail the King
The legendary Joe Montana is finally ready to rest on his laurels
The morning mist envelops the Napa Valley, floating above the vineyards like a perfect touch pass, and Joe Montana wants to talk about water. You are standing here with the living legend, watching layers of foam float down a mountainside like soapy lava. Montana will own this mountainside, and the rest of this 1,690-acre plot, if he can find a viable water source. Well drillers are injecting the foam into the ground as part of a process to determine if water is present.
As the drill shrieks across the muddy terrain and excess foam flows out of the potential well site, the men who operate the drill seem less awed by Montana's celebrity than he is by their craft. His strict attention is unnerving. In less than a week Montana will announce his retirement, and there are so many memories to relive: the four Super Bowl championships, the 31 fourth-quarter comeback victories, The Catch, The Drive, the trade, the elbow, the knee, the glory. Yet, instead of focusing on any of those topics, all Montana wants to talk about is water. ``Maybe we should go up top,'' he says, gesturing toward the mountain's plateau. ``We could get these trucks up there if this stupid rain would give us a break.''
This is Montana's life now. Retirement beckons, and for the moment the well-wishers must take a backseat to the well seekers. The search continues deep into the day, and Montana's interest never wanes. Clearly, this is no put-on. This is a man in the midst of a new reality. A 38-year-old who has been playing a little boy's game for three decades is now eager to embrace the most mundane trappings of adulthood.
Because Montana made quarterbacking look so stylish and so natural, it was tempting to assume his life would be empty when he retired. What seems to be happening instead is that Montana, by virtue of his uncomplicated manner, is deriving stimulation from life's basic pleasures: hanging out with the family, stoking the barbecue, working the land and laughing whenever possible.
After 16 NFL seasons, 40,551 passing yards, 273 touchdown passes, three Super Bowl MVP awards, two regular-season MVPs and millions of dollars from football and endorsements, Montana is, in every sense of the term, set for life. He has his family: wife Jennifer; daughters Alexandra, 9, and Elizabeth, 8; and sons Nathaniel, 5, and Nicholas, 3. He has his parents close by, Joe Sr. and Theresa having moved from the western Pennsylvania steel town of Monongahela almost a decade ago to be near their only child. He has his posh house in the Bay Area community of Atherton and a chance to tailor a Napa property to his liking. He has a single-engine airplane and a 14 handicap he would like to bring down into single digits. He has a host of new hobbies, including archery, and a soon-to-be-announced affiliation with a major Indy Car team. He has broadcasting discussions in the works with NBC, Fox, ESPN and Turner. He has long-term endorsement contracts and sound investments. He has his health. And he has his legend.
Why not a gold watch?
``I know there will be some doubts, but I'm at peace with this decision,'' Montana says. ``I've got a lot of new things happening in my life I'm excited about. One thing, and it sounds simple, is just not being on a schedule. To just relax -- that's something I've never really been able to do.''
One faction of Montana-followers thinks he's nuts to quit football. These people revere his fighting spirit so thoroughly that they are blind to his age and circumstance. In their minds there is no way the perky kid who performed miracles at Notre Dame, who turned the San Francisco 49ers from nonentity to dynasty and who spent the past two years reaffirming his magic for the Kansas City Chiefs, would give up his job by choice. As the news of his retirement spread, these doubters submitted alternative explanations: His knee was shot. He was sick of Kansas City, of the Chiefs' failure to improve in the off-season and of coach Marty Schottenheimer's long practices. His wife made him do it.
Montana says it's all nonsense, especially the part about his wife. ``She actually has tried to make sure I'm not jumping into this prematurely,'' he says. ``People want to make it seem as if she's the one making me quit, but she's the one asking me, `Are you sure?' ''
Tall, blonde, tan, trim and energetic, Jennifer is a former model who is perceived to be the head of her household. It seems ridiculous to surmise that Joe, a man who stood up to 300-pound beasts and led some of the best teams in football with unquestioned authority, would allow his retirement to be railroaded through by anyone. Yet Jennifer has been cast as the dragon lady, something of a Yoko Ono. ``Joe is quiet,'' Jennifer says, ``but when he makes up his mind, or when he speaks his opinion, he'll make it known. He doesn't like confrontation, but once he makes up his mind, he doesn't look back. Everybody thinks he has to quit because his wife says so. Come on. I mean, he's 38 years old. Why isn't that excuse enough?''
This is not to say that Jennifer is shy about exerting her influence. For instance, during the tense period that preceded Montana's trade to Kansas City, it was a confrontation between her and 49er vice president Dwight Clark, a longtime friend and former teammate of Joe's, that precipitated a two-year feud that ended only last week. Then again, it was Jennifer who contacted Clark, Nathaniel's godfather, and initiated the reconciliation.
Jennifer is thrilled with her husband's decision. But it was his call, and it came much earlier than most people know. In late January 1994 the Montanas were driving up Interstate 280, heading north toward San Francisco, when Joe broached the subject. Earlier that month, during Kansas City's 30-13 loss to the Buffalo Bills in the AFC championship, he had been knocked out by three charging defenders. The concussion, Montana says, ``felt like a lightning bolt went right through my head.''
His first reaction was to grab his face mask -- to make sure it wasn't embedded in his skull. When questioned on the sidelines, he couldn't name members of his family. The incident scared Montana into taking several medical tests, which revealed no permanent damage. He returned to the Bay Area in a bad mood and stayed that way for several days. Finally, while driving with Jennifer on that January day, he revealed his thoughts: ``I'm gonna quit. And I'm gonna announce it soon.''
A few weeks later he changed his mind and hired two personal trainers and a karate coach to work with him at home. But the old spark wasn't there. His off-season training group, which included former 49er teammate Jerry Rice, worked out that spring at Menlo College, only a couple of minutes from Montana's home, and still he had trouble dragging himself there. Training camp was a struggle, and even after the Chiefs beat the Niners in the second game of the season, Montana's edge was gone. He called his old San Francisco teammate and good friend Ronnie Lott, who was then with the New York Jets, and told him the end was near. ``For the first time in my life, football began to feel like a job,'' Montana says. ``All of a sudden I was dreading getting up in the morning. When that feeling takes over, you know it's time, because, chances are, that's when you're going to get hurt. You're not thinking about the game; you're just thinking about making it through the week, making it through the game. I always thought I'd end up quitting because my skills were deteriorating. But physically, I felt better going into last season than at any time in recent years.''
Montana has taken a beating in his career. After Buffalo defensive end Bruce Smith leveled him during a game last Oct. 30, he looked up and told Smith, ``I'm too old for this -- -- .'' Contrary to some newspaper reports, however, the recent surgery to repair cartilage damage to Montana's right knee did not prevent him from continuing to play. He was driven out not by injury but by indifference.
The right arm is sound and steady -- no one disputes that. Standing on the highest portion of his Napa property, where he plans to have a summer house built, Montana is about to put that arm to use. In his quest for water, Montana has employed Laurie Woods, a water witcher well into senior citizenship. Woods searches out potential water sights with a pair of thin iron rods and an empty bottle of brandy. He holds one rod in each hand, and their movements reveal the choice spots. He learns about the potential flowage by spinning the brandy bottle on the ground and counting the rotations. ``Yeah,'' Montana says dryly, ``but the key is, he drinks the brandy first.''
After watching Woods scout a locale, Montana asks for a demonstration. Woods walks over to a spot, and the rods cross. Then they vibrate. ``Here, you try it,'' he says to Montana, handing over a rod. It flutters only slightly, so Woods grips Montana's left arm, which causes a more pronounced tremor. ``Now I'm going to hold your right arm as you hold the rod,'' Woods says. When he does, the rod shakes violently. Both men smile as they stand there, Woods channeling energy through an arm responsible for so much magic over the years.
This is not the first time Montana's right arm has attracted unconventional attention. In 1992, while he was in the midst of elbow troubles that would force him to miss nearly two seasons, he tried all sorts of alternative healing approaches. Wonder creams would come in the mail, and he would apply them. He ingested herbal teas and potions. One would-be healer was invited to Montana's home and spent minutes moving his hand up and down Montana's arm without touching it. ``That guy was really spooky,'' Jennifer says.
The limb carries so many memories, most of them fond. Montana recalls the arm's first great professional act. In 1980, his first season as a starter, the 49ers trailed New Orleans 35-7 at halftime before Montana pulled off the biggest comeback in regular-season history. San Francisco won 38-35.
That convinced the 49ers, if not their doubting fans, that something special was brewing. The next year, when Montana and the Niners beat the Dallas Cowboys in the NFC championship en route to their first Super Bowl triumph, the arm not only delivered The Catch -- Clark's leaping end-zone grab -- but also thrust itself defiantly in the face of Cowboy defensive end Harvey Martin. Following a 45-14 loss to the 49ers in the regular season, Martin had remarked that Dallas still didn't respect San Francisco. Montana remembered, and after throwing his first touchdown pass in the NFC title game, he pointed at Martin and yelled, ``Respect this,'' punctuating his statement with a descriptive noun that would make even Roseanne blush.
``Not everyone remembers what it was like back then,'' says Montana. ``The 49ers had never won a thing, and people wouldn't let us forget it. Especially when we played the Cowboys, because they had always ruined things for us. I'm not big on trash-talking, and I think it has gotten way out of hand around the league, but back then no one respected us. If people didn't respect us, I'd show them no respect.''
The arm has also seen its share of trouble. In the 1990 NFC championship, New York Giant defensive end Leonard Marshall delivered what Montana says is the hardest hit he ever took -- a blind-side sack that bruised his sternum, fractured a rib and knocked him out of the game. According to Montana, what Marshall did after the whistle was reprehensible: ``He grabbed my hand on the way down, and after we hit the ground, he snapped it back and broke it. There are photographs of him doing it.'' Montana says Marshall denied hurting him intentionally.
At the moment the arm is performing one of its favorite activities, raising a glass of red wine. As he sits in a trendy Napa Valley restaurant, sampling a local zinfandel, Montana mulls over his messy departure from the 49ers after the 1992 season. His thoughts are not for publication. Montana prefers not to dredge up that chapter of his otherwise dreamy career.
He learned to be politic from his first Niner coach, Bill Walsh. Their relationship went through some rocky times in the late '80s, but they are close once again. Things aren't as congenial between Montana and Walsh's successor, George Seifert, but Seifert was invited to the retirement ceremony earlier this week, along with Clark and Niner owner Eddie DeBartolo Jr., whom Montana regards with great warmth.
There is no pretense of friendship with Steve Young, who inherited Montana's starting job four years ago and completed a dream season in January by leading the Niners to victory in the Super Bowl and winning the game's MVP award. The competition between the two men was fierce. Not only did Montana resent what he perceived to be self-promotion on Young's part, but he also thought that Seifert openly favored Young. During the 1992 season, when Montana was on the injured reserve list, he was asked not to hang around the 49er practice facility because he might be a distraction for Young. This banishment is what prompted Montana to take up flying.
With a pilot's license and a Malibu Mirage, the single-engine plane he received as a gift from Jennifer in December, Montana has the means to pursue his new passion. He is not content to take to the air merely as a means of transportation. He experienced a barrel roll while flying with the Blue Angels (as a passenger) last year, and though his instructor has already taught him a maneuver called a spin, he wants to learn more stunts. ``When he's in the air, that's the only time he has that same glow as when he's playing football, maybe even a bigger glow,'' says Jennifer. ``His eyes get really big, and they sparkle, and he talks about side winds and things like that. It'll never make up for playing in the game, but it'll help ease the emptiness.''
Montana wants to put a landing strip on his Napa property, along with a fishing creek, several ponds, an outdoor fireplace and a vineyard. He envisions a red-wine operation that would produce 500 cases a year for friends and family to consume. ``Lord knows I'll drink enough of it myself,'' he says. He has big plans for taming the land, from spraying the poison oak to cruising around on a tractor and moving mountains.
Then again, a part of Montana wants to hit the road -- and the skies. In addition to planning several side trips, the Montanas are considering renting a house in Italy in the fall. If Joe accepts a broadcasting job -- NBC and Fox are the leading suitors -- it will likely be a part-time, in-studio gig. The Chiefs, Montana says, have left the door open for a comeback, which he deems highly unlikely. He has ruled out doing what former teammate Roger Craig did last summer -- re-signing with the 49ers for a day, as a symbolic act, before retiring.
On Easter Sunday, two days before his retirement news conference, he is watching his son rise from the swimming pool at the house in Atherton. The egg and the scavenger hunts are over, and Joe and his parents are eyeing the kids while Jennifer entertains a guest. Nicholas, the youngest and wildest child, is cavorting around naked and screaming up a storm. ``Should we call a timeout?'' Jennifer asks Joe, and the quarterback shrugs.
Later, the parents retreat to the weight room, home to most of Joe's mementos, including the three Super Bowl MVP trophies. The first of these is more than 13 years old and looks it -- the metal is corroded, and the bar connecting the football to its base has been dislodged. It is a relic of a bygone era, and it is not, incidentally, Montana's proudest possession. That, he says, is an oversized, framed copy of the Time magazine cover that featured Montana before his first Super Bowl.
Jennifer leaves to tend to the kids, and Joe draws a beer from the tap beside the outdoor barbecue. He takes a seat on the patio, fingering a nickel Nicholas has dropped. In front of Montana is a pool backed by a nicely groomed lawn that seems to stretch forever. He is talking about his most famous football moment, the last-minute touchdown drive that beat the Cincinnati Bengals in Super Bowl XXIII, and his blue eyes sparkle as he meets his guest's gaze straight on.
Suddenly, Montana whirls, and the arm reaches back in that same, sweet motion it did for three decades. Then the arm snaps forward, and 20 feet away, the nickel grazes the feet of a blue jay that has ventured too close to the pool. The bird flies off into the open end of the yard, never looking back. Montana rests the arm on his chair and smiles.