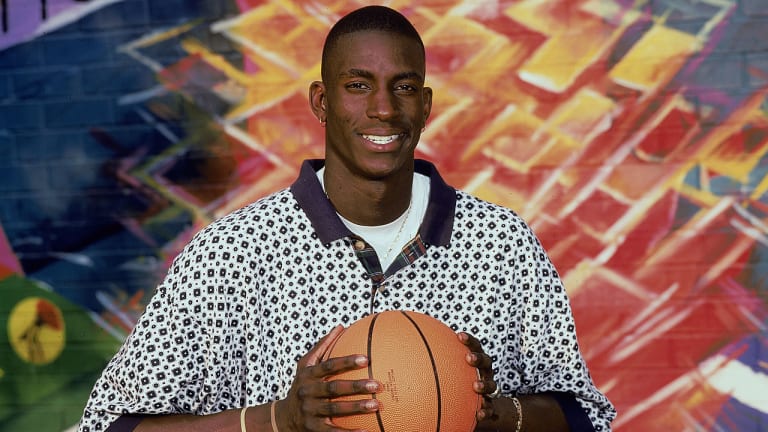 Hoop Dream
Kevin Garnett, a sure-shot lottery pick, is jumping from high school to the NBA.
You will make all kinds of mistakes; but as long as you are generous and true, and also fierce, you cannot hurt the world or even seriously distress her. She was made to be wooed and won by youth. --Winston Churchill
To that sentiment, Mr. Prime Minister, the NBA can only add a hearty amen. Barring a surprise, none of the first four picks at next Wednesday's NBA draft will have reached either his 21st birthday or his junior year in college. And sometime around 8 p.m., when it comes time to announce the fourth selection, commissioner David Stern will call from the podium at the Toronto SkyDome the name of Kevin Garnett, who in the last five weeks has celebrated his 19th birthday and secured his high school diploma.
We have no idea if Garnett will be generous and true, and there is still a question about him being fierce, too. The only certainty is that he will make all kinds of mistakes.
No matter. The 6'11" Garnett represents that most elusive of commodities for the bottom feeders of the NBA -- hope. Get Garnett, the thinking goes, and you've got an All-Star well into the 21st century. Get Garnett and you put backsides in the seats when Michael and Shaq aren't in town. Get Garnett and you're in the Finals two years from now. On and on. There is no limit to the imagination of NBA executives, and there is nothing that stirs basketball imaginations quite like a kid with major league size and major league skills. Garnett has both.
The buzz about this year's draft is that, yes, it's good and deep, but it's also short on future superstars. Jerry Stackhouse might be one, and Garnett might be one. That's it. Garnett's leaping ability is off the charts, he runs the floor like a sprinter, he shoots 20-foot jumpers with ease and perfect rotation, and he's the best-passing big man in the draft. Most teams believe he'll eventually be a do-everything small forward, but for now let's give him a new handle. Call him a faceup 4, a power forward who can hurt you from anywhere, a cross between Reggie Miller and a kinder, gentler version of Alonzo Mourning.
Oh, Garnett comes with an asterisk, as even the most breathless NBA executive will acknowledge. Drafting a teenager who is obviously talented but not physically or emotionally mature is a charged issue for the NBA. Only four American-born players before him in the modern age have made the jump directly from high school to the pros, and only one, Moses Malone in 1974, did it seamlessly. There are concerns about Garnett's maturity, his social skills, his sense of responsibility, his friends and his diet. And that's not to mention the question of how long he will take to develop physically (only 220 pounds are slung along those 83 inches) and whether he'll fold like a nervous poker player the first time Karl Malone hips him into a basket stanchion. But ask any NBA executive if he'll consider drafting Garnett, and after reciting a litany of concerns, he'll almost certainly say yes. NBA types became mildly interested in Garnett last summer when reports of his dominating play at high school all-star camps began to filter into front offices around the league, and they became strongly interested after many of them watched him average 26 points, 18 rebounds, seven assists and six blocked shots for Chicago's Farragut Academy last winter. Now they are panting. Three weeks ago, as marginal NBA prospects auditioned at Chicago's Moody Bible Institute during the league's predraft tryout camp, Garnett displayed his wares separately in two one-hour workouts at the University of Illinois-Chicago before an audience of invited representatives from the 13 lottery teams (plus several others that came without having been asked). Jumping, quickness, agility, ball handling and shooting were emphasized. True, no one was on the court with Garnett except Detroit Piston assistant coach John Hammond, who put him through his paces. But all who watched came away with the feeling they had seen the future. New Piston coach Doug Collins said, "He's a genetic freak. All the great ones are."
Well, he's not a great one yet. A few days before his workouts Garnett showed up late for his camp physical and then abandoned, out of apparent exhaustion and frustration, his stress test. "The team that takes Kevin has to commit its entire organization," says Portland general manager Bob Whitsitt, who drafted Shawn Kemp out of high school for the Seattle SuperSonics in 1989. "Ownership, coaches, other players, everyone has to realize this is a 24-hour-a-day process. You have to be willing to spend the years, not the days, the years, to make this work."
Garnett says he can adjust to any team, but he thinks a nice place to play would be Toronto, where he would be under the care and feeding of Raptor general manager Isiah Thomas, a Chicago native. "Wherever I go, it'll be an opportunity," says Garnett. "Millions of kids want to play pro basketball, and here I am getting the chance early. I learned one thing -- never hate a positive option."
Ah, options. One of Garnett's was supposed to be college. But he has yet to receive a qualifying score, on either the SAT or ACT, that would enable him to secure a Division I scholarship. He retook the former on June 3 but scrapped plans to retake the latter only a few days before the June 10 test date; it was no coincidence that he canceled after the Chicago show all but locked up a spot in the NBA lottery for him. The question is this: Had he earned a qualifying score before the pro freight train got a full head of steam, would he now be buying Michigan T-shirts instead of getting measured for a size-52 suit to wear on draft night? "I'm not sure," says Garnett. "But the one thing that bothers me is everybody thinking I just, you know, got into this without thinking it over. I thought about it a lot, and I think I'm ready."
He's not, of course. The public-relations-conscious NBA, which is already disgusted with the negative image of some of its stars, is apprehensive about the possibility that Garnett will be a spectacular flameout. "If it were up to us, we'd prefer not to see someone come into the league at that tender age," says Russ Granik, the NBA's deputy commissioner, "but the courts say otherwise." Indeed, once the NBA lost the Spencer Haywood case in 1971, it was helpless to stop the flood of early entrants. Since 1976 the early entrants have numbered 198. The last two years 16 were selected in the first round of the draft, and the trend will continue next Wednesday with would-have-been college juniors Stackhouse, Joe Smith, Antonio McDyess and Rasheed Wallace certain to be among the early catches. But early entry has also produced a plethora of long-forgottens. Where have you gone, Garcia Hopkins, Leonel Marquetti and Yommy Sangodeyi?
Of the four players who have made the jump directly from high school, none provides keys for success that are all that relevant to Garnett's situation. Moses Malone had 1-1/2 seasons to develop under the soft lighting of the ABA before he came to the NBA in 1976. Darryl Dawkins, like Malone, was physically mature when he came to the Philadelphia 76ers out of Orlando's Maynard Evans High School in '75, but he remained nothing more than a delightful diversion during his 14 years in the league. The case most comparable to Garnett's was that of Bill (Poodle) Willoughby, a willowy, finesse-oriented 6'8" player who passed up a scholarship at Kentucky and became a second-round pick in 1975. Willoughby didn't flame out; rather his career flickered and finally died out quietly after eight seasons and six teams.
Seattle's Kemp, the last no-college player to make it, is no Malone, but he apparently will have a terrific NBA career. However, Kemp was both physically and emotionally mature when he turned pro in 1989, and besides, he did have a year to adjust to life away from home while attending Kentucky and Trinity Valley Junior College, though he didn't play basketball at either school. "Don't forget it was his fourth coach with the Sonics [George Karl] who reaped the benefits with Shawn," says Whitsitt. "People see an All-Star player right now, but Shawn made a lot of mistakes along the way. Anyway, the NBA that Kevin will face is much different even from the one that existed when Shawn came in. The dollars are greater, the media exposure is greater, and the expectations are higher. The team that drafts him will have to be prepared for the realization that he might fail. The odds are he will fail."
Clearly, the safe comment to make about Garnett is that he should take "a year or two" in college to grow up and learn some responsibility. But look at it from another perspective. Garnett has decided that he's not a student. He's not dumb, but neither is he motivated in the classroom, and, as Farragut Academy vice principal Arleen Daggs puts it, "He doesn't test well." There's something bothersome about the glib observation that Garnett "owes it to himself" to spend a year or two in college to more adequately prepare himself for the pro game, which is essentially what this year's star-studded early entrants have done. It's a hopelessly quaint notion, of course, but colleges are supposed to be about making the effort to earn a degree in four or five years. "When I went to Oklahoma State, I felt I was making a commitment to them," says Bryant (Big Country) Reeves, a senior who figures to go early in this year's draft. "But that's easy for me to say, because nobody wanted me early. And as for me going pro right out of high school, let's not even talk about that. Frankly, I don't know what I would've done in Kevin's position."
Well, rather than take up someone else's space in a college classroom, what Garnett has done is enlist in the real world. Every year hundreds of men -- boys, really -- younger than he head for minor league baseball and hockey teams, and almost no one spends a second worrying about them. For that matter, teenagers make a full-time living digging ditches, working in steel mills, administering to the sick in hospitals and fighting in wars. Bouncing a basketball and staying in nice hotels is tougher?
In one respect, it is. As is the case with adolescent females on the pro tennis tour, Garnett will grow up in the spotlight, and he'll be making a lot of money while we watch. The kid will go from pinching pennies for the Super Hero sandwich at McDonald's to making ... what? Forty million for seven years? Fifty million for eight? Money changes people, alters motivations, messes up priorities, attracts hangers-on, opens up possibilities with women for which Garnett is unlikely to be prepared. These are valid concerns for the NBA and for the team that drafts him.
Garnett believes that his life experiences have made him wise beyond his years and more prepared to make what he calls "the jump." He grew up in the seemingly placid middle-class town of Mauldin, S.C., a bedroom community of Greenville, but racial tension bubbled under the surface. The move from Mauldin to the bleak, gang-infested west side of Chicago (he met the Farragut coach at a basketball camp and decided to move to the area with his mother, Shirley) before his senior year came in large part as a result of an incident in which he and several friends were charged with assaulting a white student. Garnett participated in a pretrial diversion program for first-time offenders, and his record was cleared. He also learned to survive in Chicago. "I know I couldn't have done what Kevin did," says Garnett's best friend from Mauldin, Jaime (Bug) Peters. "I visited him there and, man, the difference," Peters says. In one respect, yes, Garnett is wise beyond his years.
But he's still a kid. You realize that when you hear the wonder in his voice as he talks about his heroes, Michael and Magic, or watch him with his old friends in Mauldin, walking around a mall, schmoozing young salesgirls, discussing what threads he will wear to the draft. "KG, man, you gotta get yourself one of those long red suits like Jalen Rose had on at last year's draft," advises buddy Baron Franks. It's a little scarier when you hear the kids discussing, in dead earnest, what kind of car (or cars) Garnett will soon be purchasing and realize that his soon-to-be-acquired millions is like so much Monopoly money to them.
In unguarded, private moments Garnett seems to realize what he's up against. After a nervous TV interview, he shakes his head and wonders, Am I really ready for this? He uses words like overwhelming and hard to believe when he thinks of the road ahead. Eventually, though, the 19-year-old bravado takes over, and he sees no reason why he won't be an All-Star in his rookie season.
That is the beauty, and the blindness, of youth. No, the world will not be hurt or even seriously distressed by Kevin Garnett -- the question is whether we will someday say the same about him.