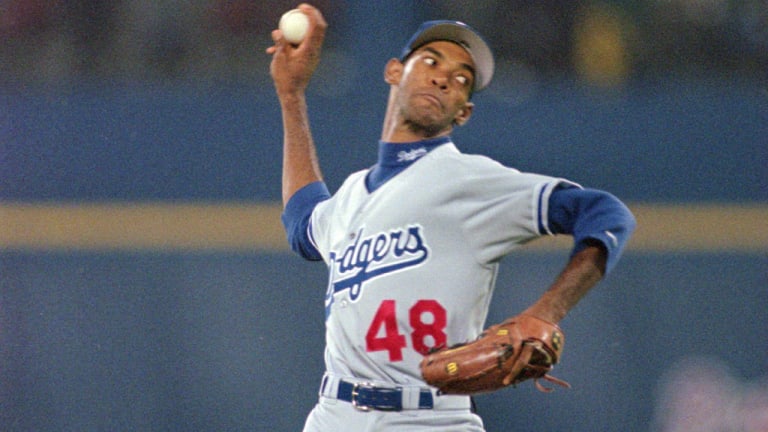 Publish date:
Martinez Mania
Ramon's no-hitter is the latest feat by one of the myriad Martinezes who are having stellar seasons
Two outs in the ninth. Montreal Expos pitcher Pedro Martinez peers at the hitter, Quilvio Veras of the Florida Marlins. Martinez's nerves are more jangled than they were when he threw nine perfect innings last month.
"Come on, Quilvio, strike out!" he shouts, knowing full well that Veras is out of earshot—by about 2,200 miles. Martinez is sitting in front of a television set in the Montreal apartment of teammate and fellow Dominican Henry Rodriguez, drinking Presidente—the beer of his homeland—and working up all his telepathic power to help his older brother, Dodgers pitcher Ramon Martinez, close out a no-hitter against the Marlins in Los Angeles. "Let's go!" urges Pedro, who only hours earlier pitched Montreal to an 8–2 win over Philadelphia while shrinking his ERA to 2.94, eighth-best in the National League.
Last winter, Veras played on the same Dominican softball team as Pedro, 23, and Ramon, 27. Veras works the count to 2 and 2. Then he lifts a soft fly ball into leftfield, where Roberto Kelly squeezes it in his glove to finish off the first no-hitter of the season. In Montreal, Pedro leaps into the air. In Los Angeles, Ramon, with tears pooling in his eyes, jumps into the arms of catcher Mike Piazza.
Have you overlooked what's going on this year with the major leagues' sizable Martinez clan? That would be a no-no. Ramon's no-hitter last Friday night underscored this truism: The alphabet, insomnia and the hottest name in baseball all end in z's. Consider that, besides brothers Pedro and Ramon, who have each answered the Hall of Fame's call for an autographed ball this season, these other standouts—unrelated but not unremarkable—also are named Martinez:
• In Cleveland, Dennis was 8–0 for the Indians at week's end and had the American League's second-lowest ERA (2.47). He is making a bid for his first Cy Young Award despite the fact that he's a 40-year-old grandfather and a former alcoholic.
• In Seattle, Edgar was leading the American League in hitting with a .361 average through Sunday. The Mariners' designated hitter, who won his first batting title in 1992, has returned to prominence after two seasons spoiled by injury.
• Playing alongside Edgar is Tino, a first-time American League All-Star this year (replacing the injured Mark McGwire of the Oakland A's). Tino had 58 RBIs at week's end, the fifth-highest total in the league.
That's not all. Angel Martinez is establishing himself as the Toronto Blue Jays' catcher of the future. Dave Martinez is a spare outfielder with the Chicago White Sox. Carlos Martinez, who spent last year playing in a Venezuelan summer league, has resurfaced as an infielder with the California Angels, for whom he is unlikely to surpass his career highlight: He was the White Sox' first baseman on Aug. 1, 1990, when the club called up somebody named Frank Thomas to replace him.
Before the Houston Astros sent "the other Pedro Martinez," a lefthanded pitcher referred to in box scores as P.A. Martinez, to the minor leagues on July 1, all six divisions included at least one Martinez. When P.A. arrived in Triple A, he joined 17 other Martinezes who are playing for full-season minor league clubs, including—now pay close attention—pitcher Jesus Martinez, a 21-year-old Dodger prospect and the brother of Pedro and Ramon; and another Ramon Martinez, an infielder in the Marlin system who is not related to Pedro and Jesus but who is the brother of Jose Martinez, a former big league pitcher now back in the minors. (Those 17 minor Martinezes do not include another Dennis Martinez, the 0–1 son of the undefeated dad of the same name. Young Dennis is pitching for the Burlington Indians, a short-season rookie league team in Vermont, after being drafted in the 42nd round by his father's employer.)
But enough of such minor matters. At the major league level, three of the past six National League pitchers to throw nine no-hit innings are named Martinez, with Ramon and Pedro joining Dennis, who threw a perfect game in Dodger Stadium on July 28, 1991—which happened to be the 31st birthday of Carmelo Martinez, the former big leaguer who is the cousin of Edgar Martinez, who never fully recovered last year from being hit on the wrist Opening Day by a pitch from Dennis Martinez, who has plunked more batters over the past three seasons (25) than the more notorious brushback pitcher Pedro Martinez (21), who....
Who's on first? Tino.
"I don't know why there have been so many guys named Martinez doing so well the last few years," Edgar says. "Just a coincidence, I think. It can't be the last name."
The Martinez tradition is a relatively new one. By the time the expansion era began in 1961, only one Martinez had ever played in the big leagues: the eminently forgettable Rogelio Martinez, a righthanded pitcher for the 1950 Washington Senators.
"Gee, I wish I could help you," says former Minnesota Twin manager Sam Mele, who was a teammate of Rogelio's, "but the name doesn't really ring a bell."
Perhaps he blinked while Rogelio was up. Rogelio's cup of coffee in the bigs was a demitasse. The Cuban-born hurler pitched twice, including one start, for a total of 1 1/3 innings. He left the majors with an 0–1 record and 27.00 ERA.
Since then 22 more players named Martinez have played in the majors, most of them in this decade, as baseball in the 1990s has reflected the swell of the Latin population in America—just the way baseball in the '20s and '30s reflected the waves of Irish, German and Italian immigrants. Nearly one out of every five big leaguers is now Latin, and Martinez is the sixth-most common Hispanic surname in the U.S. In both 1993 and '94, the most common name on major league rosters was Martinez. (So far this year Williams has eclipsed Martinez as the game's most common name.)
Until this decade only one Martinez had ever been selected as an All-Star: Tippy (1983), a name that described the frequent condition of his Baltimore Oriole teammate, Dennis. Dennis sought help for his drinking problem after the 1983 season, but only after once driving his car through the side of a Howard Johnson's restaurant. ("Dennis," teammate Mike Flanagan told him, "Burger King, McDonald's and Wendy's have drive-throughs. HoJo's doesn't.")
In 1985 Dennis looked like he might be washed-up, having just finished his third straight season with an ERA worse than 5.00. He was 31 when the Orioles traded him the following June to Montreal for Rene Gonzales, a utility infielder who was notorious for carrying his glove in a bread bag and having a batting average that was smaller than a bread box.
Remarkably, Dennis has won more games since the trade (119) than he did before it (108). He has more wins than Catfish Hunter, has thrown more innings than Carl Hubbell and needs only 17 wins to surpass Juan Marichal's record for most career wins by a Latin pitcher (243). Dennis rolls on despite torn cartilage in his left knee, which he suffered earlier this season.
"I am not too old yet," he says, "but I like it when people say you can't do something because you're too old. Every once in a while I need a tire replacement, and then I feel like a new car again."
Old though Dennis may be, the Indians haven't won a title in his lifetime, but with the best record in baseball this season they appear headed toward postseason play for the first time since 1954, the year before he was born. "The reason we signed Dennis last year," says general manager John Hart, "was that if we ever got to the postseason, this was the guy we would trust in a big game."
So trustworthy is Dennis that many people in his native Nicaragua want him to run for president in that country's election next year. He recently finished first in a popularity poll there. El Presidente, as he is known for his statesmanlike mound presence, does not seem eager to turn his nickname into an official title, not when he's pitching like this and making $4.5 million a year.
Likewise, Edgar Martinez, a New York City native, is something of a Pan American sensation, having won batting titles in Canada (with Calgary of the Pacific Coast League in 1988), Puerto Rico (in winter ball in 1989) and the mainland U.S. (the '92 American League crown). Edgar batted only .271 over the '93 and '94 seasons, mostly because of a badly pulled hamstring he suffered in 1993 and a wrist injury that hampered him last year. But his health and his average are robust again; should he sustain his current .361 batting average, it would be the highest mark for a righthanded batter in the American League since Joe DiMaggio led the league by hitting .381 in 1939.
"The only Martinez I keep track of is Edgar," says Tino, who follows Edgar in the Ken Griffey-less Mariner batting order. Tino, too, is thriving despite Junior's absence. Born Constantino Martinez in Tampa, he earned his All-Star invitation this year with 18 home runs (two short of his career high for a season). On five occasions, Edgar and Tino have homered in the same game, an event the Mariners like to call the Two Martinez Launch.
Down the coast in L.A., Ramon is enjoying something of a renaissance. He became a star quickly, winning 20 games in 1990 at age 22. But he pitched a league-high 12 complete games that year, and averaged 115 pitches in his 33 starts. His high pitch total may have taken its toll. Through July 1991 he had a 41–18 career record, but since then he has gone only 42–44, and for a long while it looked as if he had lost the juice off his 96-mph fastball. His brother Pedro began to eclipse him last year, finishing with more strikeouts, fewer walks and a better ERA by more than half a run. Then on June 3 this year Pedro retired 27 straight San Diego Padres—joining Harvey Haddix as the only other pitcher ever to take a perfect game into extra innings—before surrendering a leadoff double in the 10th. Ramon began to think about Pedro and perfection as he set down one Marlin after another last Friday.
"I'm thinking perfect game, then it got six, seven innings," Ramon says. "Then I'm thinking maybe they're showing this game where [the Expos] are playing. I was watching [Pedro in June], and I was excited."
How perfectly impossible it all seemed. Ramon came into the game leading the league in walks and earned runs allowed and had been booed off the Dodger Stadium mound the last time he pitched there, having coughed up 10 runs in 4 2/3 innings on July 2. What's more, behind him stood the worst defensive unit in baseball, which included a shortstop who led the majors in errors (Jose Offerman), a centerfielder making his first major league start (Todd Hollandsworth) and a leftfielder who had last played that position three years and four trades earlier (Kelly).
But then Martinez popped his first fastball of the first inning with so much velocity that Dodger manager Tommy Lasorda turned to his pitching coach, Dave Wallace, and said knowingly, "Uh-oh."
"Right then we knew the old Ramon was back," Wallace says.
So sizzling was Ramon's fastball that he did not trifle with any other pitch after the third inning. "I feel like a giant out there," he said after the game. He was within four outs of a perfect game when he missed on a full-count pitch to Marlin outfielder Tommy Gregg. He collected himself, then without further incident wrapped up the no-hitter, the 22nd of the decade—already nine more than were thrown in the '80s. Cooperstown immediately called to secure a signed game ball and cap, just as it had the month before with Pedro.
"I wanted to let people know that I can still pitch," Ramon says. "I think people had forgotten about me."
It was a moment worth toasting, from Los Angeles to Montreal to Santo Domingo. Perhaps with a cold Presidente. Or, more befitting this season, with a martini, said to have originated in a small town in California. A place called Martinez.