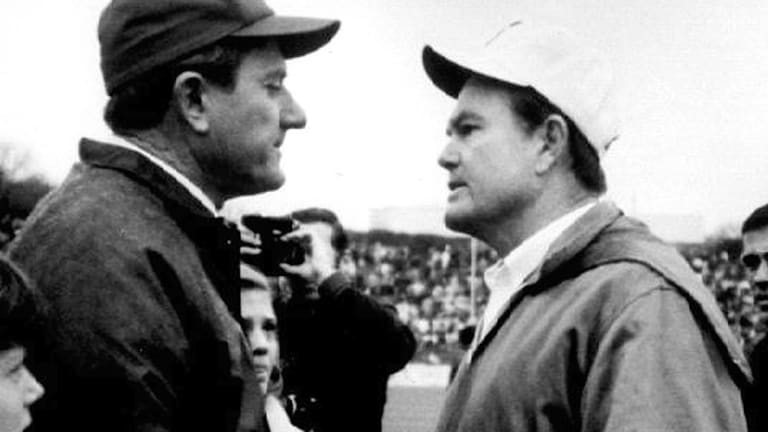 Friend and Foe
In the glory days of the Southwest Conference, Frank Broyles of Arkansas and Darrell Royal of Texas waged a most civilized war
What's he up to now?
Arkansas coach Frank Broyles stared anxiously across the icy
turf of Razorback Stadium, his shirttail flapping like a
gonfalon in the stiff December wind. "If Frank's shirttail don't
come out," a friend once said, "we know he ain't come to the
game yet."
His opposite number, Darrell Royal of Texas, had called a
timeout with only minutes left in the biggest game ever between
them, and that could mean trouble. Broyles searched his memory,
hoping the past would send him a message. And so he stared
ahead, oblivious to the crowd of nearly 45,000, hearing only the
snap-snap of his own rebellious shirttail.
What's he up to now?
Theirs was a friendship forged in the cauldron of white-hot
competition. For 19 years together they ruled the Southwest
Conference, the storied league that came into being in 1914 but
will cease play and vanish at the conclusion of this season. In
the SWC's heyday, Frank Broyles and Darrell Royal waged an
ongoing contest of will and football intellect that could have
rendered them the bitterest of enemies. Instead, these yearly
confrontations brought them closer together and rewarded them
with a shared sense of the crazy turns a bouncing football will
take. But in all those years of coaching against each
other--Royal at Texas, Broyles at Arkansas--neither ever said a
word to the other about their games. To this day, the subject is
rarely raised--and never on the golf course, where they now
compete as fiercely as they once did from the coaching
sidelines. Only once, on a plane trip in 1977 shortly after they
had both retired from coaching, did they ever try to discuss
what they had been up to during all those years on the sidelines.
"Frank, it's over now, and I don't care anymore," Royal remarked
to seatmate Broyles somewhere over Michigan. "But tell me, were
you picking up our signals from the bench at Little Rock in 1971?"
"Well, yes, I was," Broyles confessed. Now it was his turn.
"And, Darrell, tell me, were you picking up our signals in that
1962 game at Austin?"
"As a matter of fact, I was," Royal admitted. Then, after
pausing to reflect on their mutual duplicity, they howled with
laughter.
President Nixon was up there in the stands somewhere, and so was
Billy Graham and Senator William Fulbright and Congressman
George Bush. But Broyles was aware only of Royal, that
grim-visaged sideline-pacer seen only vaguely through the faint
glow of the fading afternoon.
The past was helping, as Broyles harkened back to a prior
confrontation: I guessed five years ago, and I guessed right.
But what's he up to now?
Like most good friends, Royal and Broyles have much in common.
They are very nearly the same age--Royal turned 71 in July,
Broyles will be 71 in December. Both were star quarterbacks as
college seniors--Royal at Oklahoma, Broyles at Georgia Tech.
Both married their high school sweethearts more than 50 years
ago. Both were in their early 30's when they became head coaches
in the SWC--Royal at Texas in 1957, Broyles at Arkansas in 1958.
Both left the game the same year, after playing their last game
against--who else?--each other. Both are renowned for their
folksy wit: Broyles gave a national television audience a
generous sample of his as a college football commentator on ABC
for nine years. And Royal's epigrams, like "We're gonna dance
with the one who brung us," have been quoted about as often as
those of an earlier Southwestern humorist, Will Rogers.
But there are differences, too. Royal was raised in the Oklahoma
Dust Bowl of the 1930s, a Grapes of Wrath Okie who fled with his
family to California and then returned to play high school
football in his hometown, Hollis. He was dirt poor and had to
work his way through school. Broyles grew up in a middle-class
family in Decatur, Ga. He was, by his own admission, a pampered
athlete who "never worked a day" in his life. Yet it is Broyles
who, well past retirement age, continues to be employed, as
athletic director at Arkansas, while Royal, who retired as Texas
AD in 1979, pauses to sniff the flowers. "When is that boy gonna
realize that time is running out?" Royal asks.
Broyles, white-haired now but still lithe and lanky, has a
response for that: "I just can't wait to come to work in the
morning. Every day is a challenge. We're still building here,
and that's much more interesting than just maintaining. The way
I look at it, if you enjoy what you're doing and you think you
can make a difference, then you're a happy man. I'm a happy man."
Royal lives at the Barton Creek resort in Austin. He is chairman
of the board of governors there, and he also serves as a
consultant to the university on athletic affairs. Mostly,
though, he plays golf--36 holes or more a day when Broyles is in
town. (Royal is an eight handicapper, Broyles a seven.)
Ruddy-faced and athletic, Royal, like his friend, has aged well,
a condition he credits to a newfound capacity for relaxation.
"I've never felt the slightest temptation to return to coaching
at any time since my retirement," he says. He is dressed in
shorts on a humid Texas morning, waiting for his friend the
singer Willie Nelson to show up for a golf game. "And I never
liked being an AD. I'm a lousy fund-raiser because I just hate
asking people for money, and that's what you have to do these
days. Now I'm into wildflowers." He laughs. "You know, we have
great wildflowers here in Texas. When I was coaching, I never
even noticed the leaves changing colors. Now I'm into
wildflowers."
Longhorn quarterback James Street was at Royal's side, awaiting
instructions. "I think we'll just run 53-veer pass to the tight
end," Royal told him. He could see the look of amazement on
Street's young face. After all, wasn't this the coach who
preached, "Three things can happen on a pass, and two of them
are bad"? Besides, Street wasn't much of a passer, and on
53-veer he would be throwing long to a single receiver.
"Coach Royal, are you sure that's the play you want to run?"
"Hell yes, I'm sure."
But was he really? He sought out the figure of Broyles through
the haze. Would he call the right defense?
What's he up to now?
When Royal arrived as a young messiah at Texas in '57 after
brief head coaching experiences in the Canadian Football League
and at Mississippi State and Washington, the SWC was one of the
powerhouses in college football. "It wasn't all that unusual
back then to have three or more of our schools in the Top 10,"
Royal recalls. "We had a tough conference." But the Longhorns,
who had gone 1-9 the year before, were not among the toughest.
"You don't take over a squad that has won only one of 10 games,"
Royal said upon his arrival, "and inherit a warm bed." Two years
later he had a share of the conference title. And before he was
finished he would establish SWC records that, with the impending
demise of the conference, will never be broken.
From 1959 to '76, Royal's teams would win or tie for the
conference championship 11 times. They would be the SWC's Cotton
Bowl representative 10 times, including a record six New Year's
Days in succession, from 1969 through '74, years when the
Longhorns ran roughshod over the opposition with a then
revolutionary offense.
"What do you call that formation?" a newsman asked Royal early
in the '68 season.
"I don't name formations," Royal replied, "but it looks
something like a Y."
"It looks like an old wishbone," said Houston Post writer Mickey
Herskowitz. And that was that.
Royal's 167 wins at Texas and his 109 conference wins are both
records in the SWC, and his winning percentage of 77.4 for his
20 years there was the best in the nation during that time. He
had three regular-season national champions--in 1963, '69 and '70.
Faced with such an intimidating opponent, any reasonable coach
might have been content with second best. But not Broyles. In
seven of his 19 seasons at Arkansas, his teams won or tied for
the SWC title. His 1964 Hogs were voted national champions in
one poll after they defeated Nebraska in the Cotton Bowl (Texas
gave a helping hand by knocking off previously unbeaten and then
No. 1-ranked Alabama in the Orange Bowl). In Broyles's 19 years
at Arkansas, his Razorback teams won 144 games, which ties him
for second place on the SWC alltime list with Rice's Jess Neely.
Amazingly enough, the coaching records of the two friends in the
1960s are virtually identical: 86-19-3 for Royal, 82-24-1 for
Broyles. Of the 19 games played between the two coaches, Royal's
Longhorns won 14, but four were decided by a single point and
seven by less than a TD.
In 1969 the executives at ABC-TV persuaded the two schools to
move their Big Shootout from its scheduled October kickoff to
Dec. 6 in hopes the game would decide the national championship.
"Those fellows," says Royal, "were smarter than a treeful of
owls." At game time Texas was No. 1 in the country, Arkansas No.
2. President Nixon and a whole host of national celebrities
showed up. On this dark and rainy day, Broyles and Royal were
clearly in the national spotlight.
The game was no disappointment. Arkansas scored early and was
leading 14-0 at the end of the third quarter. Royal was still
smarting from the '64 game, in which his team had come back only
to lose 14-13 when a two-point conversion pass fell incomplete.
Broyles had guessed right on that play, calling for a blitz that
hurried Texas quarterback Marvin Kristynik into misfiring. This
time, after Street scrambled for a 42-yard TD on the first play
of the fourth quarter, Royal had called for a two-point play and
got it.
Now it was 14-8; a little more than six minutes remained and
Texas had the ball, fourth-and-three on its own 43. Royal called
his timeout. The moment had come, he concluded, to "let my gown
fly." When Street returned to the huddle from his sideline
conference with Royal, he mumbled to his teammates, "You're not
going to believe this call: 53-veer pass to the tight end."
Staring almost gloomily ahead, Royal sought to justify his
apparently rash decision: His team had not moved the ball well
all day. Time was running out. Even if he made the first down on
a running play, he was still 54 yards from the end zone and six
points behind. No, he needed a big play. But what was the man
across the field thinking?
Broyles was asking himself the same thing.
Texas tight end Randy Peschel got a step on the Razorback
secondary, but safety Dennis Berner and cornerback Jerry Moore
quickly made up ground and had him covered deep. Street threw
the ball anyway. "There were six hands in the air," says Royal,
"and four of them belonged to Arkansas." Somehow Street's pass
found a hole in the tangle of fingers and fell into Peschel's
arms for a 44-yard gain to the Arkansas 13. "That catch," says
Royal, "saved me from being labeled a dummy for the rest of my
stay here."
Two plays later, Texas halfback Jim Bertelsen scored on a
two-yard run. The game-winning extra-point kick was made by the
felicitously named Happy Feller, as the home crowd fell into a
depressed
silence. The Longhorns would go on to beat Notre Dame 21-17 in
the Cotton Bowl and be named national champions. Broyles had
been deprived of perhaps the same rewards by one big play.
Despite their battles, when summer came around the two coaches
vacationed together on the golf course while their wives,
Barbara (Broyles) and Edith (Royal), "spent all our money
shopping," Broyles says. In those days the two friends would
often play as many as 72 holes in a single day. And still there
would be no mention of football.
Then, in October 1976, Broyles called Royal. "I'll tell you
something if you'll keep it under your hat: I'm quitting. This
is my last year of coaching." Royal was amazed, not so much
because his old friend was hanging it up but because he had come
to the same decision. "I'm quitting too," Royal said. "We'll go
out together."
Both were, in fact, exhausted by the pressures of their
profession and more than a little disillusioned by the direction
college football seemed to be taking. Gone were other legendary
coaches whose names were synonymous with their universities, as
the names Royal and Broyles had become. "These days," Broyles
now says, "coaches talk about their 'programs,' not their
universities. It's a different world. I decided I'd quit by the
time I was 45. I lasted till I was 51."
"For me, it got so winning was no longer a joy, just a relief,"
says Royal, "and losing was intolerable." Royal also endured
personal tragedies. Two of his three children died in vehicular
accidents: 27-year-old Marian in 1972 and 29-year-old David in
'82. "And you're never really the same after something like
that," says Broyles.
What the two coaches half suspected at the time was that the
Southwest Conference itself was in decline. In years past it had
been unthinkable for a Texas high school football star to play
anywhere but in the SWC. Now those top talents were seduced by
other conferences. And by the time the SWC schools got around to
recruiting black players, in 1966, many of them were already
used to committing elsewhere. The quality of play suffered, and
so did attendance.
"It finally reached the point," says Royal, "when if, say, Rice
and TCU played each other, only Boy Scouts and next of kin
showed up." Only Arkansas, Texas and Texas A&M remained
significant drawing cards. And though Arkansas was a charter
member of the conference, it had long been the odd man out, the
only non-Texas SWC school. As early as 1978, Broyles discussed
the possibility of moving Arkansas's teams to the Big Eight--a
move, ironically enough, that Texas, Texas A&M, Baylor and Texas
Tech will make next year, thereby transforming the Big Eight
into the Big 12 and sealing the doom of the 81-year-old SWC. And
in 1990, Arkansas did accept an invitation to join the much more
lucrative Southeastern Conference, consistently the top draw in
all of college football. The switch has meant an additional $2
million in television and bowl-game revenue for the school and
has given it natural rivalries with neighboring Tennessee, Ole
Miss and LSU. Arkansas's defection was the beginning of the end
of a once flourishing conference in which such football legends
as Sammy Baugh, Davey O'Brien, Bobby Layne and Doak Walker had
performed. And where Darrell Royal and Frank Broyles had
coached. Now the demolition is almost complete.
Royal and Broyles coached their last game together on Dec. 4,
1976, in Austin. Texas won it 29-12. The coaches finished with
identical 5-5-1 records in their final season. Together they
brought to a close the most remarkable run of dual successes in
the history of their conference.
At the end of that 19th and last contest between them, Royal and
Broyles embraced at midfield. As Royal headed for the Texas
locker room, an eavesdropping reporter asked him, "Hey, didn't I
hear you two say you loved each other?" Royal slowed down.
"Well, you might have," he replied. Then, moving on, he
whispered over his shoulder, "Anyway, we do."
TWO B/W PHOTOS: RUSSELL LEE (2) In '60 Broyles (left) and his Hogs took a thriller from Royal and his Horns 24-23. [Frank Broyles; Darrell Royal]
B/W PHOTO: ART SHAYOver the 19-year rivalry, Broyles's shirttail flapped freely as he watched Royal guide his hard-running attack to 14 wins. [Frank Broyles]
TWO B/W PHOTOS: NEIL LEIFER (2) [See caption above--Darrell Royal; University of Texas player running with football]
TWO B/W PHOTOS: JOHN IACONO (2)Peschel's catch, Bertelsen's run and Feller's kick in '69 wowed Nixon but didn't steer a friendship off course. [Randy Peschel catching football; Jim Bertelsen running with football]
TWO B/W PHOTOS: NEIL LEIFER (2)[See caption above--Happy Feller kicking extra-point; Happy Feller celebrating]
B/W PHOTO: DENNIS BRACK/BLACK STAR[See caption above--Richard Nixon in crowd watching football game]
B/W PHOTO: SHEL HERSHORN [Frank Broyles and Darrell Royal in golf cart]