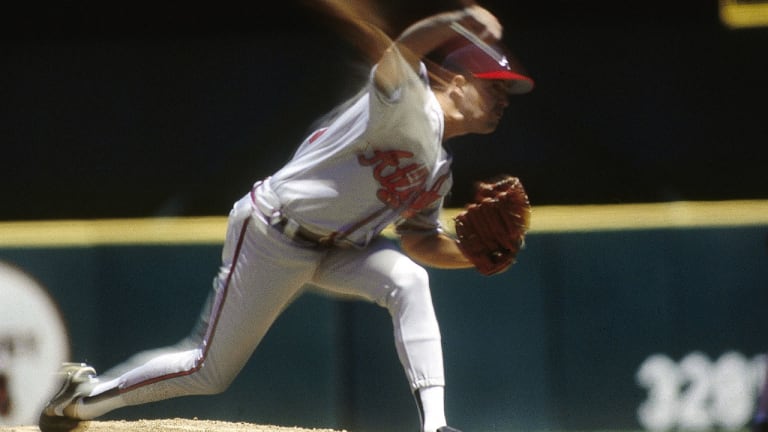 Once in a Lifetime
Greg Maddux of the Braves Is the Best Righthander in the Past 75 Years—but He Would Rather You Didn't Know It
The best righthanded pitcher born in the past 100 years walks among us today. His career is a masterpiece, available for all to see every fifth day or so as he works atop the pitching mounds of National League ballparks. The rest of us, should we recognize our good fortune, could be eyewitnesses to genius. Did you see van Gogh paint? No, you could respond, but I saw Greg Maddux pitch.
Or maybe you haven't noticed, which is precisely the way Gregory Alan Maddux of the Atlanta Braves would prefer it. He is as consistent as a metronome and, to the casual eye, about as exciting. Despite his unprepossessing frame, he has won three consecutive National League Cy Young Awards and is a virtual lock to win his fourth, with a 12-1 record and a league-leading 1.74 ERA at week's end. Yet Maddux still doesn't have a single major endorsement deal. He is the wallflower who begged out of starting last month's All-Star Game, thus allowing baseball's 1995 media sensation, Hideo Nomo, to start in his place. Maddux's claim that he had a slight leg injury smelled fishier than yesterday's sushi, but it allowed him to stay comfortably in the shadows, away from the national spotlight.
"A hitter will get, say, 600 at bats over a year," Maddux says. "He may see me only six or seven times out of those 600. I'm not going to do anything or say anything that makes him remember me."
"It's amazing," says fellow Brave hurler John Smoltz, "that in this day and age he's kept such a low profile after all he's done. He doesn't want you to figure him out. If you don't know where he's coming from, he's got you."
What sets Maddux apart is an analytical, Pentium-quick mind that constantly processes information no one else sees. At home in Las Vegas he is a formidable poker player, detecting when an opponent has a good hand by the way he strokes his chin or suddenly stops fiddling with his chips. Maddux uses a numerical system in his head that tells him when to stand and when to hit at the blackjack table. But he is even better at analyzing hitters—so good that four times this year, while seated next to Smoltz in the dugout, he has warned, "This guy's going to hit a foul ball in here." Three of those times a foul came screeching into the dugout.
If his radar is that sensitive while kicking back in the dugout, imagine the clues he uncovers while bearing down on the mound. Says teammate Tom Glavine, the last National Leaguer to win the Cy Young Award before Maddux made it his personal property, "I think he's got a gift. He's able to notice things in the course of a game that no one else can—the way a hitter may open up a little, move up in the box an inch, change his stance. I've tried to be aware of that stuff. I really have. But I'm so focused on what I'm trying to do. I don't know how he does it."
This seeming omniscience is complemented by Maddux's mastery of the subtle side of pitching: the movement and location of his pitches. That's how he can dominate without a signature pitch, without anything close to the menace of Bob Gibson's fastball or the treachery of Sandy Koufax's curve. "The more you know about baseball, the more you appreciate Greg Maddux," says Jim Guadagno, who compiles the Braves' statistical data bases. "He gets away with stuff nobody else does. You're always asking, 'How does he do it?' There is always this 10 percent that is the mystery of him. He likes that."
The mystery of Maddux. Maybe 1% of it gets peeled back with this fact he would rather you not know: Over the past four seasons Maddux has been the greatest righthanded pitcher since Walter Johnson, who was born in 1887—so long ago that van Gogh, another chap whose prime passed without proper notice, was still alive.
No righthander has been this good for this long since the Dead Ball era ended in 1920, after which even Johnson, who had ERAs lower than 2.00 for 11 of his first 13 seasons, never again did better than 2.72. Since then, and assuming Maddux maintains something close to his current rate of efficiency for his last 10 or 11 starts of 1995, only two pitchers will have had four consecutive seasons with an ERA of 2.40 or better: Koufax (1963-66) and Maddux (1992-95). And Koufax had his run before the mound was lowered in 1969. What Maddux has done is put up Dead Ball numbers in a Rabbit Ball era.
You scoff. How could this guy who finished a game last month against the San Francisco Giants throwing 81-mph fastballs be better than Gibson, Bob Feller, Tom Seaver, Jim Palmer or even Roger Clemens and Dwight Gooden? Because Maddux outshines them all when measured by the fairest means of comparing pitchers of different periods: individual ERA relative to league ERA. It sizes up a pitcher against his contemporaries, the pitchers who are facing the same hitters over the same period of time (box, page 28).
For instance, Maddux's 1.56 ERA last season was more remarkable than Gibson's glitzier 1.12 mark of 1968. Why? Because Maddux did it when the National League ERA was 4.21, the fifth highest since earned run averages were first kept as an official stat in 1912. That means Maddux's ERA was only 37.1% of the league average. Gibson's extraordinary season occurred in 1968, when pitchers had such an easy time that the mound was lowered five inches the next year. The league ERA was 2.99, which puts Gibson's ERA percentage at 37.5.
Further, Maddux has put up four consecutive seasons in which his ERA was less than two thirds of his league's average: 62.3%, 58.4%, 37.1% and, at week's end, 41.9%. No righthander since Johnson can match his four-year dominance.
"Koufax was the best pitcher I ever saw," says Dodger pitching coach Dave Wallace. "Maddux is right behind him with any of the other greats you want to name."
From 1963 to '66 the lefthanded Koufax put up the best four-year numbers of any pitcher in the past 75 years: 97-27 with a cumulative 1.86 ERA and four of his unmatched five straight ERA titles. He gave up fewer hits per nine innings than Maddux and had a better strikeouts-to-walks ratio. But measured at least one way, Maddux (gulp) compares favorably even with Koufax. His four-year ERA (2.02) is 51.1% of the league average over that time. Koufax's ERA was 53.1% of the league average. And Koufax worked in a better pitcher's park, Dodger Stadium, while Maddux has pitched all his home games in Chicago's Wrigley Field and Atlanta-Fulton County Stadium, two of the game's most notorious launching pads.
Maddux wins games, too. He is 68-28 over the past four years, a .708 winning percentage that exceeds the prime years of Feller, Gibson, Seaver, Palmer and Clemens. (Gooden, 73-26 beginning with 1984, had a four-year .737 mark.) He also rarely walks anyone (once every 10-1/3 innings this year); yields few home runs; and fields his position better than anyone else (a sixth Gold Glove is on its way). "Maddux is the best pitcher I ever saw," says Giant pitching coach Dick Pole, "because he does everything well. If you look up the word pitcher in a dictionary, his picture should be there."
The best righthander since Walter Johnson is eating a sandwich on the bed of his hotel room in Los Angeles and watching the Boston Red Sox play the Chicago White Sox on TV. An open suitcase is stuffed with more Nintendo games than clothes. With two days before his July 29 start in San Francisco, he has just returned from one of his frequent off-day workouts: 18 holes of golf. "I wouldn't consider myself a hard worker, but I'm not lazy," Maddux says. "I'm somewhere in the middle."
Rick Aguilera is pitching for Boston, and Maddux is calling pitches and location for him. Lance Johnson of the White Sox is late on a fastball, fouling it off to the left side.
"Aguilera knows by that swing that he can throw the fastball by him, so right here he's coming back with the splitter out of the strike zone," Maddux says. Aguilera throws the splitter but leaves it over the plate. Johnson slashes it for a single. "Right pitch," says Maddux, "he just made a mistake."
Though he has not seen the Giants since Opening Day, Maddux will not study videotapes of them. He doesn't bother watching tapes on the road. "Listen, it ain't nothin' like what people are saying and writing," he says of his reputation for meticulous study. "You want to know what my scouting report is?" He grabs a piece of paper off the nightstand. It is an alphabetized printout of career hits and at bats by Pittsburgh players against him. Maddux faced the Pirates in his previous start. He begins at the top of the list and from memory breaks down how he would pitch to each of their hitters.
"Look: Jay Bell, down and away; in to back him off. Jacob Brumfield: mix, will chase.... That's it. You can't go in with a script. You're always pitching off your last pitch. I don't think I understand hitting any better than I did four years ago. I'm just making better pitches at certain times."
It is getaway day. He closes the suitcase and wheels it out of the room toward the elevator. It tips over. He stands it up and pulls at it again. It falls again. He picks it up and resumes pulling. It falls. The suitcase is a scarred, mangled thing bearing a sticker of the Chicago Cubs, his former team. Isn't he due for a new bag? "No way," he says. "At the baggage carousel when everybody is looking for his Braves bag and they all look the same, they're going, 'Is that one mine? Is that mine?' Mine comes out, and I just walk over and pick it up." Classic Maddux. Always playing the percentages and always a step ahead of everybody else.
The previous day he did his only throwing off the mound between starts, removing his round-rimmed eyeglasses and handing them over to pitching coach Leo Mazzone before getting under way. (The other Brave starters throw twice between starts.) The session lasted only 10 minutes, going so well that Maddux giggled after one pitch.
Watch how most pitchers throw when they are working out between starts. They start from their full windup and often stay that way until a coach says, "O.K., get some work in from the stretch." The first time Mazzone watched Maddux work out for the Braves, in 1993, he noticed that Maddux started from the stretch and threw most of his pitches that way. A little later Mazzone asked him, "Why do you do that?"
Replied Maddux, "The way I figure it, I'm going to have to make my best pitches out of the stretch."
"He has one of the brightest pitching minds I've ever been around," the pitching coach says, "including most coaches."
You would swear Maddux is a born pitcher until you hear him say, "When I was 15 years old I didn't think I was going to be a pitcher. I liked hitting." He was 16 when Rusty Medar, a volunteer coach in Las Vegas, watched the skinny kid throw straight over the top and told him, "You're probably never going to throw hard enough to overpower people." So the coach showed Maddux how to lower his arm and release the ball at what would be 10 o'clock on a clock face instead of 11—and to switch from a four-seam fastball to a two-seamer. The ball immediately began to dance, usually down and away from a lefthanded hitter. It is the same fastball he throws today. It is, he says, his best pitch, even if it only averages about 85 mph, 87 on a good day. Maddux also throws a wonderfully disguised circle changeup, a cutter that bores in on the hands of lefthanded hitters and two average breaking balls: a slider and curveball.
Imagine an inclined trough carrying water to home plate. Then imagine a post in front of the center of the plate. The rushing water will flow away from the post and toward the outsides of the plate. That's exactly the flow of Maddux's pitches. Everything moves away from the center of the plate. The nightmare for a hitter is guessing which of Maddux's five pitches is coming and in which direction it's flowing. Some hitters try to reduce the permutations by looking for the ball in a certain area, but Maddux defeats that strategy by noticing subtleties that give away whether those hitters are looking for a ball in or a ball away.
"I think he's gotten better even from when I faced him two years ago," says Brave catcher Charlie O'Brien, who batted against Maddux as a New York Met. "I've never seen so many guys leaving the plate saying, 'Damn, how did he do that?'"
Maddux has also developed a bulletproof confidence in his pitches. "It keeps you from panicking," he says. He still vividly recalls the moment seven years ago when he realized he had to learn to trust his own abilities. He lost to St. Louis in the 11th inning when Luis Alicea hit one of his fastballs for a bad-hop, bases-loaded single. "I pitched 10 scoreless innings and lost because I was afraid to throw a changeup," he says.
"Now," says Pole, "if he gets a full count on you with the bases loaded, he'll throw a changeup. That s.o.b. doesn't even care about walking in the tying run."
When July 29 rolled around, Maddux beat the Giants 5-1 with a four-hitter. He threw a first-pitch strike to 24 of the 33 batters he faced and got 19 outs on ground balls and strikeouts. And yet because he walked two batters and hit another, a reporter actually asked him after the game, "Was this the worst stuff you've had in a game?"
"Imagine the pressure," Smoltz says, "of knowing that, in every start for two years, if you give up two runs in a complete game your ERA is going to go up. But he has this way of constantly deflecting the attention and pressure off himself."
Back home in his basement den in suburban Atlanta a few days later, fueled by a pizza, a box of wings and a soda, Maddux is reviewing the videotape of his game against the Giants. He is harsher on himself than any of the reporters he sent away that day with his usual polite responses.
After giving up a leadoff double to Deion Sanders, Maddux retires the next six batters on five grounders and a foul pop-up. And this is his comment after that stretch: "Right there I'm thinking I have to pitch better. I'm not going to be lucky all day."
He ends the third by getting Sanders on a flyball to centerfield on a changeup that, Maddux says, "got a lot of the plate. I've got to get it away more the next time."
In the fifth, it becomes clear why he gave up one of his two walks on the day. There are two outs and a runner on second when Giant third baseman Steve Scarsone comes to bat. Maddux checks the San Francisco bullpen before pitching to Scarsone, the number 8 hitter. When he sees that no one is warming up, he knows that Giant manager Dusty Baker has to let his pitcher, Terry Mulholland, hit. He walks Scarsone on six pitches before dismissing Mulholland on three straight strikes.
The biggest out of the game is vintage Maddux. The Giants have the tying runs on base in the sixth with two outs and first baseman J.R. Phillips hitting. Maddux goes ahead 0 and 2, on three pitches down and away, the last being hit foul. So he comes knifing inside with one of those cutters, so far inside it almost hits Phillips's belly button. Still, Phillips swings and fouls it off.
The only way Phillips swings at a pitch like that, Maddux decides, is if he is looking for a pitch inside. So Maddux comes back with a changeup down and away, even though O'Brien, to further the deception, sets up inside. Phillips is fooled. He taps a weak bouncer to the right side. Maddux dives to stop it, then throws out Phillips from his knees with a backhand flip.
There is something else. Something Maddux figured out that made him sure Phillips would never expect that pitch. Something that Maddux does not want to reveal publicly.
His eyes light up, and he grins a silly grin. This is a man who is the master at undressing hitters while cloaking himself in camouflage. A magician never explains a trick. Let it remain, to our ceaseless amazement, part of the mystery of Maddux.