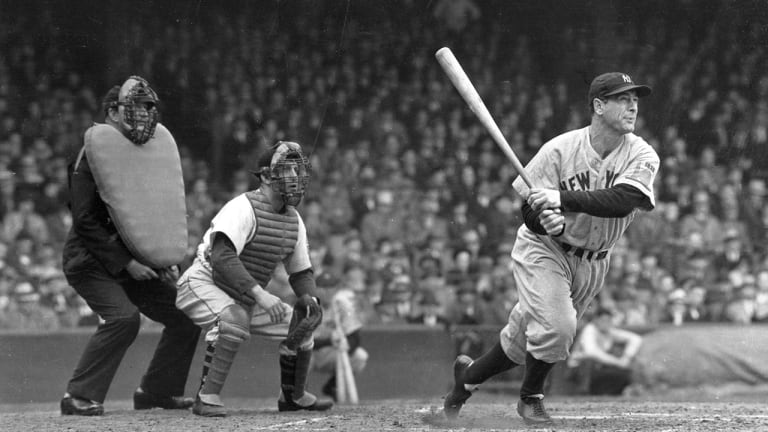 The Original Iron Man
Lou Gehrig had a lot more in common with baseball's modern model of consistency than just the streak
Lou Gehrig was a lot like Cal Ripken Jr. Gehrig, too, was a consummate team player, quiet and self-effacing, not given to a lot of noise or flash as he went about his job of playing baseball brilliantly, day in and day out. Gehrig, too, played for only one big league team in his career. Gehrig, too, was bigger and stronger than most of his contemporaries; at just a shade over six feet, he wasn't as tall as the 6'4" Ripken, but he was powerfully built, with a broad back and massive legs. Like Ripken, Gehrig shrugged off injuries. Like Ripken, he didn't get into trouble on or off the field. Like Ripken, Gehrig was a manager's dream.
Born June 19, 1903, to a family of poor German immigrants in the melting pot of New York City, Gehrig was a city boy who played football and baseball on the streets, swam in the Hudson River and knew his way around local pool halls. His mother, Christina, came to America in 1899 at age 18. A year later she married a 33-year-old metalworker named Heinrich Gehrig, who had come over a dozen years earlier. They had four children, but only one survived infancy: the one they named Heinrich Ludwig and called Louis (Gehrig's name was later Americanized to Henry Louis).
The Gehrigs were poor because Heinrich had trouble holding a job. Christina, a square, strong young woman, kept the small family afloat by working as a cook and a housemaid around their Washington Heights neighborhood and by taking in laundry. She was vigorous and forceful and devoted to her son. The boy responded to her affection, running errands for her and delivering laundry. Like his mother, Lou was dependable, had a strong sense of duty and a compulsion to work hard. Unlike Babe Ruth, who would precede him in the Yankee batting order and in baseball lore, young Lou never got into trouble, never played hooky, never even missed a day of school.
Gehrig loved all sports: football, baseball, soccer, swimming, ice skating, gymnastics (his father used to take him to the local German turnverein, or gym club). He was a big kid, yet he could run surprisingly fast, and he had great eye-hand coordination, which helped him excel at pastimes that demanded precision, such as marbles, billiards and, of course, hitting a baseball.
During Lou's childhood years, most families at the Gehrigs' economic level sent their sons to work as soon as they finished eighth grade. But Christina insisted that Lou stay in school, and in 1917, at age 14, he entered the High School of Commerce. There, his mother felt, he could better prepare for a career as an accountant or a bookkeeper. Commerce High did turn out to be Gehrig's gateway to a successful and lucrative future, although not in the way his mother imagined.
The boy's baby fat developed into massive muscle, and by the time he was a junior at Commerce, Gehrig was a star on both the baseball and football teams. In the spring of 1920 the Commerce baseball squad, the city's premier high school team, was invited to play Lane Tech, Chicago's best, in a game at Wrigley Field. Ten thousand fans were in the stands, and reporters and photographers from both cities were on hand. It was a wild, high-scoring game, but Gehrig did not have a hit when he came to bat in the ninth inning with Commerce holding a slim lead, 8-6, and the bases full. With one swing Gehrig broke the game wide open, hitting a tremendous home run over the rightfield fence.
That year was also Babe Ruth's first with the Yankees, and the Babe's roaring pursuit of the home run record he had set a year earlier with the Red Sox was drawing record crowds and making America home run conscious. The mammoth homer hit in Wrigley Field by a 16-year-old boy drew widespread attention. "It was a blow of which any big leaguer would have been proud," according to one Chicago Tribune writer. The New York Times declared, "The real Babe Ruth never poled one more thrilling."
By this time Gehrig's mother and father had found work at a fraternity house at nearby Columbia University. As the story goes, in the fall of 1920 Commerce played a football game on the campus, and the gregarious Mrs. Gehrig urged a college official she knew to watch her son display his talents. The official was so impressed by the youngster's size, strength and all-around ability--Gehrig played halfback and defensive line and also punted--that he helped Gehrig secure a football scholarship to Columbia for the following fall.
But before Gehrig could take advantage of the scholarship, he almost lost it. A scout from John McGraw's New York Giants offered him a contract to play minor league baseball that summer in Hartford. Gehrig asked if playing professional ball in the summer would make him ineligible to play sports at Columbia. "No," the scout told him, "all the college guys do it. You play under an assumed name." The innocent Gehrig went along with the idea and played a dozen games for Hartford under the name Lou Lewis before someone at Columbia learned what he was doing. Appalled at the prospect of losing a prized recruit, a Columbia coach made a hurried trip to Hartford, and a chastened Lou Lewis accompanied him back to New York, his brief pro career aborted.
Gehrig retained his scholarship, and after a year of probation as a Columbia freshman, he starred as a sophomore in both baseball and football. In the spring of 1923, with a scout from the Yankees watching (the Giants were interested too, but Gehrig wanted nothing to do with them after the Lou Lewis episode), Gehrig hit two monstrous home runs. When he returned to New York, the scout told general manager Ed Barrow, "I think I've just seen another Babe Ruth." The Yankees offered the 20-year-old Gehrig a $2,000 salary for the remainder of the season, plus a $1,500 signing bonus. That was a huge sum of money for a poor family in a day when a college graduate might draw a starting salary of $18 a week. Gehrig signed, left Columbia at the end of his sophomore year and joined the Yankees in June. He appeared in a handful of games with them in 1923 and 1924 but spent most of those two seasons in the minors before joining the big club for good in 1925.
That was the year Gehrig's famous streak began. He sat on the bench for the first six weeks of the season, playing only occasionally as a pinch hitter or a late-inning defensive replacement. Gehrig had appeared in only 11 games when he pinch-hit once more on June 1; he would never pinch-hit again. He was in the starting lineup at first base the next day, and that's where he stayed for the next 14 years.
Baseball myth has it that Wally Pipp, the Yankees' regular first baseman since 1915, was suffering from a headache before the game on June 2 and that manager Miller Huggins told him to take the day off. It is said that Huggins inserted young Gehrig in Pipp's place, and the rookie played so well that Wally never got his job back.
What actually happened is not quite as rueful. The Yankees were in a bad slump in the spring of 1925. Ruth had undergone abdominal surgery during spring training and missed the first six weeks of the season. By June 1 the team had lost five straight and was only half a game out of last place. Pipp was hitting .244, and others were playing just as poorly.
Huggins decided to shake up his lineup, a radical move in an era when most clubs played the same men at the same positions in the same batting order day after day, week after week. The manager benched the 32-year-old Pipp, along with a few other veterans, and replaced him with Gehrig. In his first game as a regular, Gehrig stroked hits in his first three at bats. By July 4 he was batting .328, and the job was clearly his to keep. Although he slipped to .295 by the end of the season, Gehrig finished with 20 home runs, fifth best in the league. Pipp was sold to Cincinnati in the off-season.
Pipp himself contributed to the legend of the headache, or perhaps even created it. On July 2, exactly a month after Gehrig took his place, Pipp was hit on the head by a pitch in batting practice. At first he seemed to be badly hurt, but he recovered and in a few days was his old self again. Thirty years later, however, when Pipp reminisced about the old days, the date of the beaning was somehow moved back a month, and the legend of the headache's giving Gehrig the job was born. The story was picked up and repeated so often that decades later, marginal ballplayers with minor injuries would insist on staying in the lineup because they didn't want to be "Wally Pipped."
In 1926, his first full season, Gehrig continued his solid play, and New York rebounded to win the pennant. The '27 Yankees, arguably the greatest team of all time, featured Gehrig's emergence as a superstar. This was the year that Ruth, in his 13th full season, hit 60 home runs. To everyone's amazement, Gehrig, who would win his first American League MVP award, matched the Babe homer for homer from April to September. In fact, on Sept. 6 the two were tied at 44. Gehrig slowed down and finished the year with 47--still more home runs in a single season than anyone other than Ruth had ever hit--while the Babe went on his memorable season-ending tear, banging out 17 in September alone to reach 60.
Together, Ruth, playing rightfield and batting third, and Gehrig, at first base and hitting fourth, were utterly fabulous in 1927. No team before or since has had a pair of hitters to match them. In 1961, when Yankee Roger Maris hit 61 homers to break Ruth's record, much was made of the fact that Maris and teammate Mickey Mantle, who had 54, together hit more home runs than Ruth and Gehrig had in 1927. But that was the only category in which the Maris-Mantle duo was superior. Gehrig hit .373 with a then major league record 175 RBIs--no one else in the league except Ruth had more than 120--and 149 runs, second in the majors to Ruth. The Babe hit .356 with 165 RBIs and 158 runs. Maris's numbers were .269, 142, 132, and Mantle's were .317, 128, 132. Ruth and Gehrig also led the M&M duo in doubles (81-32), triples (26-10), extra-base hits (214-157) and total bases (1,078-876).
Gehrig was now firmly established as Ruth's home run partner, albeit the junior partner, and the pattern held for years. He finished second to Ruth in homers the next three seasons, hit 46 to tie Ruth in 1931 and stayed close behind him in '32 and '33. Not until 1934, Ruth's final season with the Yankees, did Gehrig outslug the Babe and win a home run championship by himself, with 49. He matched that total two years later to win the home run crown again. He also drove in 184 runs in '31 to break his '27 record, hit four home runs in one game--something Ruth never did--in '32 and in August 1933 notched the longest consecutive-game streak in baseball history when he passed Everett Scott's mark of 1,307.
I was 11 years old that summer, an avid baseball fan growing up in a suburb of New York City, only 10 miles or so from Yankee Stadium. Among us boys Gehrig was nearly as big a name as Ruth because Lou was in his prime and the Babe was fading. That year the Goudey Gum Company of Boston began putting baseball cards in their packets of bubble gum. In 1933 Ruth's card was the one we all wanted most. But by the next year, when the Babe was going through the motions during his last season with the Yankees, Gehrig's card became the most coveted.
Although some of his baseball achievements were included on his card, the consecutive-game record that Gehrig set in 1933 was not even mentioned. That seems odd today, considering the attention Ripken's streak has generated, but back then the streak didn't seem all that significant. The sports pages mentioned it now and then and called Lou the Iron Horse for his nonstop strength and stamina, but they didn't dwell on it. The streak was just part of the overall picture, like Gehrig's broad back and powerful legs.
We boys were more interested in Gehrig's batting average, his home runs and his runs batted in, and in 1934 our devotion was rewarded: Gehrig went where even the Babe had never gone before, leading the league in all three categories to win the Triple Crown.
That same summer his iron-man streak almost came to an end. During his 14-year run Gehrig suffered many minor injuries and ailments, and he left games before they were finished more than 40 times. He'd been beaned a couple of times, he'd fouled pitches off his big toe, he'd had terrible colds. X-rays revealed that over the years he had fractured small bones in his hands and fingers 17 times. Most were small breaks that were ignored and left to heal by themselves; others were bandaged or strapped so that Gehrig could keep on playing. Teammates remembered him wincing when he caught balls at first base after breaking a finger on his glove hand. Yet none of these aches and pains had ever been disabling enough too keep him from playing in the next game on the schedule.
But in 1934 the streak twice came perilously close to being snapped. The first crisis occurred at the end of June. The Yankees were to play in Washington, D.C., on a Thursday; take a train 180 miles south to Norfolk, Va., for an exhibition game against one of their farm teams on Friday; and then return to Washington for another game on Saturday. In the first inning of the game in Norfolk, Gehrig hit a home run. In his next turn at bat he was hit on the head by a pitch. Players did not wear batting helmets in those days, and Gehrig fell unconscious to the ground, where he lay motionless for five minutes. When he came to, he was helped off the field and back to the Yankees' hotel. Reports said Gehrig had suffered a concussion, had a huge bump on his head and would be X-rayed when the team returned to Washington. Mentioned almost in passing was the possibility that he would not play against the Senators the next day and that his streak would come to an end.
Gehrig was quoted as saying that he would be all right and that he would be ready to play, and--unbelievably--he was. Still sporting a big bump on his head (he had to wear an oversized cap), he smashed triples in each of his first three at bats, tying a major league record for consecutive three-baggers. But a rainstorm wiped out the game before the required five innings were completed.
Two weeks later, in Detroit, Gehrig was suffering with nagging pain in his back that he thought was caused by a cold. He started the game and singled his first time up. As he ran toward first base, his back suddenly went out completely, and, in great pain, he was barely able to hobble to the bag. He refused a pinch runner, struggled along the base paths and insisted on taking his position at first base in the bottom half of the inning. Once there, he found he was unable to move and reluctantly left the field.
The pain did not let up all afternoon and night, and the next day it was just as excruciating. Gehrig went to the ballpark anyway. It was obvious he couldn't play a full game, but to keep his streak alive he was put in the lineup as "Gehrig, SS," batting in the leadoff spot instead of his customary cleanup position. In the top of the first inning he limped painfully to the plate, lifted a single over the infield, lurched down the line to first base, gave way to a pinch runner, who stayed in the game at shortstop, and went back to the hotel.
The charade--really the only time Gehrig's streak was fudged--was applauded as a legitimate and courageous way to keep the streak alive. Whether the admiration would have continued if Gehrig and the Yankees had tried the ploy again is moot, because the next day Gehrig miraculously appeared completely healthy again. Back in the cleanup spot, he hit three doubles and a single in four at bats.
Gehrig maintained his high level of play through 1937. As with Ripken, it was not so much that he played so many games in a row that was admirable; it was that he played so many so well. He was not a brilliant fielder, but he was a good one, and at the plate he was devastating. From 1927 through 1937 he was either first or second in home runs seven times; first or second in RBIs nine times; and first, second or third in runs scored nine times. His batting average was among the top three in the league seven times and lower than sixth only once. His slugging average was among the top four for 12 straight years.
Gehrig's consistency was astonishing. His second Most Valuable Player award came in 1936, nine years after his first. Many of his contemporaries felt he should have won in 1934 as well, when the MVP went to Detroit player-manager Mickey Cochrane, who led the Tigers to the pennant.
Oddly, for all the warmth he projected in photographs--he was a handsome man with a warm, wonderful smile--Gehrig was not easy to get to know personally. He was uncomfortable socially. He was a mama's boy who often said in his early years with the Yankees that his mother was his best girl. He did make strong, lasting friendships, but they came slowly, developing over long periods of time. Unlike Ruth or Mantle, each of whom cheerfully welcomed rookies to the Yankees, Gehrig did not. He was more like Joe DiMaggio: reserved, aloof, hard to get close to. He was penurious, too, except toward his parents, and he was famous among teammates and sportswriters for the small tips he left. He had a great sense of probity, of what he considered proper behavior, and he avoided the social ramble that Ruth and other players loved.
He didn't marry until 1933, when he was 30, and that required a wrenching separation from his parents, particularly his mother, who did not like the idea of her beloved son's leaving her for another woman. Gehrig and his wife, Eleanor, never had children.
Gehrig's edgy personality eventually cost him his friendship with Ruth. The Babe was a 10-year veteran when Gehrig broke into the Yankee lineup in 1925, but Ruth, who called him Buster, took the younger player fishing, praised his home run hitting, shared the spotlight with him and got to be good friends with Gehrig's parents. After their monumental 1927 season Ruth had Gehrig join him on a two-team barnstorming trip, during which the "Bustin' Babes" played the "Larrupin' Lous." Ruth claimed--and he was probably right--that Gehrig made more money on the tour than he was paid by the Yankees. But Gehrig was put off by Ruth's expansive, impulsive, outspoken personality and drew away from the Babe. Thoughtless remarks in 1934 by Gehrig's mother heightened the conflict, and after that the two barely spoke.
In the spring of 1938, when Gehrig was still only 34, his level of play fell off sharply. He started the season poorly and was batting only .132 at the end of April, with no home runs and just three runs batted in. The 23-year-old DiMaggio took over Gehrig's cleanup spot, and Gehrig was dropped to fifth. His hitting picked up in May and June but sagged again in July. On Aug. 6 he was batting only .274, an embarrassingly low figure for a star player in a high-average era.
Gehrig revived then and for three weeks or so whacked the ball like the Larrupin' Lou of old, batting .400 over a stretch of 60 at bats and driving in 23 runs. On Sept. 9, after he got four hits in four at bats in a game in which only one other Yankee was able to get a base hit, Gehrig's average had risen 30 points, to .304; it was the first time he had been above .300 all year.
But then it stopped. Gehrig slumped badly again over the last three weeks of the season and finished the year at .295, 56 points below his average of the previous year and the first time he had batted under .300 since 1925.
He had 114 RBIs and 29 home runs for the season, highly respectable figures, but for the first time in his big league career he was not among the top five hitters in any offensive category. The Yankees won the pennant and their third straight World Series, but in the postseason Gehrig had only four singles, no extra-base hits and not one RBI.
Fans and sportswriters wondered if the slump was just an off year for Gehrig, one of those inexplicable season-long drop-offs that afflict players now and then. Or, they speculated, had Gehrig, who had turned 35 in June, suddenly caved in from the pressure of playing every day for 14 years?
No one yet knew the terrible truth, but Gehrig's physical decline became more evident in the off-season, and in spring training the next year it became glaringly obvious. Gehrig moved like an old man: stiffly, slowly. He stumbled, his reflexes were slow, there was little speed or power in his swing. Only once during spring training did he seem to be himself again--when he went 4 for 4, with two home runs, in an exhibition game the Yankees played against the Dodgers as they barnstormed their way back to New York. I was now 16, and I remember the elation I felt when reading that Lou was all right. He was hitting with power again. He had broken out of his slump. Now everything was going to be O.K.
A New York sports columnist caught up with the Yankees a few days later and asked manager Joe McCarthy about Gehrig's encouraging day at the plate. McCarthy, who greatly admired Gehrig, shook his head. It was a small ballpark, he explained. The homers were soft fly balls over a short fence. Things weren't all right after all.
Even after the season started, however, McCarthy refused to drop him from the starting lineup. Gehrig played terribly. He stuck it out for eight games, through April 30, extending his streak to 2,130, and then went to McCarthy and asked to be benched. He was hurting the club, he said. McCarthy acceded to his wish. The streak ended officially in Detroit on May 2, when for the first time since May 31, 1925, the name Gehrig did not appear in a Yankee box score. Twenty-five-year-old Babe Dahlgren replaced him at first base.
Gehrig tried to play one more time, in an exhibition game 10 days later in Kansas City against the Yankee farm club there. After he fell down catching a line drive, he left the game in the third inning. From Kansas City, Gehrig went to the Mayo Clinic in Rochester, Minn., for a physical evaluation. That's when he, his wife and his fans learned what was wrong: Gehrig was suffering from amyotrophic lateral sclerosis, an incurable form of paralysis that slowly destroys the central nervous system. There was no hope, we later discovered. Not only was his career over, but his life would soon be as well. On June 2, 1941, exactly 16 years after he replaced Pipp in the lineup, Gehrig died at the age of 37.
In 1939, after he returned from the Mayo Clinic, Gehrig remained with the Yankees, sitting on the bench in uniform for the rest of the season. Yankee G.M. Ed Barrow retired Gehrig's number 4 and decreed that his locker be maintained, closed and sealed, as long as Yankee Stadium stood--though the locker was moved to baseball's Hall of Fame later that year. On July 4 he was saluted in Yankee Stadium on what was declared Lou Gehrig Appreciation Day. The usually taciturn Gehrig responded to the gifts and accolades with a remarkable speech in which he called himself "the luckiest man on the face of the earth" because of the career he had had, the people he had known and the friends he had made. As the speech ended, the emotional Ruth, long on the outs with Gehrig, put his arms around Lou and hugged him. It was an extraordinary moment.
But then Gehrig was an extraordinary man.