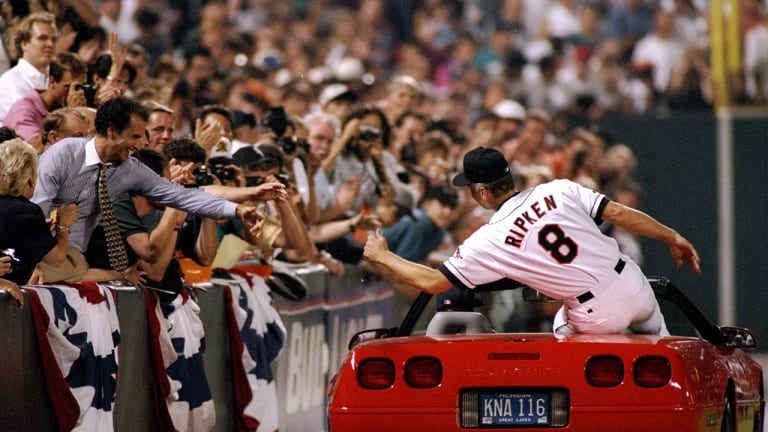 TOUCHING 'EM ALL
CAL RIPKEN JR.'S RECORD-BREAKING NIGHT WAS EMOTIONAL FOR FANS AND PLAYERS ALIKE
IT WAS 2:45 a.m. on Sept. 7 when Oriole shortstop Cal Ripken Jr. finally left Camden Yards with the title of baseball's greatest Iron Man. As he headed through the tunnel from the clubhouse to the parking lot, Ripken high-fived a couple of stadium cleanup workers, then hopped into the backseat of a chauffeured Lincoln Town Car with his wife, Kelly. Three policemen on motorcycles escorted them out of the lot, roaring past a cluster of screaming fans and one quiet old gentleman holding a sign that read: CAL, THANK YOU FOR SAVING BASEBALL.
Thus ended one of the most stirring nights--make that two nights--in major league history. In the 24-hour period in which Ripken tied and then broke New York Yankee great Lou Gehrig's record of 2,130 consecutive games played, he was repeatedly hailed as a man who, through his passion for playing baseball to the best of his substantial ability, stood as a testament to the ideals of a game--if not all sports--gone sour.
On the nights of Tuesday, Sept. 5, and Wednesday, Sept. 6, sellout crowds in excess of 46,000 at Camden Yards continually stood as one and cheered his 14-year achievement. Teammates past and present, opponents, umpires, celebrities and dignitaries shook his hand, slapped him on the back or hugged him; all the while a proud family looked on, nearly in awe of the man themselves.
Among those delivering best wishes in person were President Clinton and Vice President Gore and baseball greats Joe DiMaggio, Hank Aaron, Brooks Robinson and Frank Robinson. After each of the two games, Ripken was escorted back onto the field to accept tokens of appreciation from admirers and teammates. But through all the ovations and expressions of joy, he remained ever so humble, and steeled himself against the currents of emotion, even though the eyes of all around him spilled tears.
While Ripken's eclipsing of Gehrig's milestone, inexorable as it became, may have lacked the drama of Bobby Thomson's shot heard 'round the world or even Kirk Gibson's blast in the 1988 World Series, the magnificent tribute he was paid was every bit the equal of any previous outpouring of affection for a sports figure.
And the future Hall of Famer responded in kind, as both an athlete and a beloved Oriole. In helping Baltimore to back-to-back wins over the California Angels, he had three hits on Tuesday and two more on Wednesday, including a home run each night to give him three in three straight games (the first time he'd done that in more than four years). And at the height of the celebration--when consecutive game number 2,131 became official and the crowd could not contain its enthusiasm--Ripken returned the affection by trotting around the Camden Yards warning track and slapping the outstretched hands of the adoring Oriole faithful.
"It was like an out-of-body experience," Cal said afterward. "It's like when your wife is having a baby. You're watching and thinking, This can't be me. This can't be my wife. This can't be my child. You think it's happening to someone else. These last two nights, I kept thinking, This can't be happening to me. This has to be someone else."
The season-long celebration of Ripken's march past Gehrig gathered momentum in earnest on Sunday, Sept. 3, during a game with the Seattle Mariners at Camden Yards. When the number draped on the side of the warehouse beyond the rightfield wall changed from 2,127 to 2,128 after the fifth inning--the point at which the game became official--every Mariner player stood on the top step of the visiting dugout and joined the sellout crowd in cheering Ripken.
The show of respect by an opposing team continued the following day in the opener of a three-game series with the Angels. "I was in the on-deck circle when that banner came down in the fifth inning," said California second baseman Rex Hudler after Monday's game became number 2,129 in a row. "I almost started to weep. I had to grab myself and say, 'Hud, not now, man. The next two days are for crying.' I can't imagine playing a week straight, let alone 13 years straight."
The next day fans began milling around Camden Yards at 7 a.m. in anticipation of the record-tying game that would start more than 12 hours later. Eight-year-old E.J. Payne from Westminster, Md., who wore a Mohawk haircut (Oriole orange, with a thin buzz of black hair on each side of his head bearing the inscription cal 8) to Tuesday and Wednesday's games, was one of many kids who played hooky. "How could I go to school on days like this?" he said.
Angel infielder Rene Gonzales, who played for the Orioles from 1987 to '90, said, "I was here when he had the consecutive-innings streak going [8,243, which ended in '87]. I knew he'd get this record. This was nothing for him. He's an alien."
Ripken's homer that night was one of six hit by the Orioles in an 8-0 victory over the Angels. He hit his off reliever Mark Holzemer, who was 12 years old when the Streak began on May 30, 1982. Ripken joked after the game that the special-edition baseballs used in the Tuesday and Wednesday games--they had orange stitching and his name on the cover--were "juiced."
That juice was nothing compared to the adrenaline surging through the stands. When the number on the warehouse changed from 2,129 to 2,130, the fans cut loose with an ovation that stopped play for five minutes, 20 seconds. After Ripken waved his hat to the crowd, he looked over at Kelly, who was in the front row of the stands with tears in her eyes. He patted his heart to signify how hard it was pounding. "There were several moments when I had to hold back tears," he said later.
In postgame ceremonies Cal and Kelly were seated in chairs on the field for more than 30 minutes while the likes of actor Tom Selleck, San Antonio Spur center David Robinson and local legend Johnny Unitas brought them gifts. But the most moving presentation was made by Pittsburgh Pirate pitcher Jim Gott, who, as a rookie, was the starting pitcher for the Toronto Blue Jays against the Orioles on May 30, 1982. Gott had allowed one hit in six innings for his first major league victory that day, and he had kept the game ball. But when he walked onto the field Tuesday night, he gave it to Ripken, who was floored by the gesture. "You don't have to do this," Ripken told him.
"I want to," Gott said.
When Ripken undressed at his locker three hours after the game, two attendants stood by tagging and bagging every piece of clothing he peeled off, preparing them for delivery to trophy cases at the Baseball Hall of Fame and elsewhere. "I'm keeping this," Cal said, flipping his protective cup into his locker. He finally left the clubhouse at 1:48 a.m.
After years of blocking out distractions created by the Streak, Ripken finally began to feel overwhelmed, and he had trouble sleeping and eating in the week leading up to the record-breaking game. He barely slept at all the night before number 2,131. "I was sweating so much the sheets and the comforter were soaking wet," Ripken said. He thought he might have a virus, but he decided it was a case of "nerves."
After he finally dozed off, Ripken awoke at 8:05 and scrambled to take his five-year-old daughter, Rachel, to her first day of kindergarten. Later that day he was able to catch a nap.
At the ballpark Jeff Huson, a journeyman infielder in his first year with the Orioles, was thrilled about starting that night. A lefthanded hitter who platoons at third base with Jeff Manto, Huson had been tracking the Angels' pitching rotation for three weeks, trying to figure out if a righthander might be starting against Baltimore on Sept. 6. "I thought I had no chance, because the Angels had four lefthanders in their rotation," he said. "Then I saw Shawn Boskie [a righthander] come off the disabled list. Then I saw on SportsCenter last Friday night that he would be starting on Sept. 6. I jumped in the air and said, 'Yes!'"
The umpires working the Angel series were just as excited. Al Clark had been scheduled to be behind home plate for the record-setting game, but out of respect for partner Larry Barnett, who has umpired for 29 years in the American League, he offered to adjust the umpiring rotation so that Barnett would call balls and strikes Wednesday night. Barnett gladly accepted.
"It's the biggest thing that he has come across, and the biggest thing for me in 20 years [of umpiring]," said Clark, who was happy to make the calls at third base for number 2,131 after working the plate the night before. He had umpired in four no-hitters, Nolan Ryan's 300th victory, two All-Star Games, two World Series and the 1978 playoff between the New York Yankees and the Boston Red Sox, but Clark said, "This is huge. Three-hundred-game winners, 500-homer men happen; the World Series is played most every year. This will never happen again."
In the stands behind home plate was Cal's brother Billy, a former Oriole who spent the 1995 season with the Cleveland Indians' Triple A team in Buffalo. Billy had been given permission to leave his team for two days even though it meant missing Buffalo's opening postseason game. After sitting in the family's private box high above the field on Tuesday, he moved into the front row of seats for the historic occasion. "I wanted to sit down near the field," he said. "Tonight, I was more in amazement."
The game was tied 1-1 when Cal prepared to bat in the fourth inning. Billy called to him, and Cal walked from the on-deck circle and shook his brother's hand. "Way to go,'' Billy told him. ("What else would I say?" Billy said later. "I didn't have to tell him how proud I am. He knows. When he came over to shake my hand, it really pumped me up.") After outfielder Bobby Bonilla homered to break the tie, Ripken crushed a 3-0 pitch from Boskie deep into the leftfield seats.
"I will never forget that," Billy said. "I shook his hand before he hit that homer."
Bryan Johnson, a fan sitting in the seats in left with a broken finger on his right hand, caught the ball with his left hand. He was offered thousands of dollars for the souvenir, but he said he wanted Cal to have it--and he wanted nothing in return. (Cal later presented Johnson with an autographed bat and ball.)
No one who was at the game, or even watched it on TV, will ever forget what occurred a short while later, following the top of the fifth, when the game became official. Play was stopped at 9:20, the song Day One poured through the P.A., black and orange balloons were released, and everyone in the Oriole bullpen raced in to stand at the dugout with Ripken and the rest of the team when the number on the warehouse banner changed from 2,130 to 2,131. The cheer that went up was perhaps the loudest in the history of Baltimore sports. A fan raised his sign to the sky: TODAY, I CONSIDER MYSELF THE LUCKIEST FAN ON THE FACE OF THE EARTH.
With Whitney Houston's One Moment in Time booming out of the stadium speakers and several Oriole players wielding their videocameras, Ripken emerged from the dugout, took off his cap and waved thanks to the fans. Then he walked over to the front row of seats behind home plate and hugged his wife and his two children, Rachel and Ryan, 2. He took off his jersey and his cap and presented them to his kids. "These are for you," he said.
"That's when I lost it," said Huson. "Every father knew what that meant."
Kelly cried. "That's when he showed how much he loves us," she said later.
There were four more curtain calls before Bobby Bonilla and first baseman Rafael Palmeiro pulled Ripken out of the dugout and made him circle the warning track. As he ran along the track, Ripken slapped hands with fans who were leaning over the rail. When he got to centerfield, he jumped, balanced on his stomach at the top of the fence and high-fived a few fans who had leaped from their seats in the bleachers. Along the way he waved and pointed at specific fans he recognized. When he got to the third base coaching box, he was intercepted by Barnett and Clark, both of whom shook his hand.
Then he ran to the top step of the visitors' dugout, where all the California players were still standing and clapping. He shook everyone's hand and hugged several Angels, including hitting coach Rod Carew, Gonzales and manager Marcel Lachemann. Catcher Jorge Fabregas, who was behind the plate, went over to shake Ripken's hand. "I was just so, so honored to be out there,'' he said.
Play was stopped for 22 minutes. If there was a more joyful 22 minutes in baseball, no one could remember it.
After the game (the Orioles hit four home runs and won again, 4-2) the club held another presentation ceremony. With Kelly and his parents, Cal Sr. and Vi, standing with him, Ripken was honored in speeches and with gifts, including a new Chevrolet sport-utility vehicle, a mahogany pool table and a 2,131-pound landscape rock with 2131 chiseled into it.
Finally, after words of praise from Gehrig's former teammate Joe DiMaggio, Ripken read the speech he had written himself. His closest friends didn't expect him to get through it without crying, but he did. He thanked four people in particular--his parents, former teammate Eddie Murray and Kelly--for making his success possible. The closest his voice came to cracking was when he turned to address Kelly and said, "You, Rachel and Ryan, you are my life."
In making it through the speech, he made it through the week--rising to the occasion as DiMaggio, Aaron and the Robinsons always had. "I've never witnessed anything like that," Cal Sr. said. "He had a tremendous burden, and he handled it so well. I just marveled at how he was able to do everything he did [during the fifth-inning celebration] and could still go out and do what he did in the game."
At 2:15 a.m., tireless as ever, Cal Jr. was the life of the party at his locker, showing friends and associates the gifts he had received, such as a book, Baseball: The Presidents' Game, signed that night by President Clinton; flowers; two bottles of champagne from Wally Joyner and David Howard of the Kansas City Royals; and a couple of portraits painted by admirers. Finally, Ripken and his friends gathered it all up and headed for the car. "This whole day has been an out-of-body experience," he said again.
But he couldn't have been watching someone else. No one else could have done what he did.