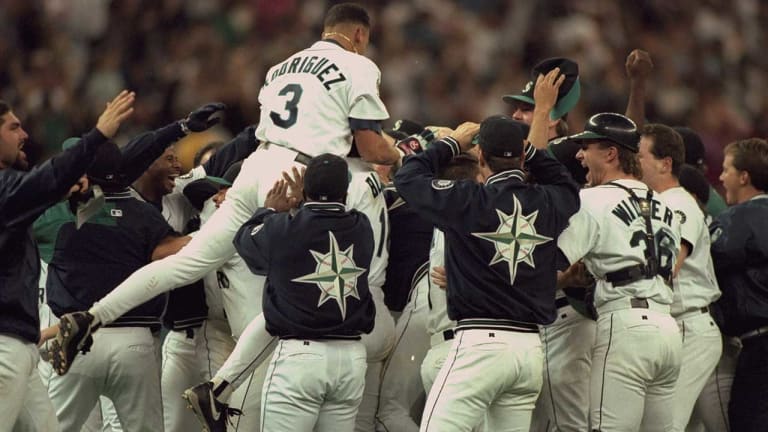 5 DAYS OF HARDBALL
A WILD START TO THE POSTSEASON--MOSTLY CONCEALED BY AN IDIOTIC TV DEAL--WAS CAPPED BY A MEMORABLE MARINER COMEBACK
As in the stillness after a stubborn storm has blown its last breath, there was the wreckage. One manager wept and another slumped deep into a sofa, pulling hard and long on cigarettes. Many pitchers ached, having worked themselves to such exhaustion that at least one of them could hardly lift a comb to his hair. A grueling American League Division Series between the Seattle Mariners and the New York Yankees left the Mariners not so much victors as survivors. Only then, after the unprecedented became commonplace and the unexpected became familiar over five excruciating nights, did respite come. Seattle pitcher Randy Johnson, the largest man of them all by any measure, ducked his head under the doorway of his manager's office late Sunday and wondered about a workout for the next day.
"Nothing," came the reply from Lou Piniella, puffing away on his office couch. "Enjoy the day off."
"Trust me," Johnson said. "I will."
In a seven-day span the 6'10" Johnson at the least had matched the October gallantry of Los Angeles Dodger pitchers Orel Hershiser in the 1988 National League Championship Series (24 2/3 innings in four appearances over nine days) and Sandy Koufax in the 1965 World Series (two shutouts, including one in Game 7, in four days). Johnson pitched three times in those seven days and won all three games, beginning with a three-hitter on three days rest against the California Angels to win a playoff for the American League West regular-season title.
On short rest again--and with Seattle trailing the best-of-five Division Series two games to zip--he threw seven solid innings to beat the Yankees 7-4 last Friday. Then, with only one day off, he came out of the bullpen on Sunday to give Piniella three more innings, the last three of an 11-inning, 6-5 Mariner victory that will be remembered as long as people look for citations that help define the game. Pitching each time with his team facing elimination, Johnson went 3-0 with a 1.89 ERA and 28 strikeouts in 19 innings, during the last of which he willed the baseball past hitters at 99 mph.
Still, Johnson pointed reporters over to the locker of designated hitter Edgar Martinez and said, "He's the man. Edgar's the real hero here. He's been our MVP all year long." Martinez had provided the game-winning hits in Seattle's last at bats in Games 4 and 5.
Even after all of that, the Mariners had barely dipped a toe into a postseason pool that has never been so deep. They had won no title by outlasting the Yankees and still faced the possibility of two seven-game series, starting with the American League Championship Series this week against the Cleveland Indians, the team with the best record in baseball. Because of his heroics against New York, Johnson would be unavailable to pitch until Game 3. In fact, so taxed was Seattle's staff by the Division Series that on Sunday night Piniella was thinking about giving the ball in Game 1 against the Indians to Bob Wells, who had started four games all year, none since May.
"I've got to rest my staff," Piniella said Sunday night. "We've got to get guys back in sync. Do you think anybody's going to give us a chance against Cleveland?"
The Indians demonstrated the advantage of breezing through a Division Series, enjoying three days off after allowing the Boston Red Sox only six runs in their three-game sweep (page 28). Said Yankee righthander David Cone, "I'm sure Cleveland is sitting back and smiling, watching Randy Johnson pitch like this."
Likewise, the Cincinnati Reds hardly worked up a sweat in disposing of Los Angeles in three games (page 33) to set up a meeting with the Atlanta Braves in the National League Championship Series. The Braves were pushed to four games by the Rockies, whose Game 3 triumph forced Atlanta to use Greg Maddux on three days of rest for the first time this season (below).
The ferocity of the Seattle-New York series exposed a dangerous underside to the expanded postseason. Both the Mariners and the Yankees heaped heavy workloads on their closers and best starting pitchers, even with as many as 14 more postseason games looming. Seattle closer Norm Charlton, who missed all of last season following two surgical procedures on his left elbow, threw four innings in Game 2 (his longest outing since 1991) and then pitched in each of the next three games too. His New York counterpart, John Wetteland, threw 3 1/3 innings in Game 2 (his longest outing of this decade) and was so awful coming back in Game 4 that Yankee manager Buck Showalter lost without using him in Game 5.
If one accepts the safe assumption that Johnson will be voted the Cy Young Award this year, the series ended with two Cy Young winners (Johnson and the Yanks' Jack McDowell) pitching out of the bullpen on one day's rest in a game started by a third Cy Young winner (Cone), who was left in to throw 147 pitches--a total of 282 in two series starts.
"I can barely lift my arm over my head, but I would have stayed out there all night if it would have gotten us a win," Cone said after Sunday's marathon. "The guys put their careers on the line. One pitch could have blown out their arms. You hear the rap people put on the modern-day player--I, I, I and me, me, me--well, this series was anything but that. If this doesn't do a lot to diminish the greedy ballplayer image, I don't know what will."
Said Tim Belcher, one of only nine pitchers Seattle carried on its 25-man Division Series roster, "After this, I think you'll see teams carry more pitchers because of the extra round of playoffs. It used to be teams carried nine. Ten was gobs of pitchers. Now, maybe the Rockies had the right idea. They had 12."
The player strike that began last year reduced the 1995 regular season by 18 games. Given a full season, a team might have to endure 181 games to win a world championship. (The 1927 Yankees played a total of 158 games.) And de facto commissioner Bud Selig has floated the idea of expanding the Division Series to another best-of-seven round. "Only if you play a shorter season and then get a couple of off days to set up your rotation," Piniella says of that prospect. "I think a best of five for the first round is sufficient, anyway."
It's hard to imagine what could happen in seven games that could come close to matching the epic between the Mariners and the Yankees. In many ways no one ever saw anything like it. In the previous 781 games played in 144 postseason series since the first World Series in 1903:
Never had a player hit five home runs in five games. Seattle's Ken Griffey Jr. did so after renewing acquaintance before Game 1 with Reggie Jackson, heretofore the only other man to hit five in a postseason series, though Jackson needed six games in the 1977 World Series to do so. "Mr. October," Junior said upon his audience with Jackson. "I'll go rub my bat against him." Consider the crown passed.
Never had a player driven in seven runs in one game. Martinez did so in Game 4, three on a third-inning home run that took a large bite out of a 5-0 New York lead and four on an eighth-inning grand slam off Wetteland that broke a 6-6 tie. When a crowd of reporters converged on him after his record night, Martinez first excused himself for 20 minutes of exercise with a stationary bike and weights. "I do it every day," he said.
Never had a player hit home runs from both sides of the plate in the same game. Yankee centerfielder Bernie Williams did that in Game 3 at the Kingdome, first taking Johnson out righthanded to the opposite field and then pulling a pitch from Bill Risley into the third deck in rightfield. Never had a series included as many as 22 home runs. Only twice did the Mariner and Yankee pitchers make it through more than three full innings without a ball leaving the yard. Five homers were hit in Seattle's 11-8 win in Game 4, when not once in 17 tries did either team retire the side in order.
Never had a game lasted as long as five hours and 12 minutes or a team overcome four deficits. Both distinctions occurred in Game 2, when New York wiped out deficits of 1-0, 2-1, 4-3 and 5-4 before winning 7-5 in the 15th inning on a home run by Jim Leyritz into the raindrops at 1:21 in the morning. Belcher threw the last of 463 pitches that night. "I wish I had a large enough vocabulary to describe it," Cone said of Game 2. "It's got to be up there with the five best playoff games of all time."
Alas, it will go down as the Best Game Almost Nobody Saw. Because of the embarrassment known as The Baseball Network, which provided regional coverage of four simultaneously played Division Series games, four out of every five households in the U.S. were unable to tune in to the game. Showalter's mother, at home in the Florida panhandle, finagling a way to watch the Yankees while also dealing with the impact of Hurricane Opal, saw the game only through extraordinary effort: She had to use a satellite dish to intercept a Canadian feed while hooking a TV set to a generator and watching by candlelight.
"It's the kind of game that should have given baseball a big boost, and it's treated like the first round of the NCAA tournament--Xavier against Indiana," Cone said.
Likewise, a stirring Cleveland victory the previous morning was similarly kept out of sight of most fans. When Indian catcher Tony Pena beat Boston with a 13th-inning home run at 2:08 a.m., some Red Sox fans in a New York bar were forced to huddle around a radio to hear the dismal news. Such an abomination is The Baseball Network that in Seattle, where people don't cross against a red light on the emptiest of streets, fans booed whenever the Kingdome P.A. announcer made mention of it.
Yes, sir, that's baseball: America's regional pastime. It was only by happenstance--the other three series had concluded--that the deciding game between Seattle and New York received national exposure. That provided an overdue spotlight for Martinez, the 32-year-old hitting machine who has won two batting titles. "The best overall hitter in the league," Piniella calls him. "I never have to talk to him much about his hitting. What I do is implore him to share his knowledge with our other guys."
Griffey and Martinez, the third and fourth hitters in the Seattle lineup, respectively, combined to hit .477 against New York (21 for 44) with seven home runs and 17 RBIs. Griffey's final homer, a one-out solo shot off Cone in the eighth on Sunday, pulled the Mariners to 4-3. Cone then retired Martinez on a grounder but filled the bases on two walks and a single. At 3 and 2 to Doug Strange, Cone missed with a forkball to force home the tying run. He immediately bent at the waist, his head hanging, the last fumes of his energy--and his season--spent.
Still, New York took its third lead of the game in the 11th, this time on a run-scoring single by Randy Velarde off Johnson. The day before and that morning, Piniella had asked Johnson, "Are you good for a couple of batters?" Admitted a sheepish Piniella later, "That was the gentleman's way of getting him out there." Johnson faced 12 batters, striking out half of them.
Now closure was left to McDowell, who upon entering the game with two runners on in the ninth fanned Martinez. "Two warriors going at it," Showalter would say of the endgame pitchers. "One guy with probably as good stuff as there is in baseball and the other guy with as good a heart as there is."
Joey Cora nicked McDowell for a bunt single to open the Mariner half of the 11th. Next Griffey smoked a single to centerfield. Then, when McDowell hung an 0-and-1 splitter to Martinez, the game was over. Martinez pulled it into the leftfield corner. Seattle third base coach Sam Perlozzo preferred not to send Griffey home from first with no outs, but when he saw Griffey near second base "running faster than I've ever seen him before," he waved him onward. Griffey scored easily.
Twenty hours and 22 minutes of edge-of-your-seat baseball--on average, more than four hours every game--ended with the Mariners mobbing one another as fire-works burst above them. Showalter retreated to his office, his eyes moist with tears. Outside his door Yankee owner George Steinbrenner was talking about unspecified changes. "You'll see," he told reporters.
In the other clubhouse Martinez was still in full uniform, dripping with champagne, beer, ice water and the sweat from another honest day's work. "I thought Game 4 was the greatest game I ever played," he said. "But this is the best one."
Like an oyster pried open to reveal the pearl, only then did Martinez seem discovered. Of course, the pearl had been there all along. "It's nice," he said, "but the satisfaction I have inside is most important."
Soon--after the television lights were turned off and his teammates were gone--Martinez would mop the champagne from his brow and put in another workout session on the exercise bike. "Yes, I will," he said. "Every day." There was, after all, still so much work to be done.