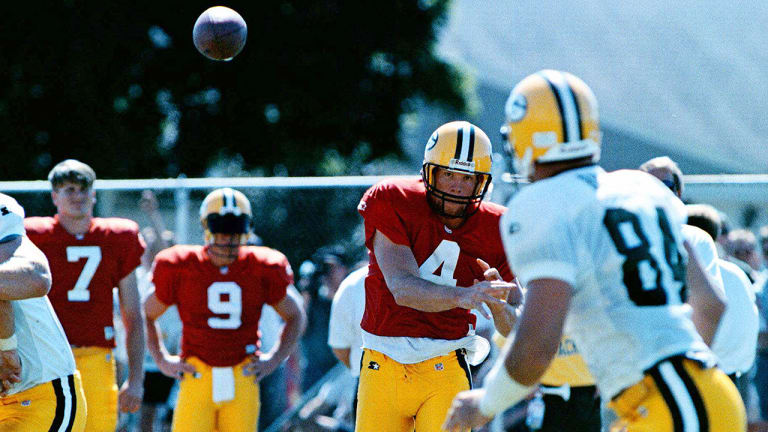 Countdown
On Oct. 16, Brett Favre of the Packers began preparing for Sunday's game against the Vikings. Almost from the moment that Favre lifted himself, slowly and painfully, from his bed, SI's Peter King was at his side—at home, on the practice field, in team meetings. King's chronicle of Favre's week takes readers into the head and heart of one of the NFL's best young quarterbacks
MONDAY: THE AFTERMATH
It's just after 8 a.m., and Brett Favre cannot bear the thought of getting out of the four-poster bed he shares with his girlfriend of 10 years, Deanna Tynes. This has nothing to do with the previous night's celebration of his artistic 342-yard passing performance against Detroit, which consisted of a single light beer. This has everything to do with the throbbing turf toe on his right foot. And the right shoulder he had heard go snap-crackle-pop when it was jammed into the turf 20 hours before. And the lower-back pain he feels every Monday, the lingering result of a lumbar fracture suffered in a 1990 car accident. And the arthritis that he knows is advancing in both hips. And his aching right side, which is the worst of all his ailments. Ten months ago two sections of hard plastic mesh were sewn into the muscle walls in his right side just below his ribs to repair a herniated muscle, a belated casualty of the car crash. His doctors said the muscle would take a year to heal completely. Of course, Favre couldn't wait that long. And so he must try to ignore the grotesque, egg-shaped growth of plastic and muscle mass that protrudes from his right side. Most of the time he succeeds, except after games, when the side feels as if something is ripping inside him when he moves.
"Deanna," Favre pleads in his Mississippi twang. "Could you please get me an egg sandwich and some hash browns?"
Tynes goes out for some fast-food breakfast. A few minutes later Favre, still in bed, is propped up on his left arm, polishing off his meal. Eating triggers more pain. When he chews, his jaw aches from the brutal helmet-to-helmet hit he took from Pittsburgh Steeler linebacker Greg Lloyd in the preseason.
"When he gets up every Monday," Tynes says, "he looks like such an old man." Favre is 26.
Finally Favre musters the energy to walk to the bathroom. His left knee is killing him. "God," he says to himself, "I didn't know I hurt that." Then he remembers the kick in the knee that he took from a Lion. He hadn't felt that one until now.
At 11 a.m. Favre leaves his house for the two-mile drive to the Packer training complex at Lambeau Field. There, strength-and-conditioning coach Kent Johnston sets to work on Favre's aching body, guiding him through exercises that include sit-ups and a medicine-ball drill designed to loosen his stiff joints and muscles. "I'm a new man!" Favre announces as he pulls out a plastic bottle from behind Johnston's counter. The label reads musashi. "It's branched-chain amino acids from Australia," Johnston says. "It helps with recovery after a workout." Favre puts two teaspoons of the white powder on his tongue and washes it down with spring water.
Monday is report-card day, and after his session with Johnston, Favre and his two backups, Ty Detmer and T.J. Rubley, join quarterbacks coach Steve Mariucci to review the Lion game.
"We had 12 audibles yesterday--nine good, three not so good," Mariucci says.
"Not bad," says Favre.
"Well," Mariucci says as the videotape shows Favre dropping back to throw, "let's make it 12 good. But there are lots of good things here. Good throws, good rhythm. Now keep both hands together, seven-step, hitch and throw. Good!"
As the day progresses, Mariucci, wide receivers coach Gil Haskell, offensive coordinator Sherm Lewis, offensive line coach Tom Lovat, tight ends coach Andy Reid, offensive assistant Marty Mornhinweg and running backs coach Harry Sydney will formulate the game plan to be used against Minnesota. Head coach Mike Holmgren will oversee the blueprint, which will be presented to the Packer offensive players beginning on Wednesday. On Saturday morning Holmgren and the quarterbacks will meet to review Green Bay's pass plays until they find a collection of plays they like.
While his assistants focus on the game plan, Holmgren has a disciplinary chore to attend to. He has heard that his two frisky-pup running backs, second-year man LeShon Johnson and rookie Travis Jervey, are about to get into more trouble. The two share a house out in the Wisconsin sticks, and they have already been cited by the state's Department of Natural Resources for having illegal deer snares in the backyard. That prompted a $200 fine for each player from the DNR. Just last week, while building a fire in his fireplace, Jervey had poured gasoline on the kindling and then struck a match. The fumes and the gas exploded, igniting Jervey. He rolled around on the floor, snuffing out flames that singed his eyebrows and eyelashes and the hair on his arms and legs.
And now, Holmgren has been informed by some other players, Jervey and Johnson have ordered a lion from a Texas wildlife distributor. "Just a little one," Johnson says. "And he's had his claws taken out, and his canines. He can't hurt you."
Jervey and Johnson paid $1,000 for the lion, but it hasn't been delivered yet. That's good. "You can't buy a lion," Holmgren says. "No lion." The order is canceled.
Having dismissed the two young players, Holmgren, a patient, genial sort, says, "There's a lot involved in coaching a football team, you know?"
"Maybe we'll get something else," Jervey says after his session with Holmgren. "I think I'd like a tiger."
TUESDAY/FREE TIME
Tuesday is the players' day off in the NFL, and Favre is going hunting. But first he stops in to see Mariucci, who has been watching tape of the Vikings' 20-17 loss two days earlier to the Tampa Bay Buccaneers. "Look at these new guys," Mariucci says, indicating cornerback Corey Fuller and safety Orlanda Thomas, two rookies who are starting in the Minnesota secondary. "This is the guy we're going after--the spitter. We like that matchup, Robert Brooks on Fuller."
Buc quarterback Trent Dilfer had accused Fuller of spitting in his face during an on-field argument. And now, as tape of the Vikings' pass coverage in games against the Dallas Cowboys and the Houston Oilers, as well as against Tampa Bay, unfolds on the screen, Favre and Mariucci watch Fuller playing far off the receiver--enough of a cushion, they believe, for Favre to drill completions all day long. Favre begins to think that he will be throwing to the right a lot on Sunday.
Favre came to Green Bay in a 1992 trade with the Atlanta Falcons, and this season is the first in which he has not felt obligated to steer the offense toward one receiver. During the off-season All-Pro receiver Sterling Sharpe was forced to retire because of a neck injury. Favre wasn't sad to see him go, even though Sharpe had caught 314 passes over the past three seasons and was on the receiving end of 18 of Favre's 33 touchdown passes in '94. "I know he was a great player, but we're a better team this year without Sterling," Favre says. "Last year we'd put so many plays into the game plan designed for Sterling that I'd go back to pass thinking, I've got to get it to Sterling. Now I just go back and read. If the first guy's not free, I go to the next guy. We're spreading the ball among all our receivers."
At noon Favre leaves the Packer complex for his hunting trip in a caravan that includes his two best friends on the team, tight end Mark Chmura and center Frank Winters, and a local pal, Kevin Burkel. On the road he muses again about Sharpe. "After I signed my big contract [five years, $19 million] last year, we were at practice, and I threw Sterling a deep post. He let it go over his head, but it looked as if he could have had it if he'd really wanted to. He came back to the huddle and said, 'Hey, if I'm going to run that far down the field, the least you can do is put it on me. Somebody making $19 million ought to be able to throw a good pass.'
"This is in front of everyone. Kind of under his breath, he's saying things like, 'I can't believe you're making more than me.' I said, '---- you!' I just went after him. I said, 'They pay me to throw it. They pay you to catch it. So why don't you just shut up and do what you're told to do.'"
At a private 200-acre hunting and fishing preserve, Favre goes in search of grouse, though not exactly by the book. "Here, grousie! Come on out, grousie!" he calls. The only fauna that respond to Favre's call are a couple of garter snakes.
"Whoa!" he says, jumping back at the sight of the first one. "That s.o.b. was snapping at me. Did you see that? Guys like [Cowboy pass rusher] Leon Lett, I can deal with. Snakes, I can't."
The group has better luck hooking rainbow trout in the stocked lake. Favre rushes through a fish fry; he has four talk shows to do between 6 and 7 p.m.
WEDNESDAY/THE PACK'S PLAN
The essence of a game plan is matching what your team does well against what your opponent does badly. With Minnesota up next, Green Bay is in the enviable position of having one of the league's hottest quarterbacks confronting a young secondary that has been allowing opponents to complete 62% of their passes. Late in the day Holmgren tells his staff that he's thinking of being bolder against the Vikes than he has been against them in recent games. Three of the last four Green Bay-Minnesota meetings have been low-scoring, each decided by less than a touchdown. The Packers lost three of them.
Last night Mornhinweg inserted 61 of the Packers' 93 pass plays into each offensive player's playbook. Each play is precisely diagrammed, with notes printed on the side, like "X stays wide!" Holmgren likes to limit the number of pass plays to 100, though he keeps pushing the envelope to see how much Favre can handle. "I want to have 10 new pass plays a week," Holmgren says. "I just think that keeps it interesting for the guys. As long as you're not short-circuiting your quarterback, it keeps things fresh."
One by one, Holmgren's offensive assistants step to the front of a meeting room on the second floor of the Packer complex. Each coach has spent two days watching tape of the Vikings. Now they report on each Minnesota defensive player. Lovat critiques the Viking linemen, and Sydney dissects the linebackers.
Haskell analyzes the Minnesota secondary. "They've got a second-year guy, a rookie, a rookie and a free agent," he says, referring to cornerbacks Dewayne Washington and Fuller and safeties Thomas and Charles Mincy, respectively. "If that was our team, we'd be nervous. If we protect Brett, we'll get some big plays."
Lewis, the offensive coordinator, steps up. "Brett, this is an anxious team," he says of the Vikings. "They like to get a quick start at the snap. Work on your cadence this week. Get them to jump offside, then--boom!--free play. Think home run then. They pride themselves on turnovers. They tackle the football. If we don't turn the ball over, we win the game. Let's have good concentration when we're installing our plays at practice today."
Lovat takes 25 minutes to explain the running plays. Now it's Holmgren's turn. He handles the pass plays every week. He stands at the front of the room, his hands all over a white screen on which an overhead projector is beaming O's and Y's and passing lanes. As Holmgren speaks, the players sit attentively. Winters takes notes on almost every play, and Mark Ingram traces a yellow highlighting marker on his routes.
The fourth pass play that Holmgren discusses is called Red Right Slot A Right 322 Scat Y Stick. Red means that the basic Packer personnel group is on the field, with two backs, two wide receivers and a tight end. Right means that tight end Chmura is deployed to that side of the line. Slot means that Brooks lines up four yards outside the left tackle and a step back from the line. A means that halfback Edgar Bennett lines up to the left of the quarterback (B would have him right behind Favre; C would place him to the right). On this play fullback Dorsey Levens is in the C spot. The second Right means that Bennett will go in motion to that side. The designation 322 means that Favre will take a three-step drop, the left tackle and left guard will go one-on-one with their opponents, and no one will remain in the backfield to pick up a blitzer on the left side or help out if one of the defenders gets free to attack Favre. Scat means the fullback will be a receiver. Y Stick means the tight end runs a simple six-yard down-and-out.
Ingram, lined up wide left, runs a deep decoy route. Levens flares wide out of the backfield to the right. Bennett, after going in motion to the right, sprints upfield at the snap of the ball. Brooks runs an intermediate sideline route. After Favre takes the snap and a three-step drop, he looks first at the fullback running his little flare. If Levens is covered, Favre looks to the tight end. If Chmura is covered, Favre looks to the flanker. "If no one's open," Favre says, "I throw it away or run it. But somebody's almost always open. In 1992 we completed 27 of 32 on this play, and it should have been 29. We had two drops."
Next time you want to scream at your local quarterback, read those last two paragraphs. And then keep in mind that there's a 40-second clock ticking, and that an offensive coordinator is barking into the quarterback's helmet speaker, and that the quarterback has to shout in the huddle to be heard above the crowd. Multiply Red Right Slot A Right 322 Scat Y Stick times 117--that's how many plays Favre and the offense need to memorize for Sunday.
This week Holmgren's favorite play is Red Right Double Stutter Go, which will match Brooks against Fuller, and either Ingram or wideout Anthony Morgan opposite Washington. The receivers will run straight ahead five yards, stop, turn their shoulders as if looking for a pass and then sprint straight downfield, hoping that at least one of the corners will bite on the fake. "Mark home run on this play," Holmgren says to Brooks. "I really like it."
Back home Favre cooks dinner--the spiciest batch of shrimp etouffee and rice north of New Orleans. He then carves a pumpkin with their six-year-old daughter, Brittany, before snuggling into bed alongside her and reading a Berenstain Bears story. Then he spends 15 minutes matching plays with Viking formations.
THURSDAY/ONE WORD: ATTACK
At 9 a.m. Holmgren strides to the front of the meeting room. "Good morning, men," he says to his 53 players. "I've been doing a lot of thinking about this game. Why is it we always play this team so close and have such trouble scoring? Number one, they've had a great pass rush. But they didn't score an offensive touchdown against us in two games last year, and we split the two games. We're going to play it differently this week. Offensively, we're going after them."
He turns to Favre. "Brett, the ball's in your hands. I don't want this one to come down to the last two minutes with it 10-10 and a field goal or turnover deciding it. We're going to attack them. Now guys, study the tape. Have a great day of practice. It's going to be a war. Everyone have a good day."
During a quick quarterbacks meeting in Mariucci's office before practice, Mariucci clicks on a tape of Viking nickel pass coverage. Favre utters some unprintable cracks and mercilessly releases flatulence at Mariucci, Detmer and Rubley, who nonetheless survive to get some work done. At these meetings, 13 of which take place between Monday and Saturday, Favre is the gaseous class clown.
Before lunch Favre hits the treadmill and does some aerobics. He takes more Musashi and downs two megavitamins (with a total of 12,000% of the recommended daily allowance of vitamin C), two flax-seed capsules and two fish-oil capsules. "You're nuts, taking all that crap," Winters says as he observes his friend. "The guys who take that stuff are always in the trainers' room. I'm never there. Beer and pizza. That's what you need in this league."
At practice Holmgren sidles up to Favre and says, "I just want you to know: Keith Jackson's probably coming in tonight." Jackson, an All-Pro tight end, had been traded to the Packers by the Miami Dolphins in March but refused to report, citing Green Bay's brutal winters. Now he has relented, and Holmgren wants Favre to help smooth over any anti-Jackson sentiment on the team.
This evening Favre makes a 10 p.m. run to Mariucci's house to give his four-week-old daughter, Brielle, a birth gift. He takes the sleeping child from her father, cradling her and cooing at her. "Hey, Brielle," he says in his best high-pitched daddy voice. "Horse walks into a bar. Bartender says, 'Hey, why the long face?'"
FRIDAY/A CHILLY WELCOME
The phone rings at 7:03 a.m. Tynes picks it up, shakes the sleeping Favre and hands him the receiver. "Hi, Brett!" a perky female voice says. "This is WTMJ in Milwaukee calling, and we hear Keith Jackson is signing with the Packers today. We want to know if you have any comment."
No, he says, then turns over to grab another hour of sleep.
Later in the morning, in the locker room, jackson 88 appears above an empty locker. Favre seeks out Chmura and points to the tag. Chmura knew this day would come, and he doesn't look upset. Favre drapes his arm around Chmura and says, "Hey, Bud, don't worry. I'm still going to throw you the ball." Favre knows the chemistry in Green Bay is good, and one of his goals today is to make sure no one makes a stink about Jackson.
At practice Jackson drops in line with Chmura and the other tight ends in passing drills. After a session with tight ends coach Reid, Jackson says that the offense is unlike any he has seen. "I feel like I've got to learn Chinese arithmetic," he says, looking pained.
"Men," Holmgren says to his players in a postpractice moment, "I'd like to welcome two new guys--[defensive back] Roderick Mullen, whom we got from the Giants [from their practice squad], and Keith Jackson, whom we got from Little Rock. He's late because we couldn't find him a plane from Little Rock to Green Bay." That's it. The welcome isn't warm. Holmgren wants Jackson to know all isn't forgiven. But Holmgren also wants Jackson to know that he can make it right by producing.
Before the quarterbacks leave for the day, Mariucci hands them their weekly five-page test in which a single element has been omitted from each of 74 different plays. The quarterbacks must fill in the missing information. Then there's a page of "Draw this play" questions, with six drawings required. Favre is correct on 70 of 74 formations--Detmer, the Packers' Einstein, misses three--and draws all his plays right except for a sloppily sketched split-end route.
Before he leaves for the day, Favre hosts a surprise 41st birthday party for Green Bay's mail clerk, Leo Yelle, who is developmentally disabled. The party stuns Yelle, who gets a game jersey from Favre and a duffel bag full of gifts from the team. Favre, the only player at the party, gives Yelle a hug and eats some cake with him. In one corner, two secretaries dab at their eyes.
SATURDAY/THE SCRIPT
At 9:15 a.m. Holmgren asks for input from the three quarterbacks, Mariucci and Mornhinweg as he draws up his First 15. Bill Walsh began this strategy when he was the coach of the San Francisco 49ers. He scripted the first 15 plays of the game, trying his hardest to stick to it while feeling out the opposition. Since taking over the Packers, Holmgren has taken this a step further, sketching a First 15 for the second half that he fine-tunes during the intermission.
"How do you like Double Stutter Go?" Holmgren asks Favre.
"Love it," Favre says.
"Might be in the First 15. O.K., flea-flicker."
"Let's do it," Mariucci says.
"Second-and-one, first series," Favre says. "C'mon, Mike! Let's go for the jugular."
In closing, Holmgren stares at Favre. This is the last thing he will say to him before Sunday afternoon, because he believes in leaving a quarterback alone before a game. "This game puts pressure on you to make plays. But you've been through that," Holmgren says. "This team believes in what's going on here. This team believes in you. Just be careful with the football and play how you've been playing."
After one last quarterback meeting, Favre heads home. He has visitors in for the weekend from Louisiana, but they are out when he gets home, shortly before noon. So he sleeps for six hours. Then he reports to the team hotel where all the Packers stay the night before a home game. Holmgren gets to the hotel about 3 p.m., takes a nap and makes his final choices for the First 15.
SUNDAY/THE PAYOFF
Less than an hour before the game, as Favre throws easily on the field, he is greeted by Tony Dungy, Minnesota's veteran defensive coordinator. "Don't you go putting the ball up too much on us today," Dungy says. "You take it easy on us."
Once the game begins, it is apparent that Dungy's defense is not about to take it easy on Favre. The Vikings blitz from the opening minute. But the quarterback adjusts quickly, and the blitzing hardly alters the carefully crafted Packer game plan.
Green Bay begins its first series of the game from its 34, and Holmgren runs the first five plays, in order, off the list he devised on Saturday night: Favre to Brooks for nine yards; Bennett off left guard for two; Favre, under a heavy blitz, to Levens on a screen pass for 20; Bennett up the middle for a yard. Then, in the face of a rare cornerback blitz by Washington, Favre sees that safety Mincy is late in moving over to cover Morgan, and Favre throws to him for 22 yards, down to the Minnesota 12.
On the sixth play Favre interrupts the First 15 and audibles from a run to a pass, but he throws incomplete to fourth wideout Charles Jordan. Holmgren now turns to his red-zone list of plays and picks a winner, Fake 95. Favre finds Chmura in a crease between defenders for a touchdown.
On the sideline Favre immediately seeks out Jordan. "If we get that same play again," Favre says, "I'm going to check to the same thing. Only you don't run that slant you just ran. You run the slant-and-go."
Early in the second quarter the Packers have the ball at the Viking five. Favre calls the same audible. Jordan runs straight at Fuller, glances back for a Favre pump-fake and then streaks to the right corner of the end zone. Fuller stumbles, and Jordan is all alone when the ball arrives. It is 14-14 at the half.
In the third quarter the Minnesota rush is taking its toll, and Green Bay goes three-and-out on its first two series of the half. With 22 minutes left in the game, Favre is only 12 of 30. But on the next series he is four of five, finishing a 69-yard drive with his third touchdown pass of the day, this one to Levens.
On the next series Favre takes the Pack 82 yards, to the Viking six. On third-and-two the call is for Favre to roll right. His first read is Levens, in the corner of the end zone; the second read is Ingram, in the back of the end zone. The third read is anyone who is open. Favre rolls right. Levens and Ingram are covered. But Bennett, whose task on this play is to simply get free wherever he can, is standing stock-still a yard deep in the end zone, waiting for Favre to see him. Eye contact is made. The ball is drilled. Touchdown.
The final score is 38-21, Green Bay. Favre's numbers for the day: 22 of 43 for 295 yards, four touchdowns and no interceptions. Chmura, with Jackson watching him from the sideline, finishes with five catches for 101 yards, including a 23-yard reception on fourth down late in the fourth quarter that puts the game on ice.
"Did you see how Brett responded to every bit of pressure today?" Jordan says in the locker room. "He's our Terry Bradshaw. This is his team. He's the prankster. He's the leader. He's the man."
An hour later Favre is home. The pizza has arrived. The beer is flowing. Chmura, Winters and their wives are celebrating with guard Harry Galbreath. Brittany and a bunch of kids are playing Twister.
Favre finds a quiet room and sits for a minute. His left hip, left knee, right wrist and both elbows hurt, but his stubbly face bears the serene look of a man who has done his job well.