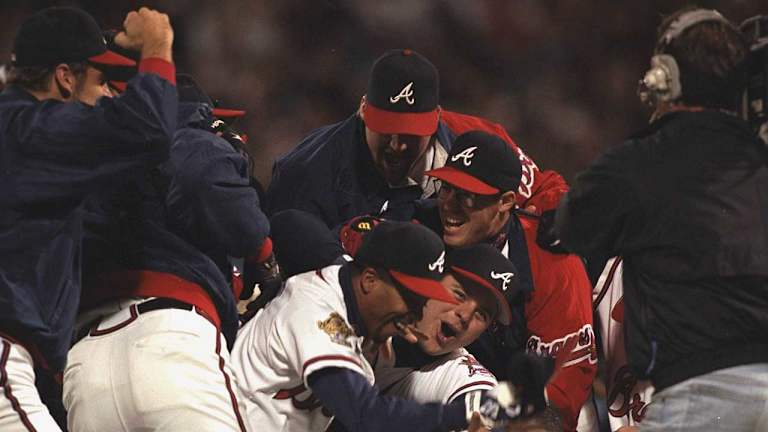 BRAVE HEARTS
ON ITS THIRD TRY IN FIVE YEARS, ATLANTA FINALLY WON THE WORLD SERIES
As rain and darkness fell like a soggy blanket over Atlanta last Friday afternoon, two men sat in a car slogging north through downtown traffic, two men who over the past five years have accounted for every National League Cy Young Award, 181 victories and a .691 winning percentage. This is how the Atlanta Braves would win the 1995 World Series: with Tom Glavine in the driver's seat and Greg Maddux riding shotgun.
It was on their ride home from a workout that Maddux talked an uncertain Glavine into a game plan for Game 6 the following night. Glavine, having watched the Cleveland Indians get to Maddux in Game 5, wondered what adjustments the Indians had made against him with their second look. "I don't think they adjusted well," Maddux said. "I was off a bit. It was more me than it was them. Just go out and pitch your game. Don't change."
Glavine decided that he would live on the outside corner, mostly with his changeup again, even though he beat Cleveland 4-3 in Game 2 with just about no other pitch working for him. "What Greg had to say reassured me," Glavine said. "To hear it from a pitcher like him meant a lot." Glavine also remembered how Steve Avery had pitched Game 4 and won, 5-2. "Avery couldn't believe they never adjusted to his changeup," said Atlanta pitching coach Leo Mazzone. "So he just kept throwing it."
For the fourth time in five years the Braves would play a game that could bring Atlanta its first world championship. They were 0-3 in the other tries, with each game started by a different Brave pitcher and ending with the same maddening margin of defeat: a single run. This would be Glavine's first crack at the clincher.
He was ready to be rid of the blabbering Indians--who during the Series sometimes acted like louts crashing a black-tie affair--especially after reading in the morning newspaper that Cleveland's punchless shortstop, Omar Vizquel, had said of the Braves, "They know they can't win a World Series."
Said Glavine, "That statement made me madder than anything else."
So he took the mound intending to throw his best pitch, the changeup, until the Indians proved they could hit it. They never did. Glavine did not paint the lower outside corner so much as he coated it with lacquer, pitch after pitch after pitch. Asked how many times Glavine ventured inside with a delivery, Atlanta catcher Javy Lopez replied, "I can count them on one hand."
Glavine, with last-inning relief from Mark Wohlers, came within one bloop single of a no-hitter; Tony Pena's leadoff hit in the sixth--off one of those nasty changeups--checked up in centerfield like a wedge shot. Supported only by a solo home run by David Justice (page 32) in the bottom of that inning, Glavine pitched the Braves to a 1-0 victory.
Can't win a World Series? Well, shut your mouth. At last, Atlanta.
It may have been the best-pitched game among the 91 that have ended a World Series. It definitely was the only one-hitter among them. The mystery to Glavine's mastery was how the Indians could lunge and flail time and time again at pitches that almost never varied in location. "His changeup is that good," Maddux said. "He throws it with the exact same arm speed as his fastball, so it's impossible to pick up. Yeah, you may be looking for something away, but is it hard or soft? And every time he did come inside, he got them out. And that plants a seed."
"Number one, you've got to trust yourself," said Glavine, who was voted Most Valuable Player of the World Series. "I've got so much confidence in my changeup that I can stand on the mound and tell you it's coming and, if it's a good one, you're not going to hit it."
The Indians never did adjust to the way Atlanta pitchers worked away from them, particularly with changeups. "They knew not to challenge our hitters," said Vizquel, whose .174 Series average contrasted with his brilliant play in the field. "They didn't come inside against them."
Cleveland scored more than five runs 69 times in the regular season, winning all but three of those games. They scored that many just once in the World Series, in Game 3--the only time an Atlanta starter, John Smoltz, came at them with fastballs and sliders instead of good off-speed pitches. The best hitting team in 45 years was held to six hits or fewer in all four losses, and batted .179 overall.
Maddux and Glavine put ornate bookends on an otherwise ordinary Series (only once did the winning run score after the seventh inning, and only one player, Cleveland second baseman Carlos Baerga, drove in more than two runs in a game). Maddux opened it with a two-hitter, and Glavine closed it with the combined one- hitter. Not until they ran into the Braves did Cleveland have fewer than three hits in any game this year. "That says more about their pitching than our hitting," said Indian coach Buddy Bell. "They pitched that well. They should get the credit for this."
Baerga, who made the last out of all three losses in Atlanta, was not as gracious as Bell. "I think we have a better team than them," he said. "It's hard for me to take." That was typical of the tough talk of the Indians, the kind of team you would not want to bring home to Mom. Hanging in their clubhouse is a framed and matted essay called The Art of Getting Along, by Wilfred Peterson. Now if only they would read it.
Cleveland's comportment took some of the shine off Game 3, a tense 7-6 Indian win, in which the two closers, Wohlers and Jose Mesa, combined for 5 2/3 shutout innings and 92 pitches--most of them unleashed at or near 100 mph. The night began with one Indian, Albert Belle, unloading a profanity-laced tirade at reporter Hannah Storm of NBC, one of baseball's national television rights holders, and ended with another Indian, Eddie Murray, refusing to talk to reporters about his game-winning hit in the 11th inning. From his training-room bunker Murray issued an innocuous statement through the team's p.r. director. Two little Indians.
On the same day as his altercation with Storm, Belle snapped at a photographer near the first base line during batting practice. "Move your ass out of the way," Belle said. When the photographer did not move quickly enough for him, Belle added, "I said move your ass out of the way."
Then, after banging six straight pitches over the leftfield wall, Belle ordered a TV cameraman to move away from the batting cage. "And turn the ---- camera off," he said. The cameraman did not move. Belle poked him in the shoulder with the butt of his bat and said, "Put the damn camera down."
This was the first World Series in which a team's general manager (Cleveland's John Hart) fielded a question in the interview room before the deciding game about whether his cleanup hitter required psychological testing. The commemorative World Series patches on the sleeves of the Cleveland uniforms, which included baseball's hollow slogan WELCOME TO THE SHOW, needed an addendum stitched underneath: NOW GET THE ---- OUT OF MY FACE.
On those occasions when the Indians did choose to talk, they didn't know when to shut up. Pitcher Orel Hershiser annoyed the Braves with his proselytizing, his chirping that Atlanta felt pressure from not winning the 1991 and '92 World Series, and his public scolding of Maddux in Game 5 for buzzing a fastball that nearly trimmed the whiskers of Murray's mustache. Murray glared at Maddux as if he were a sportswriter, causing benches and bullpens to empty. Hershiser approached Maddux on the grass near the mound and asked, "Did you try to hit him on purpose?"
"No," Maddux said. "I'm just trying to come in."
"You can do better than that," scoffed Hershiser, and shot him a look of warning. Or as Hershiser explained later, "It's kind of like, 'I can have as good control as you have.'"
Said one Brave, "[Hershiser] thinks he's pitching coach, hitting coach and p.r. director." Atlanta chafed, too, at how Tribe third baseman Jim Thome stopped to marvel at his home run in Game 5, as if it were the space shuttle Discovery--well, it did travel almost as far--and flung his bat away with an arrogant flourish. "They're a cocky team," said Glavine, "and they don't need to be. You hoped that some guys over there would be more professional than they were. Those guys don't need to be talking [trash] and tossing bats on home runs practically into our dugout. We don't play that way."
So annoyed were the Braves at what Hershiser and Vizquel later dismissed as meaningless psychological warfare that they called a team meeting before Game 6 to get over it. "We were a little too concerned about it," Glavine said, "and a couple of guys got up and said it didn't matter what they said. We controlled the Series, and if we just played our game, we'd win it."
The Indians were bullies in the regular season, coasting to the American League Central title by a record 30 games while pounding the back end of opposing rotations. But, as Mazzone said, "They found out we don't have a back end to our rotation."
When Cleveland needed to beat Avery, the Braves' No. 4 starter, at home to even the Series at two--Atlanta manager Bobby Cox took some heat for not using Maddux on short rest--the Indians failed miserably, losing the only game not decided by one run, 5-2.
Atlanta pitched Belle magnificently throughout the Series. The only player ever to slug 50 homers and 50 doubles in the same season did not pull a hit to leftfield in the six games. He batted only seven times with a runner on base and was walked on four of those occasions. At a paltry .235 he led all Cleveland hitters with more than two at bats. Likewise, Murray's play was nothing to talk about. He batted .105 (2 for 19), dragging his average in 18 World Series games down to .169.
The Braves and the gritty Glavine were almost beyond remonstration, especially from a team that, according to its own general manager, "took a couple of ball games to get a sense and feel for what the World Series is about." Atlanta's skin has been thickened by 47 postseason games since 1991, during which Glavine has logged a 1.83 ERA in 86 2/3 innings.
While everyone talked about Atlanta's unfulfilled world championship quest starting with the torturous 1991 World Series, the time line actually began in the summer of 1987: Starting in July the Braves called up shortstop Jeff Blauser from the minor leagues, traded pitcher Doyle Alexander for Smoltz and promoted Glavine to the majors. Smoltz was assigned to the minors and Blauser returned there for half the next season, leaving Glavine as the current Brave with the longest continuous service with the club. All three of them spent time with the 1988 Braves, who lost 106 games and finished 39 1/2 games out. "See that light tower up there?" Blauser said, pointing to the rim of Atlanta-Fulton County Stadium on the first base side. "One night a lightbulb fell out and came crashing down into the stands. It didn't come close to hitting anybody. That's how empty this place was. There must have been about 2,500 people."
Last Saturday night the place swelled with 51,875 people and the anxiety of a city that had never before celebrated a championship in a major professional sport. TONIGHT'S THE NIGHT proclaimed one banner. Only two other World Series ended so late in the year--Daylight Savings Time ended just after the game--and those were delayed by a strike (1981) and an earthquake ('89).
This was a year that began late, too, because of another strike, one in which Glavine played a prominent role as the team's player representative. For that he was booed when Opening Day finally arrived on April 26. "It hurt, sure," he said late Saturday night. "I hope now I've given them something else to associate me with."
Glavine allowed only one runner as far as second base. He dominated the Indians even when he was tired in the eighth inning. "I really got out of the inning without making a good pitch," he said. He could thank Cleveland manager Mike Hargrove, who allowed Thome (0 for 8, including four punch-outs against lefthanders) and weak-hitting Pena and Ruben Amaro to bat that inning while leaving two of his better hitters against lefties during the season, Sandy Alomar (.364) and Herbert Perry (.344), on the bench.
It was after the eighth inning that Glavine told Cox and Mazzone he was done. "Look up at that scoreboard," Mazzone said to Glavine. "You've got a one-hitter in the World Series. What if it was a no-hitter?" Said Glavine, "Whew. Tough call."
The last three outs belonged to Wohlers, whose ability to slam the door on a game plugged the last hole on the team. The very last out, the one he had dreamed about "since I was five years old," was too much for him to even watch. When Baerga lifted the baseball in the air toward left centerfield, Wohlers looked away, into the stands. When the crowd let loose a great cathartic roar, he knew the end had been secured in Marquis Grissom's glove. "I kind of blacked out," he said. "Then I saw Javy running at me, and I figured I'd better do something before he ran my butt over."
Almost two hours later Glavine kicked off his spikes and handed them over to a representative of the Hall of Fame for transport to Cooperstown. He thought out loud about the victors' spoils. "A putting green," he said. "[Atlanta president Stan Kasten] promised us a putting green in the new stadium if we won the World Series."
Next door, a new stadium is going up. It will serve as an Olympic venue for the Summer Games in Atlanta next year and, after some downsizing, as the Braves' new home in 1997. It rises like a monument to baseball's team of the 1990s, promising all the proper amenities. It will have luxury boxes, the finest grass field and, now, besides the putting green, a world championship banner. They say the lightbulbs will stay in place, too.