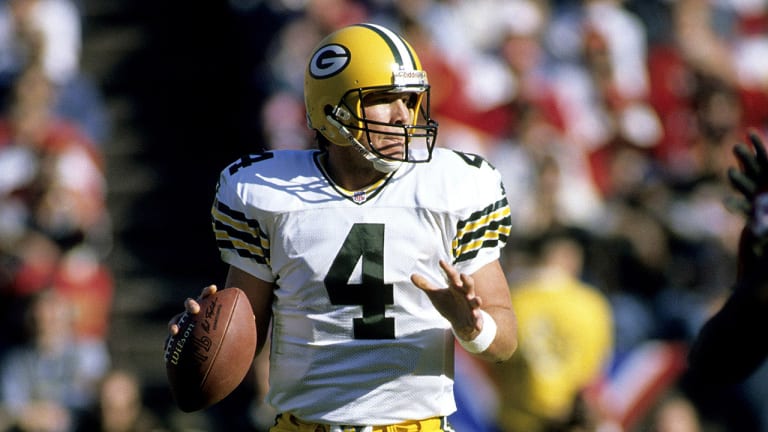 Sent Packing
True To Its Word, Green Bay Whipped Defending Champion San Francisco
He knew it in his head, in his heart and in his aching, twisting gut, and now Mike Holmgren needed to put his mouth where his convictions were. Holmgren, the Green Bay Packers coach, had spent a week assuring his players—and anyone else who would listen—that they were capable of dethroning the Super Bowl champion San Francisco 49ers in last Saturday's NFC divisional game. He and his assistants had devised a game plan so technically elegant it would make Bill Gates drool. Just before kickoff Holmgren stood in the visitors' locker room at 3Com Park, the stadium in which he launched his career as an NFL assistant, and called a motivational audible. In a move that contradicted the native San Franciscan's cerebral image, Holmgren took a deep breath and drew some magic from his mouth.
"We can beat these guys, but it's not about outsmarting them or having a better scheme," he told his players. "Football is about kicking someone's ass. Football is about physically pounding the opponent. If you want to win this game, you have to beat the crap out of these guys."
Holmgren's words struck a nerve; to the Packers it was as if Albert Einstein had turned into Al Haig. For the next three hours they dominated the heavily favored 49ers in every phase of the game to win 27–17. Green Bay now faces the Dallas Cowboys in the NFC Championship Game on Sunday at Texas Stadium, and if the Packers play as they did in San Francisco, they have an excellent chance to advance to their first Super Bowl in 28 years.
These Packers may not evoke memories of Vince Lombardi's roughneck teams that dominated the 1960s, but they do have some old-style machismo in their gait. That's instilled by the leadership of 34-year-old defensive end Reggie White, a spiritual man nearing the end of an arduous quest for an NFL championship, and 26-year-old quarterback Brett Favre, a country boy from Mississippi whose raunchy wit and unflappable grit have spiced up the Pack and its West Coast offense.
Despite playing with a torn left hamstring, White soared over numerous chop blocks while applying relentless pressure on 49er quarterback Steve Young, who connected on only 32 of a playoff-record 65 passes. Favre, who this season succeeded Young as the league MVP, came through with what he acknowledged was the best game of his five-year NFL career, completing 21 of 28 passes en route to a 299-yard, two-touchdown, no-interception day.
While there were many logical explanations for the stunning outcome—beginning with Green Bay defensive coordinator Fritz Shurmur's ingenuity and extending to the offensive blueprint drawn up by Holmgren and his offensive coordinator, Sherm Lewis—the Pack also rode intangibles to this victory. "I've never been around a team quite like this," Holmgren said afterward. "I think this team is special because the players are so unselfish."
Holmgren's faith in the Packers was so great that after a 37–20 first-round win over the Atlanta Falcons on Dec. 31, he made an uncharacteristic comment that became the talk of both the 49er and Packer locker rooms. Asked about Green Bay's playoff prospects, Holmgren said, "We're going to win it all. Why not?" The quote quickly found the bulletin board in the San Francisco locker room. Several Niners referred to the Pack's coach as Lomas Holmgren—a reference to Detroit Lion tackle Lomas Brown, whose guarantee of a first-round victory over the Philadelphia Eagles backfired in a 58–37 Eagle win. And 49er coach George Seifert, for whom Holmgren had served as offensive coordinator from 1989 through '91, harped on the quote in meetings.
On the other hand, the Packers carried themselves with a sly assurance in the days before the game, obviously moved by Holmgren's vote of confidence. "I'm glad he said it, because I think he believes it," Favre said. "It's time he did say it. He wouldn't have said that last year. And in the back of his mind I'll bet Coach Seifert is a little worried."
Even with an attack that was becoming more and more pass-happy, San Francisco believed it could subdue Green Bay by using the same formula it had employed in a 38–20 rout of Dallas on Nov. 12: create big-play opportunities for receiver Jerry Rice and clamp down on the opposition's running game and primary receiver, in this case, Robert Brooks. But Green Bay destroyed this plan in the first quarter, which ended with the Pack leading 14–0 and embarking on another touchdown drive.
Though it ended with a blocked field goal, Green Bay's first possession of the game set the tone. The Packers used up seven minutes to march 48 yards, and Favre dispelled one giant misconception along the way. While watching Favre warm up before the game, some 49ers noticed his passes were fluttering and took it as a sign that he was nervous. Yeah, and Dick Clark got stage fright before American Bandstand tapings. "Why be nervous?" Favre asked later. "If we lose, everyone expects it. If we win, we're kings. We came to ---- play. By the middle of the game, I was checking out cheerleaders while I was in the huddle."
Favre completed 15 of his first 16 passes, and his only two incompletions of the first half came on a throw batted down by defensive tackle Dana Stubblefield and a pass broken up by otherwise invisible All-Pro free safety Merton Hanks on an acrobatic dive. In executing the game plan to near perfection, Favre picked apart the middle of the 49er zone, connecting with backup tight end Keith Jackson four times for 101 yards and a touchdown, including one outrageous 28-yard completion: Late in the third quarter Favre slipped as he rolled out of the pocket before zinging a perfect pass as he was regaining his balance.
In the meantime, the Packer defense sent a message on the 49ers' first play from scrimmage. With 7:49 left in the first quarter, Young threw an outlet pass to fullback Adam Walker, who played with a cast on his broken left thumb. Linebacker Wayne Simmons, who had the best game of his three-year career, with 12 tackles and a sack, slammed into Walker and jarred the ball loose. Rookie cornerback Craig Newsome scooped it up and ran 31 yards for the score.
Shurmur's schemes confounded the 49ers throughout the afternoon and exposed their weaknesses. The Niners could not run the ball against his creative nickel alignments—halfback Derek Loville gained five yards on eight carries—and Young's yearlong tendency to lock in on Rice became a liability. The Packers used cornerbacks Newsome and Doug Evans to bump Rice at the line, and he was double-covered on nearly every play. "Sometimes Steve stayed on Jerry too long, and that took them out of their rhythm," strong safety LeRoy Butler said. Rice still caught 11 passes for 117 yards, but most stunning was the way in which the Packers contained him after he caught the ball. After making those 11 receptions, Rice gained only 10 yards.
Having formulated defenses for 20 other games against the 49ers, Shurmur, formerly a defensive coordinator for the Los Angeles Rams and the Arizona Cardinals, knew how to disrupt the Niner passing offense as well as anyone—and it showed. He shifted from odd- to even-numbered fronts and roughed up Young, who was intercepted twice, fumbled once and was sacked three times, by rushing players from unlikely places. Simmons, fellow linebacker Fred Strickland and Butler blitzed from all over, and on some plays 295-pound nosetackle John Jurkovic dropped into coverage.
"That was just an old-fashioned butt-kicking," said San Francisco tackle Steve Wallace. "We lived by the pass, and today we died by it. When you play an underdog and let him breathe a bit, all of a sudden he wants to tear down the house."
As much as Shurmur's game plan bewildered the 49ers—and San Francisco's first-year offensive coordinator Marc Trestman was unable to adjust—the Pack's defensive success was also a product of attitude. Early in the week Shurmur introduced 30 combinations that had many Green Bay defenders confused and bothered. On Wednesday Holmgren went ballistic after first-team defenders repeatedly allowed scout-team receivers to find large openings. By kickoff, however, the Packers were prepared to execute Shurmur's streamlined game plan, which featured about 20 combinations.
Keeping everyone loose, as usual, was Favre, a man known as much for his bathroom humor as for his passing prowess. Like Joe Montana, Favre possesses a small-town, no-frills genuineness and a keen prankster's bent. On Wednesday, Favre's main target, Brooks, was sitting in a toilet stall when Favre heaved a cup of ice water over the top, dousing the receiver. Later that day Favre raided the locker of backup quarterback Jim McMahon and placed hot wax in McMahon's underwear.
But last Saturday the man who had the last chuckle was Holmgren, who didn't hit the showers until every one of his players had left the locker room. With his husky jowls, soft eyes and bushy mustache, Holmgren resembles a walrus you might find in a cartoon. As he winced from the stomach pains that had plagued him all day, he showed no traces of the Lombardi-like behavior he displayed in his pregame speech. Yes, he conceded, he had told his team that football is about kicking people's asses. "But please don't use that language," he pleaded. "My mother would cringe."
Then Holmgren smiled broadly; perhaps his mom would cut him some slack this time. "I don't make guarantees," he said, "but if we play like this, I like our chances."
Why not?
COLOR PHOTO: COVER PHOTOGRAPH BY JOHN W. MCDONOUGH COVER PHOTO BRING ON THE COWBOYS Brett Favre And the Packers Dethrone the 49ers
COLOR PHOTO: V.J. LOVERO Brooks caught only four passes against the top-rated Niner defense, but the receptions went for 103 yards. [Robert Brooks]
COLOR PHOTO: PETER READ MILLER Newsome's fumble return set the tone for a defense that forced but 16 turnovers in the regular season. [Craig Newsome]
COLOR PHOTO: JOHN W. MCDONOUGH The hamstrung White jumped all over Young and even dogged the incomparable Rice on this play. [Jerry Rice attempting to elude Reggie White]
COLOR PHOTO: JOHN W. MCDONOUGHSimmons, who had 12 tackles and a sack and forced a fumble, was on Young's back much of the day. [Steve Young being sacked by Wayne Simmons]