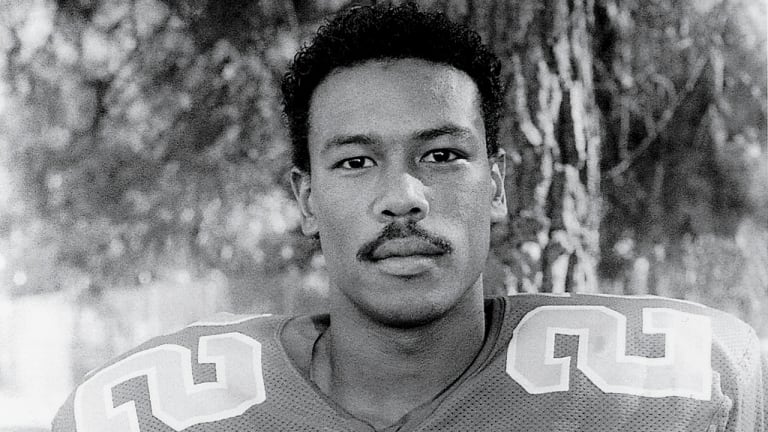 The Great Impostor
Ron Weaver tricked Texas into prolonging his life in football
By his own count he had played in 70 college football games at four colleges under two names. There was a pathology to it, no question. Living in a college dorm at the age of 30, shuttling between two identities, remembering not to order his preferred Absolut martini on dates, maintaining the ruse for one reason: to be a reserve cornerback. Lines, legal and ethical, were definitely crossed when he copped an acquaintance's Social Security number and accepted a full scholarship at the University of Texas under an assumed name. But Ron Weaver did get to play Division I football, which was all he ever wanted.
Whether you regard Weaver's hustle as unethical, as criminal or as part of that great American tradition of becoming whomever you want to be depends on how much of a stickler you are for the law and for the NCAA's rules of eligibility, which say that a student-athlete generally has no more than five years to play four seasons of football. The view from Texas is unequivocal: Officials there wasted little time pinning the Longhorns' 28-10 Sugar Bowl loss to Virginia Tech on Weaver, whose true identity was discovered on the very eve of the Dec. 31 game. The team, say those officials, was deflated by the revelation and played poorly as a result. The school then proceeded to float rumors about Weaver, who, the officials said, was involved in gangs, gambling and general skulduggery. Texas, which hasn't backed up any of those charges, is threatening legal action, possibly to recover the value of Weaver's scholarship.
But Weaver, who broke a weeklong silence to speak to SI last Saturday, tells a sweeter tale. Well, bittersweet, really. A high school receiver of modest talent--he was all-league at Monterey (Calif.) High--Weaver enrolled at Monterey Peninsula College in the fall of 1984, then at Sacramento State, which was a Division II program, in '88. Four years later he reversed his field and, under the name Ron McKelvey, matriculated at Pierce (Junior) College in Woodland Hills, Calif., on his way to living his dream and playing big-time football at Texas. "You can't understand what the experience is like," he says, wistful to the end. "Playing in front of 80,000 people. To be recruited. To have someone wash your stuff and put it back in your locker...." It already seems like a long time ago to Ron Weaver. Or whoever he is.
How Ron Weaver became Ron McKelvey, and remained Ron McKelvey for three years, involves less intrigue than you might think. The deception was born of a whim and carried out fairly clumsily. There were no doctored transcripts, no conspiracy on the part of coaches or schools, and hardly any thought as to where this might all lead. The whole enterprise was governed by a single principle: Weaver wanted to keep playing football. Possibly it was the purity of motive that kept this thing on rails as long as it did, because there is not much evidence that planning kept it in motion.
It all began following Weaver's second and last season at Sacramento State in 1989, where he was an All-Western Football Conference receiver. Still, he was only 5'10" and 175 pounds, couldn't run faster than 4.6 in the 40 and couldn't bench-press more than 250 pounds. He flunked tryouts with the British Columbia Lions of the Canadian Football League and with the Houston Oilers. In 1990, Weaver says, he attended a tryout camp for the Montreal franchise of the World League, but he was frozen out of a spot on the roster because of a surfeit of wide receivers. Football was over for Weaver, as it is for thousands of men just like him, and he returned to Salinas to help run the family liquor store.
But working in the liquor store felt like a dead end, especially to someone still adrift in his dreams, and except for a chance meeting there with a young man named Joel McKelvey, it provided no opportunity for a future. "It's a liquor store," Weaver says. "It would be there whether I was or not." So, in August 1992, when his coach from Monterey Peninsula College asked him if he was interested in helping out, Weaver jumped and became an unpaid assistant, coaching the defensive backs. And Weaver, running drills alongside these kids, thought to himself: I can still do this.
And with that thought, a scheme was born. Weaver would occasionally run into McKelvey, then a 20-year-old purchaser for Weyerhaeuser, at the liquor store and at a local gym where they both worked out. Weaver did not select McKelvey so much for his size or shape as for his color and age. "He was a young African-American," says Weaver, "and that was all I needed." In fact, McKelvey, an avid weightlifter, was roughly Weaver's size, but no matter. Because McKelvey is Jewish and wouldn't play on the Sabbath, he had never participated in any organized sport. For an alter ego, McKelvey wasn't much of a match. But for someone about to enroll in junior college, McKelvey's high school class of 1990 was about right.
So over beers at his house one night, says Weaver, he laid out his plan to McKelvey. "What if I use your name, go down to Los Angeles and play football under your name," Weaver says he suggested to McKelvey. As Weaver recalls it, the younger man laughed and said, Go ahead. McKelvey will neither confirm nor deny Weaver's account.
Soon after this conversation Weaver appeared at the office of Pierce College coach Bill Norton, introducing himself as a recent high school graduate whose college matriculation had been delayed a couple of years while he went to work. He said his name was Joel Ron McKelvey--call him Ron, though--and he was shopping junior colleges.
"I told him we were looking for cornerbacks," says Norton. "He said, 'I've never played defensive back, but I'd be interested in working out and seeing what you think.' With that kind of attitude, he already had me interested."
After putting Weaver through a workout, an assistant coach told Norton that the kid could run, he was a real athlete, and he had potential. When Norton quizzed Weaver on his background--why wasn't he recruited out of high school?--Weaver simply told him he was a late bloomer. "I'm just looking for a chance," he said.
It was no trick to enroll at Pierce under McKelvey's name. J.C.'s are in the business of producing enrollment; high school graduation is often not required. In fact, at Pierce nothing is required but tuition and a Social Security number. At first Weaver made up a number. Later, says Weaver, on a visit to Salinas, he simply asked McKelvey for his Social Security number, and McKelvey gave it to him (McKelvey would not confirm nor deny this either). Back at Pierce, Weaver amended his number to that of McKelvey. Using his student I.D., he also set up a checking account in McKelvey's name. "I know that's bad," Weaver says. "But I never got a credit card in his name or took out any loans. I wasn't going to do that." All he had in McKelvey's name was a Pierce I.D. and a bank ATM card.
Whoever he was, he was industrious. He earned his tuition money and more waiting tables at the Chart House in Malibu, working there four nights a week under his real name. Crossing from Malibu back into the San Fernando Valley, he became a work-ethic monster named Ron McKelvey. "When the team got done lifting weights," Norton says, "he'd still be lifting. On off days, when we weren't doing anything, he was encouraging other guys on the team to work out so they could get better. If nobody went, he'd go run by himself."
More than that, he inspired a trust. Says Norton, "You could give Ron a $100 bill, send him to the store for a penny piece of bubble gum, he'd come right back with the gum and the $99.99 change."
Only a handful of people knew of his deception. Not his parents, who had assumed he was in Los Angeles working. Only his sister, Bonita Money, who lived in nearby Granada Hills at the time, a few friends from home and two Pierce players were in on the secret, and the con remained airtight.
But the most amazing thing of all was that Weaver got better as a football player. He was no kind of tackler--"I felt if you just ran into somebody hard enough," Weaver says, "that would do the trick"--but his speed and his strength increased significantly. At Pierce his 40 time dropped to 4.47 and his bench press increased to 325 pounds. He made some awful gaffes, says Norton, even costing Pierce a game or two with blown coverages. But his athletic ability was undeniable.
While the Brahmas finished only 2-8 in Weaver's second season at Pierce--his sixth season of college football--he was all-state, and schools in the Pac-10 and the WAC, as well as Texas, expressed interest. It was a flabbergasting development for Weaver. "I'm thinking to myself, I can actually play in the NFL," he says.
As for beating the system at Texas, that was no more difficult than it was to enroll at Pierce. Weaver was recruited by the defensive backs coach, and his associate's degree (in McKelvey's name) from Pierce rendered any high school grades and standardized test scores irrelevant. He didn't have to beat the system, he was in the system. As it turned out, he didn't star at Texas during the '95 season. He didn't even play that much, getting onto the field for little more than 100 downs, half of those on special teams. John Bianco, a publicist at Texas, remembers that Weaver got beat for a touchdown in a 48-7 win over Texas Tech. "He cost us a shutout," says Bianco. Still, Bianco admits, "He's a great athlete, one of the fastest guys on the team." And he turned out to be a pretty fair student while majoring in kinesiology.
But for Weaver, it wasn't about starring on the field. Just playing was the point. "My lifelong dream was to play football," he says, "and I wanted it to last forever." He even asked his position coach, Steve Bernstein, about the chance to redshirt next season. "It meant another year I could play, another year longer. You know, playing football is a reason not to grow up. You stay young forever. It seems I've always been 23." For a long time, anyway.
It all came apart when The Californian, Weaver's hometown paper, published a story on Dec. 30 saying that Texas player Ron McKelvey was actually Ron Weaver, age 30, playing his seventh season of college football. Sports editor Richard Martin will not say who tipped him about Weaver. Texas initially backed Weaver, who maintained his innocence and promised to provide coach John Mackovic with a birth certificate. But he could not sustain the ruse. His identity revealed, Weaver fled the team's hotel in New Orleans for his sister's apartment in Hollywood, while Texas lashed out at him and accused him of taking bets from other Longhorns (which may be true, though even Texas says that the dollar amount in question is minuscule).
All that remained was to sort out the consequences of Weaver's three-year scam, and there may be surprisingly few. The NCAA is not likely to take action, as the fraud was not Texas's but Weaver's, and he is beyond their jurisdiction. Though Weaver was an ineligible player, Texas is in no danger of having to forfeit games as he had virtually no impact on the outcome of a single one.
Crimes may have been committed in the pursuit of the deception against Pierce and Texas, but Texas prosecutors have said that they will probably not press charges, especially since the real McKelvey does not deny at least some acquiescence in the scam. "I'm not going to accuse [Weaver] of anything," says McKelvey. "If he says it happened like that, then let it go."
Although Weaver can't honestly say that he won't write a book about his experiences, he says that was never his motivation (as he was quoted as saying in The Californian). He thinks the worst thing that may happen to him is that he would have to repay Texas for his scholarship (about $6,000).
In truth Weaver has no remorse, though he feels sorry that coaches and friends believe he betrayed them. "If you asked me if I still wanted to play football tomorrow," he says, "I'd say yes."
For the moment his future is as clouded as his past. He is staying with Bonita in her Hollywood apartment, uncomfortable among the eccentrics and small-time celebrities she seems to attract. Bonita--Bo Money, she calls herself--is a former talent agent, actress and model who seems to work the fringes of the movie industry, getting famous in typically Hollywood ways. She once made Hard Copy and A Current Affair for smacking Beverly Hills 90210's Shannen Doherty, and in 1993 received some attention for appearing in court in support of Hollywood madam Heidi Fleiss. Bonita says she is currently producing a script based on a book about Los Angeles gangs.
On the day Weaver agreed to speak to SI in his sister's apartment, the room was filled to bursting with people of malleable identities. A hairdresser and a makeup artist arrived to prepare Bonita for Weaver's photo shoot (she just assumed she would be included); a self-proclaimed publicist arrived; a screenwriter appeared and confided that Weaver's story was all the more "cinematic" for his having missed the Sugar Bowl; and apropos of nothing and nobody, a man who claimed to be a Saudi Arabian prince sailed in with his African-born buddy in tow. The fully robed sheikh was in L.A., his friend said, to trim another 200 pounds from his 480-pound frame and was paying doctors $5 million to do it.
"Figure that per pound," said the buddy, who was dressed only in bicycle shorts and a leather vest. "Actually, it's not his money. He's here by order of the royal family."
The prince and his African buddy were great company, though the young sheikh would occasionally drift off to sleep, at which point members of the party would make jokes at his expense. The uncomprehending sheikh always woke up grinning.
It was an exotic scene, and Weaver, whose clean-cut normalcy put him at odds with this bunch, was clearly uncomfortable to be a part of it. Anybody might be uncomfortable in this group. As the sheikh slumbered on the couch, somebody noticed that his huge feet were encased in that brand of athletic shoe that lights up when the heels are struck. "Do you think he really is a prince?" somebody asked. And all you could comfortably say was, this being America and knowing what you know, he's whoever he says he is.
B/W PHOTO: JEFF MINAHAN 1989 Ron Weaver Wide Receiver Sacramento State Age
24COLOR PHOTO: LARRY KOLVOORD/THE AUSTIN AMERICAN-STATESMAN 1995 "Ron McKelvey" Defensive Back Texas Age 30 [Ron Weaver]COLOR PHOTO: GEORGE LANGE Weaver (lower right) was back to his old self after seeking refuge with Bonita (center) and her curious entourage. [Bonita Money, Ron Weaver, and others]