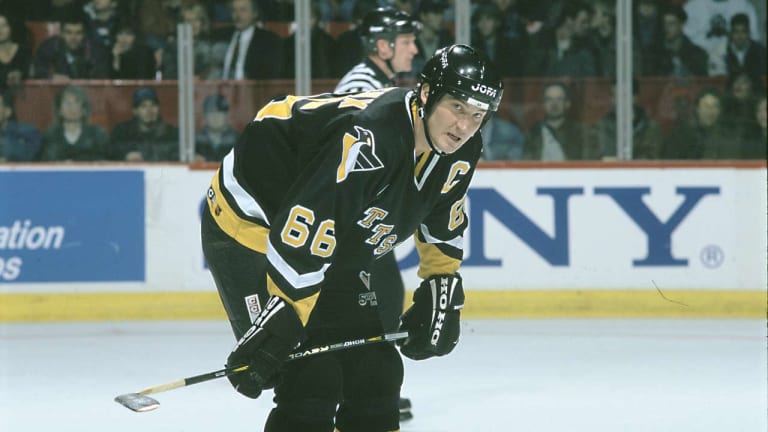 'It's Always There'
Mario Lemieux shares details of his battle with cancer—and news of the lump he recently discovered—with a fellow survivor of Hodgkin's Disease.
He thought the worst was behind him at last. The black cloud
that had haunted him for three years was gone, and Mario
Lemieux, hockey's crown prince, was back in control of his
kingdom. It was mid-December and Lemieux was finally free of
cancer, free of the anemia that resulted from his radiation
treatment and free of the back pain that had dogged him for
years. All the fear and self-doubt that had come with the
illnesses and injuries had also disappeared.
After 18 months away from hockey, Lemieux, the Pittsburgh
Penguin superstar center, had made his return to the game when
the season opened in October, and his encore performance was
more spectacular than anyone could have imagined. In the Year of
the Comeback, Super Mario once again stood alone. There were
times early in the season when nothing seemed impossible for
Lemieux or for the surprising Penguins, a team he has lifted to
elite status once again. In a game against the Tampa Bay
Lightning in November, Lemieux had seven points; he had four
goals against the Boston Bruins later that month. By December he
was averaging nearly three points per game, a pace that no one
has ever sustained over an entire NHL season, and had
reestablished himself as the world's most dominant player.
Everything, at last, seemed to be back to normal. Then he felt
it. "The little lump," he says. It was two weeks before
Christmas and Lemieux was performing a routine physical exam,
searching the areas around his armpits and neck for any sign of
the cancer that had attacked his body. The new little lump was
on the opposite side of his neck from where he had found the
other little lump in January 1993, the swollen lymph node that
turned out to be Hodgkin's disease.
"It's here," he told me, pointing to the area where he had found
the lump recently. "It's been there a little while. It hasn't
grown, though. It's fine. Really. The doctor said to just keep
an eye on it. It's real small, nothing to be alarmed about."
When you've battled cancer and survived, when you've been
through physical and emotional warfare with the disease, any
lump can seem like a huge lump. Usually these discoveries turn
out to be false alarms. That doesn't mean they don't send a blue
streak of fear and panic through every inch of your being.
There is a reason Lemieux chose to share his recent discovery
with me and not with other journalists. He knew I would
understand that terrifying feeling he experienced last month. I
knew what it was like to suddenly find one of those little lumps
in my neck. I knew what it was like to be 28 years old,
frightened, confused and not quite sure if I would live to see
my next birthday. Like Mario, I am a survivor of Hodgkin's
disease.
[pullquote][quote]When asked what
Lemieux's return meant to his team, Pittsburgh coach Eddie
Johnston looked up to the heavens, made the sign of the cross
and said, "I thank God for him every day."[/quote][/pullquote]
In December 1992, two weeks before his Hodgkin's was diagnosed,
I traveled to Pittsburgh to interview Lemieux. I had been
covering the NHL for the Boston Herald for eight years, and he
had been tearing up the league for most of my tenure.
He was the best player on the planet, but he was also guarded
and reticent, and no one really knew what he was like outside
the rink. My editor hoped I could get a look at the private side
of Lemieux, but for all of my digging, the most revealing nugget
I could unearth was his passion for wine collecting. I learned
that he owned a bottle of 1966 Chateau Petrus, a Bordeaux valued
at $600 to $700.
Two weeks later I was back in Pittsburgh to write another story
about Lemieux. Only this time we were not alone--he had convened
a press conference to announce that he had cancer. Suddenly the
public got a look at the private side of Lemieux.
As I stood in a ballroom at the Pittsburgh Hyatt listening to a
stoic Lemieux and scribbling in my notebook, I felt a swirl of
emotions. Mario didn't know what lay ahead for him, but I sure
did. I had learned three years before that I had a much more
advanced case of Hodgkin's. Lemieux's doctors made it sound as
if radiation treatments would be as routine as a trip to the
dentist, but unfortunately, I knew better. I knew Lemieux was in
for the toughest winter of his life. I knew that even if his
body recovered completely--as his doctors assured us it would--his
outlook on life would never be the same.
My treatment included not only radiation but also chemotherapy
and a lifesaving bone marrow transplant, which I received in
1991. I made it to my next birthday and have had five more since
then. I am 34 years old now, and unlike many women my age, I
don't mind celebrating another birthday.
I never got the chance to speak privately with Mario at that
press conference. He made a statement, took a few questions and
then left, his pregnant fiancee by his side. I didn't see him
again until that May, when he returned to hockey, and we finally
got together to talk. I told him my story, and he told me his.
"I know everyone has to go through a little adversity in this
life," he said. "But I never thought it would be this tough."
"If I'm still standing," I told him, "you've got nothing to
worry about."
We talked about losing our hair, going on spending sprees and
life after 30. There has been a bond between us ever since.
In the summer of '94 we played golf in a tournament on Cape Cod.
He is a scratch player, and he was launching the ball 260 or 270
yards off the tee. Fortunately the course gave women a healthy
advantage off most of the tees, and I outdrove him a bunch of
times. The tournament was a scramble format, so our group played
many of my tee shots. I'm a 12-handicap, and I poked fun at
Mario for not being able to outdrive a woman, and he nicknamed
me Ace. We had a good time that day, but I could tell there was
something wrong with him.
When I asked about the rumors that he was planning to skip the
'94-95 season, he didn't deny them. He looked gaunt and tired,
and unfortunately I knew the symptoms well. He appeared to be
anemic, a condition that stems from the radiation treatments and
saps your energy. I had gone through it a few years earlier, and
it had been tough just getting out of bed in the morning. I
couldn't imagine playing pro hockey in that condition.
After 18 holes we stood outside the clubhouse and he confirmed
my suspicions about his anemia. He told me that he would be
holding a press conference within a week to announce his
decision. I knew what he'd been through, and I knew that he was
not ready to return to the grind of the NHL. I knew he would
miss at least the upcoming season and maybe more. In fact, as I
left the golf course that day I can remember thinking that it
would be amazing if Mario ever played hockey again.
Someone is always waiting. Wherever he goes, in whatever rink he
happens to be playing or practicing, someone inevitably
approaches Lemieux and shares his own cancer story. He always
had a throng of fans waiting around every corner for a snapshot
or an autograph. But his battle with cancer brought out a whole
new breed of followers. They too share a bond with Lemieux.
When Lemieux was in Boston in late November, a man approached
him before the Penguins' morning skate. Lemieux didn't recognize
the man, but his name and his story sounded familiar. The
stranger had been found to have Hodgkin's and had written to
Lemieux last year. As always, Lemieux sent back a note of
encouragement. On this November morning, the man didn't want
much of Lemieux's time. He simply wanted to shake his hand and
thank him. The note from Lemieux had made a difference in his
life.
"If people need help, if someone wants me to talk to a sick kid
or a sick family member, it's something I want to do, something
I feel I have a responsibility to do," says Lemieux. "I think,
because of what I've been through, I'm a good example for people
who need help or encouragement. I was able to come back and live
a normal life."
Before Lemieux's Hodgkin's was diagnosed, he would often visit
hospitals that specialized in cancer care. He would talk to
patients, but he felt uncomfortable because he never knew what
to say. How could he? He was strong and healthy, a man who was
born with incomparable physical gifts. The worst malady he had
suffered was the guilt that he felt when he walked through a
cancer ward.
Even now, with all he has been through, he still feels a bit
awkward, especially around people who have suffered more than he
has. He went through 20 days of radiation, no picnic, to be
sure, but still not the torturous regimen that many cancer
patients endure. "I'm still uncomfortable," he says, "but I'm
better than I was before."
On the night of his last radiation treatment, March 2, 1993,
Lemieux returned to the ice against the Philadelphia Flyers and
scored a goal and added an assist. By the end of that season, he
had overtaken Pat LaFontaine of the Buffalo Sabres to win the
league scoring title and earn another MVP award despite playing
only 60 games.
"At that point, all you want to do is prove to yourself that
you're fine, that the cancer is behind you," Lemieux says.
"That's why I came back [so quickly]. Maybe it was foolish, but
that's what I felt I had to do."
The effects of the radiation treatment finally caught up with
him, and by the end of the '93-94 season, all he wanted to do
was sleep all day, every day. The body needs time to replenish
the red blood cells that are depleted during the treatment, and
until those cells reproduce, you walk around exhausted. Not only
was he exhausted, but he was also suffering unrelated, severe
back pain. In July 1990 he had undergone surgery to remove the
herniated portion of a disk, and by the end of the '93-94 season
the pain was so crippling that he couldn't bend over to lace his
skates, and even worse, he couldn't pick up his infant daughter,
Lauren. "I'd have to lie down on the floor with her if I wanted
to play with her," Lemieux says.
In July 1993 Lemieux had surgery again, this time to repair a
herniated muscle in his back. If Lemieux had chosen to retire
then, no one would have questioned his decision. What more did
he have to accomplish? He had already won four NHL scoring
titles, two MVP awards and two Stanley Cup rings. And he had
nothing to worry about financially--the seven-year, $42 million
contract he signed in '92 was guaranteed.
He sat out the '94-95 season, hoping that the rest would ease
the pain in his back and help him regain his strength. That plan
seems to have worked. Lemieux had intended to play only 60 games
this season, including every home game, but he felt so good that
he played in 32 of the Penguins' first 36 games before he became
fatigued in late December. He underwent tests the first week of
January to determine if his thyroid gland was underactive, a
condition that is common for people who have undergone radiation
treatment.
The tests were negative, and he bounced back quickly after
missing one game. On Jan. 5 against the Detroit Red Wings he
scored a goal and added two assists in Pittsburgh's 5-2 victory.
At week's end Lemieux led the league in goals (39), assists
(60), points (99) and demoralized opponents. When asked what
Lemieux's return meant to his team, Pittsburgh coach Eddie
Johnston looked up to the heavens, made the sign of the cross
and said, "I thank God for him every day."
No one is enjoying Lemieux's comeback more than Lemieux. In the
past he has played with all the emotion of a toll taker. Now he
actually celebrates goals with his arms in the air and a smile
on his face. Lemieux says the reason is simple: He's having fun
again.
"If you have a second chance to do something you love, you
appreciate it more," Lemieux says. "Sometimes you take it for
granted, but when you miss it for a year and are able to come
back, you feel different."
I know I felt different when I made my "comeback." I joked with
Mario that I could probably do my job from the couch, half
asleep. Typing on a keyboard doesn't exactly require the same
kind of stamina that skating up and down a 200-by-85-foot sheet
of ice does. After my bone marrow transplant, however, I had to
remain isolated because my immune system was slow to recover. I
remember my first game back at Boston Garden, sitting in my
usual seat in the press box. I remember writing about the
Bruins' 5-3 win over the New York Rangers, then rushing to the
Herald to see my story in the first edition. If I had been
holding a hockey stick in my hand then, I would have raised it
high.
When he first was told he had Hodgkin's, Lemieux thought he had
been given a death sentence. He only knew one thing about the
disease: His cousin had died from it. On the day his condition
was diagnosed, Lemieux cried all the way home from the hospital,
but he says he hasn't shed a tear since. That's the way it
worked for me, too: I decided that there was no time left to
cry--I was too busy trying to fight back. Now Lemieux can even
laugh about some of the awful, painful, humbling results of
cancer treatment. We joked about our bad hair days, or rather,
our no hair days.
"That was weird," he said. "I got up one day and my pillow was
full of hair. Then I was grabbing at it and it came off in big
chunks. But I was lucky I didn't lose it all."
"Unlike some of us," I said, telling him what it was like to be
a 30-year-old woman who resembled the lead character from Murder
One.
Lemieux no longer has to bite back the pain while playing with
his two daughters, 2 1/2-year-old Lauren and 21-month-old
Stephanie. At the team's on-ice Christmas party, he scooped up
Lauren and carried her effortlessly around the rink, something
he couldn't do a year ago.
Professional athletes have come back from serious injuries
before. They have returned from life-threatening illnesses.
Never before has someone come back from both and performed
better than anyone else in the game. Most people think that what
Lemieux has accomplished is remarkable, but believe me, most
people don't know the half of it. His is not the only great
comeback story; millions of people are battling back every day.
And like Lemieux, many of them will have to confront the
uncertainty, the fear that the nightmare will start over again,
that the little lump they found may end not just their career
but also their life. "It's always in the back of your mind,"
Lemieux said of his cancer. "Whether you like it or not, it's
always going to be there."
COLOR PHOTO: JOHN BIEVER After sitting out last season, Lemieux has reclaimed his place as the world's best player. [Mario Lemieux]
COLOR PHOTO: LOU CAPOZZOLA As foes like Bryan McCabe have learned, there's nothing anemic about Lemieux's performance now. [Mario Lemieux colliding with Bryan McCabe]
COLOR PHOTO: DAVID E. KLUTHO Super Mario's superior skating ability and dazzling style have kept opponents at arm's length. [Mario Lemieux]
COLOR PHOTO: SCOTT GOLDSMITH Lemieux can now enjoy simple things like skating with Lauren. [Mario Lemieux and Lauren Lemieux]