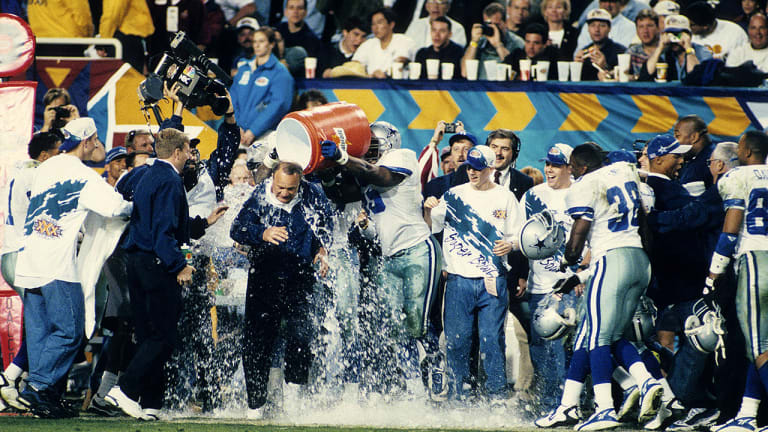 Special......Delivery
The Steelers Handed the Cowboys Two Ugly Interceptions and a 27-17 Victory That Kept The NFC's Super Bowl Streak Alive
There was enough love, booze and R-rated language to fill a Texas-sized swimming pool Sunday night in Barry Switzer's hotel suite when the coach of the Super Bowl-champion Dallas Cowboys finally got his deliverance. It came in the form of a hug and a speech from a man wearing a checkered suit, black derby hat and superfluous sunglasses. Several hours after the Cowboys had defeated the Pittsburgh Steelers 27-17 in Super Bowl XXX at Sun Devil Stadium in Tempe, Ariz., flamboyant Dallas receiver Michael Irvin burst into suite 4000 at The Buttes resort and offered a tribute that brought Switzer to tears. "Hey, let me ask you something," Irvin shouted to the assembled revelers. "Is there anyone who deserves this more than Barry Switzer?"
"Hell, no!" answered 50 or 60 of Switzer's closest friends and family members, including football's wackiest pair of suitemates—Switzer's girlfriend, Becky Buwick, and his ex-wife, Kay. After Irvin had finished his speech, the gang went back to singing Switzer's praises, reprising a scene that had occurred in the wee hours of last Saturday morning at another party Switzer had hosted: Greg Switzer, the elder of Barry's two sons, was displaying his skill at the piano by improvising riffs on Ray Charles's What'd I Say, while the revelers danced and took turns supplying humorous lyrics. Most of the impromptu verses contained good-natured pokes at Switzer's critics as well as pronouncements of unbridled affection for a man who, despite his team's Super Bowl triumph, will probably be remembered as the most maligned coach ever to have won an NFL championship.
Had the heavily favored Cowboys lost this game, something that seemed quite possible late in the fourth quarter, the defeat would have finally provided critics with enough ammunition to bury Switzer. Yet by Sunday night Switzer was a Super Bowl champion. Bash him all you like, but give the 58-year-old coach his due. The same goes for owner Jerry Jones and the rest of the Cowboys, who, in becoming only the second team to win five Super Bowls (the San Francisco 49ers share the distinction) and the first to win three Super Bowls in a four-year span, traveled an exceedingly bumpy road.
"Our guys have taken a lot of shots. Our character has been questioned," Dallas defensive end Tony Tolbert said after the game. "But we came through, and now it's time for us to do the celebrating we deserve."
Switzer hardly needed prompting. Rubbing his chronically sore neck as the Cowboys' team bus pulled into the parking lot at The Buttes, Switzer said jokingly, "I need something to kill the pain—Jack Daniel's and Percodan." As he stepped off the bus, Switzer saw Dallas defensive lineman Leon Lett and screamed, "Let's party! Let's win the party!"
The soiree that ensued obscured for the moment some troubling issues that the Cowboys will soon have to deal with. For one thing, salary-cap constraints will almost certainly force the Cowboys to part with several valued free agents, including linebacker Darrin Smith, defensive tackle Russell Maryland and cornerback Larry Brown, who earned MVP honors on Sunday with two second-half interceptions. Then there is the conflict between Switzer and Troy Aikman, which won't go away. Less than a half hour after becoming the first quarterback to win three championships by the age of 30, Aikman—who was 15 of 23 for 209 yards, one touchdown and, as usual, no interceptions—stood on a podium inside an interview tent and uttered these jubilant words: "I've never been so happy for a season to end in my entire life."
Though he also started off on rocky ground with Jimmy Johnson, his first pro coach, Aikman came to appreciate Johnson's discipline and attention to detail during the 1992 season when the Cowboys won their first of two consecutive Super Bowls, and he has had a difficult time adjusting to the laid-back Switzer. Says one Cowboys executive, the coach is somewhat "paranoid" in his belief that Aikman is out to get him. The fact that Aikman still speaks often with Johnson has hardly helped allay that fear.
During Super Bowl week the Fort Worth Star-Telegram recounted an incident that had occurred between Aikman and former Cowboys defensive line coach John Blake, a staunch Switzer ally. Blake, who left the Cowboys in January when he was named the coach at Oklahoma, had been viewed by some Cowboys players as Switzer's locker room snitch. The Star-Telegram reported that earlier this season Blake had accused Aikman of yelling more at black players than at white players and that Switzer had then confronted his quarterback. Switzer and Aikman both downplayed the story, but relations between them were clearly frosty. Last Wednesday night Aikman was getting off an elevator at the team hotel while Switzer was getting on; neither greeted the other, though Switzer looked in Aikman's direction. The coach felt he had been snubbed by the quarterback, but one witness said that Aikman may simply not have seen Switzer.
"Please don't drive a wedge between me and Troy," Switzer pleaded to a reporter late Sunday night. "We can make this work. He'll learn there is more than one way to do this. A lot of these players like it my way."
For better or worse, Switzer's way was vindicated on a temperate evening in the Valley of the Sun as the Cowboys and the Steelers staged the best Super Bowl show since the New York Giants sweated out a one-point victory over the Buffalo Bills in Tampa five years ago. Dallas became the 12th consecutive NFC team to accept a Vince Lombardi Trophy, but the usual blowout was averted despite some ominous signs in the early going.
The Cowboys scored on their first three possessions and took a 13-0 lead six minutes before halftime. The Steelers survived by gutting out a 13-play, 54-yard drive that ended with quarterback Neil O'Donnell throwing a six-yard touchdown pass to wideout Yancey Thigpen 13 seconds before the intermission.
A game was on, and had it not been for Brown's two interceptions—on O'Donnell passes that seemed as though they were intended for the Dallas cornerback (box, page 30)—it might well have been the Steelers heading off into the night in search of a victory party. Both interceptions set up Cowboys touchdowns, the latter a four-yard run by tailback Emmitt Smith that clinched the game with 3:43 to go.
"All Brown did was stand out there. No MVP award should have been given," Steelers running back Erric Pegram said. "It's the first MVP award where the guy didn't earn the thing."
In another sense, though, Brown deserved his moment. In August his son Kristopher was born three months prematurely, and he died in November. Cornerback Deion Sanders's arrival as a free agent in September meant that Brown had to play most of the season under the pressure created by the opposing quarterback's tendency to throw away from Sanders. Two days before the game Brown predicted he would get two interceptions because he knew the Steelers would come at him.
"This is a classic ending to the season," safety Brock Marion said. "With the trauma Larry endured this year, and then to be the best player in the best and biggest game, what a good story."
Brown may have picked O'Donnell's pocket on more than one level. The Steelers' quarterback had been expected to command big bucks in the free-agent market, but that was before his shaky performance Sunday, which included 28 completions in 49 attempts and 239 passing yards. The Cowboys figured they could rattle O'Donnell by blitzing and mixing up coverages. They were right. And it wasn't just the interceptions that bedeviled O'Donnell. Many of his throws sailed over the heads of his receivers while other passes drifted behind them, forcing them to make difficult catches and leaving them vulnerable to big hits from charging Cowboys defenders.
The Cowboys' defense also deserves credit for sheer endurance. It was on the field for 21:20 of the second half—including one stretch that spanned 20 consecutive plays. During the Cowboys' pregame meal, Maryland had asked the defensive coaches to leave the room while he addressed his teammates. "We all know the offense is where the money's at," he told them. "But the defense will win this game."
His remarks proved prophetic, though the Cowboys D didn't have an easy time of it. Dallas stopped Pittsburgh running back Bam Morris for no gain on three consecutive plays to end a Steelers drive late in the third quarter, but Morris kept plugging, ultimately rushing for 73 yards to Smith's 49. After a 46-yard field goal by Norm Johnson cut Pittsburgh's deficit to 20-10 with 11:20 left to play, Steelers coach Bill Cowher called for an onside kick. Dallas was caught on its heels, and the kick was recovered by backup cornerback Deon Figures. Retaking the field, the weary Cowboys defense finally succumbed on its 20th straight snap, as Morris scored from a yard out to cut the Cowboys' lead to 20-17 with 6:36 to go.
Afterward Dallas defensive end Charles Haley, the ex-49er who became the first player to win five Super Bowl rings, said, "They're gutsy. We should have blown them out, but they stayed in there and fought, and pretty soon I thought, Hey, these guys can beat us." When the Cowboys were forced to punt on their next possession, it looked as though Pittsburgh might pull off the upset. But with 4:09 left, O'Donnell threw the ball into Brown's arms on the second play of what could have been the winning drive.
The Steelers were defiant in defeat. "They did not blow us off the ball," linebacker Kevin Greene said. "I don't know if you can find a silver lining in this dark cloud. But all people said was how their huge offensive line was going to roll all over us, and they didn't, did they?" Added tackle Leon Searcy, "We took all their talking and their arrogance and slammed it back in their faces. We earned their respect, even though they're probably too conceited to admit it."
In truth the Steelers' unflashy, blue-collar image was probably a bit overdrawn. If anything, they seemed jealous of the Cowboys' flamboyance. During the week Pittsburgh players groused that they had been allowed to purchase only 20 Super Bowl tickets, while Jones had allowed each of his players to buy 30; that the Cowboys were riding around in limousines; that the Cowboys got more attention and stayed at a nicer hotel. The most amusing gripe session occurred at a team meeting shortly after the Steelers had checked in to their Scottsdale hotel. Linebacker Greg Lloyd, a chronic grump not known for his tact, ranted and raved about the "cheap-ass accommodations" until Cowher finally piped up. "Greg," he said, "I'd like to introduce you to the hotel's general manager, who's standing right next to you."
The crankiness didn't bother Cowher, who all week long preached to his players that they could win by following "the three P's—Patience, Persistence, Physical." Because the formula almost worked, or possibly because he knows that as a 38-year-old coach his future holds so much promise, Cowher took the loss well. He strolled barefoot around the locker room 30 minutes after the game with a huge smile on his face.
Still, the broadest grin belonged to Switzer, who joins his predecessor Johnson as the only coaches to have won both a national collegiate championship (Switzer led Oklahoma to the top ranking in 1974, '75 and '85) and a Super Bowl crown. Two years ago Switzer was spending most of his time sitting on a couch in Norman, Okla., bemoaning his fall from grace amid scandal at Oklahoma. To the rescue came Jones, who in March 1994 forced Johnson out and hired his onetime drinking buddy shortly after declaring loudly to a bar packed with journalists that there were "500 coaches who could have won the Super Bowl with our team."
Since then Switzer has been kicked around like a hacky-sack. His casual style was blamed for the Cowboys' loss to the 49ers in the NFC Championship Game in January 1995, and he was rightly pilloried for a call he made in a loss to the Philadelphia Eagles on Dec. 10 that set up Philly for the winning field goal. But last week he was determined to enjoy his resurrection to the fullest. On Tuesday night he told of a bender in 1970 during which he, Johnson and other Oklahoma coaches dressed in drag and hit the town in Norman. Later Tuesday night he showed up at a private party in Scottsdale and boogied backstage as a surprised and delighted Smith sang with the band. On Saturday the Cowboys changed hotels, leaving Buwick, Switzer's girlfriend, to welcome his ex-wife to the ongoing party in suite 4000.
Back in the suite on Sunday night, Switzer took another sip of Jack Daniel's and prepared for what would likely be the sweetest hangover of his life. "This is all you need to know about life," he said. "Compassion and love and caring will take you the furthest. You've got to be around 50 or 60 or 70 years, so you might as well do it that way."
Mark it down in history: For the 1995 season, and for Super Bowl XXX, Barry's way was the right way.
COLOR PHOTO: COVER PHOTOGRAPH BY PETER READ MILLER COVER PHOTO SUPERBOYS [Emmitt Smith carrying football against Pittsburgh Steelers]B/W PHOTO: PHOTOGRAPH BY LYNN JOHNSON His Emmittence Our Superboy coverboy Emmitt Smith and his teammates were made to sweat by the Steelers before winning another NFL crown (page 20). [Emmitt Smith--T of C]
COLOR PHOTOOn his first interception, O'Donnell (14, first page) let slip a weak spiral that found Brown (24) by himself in the secondary. [Neil O'Donnell throwing football against Dallas Cowboys]
COLOR PHOTO[See caption above--Larry Brown intercepting football]
COLOR PHOTO: AL TIELEMANSDaryl Johnston's fourth-down burst kept a drive alive and led to a second-quarter Dallas field goal.
COLOR PHOTO: JOHN W. MCDONOUGH Aikman (8) enjoyed flawless protection as he found receivers like Sanders for 209 yards. [Troy Aikman throwing football against Pittsburgh Steelers]
COLOR PHOTO: RICHARD MACKSON[See caption above--Deion Sanders catching football]
COLOR PHOTO: DAMIAN STROHMEYERMorris (33) was stymied on fourth-and-two, but his 73 rushing yards helped keep the game close. [Dallas Cowboys tackling Bam Morris]
COLOR PHOTO: JOHN BIEVER Defensive end Brentson Buckner's despair was all the more acute because his team came so close. [Brentson Buckner sitting on bench with towel over his head]