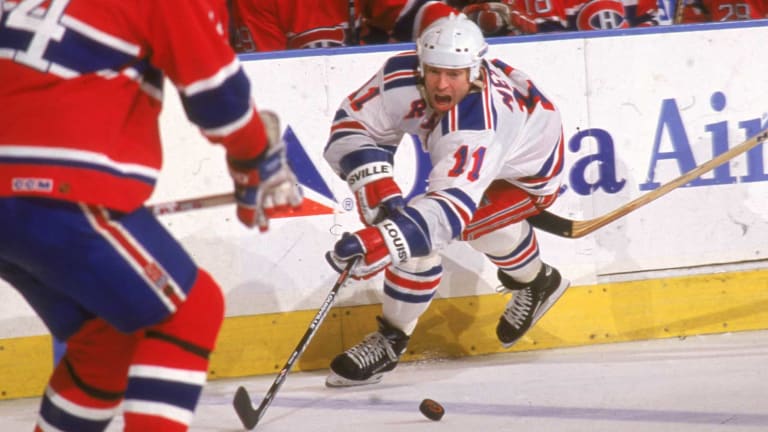 Publish date:
THE LOOK
ONE GLIMPSE TELLS YOU THAT MARK MESSIER IS THE BEST LEADER IN SPORTS
Mark Messier blocked a shot with his foot last month against the Washington Capitals and crumpled to the ice, pain creasing his face. He made it to his skates, then to the bench and, a few shifts later, back into the game. Messier, the New York Rangers' captain, looked like the guy in Monty Python and the Holy Grail who kept getting bits of his anatomy hacked off but insisted that his injuries were only flesh wounds. See, it was nothing. They can't hurt me. So they can't hurt you. Good thing, too. When Messier got hurt, a chill crept down the spines of the Rangers players. On the bench Ray Ferraro turned to Nick Kypreos and asked, only half-jokingly, "What do we do now?"
"I guess," Kypreos replied, "we have to keep playing."
"You think of Patton, you think of MacArthur ... that's how we feel about Mark," goalie Glenn Healy says of Messier. "The true test of a leader is if he makes you a better player. He won't make you shoot harder or pass better or make more saves, but being a better player isn't just about skills. We sometimes say a guy has all the tools but no toolbox. The game is about having a toolbox, and no one understands that better or helps put things in perspective like Mark. We believe in him, in what he represents."
This explains why fans in New York think Messier is a typo for Messiah. There's no question that he ranks among sports' most respected leaders. Really, who compares? A baseball player? Baseball consists of personal battles within a team structure, and the most courage any baseball player exhibited last year was showing his face in public after the strike. Michael Jordan? His Airness doesn't lead as much as he lets teammates catch up once in a while. John Elway and his fourth-quarter rallies? Football requires the same combination of physical sacrifice and emotion as hockey, but NFL teams don't play 82 matches followed by playoff games almost every other night for two months. No team sport is as demanding as hockey, and no hockey player demands more of himself--and of others--than Messier.
A small stack of books sits in the living room of Messier's three-story brownstone off Central Park West. On top sits Sacred Hoops, a Zen-and-the-art-of-Michael-maintenance work by Chicago Bulls coach Phil Jackson. Messier adores it. In fact, Messier, who quit school in 12th grade, has read many books of that genre--Pat Riley's The Winner Within, Sun Tzu's The Art of War--about leadership, bonding, positive energy. What began as instinct, inherited from his father, Doug, a union leader in the old Western Hockey League, has become intellectual pursuit.
"To lead, you have to have the trust of the players, and to do that you have to find a way to connect with them, to find common ground with every individual," Messier says. "It's a people issue, not a sports issue. The way to find that common thread is compassion. The odd threat doesn't hurt"--Messier throws back his head and laughs a basso laugh--"but with compassion the appeal to the player is much deeper than the old hard-ass line that you're going to get reprimanded if you don't play well. We try to build a team, to bond, through the course of a year. And you can do that if you appeal in a compassionate way."
He speaks New Age. He plays caveman. Messier has lugged around the rejuvenated Rangers all season, winning face-offs, checking, killing penalties and scoring like never before. At week's end he had 36 goals in 52 games, which put him on pace to score 50 goals for the first time in 14 seasons. No one has ever had more than a five-year gap between 50-goal seasons. And at 35, the 6'1", 205-pound Messier remains the fiercest player in hockey, a steely competitor who can smelt iron ore with his eyes. Sometimes before a big game those light-brown eyes narrow into a glare that both opponents and teammates call the Look. His cheekbones are high. His jaw is prominent. He can comb his hair with a towel. His hockey helmet, jammed down to his brow, emphasizes his most prominent features. His visage is half-man, half-Easter Island statue. The only thing as imposing as seeing number 11 in pursuit of a puck is seeing Messier take off his number 11, which hides an upper body as chiseled as his face.
And that chest hides a heart. When Rangers enforcer Darren Langdon was called up from the minors last season for his first NHL game, he found a Hugo Boss suit hanging in his dressing-room stall. The attached note read, "From the Guys." As it turned out, "the Guys" was Messier, and the suit was his way of making someone feel part of the group, like his team barbecues or riotous masquerade parties. In recent years he has attended those parties as the Joker, a Roman centurion and Tarzan; Messier plays to type. "Mark has a unique way about him," says New York defenseman Kevin Lowe, who also played with Messier on the Edmonton Oilers, a team that won five Cups between 1984 and '90. "He has an ability to make people comfortable, relaxed. Everything he does is conducive to having fun."
Messier grew up on the hard-partying Oilers, whose happy hour lasted almost a decade. "Someone asked me why I was having such a good year at 35"--there's that laugh--"and I told them all the years of clean living were finally paying off," says Messier, whose appetite for high life is now sated by slightly daintier portions. Indeed, he says he hasn't missed a curfew since he became a captain in Edmonton. "The game is first," he says. "I learned you had to respect it."
Messier took Leadership 101 under coach Glen Sather and Wayne Gretzky, and by the time Edmonton won its first Stanley Cup, the man-child was the Oilers' physical leader. There is an oft-told story--one that might even be true--that in 1987 Messier grabbed Kent Nilsson, a flashy but fainthearted Oilers forward, and told him that if he didn't play harder, he would have to kill him. "Folklore," says Lowe, who concedes that he has heard the tale. Another former Oiler, who won't confirm the Nilsson story but doesn't exactly deny it, either, says, "You didn't get this from me, but I heard he also threatened [former Rangers coach] Mike Keenan."
Messier assumed the Oilers captaincy in 1988 when Gretzky was traded to the Los Angeles Kings. In a sense Edmonton always had been Messier's team, but he never really left an indelible imprint until May 8, 1990, when he also left an imprint on most of the Chicago Blackhawks. That night Messier gathered the pieces of a crumbling Oilers dynasty and made it whole, slashing and elbowing and willing his way to victory in Game 4 of the Stanley Cup semifinals at Chicago Stadium. Keenan, then the Blackhawks' coach, said Messier could have been called for 15 stick fouls. "We were down 2-1 in games to Chicago, and we'd already come back from 3-1 down to Winnipeg [in a previous round], and Mark thought if we got down 3-1 in a series again, we might not have enough resources to win," says Philadelphia Flyers center Craig MacTavish, who was Messier's teammate in Edmonton and New York. "Mark took it upon himself to win that game. He was there hours early, quietly sitting in his stall, and he just had the Look. Of course I remember the game. He knocked out Denis Savard with an elbow and horrified [defenseman] Doug Wilson on two rushes and had two goals." The Oilers went on to take the Cup, the first of Messier's two championships without Gretzky. Without Messier, Gretzky has none.
When Edmonton traded Messier to the Rangers in 1991, the game's two leading players each had his own duchy, a continent apart, where their word in the dressing room, and in the front office, was all but gospel. Their mandates were obvious. Gretzky had to sell hockey in California while Messier had to make hockey matter in New York, to lead a showcase team with perennially low self-esteem to its first Stanley Cup since 1940. Messier would take no prisoners, not even his own coach.
If there is a perceived blot on the Messier record, it is the 1993 firing of Rangers coach Roger Neilson. Theirs was a philosophical clash: the captain's belief in an attacking style versus the coach's reliance on a counterattacking system. "Oil and water," says Messier, whose mutiny cost the respected Neilson his job. "In my mind I knew we wouldn't win the Cup his way. Should I have shut up, gone along for the ride, finished out my contract? Or should I have stood up and said what I felt and taken one for the team? At times the price of winning can be very harsh. I felt the players had to be protected. My responsibility was to the group of guys who were good enough to win a championship."
Messier, a graceful winner, doesn't point out that 17 months later, he proved to be correct.
New York finally won the Cup in 1994, spurred on by a Messier performance in Game 6 of the semifinals against the New Jersey Devils that was as impressive as any in history. Like Joe Namath before Super Bowl III, Messier "guaranteed" victory, though he didn't offer fans double their money back on Lincoln Tunnel tolls or anything else if the Rangers lost. Messier said on the eve of the match, "I know we're going to go in and win Game 6 and bring it back here for Game 7." Of course by the time the New York tabloids finished with him--after he had flung an empty-netter nearly the length of the ice for a hat trick to punctuate a 4-2 Rangers win--a Fu Manchu adorned his lip and his jersey had turned into mink. He had become Broadway Mark.
"I remember thinking I had to do something to instill our old confidence," Messier says. "I consciously said it, but I was thinking in such a narrow scope that somehow I figured only our players would get up and read the papers the next day, not all of New York and the Devils players as well. I guess I didn't care about the consequences at that point."
This was conspicuous leadership, apparent to anyone who bought the New York Post. But an even truer measure of Messier's leadership had come behind closed doors a few days before. Keenan, who had become the Rangers' coach in '93-94, had acted erratically in Game 4 of the Devils series, benching eventual playoff MVP Brian Leetch after a bad shift and cutting Messier's ice time. After the game, a 3-1 New Jersey win, Keenan exaggerated the injuries of five key players to the press. The benchings shocked the New York players, who were furious Keenan hadn't given them the best chance to win the game.
The next day Messier stormed into Keenan's office for an emotional 45-minute meeting during which the captain reminded the coach that the players needed his support and compassion. When Messier emerged he simply told teammates, "It won't happen again." It didn't. Only Messier had the stature and strength to bridge the chasm between Keenan and his team. "I've always been curious about what exactly was said in there," one Ranger says, "but it's not something you ask. All I know is we never would have won the series, or the Cup, without that meeting."
"There is nothing more beautiful than 20, 25 guys thinking the same way and then going out and winning," Messier says. "I've won six times, and the Cup becomes part of your soul. It's not on a conscious level--know what I mean?--but it becomes who you are. Not your philosophy but part of your everyday being."
That is Zen. This is now. Messier is leading, the Rangers are following, and everyone else is getting out of the way. Just nine months ago New York looked spent, bullied out of the second round of the playoffs by the younger, tougher Flyers. Messier appeared on the verge of passing the torch as the NHL's best leader to Philadelphia captain Eric Lindros last spring, but before the 22-year-old Lindros dares to claim it, he must recover from second-degree burns this season. In the three Flyers-Rangers matches so far in '95-96, Messier had nine points, Lindros two. Says Messier: "I've told guys our record now doesn't mean anything. It's how we deal with a crisis--and we'll have one at some point--that makes champions."
"Mark's pretty complex," says New York coach Colin Campbell. "He contributes belligerence, but he also contributes a certain serenity. The players feel like, We're O.K. Mark's laughing."