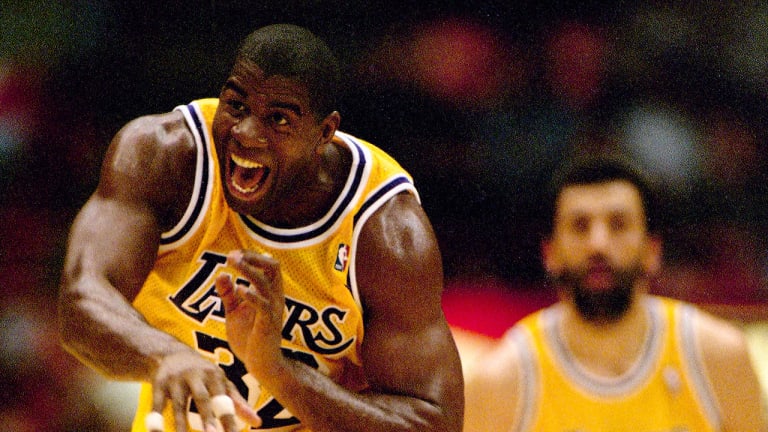 True Lies
All along, Magic Johnson insisted he wasn't coming back. Was he kidding us, his family—or himself?
When the sunlight and the angle are right, you can see your face on the screen of your computer. Staring back at you through the words of the story you've already half written on the retirement of Earvin (Magic) Johnson. How could this have happened to you?
You believed him. You, who stood there in an abandoned boxing ring on a Texas ranch a dozen years ago, listening to a fat, happy minister named George Foreman swear to you he could never close his hands into fists and strike a man again.
You, who wrote about the whiplash Muhammad Ali and Sugar Ray Leonard felt each time they tried to walk away from a game at which they were geniuses. You, with white already in your whiskers, sitting there just two weeks before word leaked of Magic's return to the Los Angeles Lakers, nodding and scribbling down every word as he told you the exact moment he knew he would never again play in the NBA.
His eyes were wide with the telling of his story, and all its sweetness shone upon his face. It was the night last summer, he said, when he opened MagicTheatres, a state-of-the-art 12-screen cineplex in South Central Los Angeles, just a few miles from where the Rodney King riots had erupted, and everyone from the neighborhood—the grandmas and gangbangers, the housewives and housepainters, the businessmen and busboys—came at him with hugs and with tears, thanking him for erecting this glorious house of fantasy so near the rubble and the ruins.
"I came out of there that night covered with lipstick," Earvin was saying. "People telling me, 'I've been in this community for 40 years, and nothing ever happened like this.' Wives crying, thanking me for creating jobs, for changing their husbands' lives. Me crying, too, the happiest day of my life. I felt God was taking me and saying, 'This is what I want you to do.' It was a different love than I got on the court. It wasn't attached to winning. This love's forever. It hit me right then: This is it. I'm not ever going back to the NBA."
So now you're leafing through a pile of notepads, retracing your route, noticing all the little right and left turns you might have taken. Reminding yourself that this story wasn't like all the other ones of athletes who had retired in their prime. That death hung over this one. Odd, how vaporlike death is in this story: there one moment, like the morning mists of Los Angeles in winter, and gone the next. Magic Johnson could do that to death. Make it evaporate, like the sun.
Where is the horror? you kept wondering on your way to visit him. Where is the dread? There was never a trace of them in all the photographs, the videotape, the quotes. All you kept seeing was sunshine, the world's most wondrous smile, and all you kept reading was "I'm not scared of death. I'm not worried. Everyone else cried for me. I've never cried over HIV. I'm going to beat it." And all you kept hearing about was not the gradual diminishing of a life readying itself for its conclusion, but about extension, enlargement, expansion. The 30 pounds of muscle he had added to his chest and upper arms since the day the infection was discovered. The daughter, Elisa, he and his wife, Cookie, adopted a year ago. His theater complex, which astonished the film industry by regularly ranking among the 10 top-grossing movie houses in America. The plans to build more theaters, in largely black communities in Atlanta, Detroit, Houston, New York City and Washington, splitting the investment 50-50 with Sony. The mall he was helping to finance in Las Vegas. The new line of athletic shoes he was unveiling. The 5% ownership he had purchased of a Lakers franchise worth roughly $200 million. The Magic Johnson All-Stars he was taking around the world for exhibition games against national basketball teams, drawing standing-room-only crowds, amassing a 55-0 record and netting more money per game for Earvin—as much as $365,000 when corporate sponsorship fees for local appearances were included—than any NBA millionaire earns. The sports-apparel company he was running, the corporate speeches he was giving at as much as 100 grand a pop, the AIDS foundation he had established, which raised $6 million. Profits up, bench press up, helper T-cell count up. Death?
And so, four years and three months past the day when a lab technician spotted the telltale marker—the thin black antigen bands confirming that HIV had entered Magic Johnson's bloodstream—you went looking for the other indicators of a man marked to die. For the eye flicker and the dry mouth and the shadows between words, for the soul grottoes which cameramen and microphone holders frequently miss. For the soot and cinders of a blazing self-deception.
What you found was a man running his life as if it were the Lakers' fast break. Up at 6:30, scouring the sports and business sections with a giant cup of herbal tea and a breakfast of grains and fruits. Working the phones, calling Magic Theatres to learn the previous day's take, buzzing Lakers general manager Mitch Kupchak to evaluate personnel and blow off steam about another ho-hum team performance. Leaving his Beverly Hills mansion in his limousine to pump iron at the Sports Club/L.A., then going directly to the club's basketball court and shooting 10 times from each of 15 different spots on the floor, matching shot for shot with a friend named Marchell Henry, always barking the names of Henry's former girlfriends whenever the poor fellow was about to launch a shot that could swing the outcome, always insisting that the loser (guess who?) place an imaginary title belt around the waist of the winner (how did you know?) while he crowed, "And still heavyweight champion of the WORRRRRRRLD!!!" Then back into the limo, where Earvin, forever the point guard, directs his driver into swifter-moving lanes as he skims the sheaf of documents on his lap and sizzles the cellular phone, heading for another meeting with one of L.A.'s power brokers and then on to a two-hour practice with his touring team. Then home to tease Cookie for a few minutes, to grab a bite and a nap and a little time with three-year-old Earvin III and 14-month-old Elisa, and then back into the car to catch the Lakers' game at the Forum, where he sits in the front row a few feet from the bench, smiling and squirming and standing to flash hand signals to players—Slow it down, little fella or Take him low, big man or How in God's name did you miss the cutter on the right baseline, fool?—and the players look to him and nod in midaction.
You listened to Denise Villanueva, executive director of the Magic Johnson Foundation, which raises funds for the fight against AIDS, saying, "I can't imagine how he could've gone through this and not changed, but he hasn't. It's like he had this little bump in the road, went over it and just kept going. Everything he does keeps being so successful that it just keeps that adrenaline going." A little bump? But his friends, his wife, his mother all agree: They have never seen him, even for a few minutes on a gray Monday morning, in sadness or anger over his infection. "Like nothing ever happened," said his father, Earvin Sr., shaking his head.
And you wondered if this was just another life in which everything painful and true vanished in the vortex of meetings and marketing and motion, another triumph of adrenaline over angst, another man who never slowed down enough to let the word sift through him: death, death, death. And yet those closest to him said he was more relaxed than before, more spiritual, more patient, and there he sat in front of you, calm and smiling and looking you flush in the eye, the easiest stranger in the world to talk with. Telling you, just a few weeks ago, "I don't think about HIV. I just live. I just go. Everyone thinks I should be down, brooding. Everyone thinks I'm in denial. It's not denial. If I were in denial, I'd be on the court for the Los Angeles Lakers."
Whatwere you thinking? The sheer ferocity of his daily workouts should have set off a signal flare. The 700 sit-ups he sometimes did in a day. The hour and a half he spent each morning in the weight room, driving his bench-press capacity from 135 to 300 pounds in less than three years. The weights and treadmill he hauled onto the yacht he rented for two weeks on the Mediterranean each summer, so he wouldn't miss a single day's workout. "He's gone nuts," said Cookie. "He's busting through his shirts and suits, and he thinks that's cool." His two or three hours a day on basketball courts, which he even rented on the road when his craving grew too strong. This was not a man gently letting go of his athletic life.
Every three months a few dozen cubic centimeters of Earvin Johnson's blood would be drawn from his arm and sealed in glass tubes. The tubes would be flown to New York City, where a flow cytometer at the Aaron Diamond AIDS Research Center would tally the number of helper T-cells—the ones that fight viral infection—per cubic millimeter of blood, and a branch DNA test would be conducted to count the number of viral particles.
"Right now," said Dr. David Ho of Aaron Diamond, "his virus is under very good control through the use of a combination of drugs and his routine and his attitude. He's sure he'll beat it, and who knows? If it continues at this rate, it may be true. He may hold out long enough to benefit from some medical treatment that could come along. We've learned that in rare cases, there are defective strains of this virus, and that some people are still living 15 years after being infected. There's no evidence that he has the defective variety—his virus does replicate in a test tube. But his isn't the overly aggressive type. Looking through the retroscope, he probably didn't need to retire, but we just didn't know that then. Earvin has the advantage right now. But that's not to say it will remain that way.
"The biggest unknown is what we call Time Zero—when he became infected. If Time Zero was just a few months before he tested positive, then what we've seen with him isn't that unexpected. There are many HIV patients showing no symptoms after four years; the average time before onset of AIDS is about 10 years. If Time Zero was 15 years ago, however, then what we're seeing with him would be extraordinary."
That was how doctors scored his battle. But Earvin had his own HIV test. Each day he sought out a group of former NBA players in L.A. to play pickup ball. Four or five times a game he would take the inbounds pass after his opponents had scored and race the ball upcourt, throwing off head fakes and shoulder shakes like sparks when the other players tried to stop him, spinning 360s and throwing his 6'9" body into the seam between defenders, going coast-to-coast to score. "I'd ram it down their throats," he said. "That's how I'd know that nothing was wrong with me."
He turned the infection into a contest, because a contest was something he could never see himself losing. "It's like a big game," he said. "A big series. That's how I approach it. I've always loved a challenge. My whole life has been a challenge, and this is just another one. I love to shock people. To beat the odds. They said I was too tall to play guard. They said I couldn't shoot. Each time I said, 'O.K., I'm just gonna show you.' And this is just another one of those things."
Gary Vitti, the Lakers' trainer, couldn't look at Magic after the announcement of the infection without feeling his heart break. "I'm having a tough time with this, Earv," Vitti finally admitted one day in the Lakers' weight room.
"Don't worry about me," said Earvin. "God gave this to the right person when he gave it to me. I can handle this. I'm gonna take care of this for him."
This interpretation—Earvin as God's messenger—created an odd contradiction in his war with the disease. In public, he discussed HIV with ease. By warning the nation's youth about AIDS with shocking honesty, he opened himself to criticism for his promiscuity, but he also evaporated his guilt. He was not being punished by God; he was not the tainted one. "He was the chosen one," said Cookie. Earvin explained, "God has said, 'I want you to be the messenger.' He was trying to get the message through before, but nobody, including myself, was listening. It was so hush-hush, then I got it. Now you talk openly about it."
In his private life, however, he rarely mentioned HIV. His family and friends, sensing this, virtually never brought it up either, never came much closer to it than "How you feeling, Earv?" The Earvin who was locked in a life-and-death struggle with HIV was the elite athlete, the one whose friends all knew, on the day of a playoff game, not to discuss the impending battle; the one feeding HIV silently into the jaws of his enormous will. Any emotions spent agonizing over it, any energy spent mentioning it, only siphoned emotion and energy from him and funneled it to the enemy. Even when he awoke one morning and read in the newspaper that his mentor, Elisabeth Glaser—the AIDS activist who addressed the 1992 Democratic Convention and educated Earvin for his public fight against the disease—had died of AIDS, he said nothing. "It broke my heart, because she was my hope," said Cookie, "but when I brought it up, he changed the subject."
"That's not hiding from it," Earvin told you. "I never hid from this. I never went undercover. But I don't let out pain. I choke up when something sad happens in a movie, but I can't cry about HIV. I never want to let it out, because it might take away something from my competitive edge. How am I going to defeat it, and how am I going to help people? That's the only thing I concentrated on. Everything must be poured into meeting the challenge and winning."
And somehow, for him, for the moment, it was working. "I see a sparkle in his eyes," said Lakers assistant coach Michael Cooper. "He's finally living the way he played basketball. He's much more at peace now."
He has blown right past all the normal stages of grieving, and you wondered if there would be hell to pay down the road for that. Or if none of the rules apply here; if the virus has never bumped into anyone quite like this. When he coached the Lakers for 16 games in 1994, Earvin would get a couple of assistant coaches and bench warmers and take on the Lakers' starting five. He would tell the man guarding him exactly what he planned to do: All right. I'm gonna post you up, take two dribbles to the right, fake left and go right. He would do just that—and score anyway. He would beat the starting five, just to let them know who was still king. He quit coaching as soon as the season ended, because his players' will to win seemed so puny next to his own.
As a player he would change his telephone number each year at playoff time and enter a tunnel that ran from the basketball floor to his bedroom. The man who loved crowds and noise would want only silence and solitude. He wouldn't marry Cookie until more than a decade after they started dating, in part because he couldn't imagine allowing anyone inside the tunnel. During the playoffs he wouldn't sleep. "Imagine it," he said. "Weeks, just living on adrenaline." He would barely eat. His complexion would pale. He would snap at people. It was his favorite time of the year.
Nothing changed when he quit. Shouldn't that have set off your smoke detector? Look, it's right there in your notebook, a dozen different people rolling their eyes and telling you how monstrous Earvin's need to win—at anything—remained. Picture Earvin, afloat in the middle of the Mediterranean last summer, having teamed up with his buddy Lester Conner, a former NBA player, to demolish Cookie and one of her friends in 10 consecutive card games, shrieking when he notices Conner showing compassion in Game 11: "No, no, no, Lester, never let them win! Never! We're going for the sweep!" He would cheat at any game he was losing, reverse the score in a volleyball match, rule every opponent's shots wide. He forbade wives to play in holiday picnic softball games—they would dilute the competition. He threatened to send all the members of his touring team home from Argentina when they got silly during a shoot-around in 1994, and every player was on notice: The first time Magic Johnson's All-Stars lost, Earvin was going to dissolve the team and assemble a new roster.
So along came that Friday evening last September when Earvin and Cookie had a date to see a movie. For weeks, on a basketball court that had been assembled inside a tent to accommodate Michael Jordan during the filming of a Warner Bros. movie, Space Jam, the best players living in or visiting L.A. had been gathering to play each evening. Jordan, Reggie Miller, Grant Hill, Dennis Rodman, Cedric Ceballos, Pooh Richardson, Juwan Howard—it was a veritable nightly NBA All-Star Game, and poor Earvin couldn't play, thanks to the league rule forbidding owners, even five-percenters, to fraternize with players during the ongoing collective bargaining impasse. Now it was Jordan's final day of filming, the last night of ball in the tent, and the impasse had just ended. "You playing?" asked Conner on the phone. "Can't," said Earvin. "Cookie and I are going out." Then came a long pause.
Everything you needed to know about Earvin and the NBA, you had time to figure out during that pause. In no time, he wrangled a rain check from Cookie, slipped into his sweats and sneakers and slid out into the night. He entered Jordan's tent. The joint went silent. All the NBA studs, all the Warner Bros. producers and directors, just stared.
Rodman, on the NBA all-defense team five times, covered Magic. Magic spooned it all out that night—all the no-look passes and junior skyhooks and post-up power moves; the sorcerer come back to life with a blacksmith's body. When Jordan had watched enough, he playfully motioned Rodman aside and elected himself to cover Magic. "MJ," said Magic, "I'm not the regular guy I used to be. I'm six-nine, 250 pounds. Why don't you cover one of the guards and send a big man over to me?"
Grinning, Michael regarded Earvin for a moment and then said, "Guess you're right." And then Earvin, having had a little more fun, having won again, grabbed his sweats to head home, shining like a Sunday morning and shrugging it off as the players kept asking, "Damn, why aren't you still playing?"
"Nah," Earvin told you. "It didn't tempt me. See, I was past it by then. I like my life now. I have time to enjoy the sunsets with Cookie. Time to enjoy being with my kids. Time to just think and reflect on all the great moments."
Moments. Surely that was the word that should have nudged a few neurotransmitters. Quiet moments, sunsets, hand-holding—lovely now and then, but come on. Has there ever been a lover of the large moment who outranked Magic Johnson?
This is the man who longed for Indiana State to advance to the 1979 NCAA final against Michigan State so that he could go down as the man who stopped Larry Bird. The rookie who announced, as he strolled onto the Lakers' plane for their flight to Philadelphia for Game 6 of the 1980 NBA Finals—the game Kareem Abdul-Jabbar would watch at home with a sprained ankle—"Never fear, EJ's here," and then, in case anyone misconstrued the message, lowered himself into Kareem's seat, 1B. Earvin played center, forward and guard in that game, scored 42 points, grabbed 15 rebounds and dished out seven assists, and Los Angeles won the title-clinching game by 16.
Sunsets with Cookie? This is the man who, three months after retiring, walked back onto the court for the 1992 All-Star Game and won the MVP award, drilling three straight three-pointers in the final minutes and finishing the game in the midcourt embrace of both teams. Who appeared at the opening ceremonies of the 1992 Summer Olympics, while some of the Dream Team remained in its hotel, and brought anarchy to the parade on the stadium floor as the world's best athletes scrambled toward him for photos and autographs. Large moments? How about the one he told Oprah Winfrey about, when he assembled six women on his bed? Large. Very large. Or that moment he mentioned in his autobiography, the one with the woman atop her office desk while a business meeting took place on the other side of the door?
Yes, there it is, right there in the notes: the way he kept appearing in the aureoles of large moments. Kept going to Super Bowls and big fights in Vegas, kept renting nightclubs, hiring deejays and bands, hosting big parties once a month.
Yes, that was the trouble with HIV. He would always have it. There would never be a dramatic, satisfying showdown. He would try to apply to it all the psychological tools he once applied to playoff and All-Star Games, when he used to sit alone before tip-offs and visualize his passes, his shots, his steals as clearly as if he were watching a movie. But the only picture he could conjure for his triumph over AIDS was one of Cookie and him, wrinkled and white-haired, rocking on a porch. There would never come a day when he could raise his arms as the title belt was wrapped around his waist and crow, "The first man ever to beat the human immunodeficiency VIIIIIIRUS!!!" There would only be another day to live. There would never be any moments.
"No," Earvin told you the second week of January. "No reason to come back. What I'm doing right now is working. I don't want to disrupt that."
Perhaps it was his charisma that disarmed you. Beheaded you. Gelded you. You wouldn't have been the first, you know. Consider what occurred last summer at the old men's gym at UCLA. It had always been Magic's summer house, even after he retired. His rules determined who played first among the two or three dozen college, pro and ex-pro players who invariably appeared each day at 3 p.m.: seniority over youth, NBA over overseas pros, regulars over occasional guests. Nobody argued when Magic was magistrating, but then suddenly, because of that dang rule against owners fraternizing with NBA players during the bargaining breakdown, he couldn't play with the boys anymore.
So he decided to play at 9 a.m., to avoid contact with any league players. But what happened a few days later? A couple of NBA players appeared at the earlier hour—now the word was out. He looked up the next morning, and there were a dozen NBA players. He called the league office and said, "What can I do? I'm not fraternizing with them, they're fraternizing with me." He looked up the next day, and there was Hakeem Olajuwon, there was Reggie Miller, there were all those Lakers and the Clippers, there were a hundred fans—it was 3 p.m. at 9 a.m. "Oh, man," said Magic. "Ooooeeee!"
Yes, maybe the truth about his return resides here, in the interchange of love between Earvin and people. Other performers inhaled an audience's love, but Earvin, he exhaled it right back. It was like breathing for him—couldn't you see that? Yes, the grand opening of Magic Theatres was a remarkable night for Earvin's respiration, but a theater could open only once. The NBA is three nights a week.
His purpose on earth, he once said, was to make people happy. Didn't his sister Kim tell you about his vast hunger to please, to keep re-winning love? Ten minutes after a spanking from his mother, Earvin would return to kiss and hug her.
Awakening on that Mediterranean yacht he hired each summer, allegedly to get away from it all, Earvin would gaze across the blue, blue sea, the white beaches, the skyline, the vineyards, the birds  . . .  and the hundreds of people waiting for him everywhere he docked. And Earvin would smile. And Earvin would wave. And Earvin would lead the people in their incessant chant—Ma-JEEK! Ma-JEEK!—and then on a jog through the cobblestone streets. Even when he had no time to sign autographs, he usually leaned close to each fan, looked him in the eye, shook his hand or touched his shoulder, exchanged a few words and a laugh. "It's like he's running for office," said Dale Beard, a longtime friend of Magic's, "and he has to go around to make sure all the voters are for him."
Perhaps, in the end, it was the popcorn that threw you off the trail. That story Earvin told you about the day not long ago when Waiting to Exhale opened at his theater, and eight lines, each nearly a hundred yards long, formed outside. On the run came Earvin, bouncing behind the concession counter to serve popcorn to the customers surging in. Earvin never said the story meant a damn thing. It was just you, wanting to believe that a multimillionaire megacelebrity with HIV who would grin and pop popcorn at his movie house no longer needed the big arena with the TV cameras and the 17,000 fans.
"I just wanted to call you and tell you not to worry about the rumors," said his agent, Lon Rosen, when Earvin began practicing with the Lakers a few days later. "He's just trying to light a fire under the team. He likes his life too much now. He'll never go back."
"O.K.," you said.
The popcorn. The popcorn. . . .
Forget the damn popcorn. Maybe it all had to do with the spirit that kept coming to Earvin in his dreams. It was such a fundamental blunder—paying too much attention to what Earvin was saying when he was awake and not enough to what he was hearing in his sleep. He's a man, after all. Just as afraid of dying as you, way down deep. He's a man petrified of going into water above his waist in a swimming pool, has been ever since he was nine and a lifeguard pulled him unconscious from a pool. He's a man who endured his sister's and grandmother's wakes but couldn't witness their funerals.
At night, in his dreams, his oldest friend would arise from the car wreck that killed him when Earvin was 16. Mutt and Jeff, people had called them back in Lansing. Reggie Chastine was a year older than Magic, a little guy with a big Afro, toughest little s.o.b. on the courts of Lansing. He was the one who saw Earvin's greatness before Earvin did, who wouldn't permit Earvin to back away, not an inch, from anyone or anything. "I doubted myself back then," said Earvin. "He was who I should have been." Earvin should have been in Reggie's car that night, because he always was. But for some reason he had begged off, and when the news came by telephone, Earvin screamed, "No, no, no!" and ran out the door of his house, ran blindly for hours, tears streaming down his cheeks.
In the dream that kept returning after Earvin's infection was discovered, Earvin and Reggie would be playing one-on-one at sunrise in St. Joe Park, just as they used to, and Reggie would see the look in Earvin's eyes, the question: Am I going to have to join you, Reggie? Am I going to have to come  . . .  over there? Reggie would stop and stick the ball under his arm. "Man, what's wrong with you, Earv?" he would howl. "Don't take that crap! You can't quit! You can't back down! You beat all the odds! You'll beat this too!" And Earvin would wake up, heart pumping too hard for sleep, and he would leave his bed and go to the big television screen. He would play the videotape of him leading Michigan State over Indiana State in the NCAA title game or that game against Philly in the 1980 NBA Finals, sit there in the darkness watching himself do rare things, feeling the slow return of the strength he would need to face the dawn. He had played those tapes so often, the images began to shudder on the screen. NBC and the NBA sent him new ones, and he had a dozen copies made of each.
By the time the sun rose, Earvin would be in control once more. Control meant everything to him. It was why he became the tallest point guard in history, of course. As a teenager, even when Earvin was the biggest player on the court, he couldn't bear to relinquish the ball—and the outcome of the game—to a smaller, lesser player, so he kept control of it. Years later, when Cookie was in the throes of childbirth, Earvin screamed "Hold it!" when the baby's head appeared. "My baby has to come out to Luther!" He had Cookie's sister run to the stereo and insert a tape by Luther Vandross, then he said to his wife, "O.K., honey, push him out!"
His rareness arose from this paradox: that big, loose, unbuttoned spirit fused with that necktie-taut need to control. How could you have expected such a man to live with the psychological silt of having been pushed into quitting—not just once, at the urging of his doctors in 1991, but a second time, in '92, after the fear of an HIV carrier playing in the NBA crested when one of his arms was cut during a preseason game? How could he not help but hear the echoes of Reggie's voice: "Don't take that crap! You can't quit!" How could he resist the chance to return and do it over, to control how he would leave the game he loved?
You knew he had wavered before. You knew that he wanted to return two seasons ago, when his old Lakers coach, Pat Riley, asked him to play for Riley's new team, the New York Knicks; knew that he went to Lakers management and asked if his playing rights were still locked up—which they were.
"But I'm settled now," said Earvin last month. "I'm settled, mind and body."
Now the magazine is calling for the story behind Magic Johnson's decision to return, and Magic's not taking any phone calls, and a cool sweat's breaking on your brow. And you're looking high and low, between the lines and under the rug, forgetting completely about Mama. Maybe the answer to everything had been right there, on that face right across the kitchen table that afternoon a few weeks ago in Lansing. The 60 years she had lived, the brother and sister she had raised after her mother had died, the eight children of her own she had raised, the full-time job as a custodian at a middle school that kept her up until 2 a.m. at home doing the cleaning and the next day's cooking, the evenings when her head sagged onto the dinner table and she fell asleep  . . .  where was the toll on that smooth, happy face? Gone. Just like Earvin's HIV, it seemed. Gone.
"Don't dwell," Christine Johnson had told you. "Dwellin' makes you sick. You have to live, not sit and cry and worry. That's when you die fast."
Just one short story, one long paragraph, about the day she learned her son had HIV. About that autumn Saturday, near noon, when she returned from church and was surprised to find her industrious husband still in bed, looking stunned. She asked twice if he was sick. "Sort of," he finally said. "Talked to Earvin on the phone. He's  . . .  he's got HIV." Christine's legs wanted to give, but she went to the phone, begged Earvin to let her fly to him and hold him, but he said no, not now, not until he figured out what to do. So she left her bedroom, never said a word to her two adult daughters in the kitchen, got in the car and drove, crying alone, no idea where she was going. Then a name came to her, the name of an 80-year-old woman she knew whose sister had died recently, and Christine dried her eyes and went there. "Lord must've sent you, because I've been down in the dumps lately," the old woman said. And so Christine spent two hours comforting the old woman, never mentioning the sledgehammer that had just hit her, and then drove home. She didn't tell her daughters the news about Earvin until later that night and her sons until the next day.
It ran like a cast-iron chain through Earvin's family, this reflex of closing one's mouth when life caved in, of going right back to work, believing God would make something good come out of it. Christine and her mom, both turned into mothers as teenagers by their own mothers' deaths. Christine's dad, smiling right up to the end, even through the cancer that killed him at 84. And Earvin Sr., working the night shift in a hail of sparks as a spot welder in a General Motors plant, hurrying from there to a car dealership to clean it at 2 a.m. and then home to catch a few hours sleep, and then jumping into his truck to collect garbage from midmorning till midafternoon. Ignoring the searing pain in his side until his appendix nearly burst 25 years ago. Ignoring, eight years ago, the 28 pounds he lost in two weeks and the blurry vision and the pressure to urinate every 15 minutes, so that he could keep working until Christmas and collect the year-end bonus before going to the doctor with a dangerously high blood-sugar count and being told he had diabetes. And Earvin's dad's dad, still cooking at a junior college cafeteria at age 84.
"You got a choice," Earvin Sr. told you. "You either root and be a hog, or you die a pig."
When it came time to die, Earvin had a plan all ready. "I'll tell them to give me a basketball," he told you, "and roll me onto a basketball court. That's how I want to go." And you, like a fool, didn't make the little leap, didn't gather that if he was determined to be rolled there then, how could he resist running there now? "A basketball court," he said, "that's the comfort zone. That's where I forget everything."
If there was one rectangle on earth you could step into and forget you were ever going to die, who among us wouldn't take that step? When Michael Jordan was coming at Earvin with the ball on a fast break, no one could ask Earvin, as the European reporter did a few years ago, how it felt to know he wouldn't see his children grow up. When Michael was coming at him, there would be no reminder of anything. There wouldn't be a single thought.
"Just one thing I regret," he told you. "That's that my three-year-old son will never see me in a Lakers uniform."
The whole time I was away, right up until I signed my contract this morning, I knew I should be playing. I've just been kicking myself for walking away. This is like a release from my own mind. Not playing ball, that's what was killing me."
It's Tuesday morning, Jan. 30. The newspapers are out, the big photographs, the thick headlines, the quotes. It's official. You blew it. To smithereens.
By evening, when you're tired of pulling out your hair, when you've given up waiting for Magic to return your phone call and explain the difference between the quotes in your notepads and the quotes in the morning paper, you find yourself leafing through a book of photographs on the life of Louis Armstrong.Magic and Satchmo. The two best smiles of the 20th century. And just before Earvin comes on to your TV screen in Lakers purple and gold, comes out smiling just as he smiled through the championships and the HIV, you're looking at Louis busting that heart-melting smile through everything, through poverty and the Colored Waif's Home for Boys, through the lean and fat years and the heart disease at the end. And you're thinking that it's crazy to askMagic to explain, and just as crazy to try it yourself. Thinking that perhaps every now and then, maybe once in a generation, these great forces of nature, these large, happy mammals, arise from the gene puddle and lay big footprints across the land. And that they can never explain the force, because they are the force.
The night after his return, the phone rings at 10:36 p.m. It's Magic. His laugh is deep and rich. "Maybe I was kidding you," he says, "and maybe I was kidding myself, too."
And you know what? You believe him. Absolutely.