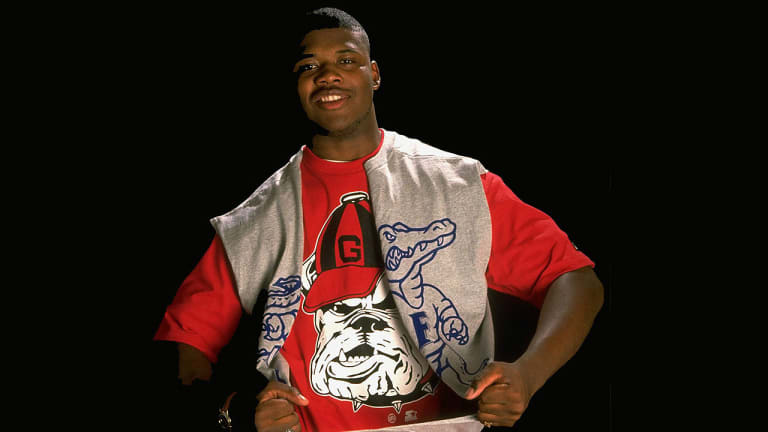 Publish date:
Sign Language
Another manic football recruiting season climaxed on National Signing Day, when often bewildered high school athletes boosted the hopes and dreams of coaches and fans, as Alcender Jackson did LSU's, with one stroke of a pen
At three minutes past five o'clock in the afternoon on Wednesday, Feb. 7, nearly 1,000 people rose from their seats as one and filled the LSU Field House with a primal cry. Marvin Dugas, a 46-year-old Tigers football booster from the tiny bayou town of Donner (pop. 296), a self-described "died-in-the-wool Cajun," had just shouted into a microphone, "Now, the man who is going to lead us to the promised land!" and football coach Gerry DiNardo strode to the front of the congregation. A chant was raucously joined. "L-S-U! L-S-U! L-S-U!"
Some of the fans had been in the building since 7:30 that morning, having driven through the predawn darkness to Baton Rouge from the farthest corners of Louisiana. They had paid $15 each to attend the Bayou Bash Recruiting Party, LSU's national signing day get-together; they had eaten breakfast, lunch and dinner at long tables draped in purple beneath bouquets of gold and purple balloons; they had watched highlights of the Tigers' 1995 season on four oversized televisions and one towering screen. "To me, this extends the football season," said Don Tarver, 65, a retired Air Force fighter pilot who drove 170 miles from Jena, La. And as the day passed, the audience grew in size and diversity. Now among those chanting at DiNardo's arrival were LSU students and faculty members, the president of the state's university system and former governor John McKeithen. All of them, in a frenzy.
Finally, DiNardo asked for calm, and the crowd obediently took its seats. He stood before the boosters in a gray jacket and black slacks, silhouetted against a white screen. And in the fresh quiet, DiNardo began laying transparencies on the face of an overhead projector. The audience sat, rapt, as he spoke. The scene was surreal. It seemed as if an entire roomful of fans had lost their way to the football stadium and come upon a lecture hall. In search of Billy Cannon, they had found Carl Sagan.
Or had they? DiNardo's visual aids were a packet of one-page biographies on the 24 high school seniors and four junior college transfers who had signed national letters of intent to play football for LSU next fall. It wasn't a lecture at all; it was a revival meeting. As names of the Tigers' top recruits were projected on the screen, the audience peppered the coach with knowing bursts of applause. Cecil Collins, running back from Leesville, La.; Alcender Jackson, offensive lineman from Moss Point, Miss.; Derrion Yates, defensive end from Houston....
This was no mistake: One thousand people had gathered to cheer the signing of a football recruiting class in much the same way they would a victory over Auburn. Not one of the teenagers whose names were called had played a down of college football, yet their signings—hailed as LSU's best class in a decade—were as real a triumph as anything in autumn. "This is Louisiana," said Jerry Rousseau, a 57-year-old retired comptroller who spent his entire day in the field house. "We hunt, we fish, we tune into LSU recruiting. If you've never been in Tiger Stadium on a Saturday night in the fall, you wouldn't understand."
That's what this was, then. A Saturday night in October transplanted into February. Names for the future. A championship carved out of the hope that a promising boy of 17 will someday be a skilled man of 21. "I don't think this day can be overrated," said DiNardo. "It has an awful lot to do with our future."
Welcome to signing day, a yearly event that gives rise to some of the most arcane rituals in all of mainstream American sport. By tradition, signing day is the first Wednesday in February. It is also the first day of the eight-week period during which high school football recruits are eligible to sign letters of intent, binding them to a university for the coming fall and in return promising an athletic scholarship. Typically, the recruit and his parents or guardians sign his letter, fax it to the school and send two of the three original copies by mail. (The Collegiate Commissioners Association, which administers the letter-of-intent program, views a faxed copy as binding.) The vast majority of football recruits sign on the first day because they have long since grown weary of the recruiting process. In theory, it's all quite simple.
In practice, though, it isn't simple at all. It is the very best of high school athletes pledging their talents to colleges that have fought desperate battles for their services. It is college coaches seeing months of effort rewarded or spurned on the whims of youth. It is recruiting experts attaching rankings to the colleges' recruiting classes, numbers that can follow a coach like a bad investment for five years. "If someone writes that you had a recruiting class in the top 10," said UCLA assistant coach Gary Bernardi, "people are going to want to know why your team isn't in the top 10 [chart, left]."
LSU represents signing-day frenzy in the extreme—"A lot of places, you could have an event like this and nobody would show up," DiNardo said at the Bayou Bash—but the peculiar rhythm of the first Wednesday in February is scarcely limited to a single building or a single party or a single school.
It plays out in the weeks before signing day, when the phone lines at radio stations like WLAC in Nashville crackle with recruiting talk. Hosts Bill King and Bob Bell do a daily talk show from 5 p.m. to 9 p.m., but limit recruiting calls—here, of course, the subject is usually the fortunes of SEC schools—to the last hour, because the topic would otherwise overwhelm their show. "Folks do try to slip 'em in earlier," says Bell. On the night before signing day, Bell and King hear callers from Dallas to Tampa to Flint, Mich., and in 60 minutes they discuss 62 prospects.
And it plays out early on signing day itself. As LSU's Wednesday party is just beginning, Jackson, a 6'4", 300-pound offensive lineman, joins teammate Kareem Mitchell in the athletic offices at Moss Point High to conduct a scene that will be replicated hundreds of times on this day in other schools and in some homes. At several minutes past eight, Jackson, a USA Today high school All-USA, and Mitchell sign letters of intent to attend Louisiana State, affixing their signatures with so much seriousness that athletic department secretary Phyllis Dunn chides them, "Could y'all smile? This is supposed to be fun." Moments later the signed letters squeak through a fax machine at the LSU Field House, and the players' names are scrawled in black grease pencil on two white boards that will list the names of all 28 signees by day's end.
And it plays out all day long. In a cramped office on the second floor of a private home overlooking the Pacific Ocean in Laguna Beach, Calif., Allen Wallace, publisher of SuperPrep magazine, is chaotically running his operation on its most significant day of the year. Two phones ring ceaselessly; Wallace's assistant updates the status of various recruits, while Wallace fields media queries, of which there are many. At noon, Pacific time, a reporter from Louisiana calls for Wallace's take on LSU's class, and Wallace issues a swift-patter summation that concludes with his ranking of the Tigers: "Sounds to me like the perfect formula for number tennnnn."
The truth is that the science of ranking recruiting classes is less exact than the science of recruiting itself, which is less exact than the science of scrambling eggs. Consider: Of the 73 players named first-team All-America by the Associated Press during the last three years, just 12 were previously honored as first- or second-team All-USA by USA Today in their senior year of high school (chart, page 27).
What is most insidious about the process of ranking athletes and classes is that it is not so much evaluation as association. Of the three recognized national experts—Wallace, Max Emfinger (Houston) and Tom Lemming (Chicago)—Wallace watches the fewest tapes of players and Lemming the most, but all of them accrue volumes of information on who's recruiting whom. If, for instance, big-time schools like Nebraska, Florida, Florida State, Notre Dame and USC are recruiting a prospect, the player is given a high ranking. When one of the schools signs that player, its class rank is improved, based largely on the fact that the school, and others like it, was recruiting that player in the first place. The theory is that four or five schools can't all be wrong, when, in fact, they often are.
And what does it mean to have your recruiting class ranked, say, No. 2 in the country? Wallace seeks to distance himself from his list the moment it is printed, insisting that it is not intended as a projection of future success but as a scoreboard of who did best today. "The recruiting victory and the final [wire-service] rankings a couple of years later are separate and apart," Wallace says. "One shouldn't be linked to the other." Which is silly, because the sole purpose of recruiting is to accumulate good players to win games in the fall. Without the games, recruiting is meaningless.
But coaches consult the recruiting experts' rankings and talk often to these gurus. DiNardo presented Lemming's list (on which LSU was rated third) at his signing day shindig. "These guys know who is highly recruited," said DiNardo. "My thinking is, if you're high on the list, you've got a shot to be pretty good. It's all about improving your chances."
It's a calculated crapshoot, not a guarantee. Coaches understand this. Fans do not. Fans devour rankings and expect results. Wallace is never more correct than when he says, "A lot of people want to read this stuff." Signing day itself is the culmination of a lengthy process that leaves most recruits jaded and coaches spent. It is a strange scenario at best: Grown men lusting desperately after high school kids. In essence it remains a chase. Coaches are not allowed to visit recruits after the Sunday before letter-of-intent day. After that, the recruit can count on the telephone ringing continuously until he faxes his letter to the college of his choice. As pressure builds and choices blur, dozens of strange, small dramas are played out across the country.
As Tuesday night became Wednesday morning in the hamlet of Quitman, Ga., last week, Marcus Stroud sat alone in the darkness of his family's kitchen. A 6'6", 266-pound defensive end, Stroud says he had planned to play at Georgia but committed to Florida after Bulldogs coach Ray Goff was fired in November. New Georgia coach Jim Donnan came back at Stroud in January, attacking from three angles: the chance to start (versus a likely apprenticeship at talent-rich Florida); the chance to play next to his cousin, Travis Stroud, a junior defensive lineman; and the chance to play in his home state between the fabled hedges at Sanford Stadium. Stroud was shaken and uncertain. It was 1:15 a.m., and Florida would be expecting his letter in a matter of hours.
"These guys, the recruiters, they're good, professional salesmen," Stroud said. "We're just kids. And I'm really confused. At this point, I might just take a Georgia hat and a Florida hat with me to school, and maybe I'll just flip a coin." He brought just one hat and signed with the Bulldogs despite a late-morning phone call from Gators coach Steve Spurrier.
Durell Price, a 6'1", 220-pound running back from Sylmar, Calif., who rushed for 4,176 yards in his three years on the varsity, took his indecision even further. Early Wednesday afternoon, Price went with his mother to Sav-on Drugs in Sylmar, two minutes from his house, and gave the clerk a signed letter of intent to fax to Ohio State. Price left the store and didn't return home until 5 p.m., when he received a message from Ohio State assistant coach Tim Spencer that the fourth page of his fax had not been received and thus the letter of intent wasn't valid. Spencer asked that Price please fax it again.
But in the days leading to Wednesday, Price had waffled on his decision. He had gone to a UCLA basketball game four days earlier and sat next to new Bruins football coach Bob Toledo. Assistant coach Bernardi had visited on Sunday. Price says he stayed with the Buckeyes only because "I gave them my word." But the failed fax broke his will. "I took it as a sign," said Price. Bernardi called Price late Wednesday afternoon and learned from Price's girlfriend, Joy Moss, that Price had not officially signed with Ohio State. Bernardi called back a couple of hours later, found Price at home and sold UCLA to the California kid, emphasizing that at UCLA he would be near Moss and their 18-month-old son, Durell Jr. It was a persuasive argument because Moss has never been on an airplane, much less to Columbus, Ohio.
It suddenly all made sense to Price, and he prepared to sign with UCLA. But there was one more request: Price wanted uniform number 5, which had been worn by All-America free safety Kenny Easley and was retired. Toledo and Bernardi agreed to give Price number 6, and a deal was struck. At 10 o'clock on Wednesday night in Los Angeles, a fax—from Sav-on Drugs—came through clean and Price became a Bruin.
"Anybody who wants to know about recruiting, who thinks it's a joyous time in your life, I'll tell them another story," said Price. "It's the most stressful thing I've ever been through."
It is 6:20 p.m. in Baton Rouge. The balloons are nearly all gone from the field house, though half a dozen of them are in the hands of DiNardo's 2 1/2-year-old son, Michael. Recruiting is an exhausting business, and a family one, as well. For much of the day, Gerry's wife, Terri, sat home and checked off names on a list she stuck to the refrigerator with a magnet; she later brought Michael to visit his dad at the Bayou Bash. There are 28 new Tigers, although some of them will not qualify academically (which will keep LSU within the NCAA one-year maximum of 25 new scholarships) and many will never contribute. "It's a fact that only about a third of the guys you sign will end up starting, because if you get it going, you sign someone the following year that's better," DiNardo said. There will be injuries, transfers, failures. There always are.
"But this is a good day. It's an end and it's a beginning," said DiNardo. He surveyed the field house, nearly empty, and continued, "It is not beneath any of us to be involved in this kind of affair, to admit that these 18-year-olds mean this much to us."
The process is not pretty—a wide, rough patch on the road to those glittering Saturday nights. You need the players, so you get the players, and for one day that is the story. The DiNardo family walks toward the door that leads into the night and a long, deep sleep. "I'm glad it's over," said Gerry. And you can almost hear a coast-to-coast chorus of sweet amens.
COLOR PHOTO: COVER PHOTOGRAPH BY JIM GUND COVER PHOTO Signing Day It's the day of reckoning for college football teams and high school stars like Marcus Stroud, who at the last minute said, Goodbye Florida, hello Georgia [Marcus Stroud ripping off University of Florida shirt to reveal University of Georgia shirt underneath]
COLOR PHOTO: GREG FOSTER [Alcender Jackson signing piece of paper]
COLOR PHOTO: LOUIS DELUCA [Louisiana State University football players]
COLOR PHOTO: BILL FRAKES Nebraska wins big with untouted recruiting classes and the help of walk-ons like Jeff Makovicka.
COLOR PHOTO: BILL FRAKES A grueling week had a magic end for these high school All-Americas who were feted at Disney World. [Football players scrimmaging at Disney World]
THE CLASS OF '96
Tom Lemming Prep Football Report
1. Ohio State 2. Florida State 3. LSU 4. Penn State 5. Florida 6. Southern Cal 7. Tennessee 8. Notre Dame 9. Nebraska 10. Michigan
Allen Wallace SuperPrep
1. Penn State 2. Nebraska 3. Southern Cal 4. Notre Dame 5. Ohio State 6. Florida State 7. Michigan 8. Tennessee 9. Colorado 10. LSU
Max Emfinger National Bluechips Recruiting
1. Florida State 2t. Ohio State 2t. Tennessee 4t. Baylor 4t. Southern Cal 6. Penn State 7t. Michigan 7t. Colorado 9t. Nebraska 9t. LSU
PAST RECRUITING CLASSES
1995 AP 1995 1994 1993 1992 1991 TOP 25 L-W-E L-W-E L-W-E L-W-E L-W-E [Information not available] [BOX]
FALLING SHORT OVER THE LONG HAUL
Today's schoolboy All-Americas most likely won't turn out to be the collegiate superstars of tomorrow. Of the 73 players named first-team college football All-America by the Associated Press over the past three seasons, only 12 of them were lauded as first- or second-team All-USA by USA Today when they were high school seniors. Here's that doubly distinguished dozen.
AP COLLEGE USA TODAY ALL-AMERICA HIGH SCHOOL ALL-USA
Tommie Frazier, QB, First team, 1991 Nebraska, 1995 Marcus Jones, DT, First team, 1991 North Carolina, 1995 Jonathan Ogden, T, Second team, 1991 UCLA, 1995 Orlando Pace, T, First team, 1991 Ohio State, 1995 Ki-Jana Carter, RB, Second team, 1990 Penn State, 1994 Rashaan Salaam, RB, Second team, 1991 Colorado, 1994 Korey Stringer, T, First team, 1991 Ohio State, 1994 Sam Adams, DE, First team, 1990 Texas A&M, 1993 Derrick Brooks, LB, First team, 1990 Florida State, 1993 Jeff Burris, DB, Second team, 1989 Notre Dame, 1993 Mark Dixon, G, Second team, 1988 Virginia, 1993 Aaron Taylor, T, First team, 1989 Notre Dame, 1993