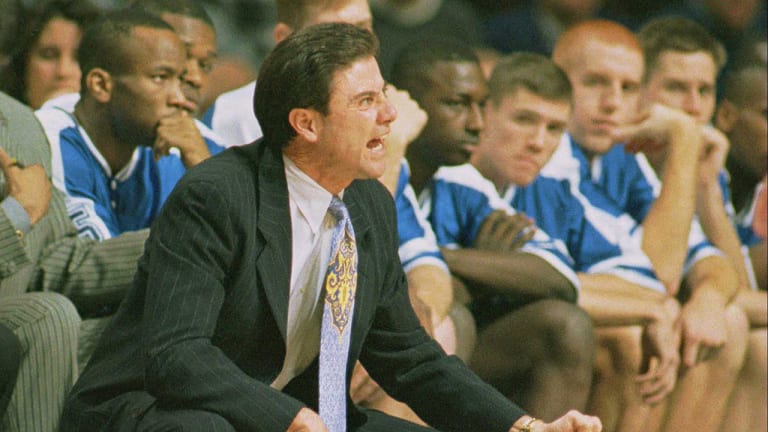 Publish date:
Full-Court Pressure
The Kentucky Wildcats' relentless attack reflects the ferocious drive of their coach, Rick Pitino, who left the NBA to rescue the Roman Empire of college basketball
Joanne Pitino knew the time was upon her again. She had sensed it coming through those tinted evenings in Manhattan when the limo would fetch her and her husband, Rick, outside Madison Square Garden, and the crowds would cheer from the sidewalk as the couple climbed inside and began the long drive home to Bedford, N.Y., 35 miles north of the city. She felt it even after Rick had turned the New York Knicks around and had them trapping and pressing and running opponents out of the Garden. She saw it in the sleepless, raccoon hollows of Rick's eyes, in the long silences of those rides back home in the gloom.
It was the spring of 1989, and Rick Pitino, after two years as coach of the Knicks, was trapped once again in his own frantic press and was casing his office for exits. He had grown up in Queens, and coaching the Knicks had always been the job of his dreams, but he had been consumed by a front-office power struggle that had left him feeling isolated and exposed, and he had started to regret that he had ever come back to New York. Forget that he had taken just two years to disinter the cadaver in the Garden, reviving a Knicks team that had gone 24-58 the year before he had gotten there and now was racing through a 52-30 season on its way to the playoffs; forget that Knicks home games lifted off like rock concerts, rattling the girders in the arena.
"He would sit in the limo all the way home and would not talk," Joanne says. "The Garden was hopping, and he was winning all those games at home, and it should have been a happy time, but it wasn't. He was so sad. He really felt unwanted."
She sensed that he was gone already, and all that remained for her to do was to dread where he would be taking her next. By late April, as the Knicks were getting ready to face Charles Barkley and the Philadelphia 76ers in the playoffs, the new athletic director at Kentucky, C.M. Newton, had heard from mutual friends that Pitino might consider the coaching job in Lexington. The Wildcats basketball program, long suspected of corruption, had pushed the envelope so hard that, well, the envelope had popped open and $1,000 in cash—intended for the father of a Kentucky recruit—had spilled out. That was in March 1988, and in the scandal that ensued Kentucky basketball lay suddenly in ruins, facing NCAA probation. In April '89 Newton was hired to raise it from the ashes. Pitino had rescued every team he'd ever coached, from Boston University to Providence College to the Knicks, and none needed more rescuing than Kentucky. So Newton headed for Bedford, and Pitino turned to his wife.
Joanne has a New York sense of humor reminiscent of comedienne Joan Rivers's, but she saw nothing amusing in Newton's visit. She had been raised in suburban Long Island, and there was no way she was heading off for the wilds of Kentucky, like some settler in a Conestoga wagon, just so her shaman-husband could rattle his gourds among the true believers while most of her family remained back East.
Rick regaled her with tales of the long and storied tradition of Kentucky basketball. "I'm not going," Joanne said. "I don't even know where Kentucky is."
He told her tales of the white fences and the beauty of the bluegrass. "I'm not going," she said.
He added tales of the citadel of hoops built by the Baron himself, Adolph Rupp. "Don't you realize," Rick pleaded, "that this is the Roman Empire of college basketball?"
"So? Go yourself," she replied. She had been through all this before. Only two years earlier she had sat in her white Mercury Sable outside Alumni Hall at Providence and waited grimly as Pitino conferred with college officials about whether he should take an offer to coach the Knicks. He had just crowned one of the most surpassing coaching feats in college basketball by taking the Friars to the 1987 Final Four. The team had gone 11-20 in 1984-85, the year before Pitino arrived, and did not have a single dominant player. After that Final Four the Knicks had approached Pitino but had not made a formal offer. At one point, tired of waiting, Pitino had set a May 1 deadline for the offer, but it passed without a word from New York. So, on June 4, he signed a five-year contract with Providence.
He was 34, and in a city peopled largely by Italian-Americans, he had risen to the status of folk hero—the celebrated paesano who had turned basketball around at Providence, the closest thing Rhode Island has to a big-time franchise. He nearly owned the town. Joanne had been elated when he signed on again. After years of moving she saw Providence as their permanent home. They had built their first house there. "This was our Camelot," she says. They had filled the house with family and furniture and friends. Their six-month-old son, Daniel, born with a heart defect, had died in his crib in early March, four days before the Friars began their magical run to the Final Four, and he was buried in Providence.
The loss of the boy had driven Joanne to inconsolable grief, and it had bound her even closer to this place where she and Rick had settled with their three other children. Rick had told everyone, "This is my dream job. I'm gonna be here forever." And then the Garden called again.
It was early July '87, six weeks after he re-signed with Providence, and Joanne was sitting in the Sable with John Marinatto, the Friars' sports information director, as Rick met with Father John Cunningham, the university president. Joanne was so agitated that she distractedly pulled a safety razor from her purse and began to shave her legs.
"I can't believe he's doing this to me again," she said. "We just got here! How can he ask me to pick up and leave again? I've been through this too many times. I can't believe, after all I've been through this year, that he is asking me to do it again."
Two days later, as she and her husband headed south in a limo toward Manhattan, he tried to tell her that this was the best move for her, with her family in New York and all, but she was not buying it. "You're justifying it for yourself," she said. The last time she had been at Madison Square Garden was the first day she had ever spent away from Daniel. Rick had taken her there for the Big East tournament, and while they were gone, the boy had died. Now she was back for a press conference to announce that her husband was coming to New York. She had the final word on that, though. Stepping from the limo, she saw the Garden and threw up on the sidewalk.
And now here it was, two years later, and the dream job in New York had soured, and now another dream job, the whole Roman Empire, was beckoning. The night before Newton showed up at their Bedford estate, Rick promised Joanne, "He will paint a picture of Kentucky second to none!" Instead, Newton's pitch suggested the last days of Pompeii. Newton talked about the mess Kentucky was in—how the scandal and impending probation had scared off the best players and how the 1989-90 schedule was stacked with Louisville, Indiana, North Carolina and Kansas. "You're not going to win but three or four games," Newton said. "We have major problems."
The Pitinos were silent. Newton looked at Rick and said, "And we can't figure out why the head coach of the New York Knicks, on the threshold of winning a championship, would ever want to come into this mess." At which point Joanne glanced up and whispered, "Thank you, God!"
She rose and asked to see Rick alone. They walked to the front door. "Some Roman Empire!" she hissed. "Are you crazy? Are you crazy?"
She would ultimately give in, of course, just as she always had, surrendering to the forces that drive her husband, because she loves him so dearly. "I have accepted his ambition and his drive," she says. "I used to fight it, but I can't win, because it is a part of him."
That was more than six years ago, and today Rick is winding up his seventh season in Kentucky, in which he finds himself with the best college players he has ever had. "I don't know if this will be the best team I've ever had," he had said before the season, "but these are the best players."
They have proved to be an awe-inspiring collection. At week's end Kentucky had a 22-1 record and was ranked second in the AP poll. The Wildcats hadn't lost a game since Massachusetts beat them back on Nov. 28. And they have not just beaten opponents, they have humiliated them, winning by an average margin of 23.0 points, tops in the nation. "They annihilated us," said LSU coach Dale Brown, whose Tigers were beaten by the Wildcats 129-97 on Jan. 20.
"I told our guys we could play a perfect game and still not beat Kentucky," said Mississippi State coach Richard Williams, whose Bulldogs were far from perfect (with 28 turnovers) in a 74-56 loss to the Wildcats in Starkville on Jan. 9.
The testimonials have been pouring in all season. Pitino may already be the most celebrated college coach in the country who has never won a national championship, but this is the year the Kentucky faithful have been waiting for.
What the man pulled off in his first few seasons in the commonwealth is as much a part of Kentucky basketball lore as anything the Baron did in all his 42 years. By the second game of Pitino's first season, in which the Wildcats nearly beat 14th-ranked Indiana, dropping a 71-69 heartbreaker, the coach had turned a gang of role players, pine jockeys and walk-ons into the woolliest, grandest, damnedest basketball show that anyone had seen in Kentucky in years. Through cajolery and flattery, praise and scorn, he had gotten his players to chase the ball like a hockey puck into all four corners, to run and to press just as his teams had done in Boston and Providence and New York. It was as though, in the darkest of days, a magic circus had come to town, and the enchantment culminated on the night of Feb. 15, 1990, when the Cats beat Shaquille O'Neal and ninth-ranked LSU 100-95, in a game that ended with a thunderous tribute from the fans in Rupp Arena.
"That first year the games ended with people just sitting there with tears running down their faces," says Anita Madden, Lexington's premier hostess and a longtime Cats watcher. "People were as proud of that team as of any that ever played for Kentucky. The coach and those boys were trying so hard that it was just touching to watch them." They ended up 14-14. A year later, with freshman Jamal Mashburn as an added starter, the Wildcats went 22-6; a year after that they were 29-7, and if Christian Laettner had missed that miraculous basket at the buzzer in the East Regional final, the shot that earned Duke a 104-103 overtime win and a trip to the Final Four, those Cats might have won Kentucky's first NCAA title since 1978 and ended up, like Secretariat, cast in bronze in a Lexington park. Instead, four of the no-name starters on Pitino's original team—Sean Woods, Deron Feldhaus, Richie Farmer and John Pelphrey—watched in wonder a week later as their jerseys rose to Rupp's rafters in retirement.
"It was unimaginable," says Pelphrey, who went from all-average to All-SEC in two years. "We won 65 games in three years! The NCAA put us on probation to make us suffer, but we never really did."
What Pitino brought to Lexington was the same unbounded passion to succeed that had always governed his life—that and an unearthly appetite for work that transformed him, as each season wore on, into a walking wraith. But even then he could take his own energy and instill it in his players till they ran at a pace that turned every game into Armageddon. And he still had that magical ability to get players to believe in themselves—in who they were and what they were doing and where they wanted to go. Where did his drive come from? And where did it all begin?
Pitino was born in Manhattan on Sept. 18, 1952, and his family moved to a house on Springfield Boulevard in Cambria Heights, Queens, when he was six. Rick was the third son of Rosario (Sal) Pitino, a building superintendent whose Sicilian-born parents owned a fruit stand in New York, and Charlotte Newman, an administrator at Bellevue Hospital. Rick's two brothers were so much older than he—Bob by 10 years, Ron by eight—that he hardly knew them. He was just a blur around their feet. "Always going 100 miles an hour," recalls Bob, a retired Long Island cop who lives in Florida.
Sal and Charlotte both commuted to work in Manhattan, leaving home early and returning late to avoid the traffic, and Rick vividly remembers his solitude as an eight-year-old. He was alone as he ate breakfast in the morning, alone as he walked to grade school in the winter, alone and frightened as he walked home in the dark to that empty house. "I had kind of a strange childhood," he says. "I got a lot of love from my family, but I was lonely. I remember being lonely. From age six on, I was coming home in the dark, and I had a little fear of the darkness, and I'd always be looking around, and I'd be by myself entering a dark house. It was scary for a kid."
He still recalls those Friday nights in the summers of his youth, just after he discovered sports, when he would lie awake in the dark in his second-floor room and listen to the rain on the roof. It thrummed out a message he could hardly bear to hear: that his Saturday-morning CYO baseball game would probably be called off, and there would be no gathering of friends and no crowds—none of the companionship for which he so keenly yearned. Of course, there was only one thing to do about that. He would go out and save the day.
So, on those rainy Saturday mornings he would rise and dress at six o'clock, while his parents were still asleep. He would scoop up an armful of his mother's towels and head out the door, grabbing a garden rake on the way. He would hike alone the seven blocks up 121st Avenue to the baseball diamonds at Colin Field. And there, in a scene right out of a Rockwell painting, the boy would race to beat the league officials who would come to check the grounds. He would swab and dry the bases with the towels. He would rake the water from the batter's box and the base paths. And finally, towels in hand, he would stoop over and sop up the last gray puddles that lay between him and his friends. Charlotte would wonder where all her linens disappeared. "I was always buying towels," she recalls. It wasn't until years later that she learned that Rick had been ditching them in the trash; bringing them home would have given away his early morning flights to Colin Field.
Many years later in Kentucky, after Joanne gave birth to their fifth son, Ryan, in June 1990, Rick pleaded with her to have a sixth child. All her pregnancies had been difficult, and she dreaded going through another. Daniel had died three years earlier, and his death had left almost eight years between Ryan and Richard, the next oldest boy, and Rick shivered at the thought of Ryan growing up alone. "He'll always have us," Joanne protested.
"You don't understand," Rick said. "You just do not understand." She yielded again, of course, and two years later they had Jaclyn, their only daughter.
As a boy, Rick had found in basketball his anodyne, his escape from loneliness, and he had spent hours on the courts of Queens, losing himself in the game. "I dreamt day and night about sports, almost in a fantasy league of my own," he says. By 1966 his family had moved out to Bayville, on Long Island's north shore, and Rick was a 14-year-old gym mouse for whom the game had evolved into an obsession. "A coach's dream," says Patrick McGunnigle, Rick's coach at St. Dominic's High School. "A 12-7-10 kid: 12 months a year, seven days a week, 10 hours a day."
Rick dreamed of playing pro ball and wanted desperately to win a basketball scholarship. He wouldn't be able to go to college any other way, so he dedicated himself to the game. By the time he was 16, when he started dating Joanne Minardi, the boy in him had all but vanished. "I always thought of him as a man-child," says Joanne. "It was like he was never a child. He was sooo responsible." She used to beg him to take her to Jones Beach, her favorite place, but he set the terms of the courtship.
So she often ended up watching him play pickup games on a playground or retrieving his free throws in the deserted gym at C.W. Post College. He promised her they would go to the beach if he hit 100 free throws in a row, telling her, "If I miss, we have to start all over again." They never made it to the beach. Second prize was the Carvel ice-cream stand. "Every day I would get my butterscotch sundae and Rick his double banana barge," she says. "Our whole courtship was not a courtship."
His whole life, by then, was a romance with basketball, his way to seize the future. He was not a naturally gifted athlete—only six feet tall and a tad slow—but in high school he made himself into a good player, wringing every scintilla of ability from his scrawny frame. "He was a one-on-one scoring machine with 176 moves," says Howard Garfinkel, Rick's coaching guru at the Five Star basketball camp in the Catskills. "He had a game." By his senior year he was known as Rifle Rick and was on the first team of the Long Island Catholic High School All-Stars. He averaged 28 points and 10 assists a game for St. Dominic's. "A phenomenal passer and ball handler," McGunnigle says. "He was responsible for 50 points a game."
UMass assistant coach Ray Wilson came to a St. Dominic's game to scout another player and saw Pitino on a night when he was on. "He was shooting the lights out yet moving the ball around," Wilson says. "He'd come down that center lane, and you could see he was watching the whole court. He was like a little coach out there."
So the man-child reached his goal and got a full ride at UMass. Before it ended, however, the ride would become one of the most painful experiences of Pitino's basketball life. Going into his sophomore year, the first year of varsity eligibility in those days, Pitino was chesty and full of himself, boasting that he would take the starting job at point guard from the team's captain, senior Mike Pagliara. "He was very vocal about that," recalls the other senior guard, John Betancourt. When head coach Jack Leaman chose to go with Pagliara, Pitino resented it, and the rivalry between the two players heated up through the fall and winter—until, at a practice in January, they got into a scrap in which Pagliara broke a finger. According to the next day's Springfield Union, Leaman announced that Pagliara had been injured and Pitino had been "dropped from the squad for the season."
Pitino thought about transferring, but Wilson talked him out of it and admonished him: "You need to grow up." When Pitino came back his junior year, he apologized to Leaman, who told him, "O.K., but you're the last man on the team. You've got to earn your way back." Amherst became Pitino's gulag for the next two months. Given his history, he could have suffered no worse a fate than to be treated as though he did not exist, and that is what he suffered under Leaman. Pitino was always last in line—to eat, to board the bus, to run the mile—and he was ignored by the coach.
"He didn't speak to me," Pitino recalls. "I felt like crying a hundred times." Behind Pitino, Wilson kept whispering, "He's testing you. Hang in there."
Pitino earned his way back into the starting lineup the week before the season's first game, and he felt euphoric after all he had endured. "My self-esteem was so high," he says. But 20 minutes before the game Leaman stuck it to Pitino one last time, announcing to the team, "I've decided to make a change. I'm not going to start Pitino." A wave of nausea came over Pitino, and he nearly got sick right there. Leaman had lifted him up so he could drop him again. On that night, Pitino says with a lingering touch of emotion, "I hated the son of a bitch." Just 45 seconds into the game, Leaman looked over at Pitino and said, "Slug, get in there."
Heading toward the scorer's table, Pitino passed Wilson, who winked and said, "It's over, kid."
Pitino's two years as a starter in Amherst had a reverberating impact on him as a player and as a coach. Leaman's disciplined, patterned style of play was as old-fashioned as a peach basket, and it required Pitino to turn his game inside out. For the point guard, shooting was verboten. His sole job was to run the offense—to set the tempo of the attack and distribute the ball. "It incorporated me into the world of 'we' and 'team,'" says Pitino. "And 'I' and 'my' kind of left. I became the ultimate team player."
He had practiced shooting all his life, and for two long years he was forced to check his jumper at the door. No wonder that, as if in rebellion, he has instilled a run-'em-ragged, aim-and-drain style in every team he has coached: a system of organized chaos in which players move in swarms, like bees, and everyone, from the tallest to the smallest, shoots the ball—even (and especially) the three-pointer.
Pitino became a bold innovator. When the three-point shot was introduced in 1986, he was the first college coach to exploit its potential, the first to understand the game's new math: Shooting 40% from outside the arc produces more points than shooting 59% from inside it. And he turned upside down the fundamental notion that teams must "work the ball" close to the basket on offense and drop back on defense. His teams held back on offense to fire from afar and swarmed forward on defense.
His experience at UMass ultimately taught Pitino lessons in button-pushing that he would draw upon time and again to motivate players. Bill Reynolds, a sports columnist at the Providence Journal-Bulletin and a biographer of Pitino, says Pitino manipulated players all the time at Providence. "They'd play on Tuesday night," says Reynolds, "and on Wednesday he would kill them: 'You're horrible.... You suck.... You're the worst.' By Friday, when they were ready to play again, Rick would say, 'You're the greatest.... You're the best shooter ... the best rebounder.' They believed it."
And Pitino had the seductive spiel of a Chautauqua orator. When he arrived in Providence in 1985, he gave a speech at a booster luncheon that had the audience in a trance. "Forget about your bills!" Pitino declared. "Buy those season tickets now. When you go to sleep tonight, I want you to dream about cutting down those nets!"
Reynolds sat transfixed. "I thought, Who could possibly believe this nonsense?" he says. "Does he believe it? He was like a tent revivalist. Brother Ricky's Traveling Salvation Show." Two years later there was Reynolds in Freedom Hall in Louisville just moments after Providence beat Georgetown in the Southeast Regional final. "They were cutting down the nets," he recalls. "It was unbelievable."
Wherever Pitino went, he could not get there fast enough. He wanted to be a head coach by the time was 25, and he nearly self-destructed trying to get there. In 1976, after he had been an assistant at Hawaii for two years, the school came under investigation by the NCAA, which later nailed the Rainbows' basketball program for 68 rules violations, citing Pitino by name in eight of them. Among other things, according to the NCAA, Pitino had arranged a deal in which a Honolulu Ford dealer would receive two season tickets in return for giving cars to two players. Pitino was also accused of providing three players with airline tickets between New York and Honolulu. Pitino denies these charges. "I had absolutely nothing to do with any of that," he says.
Hawaii coach Bruce O'Neil lost his job in the scandal, and he asserts that Pitino betrayed him by going to the university president, Fujio Matsuda, and angling for the head coaching job while the investigation was still going on. "He said he wanted to be a head coach at age 25," says O'Neil. "Maybe he had to do whatever it would take to further his career, but what he chose to do, I thought at the time, was at my expense. I thought I deserved some loyalty." O'Neil worked out a deal with the university under which he resigned as head coach and became an assistant athletic director—on one condition: "Rick didn't get the job," O'Neil says.
Says Matsuda, "I remember that Rick brought with him a couple of graduate assistants from the team. They said they were not involved in any [misdeeds]. They said it was others who were responsible. After that discussion Rick expressed his interest in the job. I thought it was odd. It seemed to me at that time that Rick Pitino was a very ambitious, aggressive young man."
So Pitino bid aloha to the ruins of Rainbows basketball and winged back to New York—if not triumphant, at least relatively unscathed. He and Joanne were married shortly thereafter, on April 3, 1976, but the honeymoon wasn't your usual honeymoon.
No sooner had they arrived at their Manhattan hotel room on their wedding night than the phone rang. It was Jim Boeheim, the new Syracuse coach, offering Rick an interview for an assistant coaching job. Right then. "I'm downstairs in the lobby," Boeheim said. "Can you come down now?" Halfway out the door, Rick told his bride, "I'll be right back." He called every 20 minutes from the lobby. "Just a few more minutes," he would say. Three hours later she was watching television and thinking, Oh, my goodness, this is awfully strange. What have I gotten myself into?
He finally returned—after taking the job, of course. But that night was an omen for Joanne. "A rude awakening to what my life was gonna be like," she says. Two years later, at age 26, Rick became head coach at Boston University, missing his target by a year.
He was on his way. And each of his moves up the ladder would be the result of hard work. They laugh about it now, but men who have worked for Pitino make the experience sound like laboring in a cross between a madhouse and a sweatshop.
Pitino has always been highly organized and compulsively neat (his walk-in closet at home, for instance, has more than a hundred shirts, all of them hung facing in the same direction and all arranged by color and designer, e.g., all his blue Calvin Klein shirts with stripes hang together). His subordinates have all found in time that control is very important to Pitino.
When Ralph Willard was Pitino's assistant coach with the Knicks, he was in charge of videotaping the games of upcoming opponents. Willard used a series of VCRs linked to a satellite dish at the Knicks' training complex in Purchase, N.Y. One morning, he says, he arrived to discover that lightning had struck the dish and shorted the VCRs, leaving no tapes of games from the night before. When Pitino showed up at 9 a.m. to watch film and Willard told him what had happened, Pitino launched into a tirade.
"How can lightning hit the satellite, Ralph?" he demanded. "It was your responsibility! How can we prepare for this game?" Pitino ordered Willard to rent an apartment near the training complex, because he lived more than an hour away, but Willard refused. Instead, he bought an air mattress, blew it up and slept on it in the video room, among the blinking lights, for two weeks. An alarm clock roused him in the middle of the night so he could make sure the system was working. Pitino ignored Willard before he finally saw the assistant lying on the floor one day and blurted out, "All right, you've made your point!"
"I was so pissed off," says Willard, who is now the coach at Pitt. "He's very difficult to work for." Yet in the next breath, Willard says he loves Pitino and owes him a great deal.
When Stu Jackson—now the president of the Vancouver Grizzlies—was an assistant to Pitino at Providence, his phone would sometimes ring at 2 a.m., and he would hear Pitino's voice rousing him: "We're meeting." Jackson would pull on his sweats and head for Alumni Hall, where he would find the coach and two other assistants waiting to play two-on-two. After an hour of that they would repair to the sauna and literally sweat over a magnetized board on which the coach, pushing little metal figures through droplets of water, diagrammed plays. "It was crazy," Jackson says.
No more so than Pitino's scoring system in those 15-point games. "If we were ahead 14-13," says Jackson, "he would say they were up 12-9. We got in an argument about it. But how can you argue with the boss? I stopped playing with him. He couldn't stand to lose."
Jackson endured harsher trials than that with Pitino. He followed Pitino to the Knicks, and on the eve of the '89 playoff series with the 76ers, Jackson returned to Purchase following a 2 1/2-week road trip that ended with a red-eye from California. He was drained and looking forward to an evening with his wife and one-year-old child. Knicks assistant Jim O'Brien had just taken the coaching job at Dayton, leaving the staff a man short, so Pitino told Jackson that he wanted him in Philly that night to scout the Sixers—a team New York had already played six times and knew as cold as Barkley's shiny pate. Jackson choked up when Pitino told him to go. "Rick, I just can't do it," he said. "I haven't seen my wife. I'm exhausted." He started to cry.
Pitino bristled. "Will you knock off the f------ crying!" he said. "Get your ass down to Philly. This is the goddam playoffs!" As Jackson left, Pitino turned to Willard and said, "Is he really that upset?"
Pitino recalls the episode with remorse. "I don't know what made me do it," he says. "Afterward I felt terrible, but I didn't blink."
Jackson is among scores of former assistants and players who have felt the sting of Pitino's wrath and danced like marionettes at the end of his wires, and the remarkable thing is that so many of them feel affection for him and gratitude for his willingness to have shared what he knows. Today, after a year as head coach of the Knicks and two more as top man at Wisconsin, Jackson has reached the top management ranks of the NBA. Working for Pitino required "great sacrifice personally," Jackson says, but then, "I am where I am today because of him. He taught me the trade."
No one has felt the heat of Pitino's ambition more than his wife, a captive from Gotham, living in exile in Kentucky. For years, whenever the Pitinos went out in Lexington, Rick had to plead with Joanne to be more diplomatic with folks who approached their table. Inevitably someone would ask her how she liked Kentucky. "Oh, I don't like it," she would say. He would kick her under the table. "Oww!" she would yell. Feigning surprise, he would mutter, "I'm sorry. Did I step on your foot?"
She had nothing against Lexington, Joanne says, but New York was her home, and that was where she wanted to be. Rick had ripped her out of Providence and then out of New York. "I was so furious with him that I wanted to aggravate him," she says. "I was deliberately not nice to people." She is more comfortable in Kentucky now that Rick has bought her a home in New York's Westchester County, which she visits once a month. "It's my New York fix," she says.
Joanne has seen a softening in her husband. It began when Daniel died. Even today, eight years later, Rick gets a catch in his voice when he remembers Joanne cradling the child in the emergency room in Providence. "There's no easy way to handle that," he says. And eight months after Daniel died, Rick's father died of cancer.
But now the family has a sense of place and permanence that it never knew before. Joanne spends most of her time raising the five children, and the simple geometry of Rick's life confines him mostly to the four miles between Memorial Coliseum and his house off Tates Creek Road. He has no idea when his time in Kentucky might end. "Nobody thought I'd be here seven years," he says. "I thought I'd be here five. If I last 10 years and haven't won a championship, I'll be the first to say, 'You've got to make a change.' That's what people here want. If we won that, I might be here forever. But I won't be consumed by that."
He is in a place he has never been as a coach. His team is so rich in talent that at times it resembles a semipro operation in some covert NBA farm system. Of course, part of Pitino's reputation is that he always takes players further than their talent should allow. "As a rescuer, you have no place to go but up," he says. "But now I think we have a legitimate shot at being a dominating team. I've never had that before."
Skeptics suggest that Pitino is merely a rebuilder, the handyman you hire to swing a place around but not the one to finish the job. And so the line on him goes like this: We know that he can get you out of the wilderness, but can he take you to the promised land?
He is already there himself. Where else could a man of his drive and needs be happier than in Lexington—where he is fawned over and feted like Caesar in the Roman Empire of college basketball?
But with this position comes constant scrutiny. Pitino's favorite teacher at St. Dominic's High, Sister Clarita Maloney, was recently sitting in the reading room of the Marian Convent in Scranton, Pa., where she supervises the care of 150 retired nuns. The 73-year-old sister had seen the often frantic and confused Wildcats lose 74-61 to North Carolina last spring in the Southeast Regional final of the NCAAs, and the performance raised a question in her mind.
"Why hasn't Rick won anything?" she asked, leaning forward. "You know what I mean, the NCAAs."
"Do you have an idea?" Sister Clarita was asked.
She nodded. "If what he tells them isn't working," she said, "he should tell them to just play. They're too tense. He should call them all over and say, 'Just have fun.... Just play!'"
COLOR PHOTO: COVER PHOTOGRAPH BY PATRICK MURPHY-RACEY COVER PHOTO A MAN POSSESSED Kentucky Basketball Coach Rick
PitinoCOLOR ILLUSTRATION: ILLUSTRATIONS BY GREG SPALENKA [Drawing of Rick Pitino looking through basketball rim]COLOR ILLUSTRATION: ILLUSTRATIONS BY GREG SPALENKA All that remained for Joanne to do was to dread where Rick would be taking her next. [Drawing of Joanne Pitino tied to basketball goal in wagon being pulled by Rick Pitino]COLOR ILLUSTRATION: ILLUSTRATIONS BY GREG SPALENKA As a boy, Rick found in basketball his anodyne, his escape from loneliness. [Drawing of Rick Pitino shooting basketball on empty court]COLOR ILLUSTRATION: ILLUSTRATIONS BY GREG SPALENKAThe line on Pitino goes like this: Hecan get you out of the wilderness, but can he take you to the promised land? [Drawing of Rick Pitino looking up at glowing trophy]COLOR ILLUSTRATION: ILLUSTRATIONS BY GREG SPALENKAThere was only one thing to do about rain. Rick would go and save the day. [Drawing of Rick Pitino as boy holding rake while standing on object floating in water]COLOR ILLUSTRATION: ILLUSTRATIONS BY GREG SPALENKAPitino would tear a player down and then raise him up. He manipulated his athletes all the time. [Collage of images arranged around body of basketball player]COLOR ILLUSTRATION: ILLUSTRATIONS BY GREG SPALENKAAt Providence, his assistants would literally sweat over a magnetized board as Pitino diagrammed plays in the sauna. [Drawing of basketball play drawn in air above men in sauna]COLOR ILLUSTRATION: ILLUSTRATIONS BY GREG SPALENKAIn Lexington he is fawned over and feted like Caesar. Where else could he be happier? [Drawing of person in Roman dress standing on top of column that also supports basketball hoop]