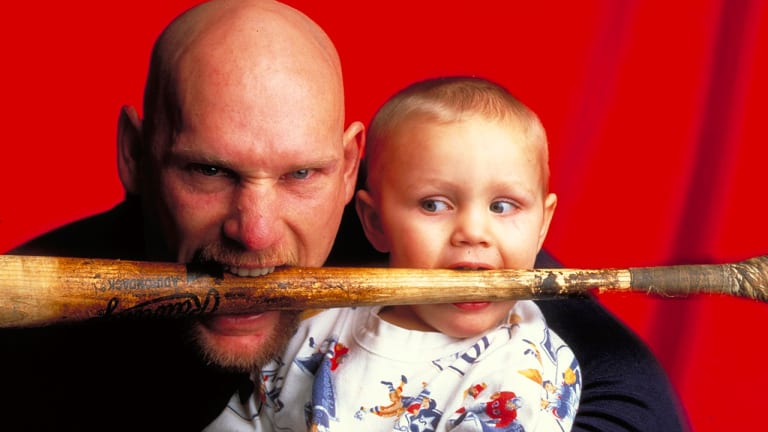 A Real Cutup
Seattle Mariners Slugger Jay Buhner May Look like a Fiend, But He's Actually a Fun-loving, Fan-friendly Star with Only One Revolting Habit
He sits high behind the wheel of his loaded Chevy Suburban, maneuvering it like an armored personnel carrier through the narrow streets of downtown Seattle. The usual winter mist has given way to a heavy downpour, and visibility extends about halfway to the hood ornament. Jay Buhner believes he has room to slip his rig around the car that has stopped in front of him and to continue down Sixth Street. Buhner has always been a confident guy.
As he hits the gas, the mirror on the right side of his vehicle collides with the driver's-side mirror on the stopped car, plucking it off like an apple from a tree. The driver of the car hops out and bounces toward Buhner like a fighter heading for the middle of the ring. He doesn't appear interested in filling out insurance forms just yet. As he looks through the windshield of the Suburban to size up his opponent, he takes note of some strangely familiar traits: the sunken cheeks, the shaved scalp, the stubbly goatee, the knobby head that appears to come from a couple of million years back in the human evolutionary process. Wait a second. Is that? Could it be?
"I don't believe it--it's you!" the man says laughing. "It's Jay Buhner. All right! You're the greatest, Jay! We love you. Hey, check it out."
The man yanks on the collar of his jacket, showing Buhner that it's official Seattle Mariners outerwear. He returns to his car and proudly tells his passengers that it was Buhner, the Mariners' rightfielder, who smashed his mirror. Buhner waves and shouts an apology before driving off. He is late for his dinner reservation, but a table is waiting at the restaurant. He signs autographs for fellow customers, shakes hands and devours the remainder of the evening like a piece of perfectly broiled salmon. "Can you believe it?" says Buhner, sounding as if he has just won the lottery. "He didn't ask me to pay for the damage."
It is just another excellent adventure in the life of Jay Buhner, which, as Buhner likes to point out, is not a bad life at all.
Citizens of Seattle no longer cross to the other side of the street when they see Buhner coming toward them. They're more likely to run up and ask if they can rub his marble-smooth scalp for luck. Buhner still looks like some cybervillain from central casting who should be getting shot at the end of a Schwarzenegger movie, but Seattleites have discovered that he is, in fact, one of the most affable, approachable players in baseball.
In an age when many players do everything but wear rubber gloves to avoid contact with the fans, Buhner isn't afraid to go to a mall or a movie or to invite his whole neighborhood in Issaquah, Wash., over to look at the huge display of lights he puts up on his house at Christmas. He owns season tickets to the SuperSonics, and in his seat in the front row at Key Arena he usually winds up signing autographs from the start of the game to the finish. No big deal. Unlike many of his baseball contemporaries, he doesn't consider indulging his fans an experience akin to gum surgery.
"Let me ask you something," he says. "People coming up to you, asking for autographs, taking pictures, talking about the game, all that stuff--is that such a bad thing? I mean, think about it. Is that supposed to make me miserable? I think it's nice. Everyone likes a little pat on the back, a little friendly handshake."
It has always taken more than a few autograph pests to ruin Buhner's mood, and that was especially true this off-season, when he was savoring the joys of a 1995 too improbable to imagine. Before last year the 31-year-old Buhner had never hit more than 27 home runs or driven in more than 98 runs in a major league season, and the Mariners had never finished higher than third. Buhner was near the top of the list of overpaid underachievers, and baseball in Seattle was about as fresh and exciting as a Larry Holmes fight.
All that changed in the summer of 1995. Through all that rain came a bolt of lightning from the baseball gods. Ken Griffey Jr., also known as the best player in the game, went down with a broken wrist on May 26, but the Mariners regrouped and put on a charge that carried them from 13 games out on Aug. 2 to a first-place tie with the California Angels when the regular season ended. The Mariners beat the Angels in a one-game playoff to win the American League West and then outlasted the New York Yankees in an unforgettable Division Series. A team that had been ignored in its own town suddenly was being cheered not only in Seattle but also across the U.S. "Everyone had a career year," says Buhner. "After a while we just had to laugh about it. We'd just look at each other and say, 'Who's going to win it for us tonight?' Every night there was a different hero. It was an awesome thing to see."
No one was as awesome as Buhner, the free-swinging strongman in the cleanup slot. He hit 40 home runs and drove in 121 runs in just 126 games of the strike-shortened regular season. He set a major league record for RBIs-to-hits ratio (121 to 123) among hitters with at least 100 RBIs and finished fifth in the American League MVP balloting. As the Mariners made their epic comeback, Buhner entered some kind of Roy Hobbs--like trance, swatting dramatic home runs almost on cue. In September he homered in five straight games and finished with 13 homers for the month. His hot streak continued into the postseason. He hit .383 with three doubles and four homers in 11 playoff games.
By the time Seattle ran out of gas in the League Championship Series against the Cleveland Indians, there had been such an outpouring of community support for the Mariners that their disgruntled owners, who had been threatening to move the team, decided to stay in Seattle. So did Buhner. He scrapped plans to build his dream house in his hometown of League City, Texas, and said he would raise his family in the Northwest.
Buhner may not have been the Mariners' best player, but, scary looks and all, he was the poster boy for Seattle's division-winning season. He was a block of granite in the middle of the lineup, a popular and unshakable leader who never stopped assuring his teammates that their fairy tale would come true. "You can ask anyone," he says. "All season I said we were going to win the division." When the Mariners overtook the Angels, this tobacco-spitting country-music fan from the Lone Star State became a cult hero in Grungeland.
On the second annual Buhner Buzz Cut Night at the Kingdome last August, more than 700 fans were granted free admission to the Mariners game for sporting freshly shaved scalps like Buhner's. Two women and Buhner's son Chase (then one year old) were among those who subjected themselves to the hideous Buhner Buzz. For fans of the Mariners--and for the team itself--Buhner was the straw that stirred the double decaf cappuccino. "He was the one who could get along with everyone but who could still get on me or Randy Johnson or Edgar Martinez when we needed it," says Griffey. "There is one guy on every winning team that makes it all possible."
That player was the man they call Bone, a nickname that has nothing to do with his current coiffure. It is, in fact, a nickname for a nickname. "It's short for Bonehead," says David Buhner, Jay's father. "When he was in high school, he lost a fly ball in the lights, and it hit him square on the skull. The coach ran out to see if he was O.K., and Jay was fine. The coach said, 'It's a good thing you've got a bony head.' Ever since then, he's been Bonehead."
Maybe that's the problem with major league baseball these days. Not enough guys named Bonehead. Not enough guys like Bonehead.
Leah Buhner has three children--four if you count her husband and former high school sweetheart, Jay Campbell Buhner. He is the oldest kid in the family, and there's only one difference between him and the other three kids (daughter Brielle, 4, and sons Chase, 2, and Gunnar, 10 months): Jay's toys cost more.
Buhner has just finished showing off his two Suburbans and one Mercedes, his hunting trophies and his high-powered bass boat, which makes you glad you weren't born a bass. Now he whips open the doors to a storage shed in his backyard and asks, "You want to see my quads?"
The quads are his favorite toys. They are the three nifty little four-wheel all-terrain vehicles that Buhner uses to explore the lakes and hills behind his five-acre property. Chase doesn't get this excited about his Legos.
As Buhner gets all giddy at the sight of his little red buggies, you can't help but think: Now this is the way players with three-year, $15.5 million contracts are supposed to act. They should be like kids stepping through turnstiles at the carnival, eyes as wide as Scooter Pies, hearts hopping in anticipation of the next adventure. They should love their lives because, really, what's not to love?
Buhner is often joined on his backwoods excursions by his teammate, neighbor and close friend, Griffey. Sleepless in Seattle was actually the story of the Mariners' owners when they found out what their number 3 and 4 hitters do for kicks.
"You ought to see Junior ride a quad," says Buhner. "It's just like everything else he does: so effortless. We go way up into the hills, and we just get lost out there. Last time it was all muddy, and when we got back, we were just covered from head to toe. You couldn't tell which one was me and which one was Junior."
The first time David Buhner saw his son and Griffey tearing up the trails, he asked the obvious question: Is this really worth the risk? "I'm thinking, How much are you two worth, $50 million? Don't you remember what happened to Ron Gant?" he says, referring to the slugger who broke his leg in a dirt-bike accident right after signing a $5.5 million contract with the Atlanta Braves in 1994 and was released soon thereafter. "They don't listen. There is nothing too crazy for those two to try."
Buhner and Griffey have played side by side in Seattle for seven seasons, but it still seems as if the theme from The Odd Couple should be played in the background whenever they're together. "He likes country, I like rap," says Griffey. "He's intimidating-looking, I'm always smiling. I can ride a quad, and, well, he tries."
Buhner is as broad and rawboned as a mule, with an awkward stance and a mechanical swing. Griffey is as lean and hard as a lamppost, with a swing as sweet and smooth as tiramisu. Griffey looks like a runway model. Buhner looks like a death row inmate. Griffey has been photographed for GQ. Buhner and his bass gear are better suited for Field & Stream.
Griffey would trade his throwing arm for one day away from the autograph guerrillas. Buhner makes Jerry Jones look like a shut-in. "We're so much not alike that you'd think we wouldn't have anything to talk about," Buhner says of himself and Griffey. "But we talk about everything. We golf, we fish, we ride the quads, we hang out. Our wives are friends. Junior just built a big house on a golf course in Orlando, and he doesn't know it yet, but his guesthouse is going to be named after me." The Bonehead Guest Cottage?
Griffey has no objections. "I need someone to beat in golf," he says.
Griffey's affection for his teammate became a source of controversy last winter when the Mariners were prepared to let Buhner jump to the Baltimore Orioles as a free agent. Griffey went to management and made himself very clear: He goes, I go. The front office took Griffey's threat seriously enough to pay Buhner--who has not made the American League All-Star team in his nine big league seasons--more than $5 million a year. Griffey kept his part of the bargain in January when he re-upped with the Mariners, signing a four-year, $34 million contract extension.
"Do I know how to pick my friends or what?" says Buhner. He also knows how to make them look good. Griffey, the Mariners' centerfielder, can't come up with his own numbers from last season as quickly as he can throw Buhner's at you. "I've had 42 leftfielders in the time I've had Jay in right," says Griffey, who is preparing for his eighth season in Seattle. "In my opinion he's underrated. He hit 40 home runs, he drove in 121 runs, and he's the best rightfielder in the American League. People said he was overpaid. Well, name one player we could have signed who would have done the job Jay did. There's no one. Jay's as important to our team as anyone, maybe more important than anyone."
Buhner says he doesn't care about MVP awards or All-Star berths (he has the most career home runs, 169, among active players never selected for the All-Star Game), but he does covet one honor that has eluded him, perhaps unjustly: a Gold Glove. In each of the past eight seasons, the three American League outfield awards have gone to centerfielders. Griffey has won a Gold Glove six times, including last season, when he missed 73 games. Yet Buhner has an arm that can shoot down small planes--one of the strongest guns in the game--and he made only two errors last season. He thinks it's time the best rightfielder is recognized, just the way the best fielder at each infield position is. "They don't pick three shortstops in the infield," he says. "Why three centerfielders? It makes no sense. I don't want to be a big star. That's for guys like Junior and Randy. But I take a lot of pride in my defense, and I just want to be recognized for what I do."
Buhner had an unfortunate lapse in Game 3 of the League Championship Series, at Cleveland. In the eighth inning, with Johnson holding a 2-1 lead and burning fastballs by the Cleveland hitters, light-hitting Alvaro Espinoza cranked a fly ball to fairly deep rightfield. Buhner normally makes the play while filing his fingernails, but this time he made a critical mistake. He didn't run far enough before turning to backpedal, and the ball sailed over him, bounced and hit the wall. It was his only error of the postseason. Indians leadoff hitter Kenny Lofton singled home pinch runner Wayne Kirby from second to tie the game and cost Johnson the victory.
Buhner was devastated. "I remember when I first came back [from the wrist injury] and made an error," says Griffey. "I was feeling pretty bad, and Jay just looks at me and says, 'I still love you, man.' I just laughed. That night in Cleveland I said the same thing to him."
Players are often defined by one play, and following Buhner's blunder many baseball writers referred to him as Buckner, after former Boston Red Sox first baseman Bill Buckner, the goat of the 1986 World Series. But Buhner went from dunderhead to hero faster than you could shave a skull. In the top of the 11th inning he launched a three-run homer halfway to Toledo, lifting Seattle to victory and adding another scene to the Mariners' highlight film.
When their oldest son was in high school, Kay and David Buhner weren't all that concerned with his future. They were just hoping he would have one. "He was in three car wrecks before he even got his driver's license," Kay says of Jay. In one accident, Jay recalls, he was riding in the back of a pickup truck that got hit while moving at 50 mph. He says he was thrown 20 feet in the air and "came down and landed on my feet." He wasn't hurt, but he wasn't happy, either. When the police showed up, Buhner was on top of the driver who had caused the accident, his hand gripping the guy's throat. (The officers pulled Buhner away and restrained him.)
As a child, Jay's behavior was diagnosed as hyperactive, and he was given medication. His mother made regular trips to the principal's office to pick him up after he got in trouble. "He just couldn't sit in class," she says. "One of the reasons he played sports was that we had to find a place to channel all that energy." Jay did not dream of playing major league baseball. "He just wanted to drive a Peterbilt [truck]," says his father.
From the beginning he had all the tools to excel in baseball, with the exception of a decent attention span. "One time he was playing centerfield, and a ball was hit out there," says David. "I look out, and there he is, sitting down. Well, everyone's yelling at him, so he runs over, picks the ball up off the grass and fires it in. At the end of the inning I said, 'What were you doing out there?' He said, 'Look at this. I just learned how to make a cloverleaf necklace.'"
When it came time to choose a college, Buhner made his decision with typical forethought and care. He had one requirement: He wanted to be with his two best buddies from the Clear Creek High baseball team, catcher Tom Griffin and pitcher Danny Cannon. They all agreed to play for McLennan Community College in Waco, Texas. Ivy League schools were not exactly lamenting the loss. "I think his batting average was higher than his SAT scores," says Kay, laughing.
"When I was younger, I never thought there was life after high school baseball," says Jay. "I never thought about the pros or even college. I didn't know there was such a thing as a scholarship."
His parents say they approved of McLennan because the baseball coach, Rick Butler, was a disciplinarian. Butler's influence did wonders for Buhner on and off the field. He kicked Buhner off the team twice in one day, only to allow him to return after Buhner came to his office and apologized. Buhner still credits Butler for turning him into a superb defensive outfielder. "If we misplayed a ball in practice, we had to do what we called a supersprint," Buhner says. "You had to drop your glove and run to the opposite foul line and back in less than 60 seconds. That's where I first took pride in my defense."
In Buhner's first year at McLennan, 1982-83, he hit .327 and led the Highlanders in home runs, and the team won the junior college national title. During the championship game, in Grand Junction, Colo., it dawned on Buhner what all those guys with stopwatches and clipboards were doing in the stands. College and big league scouts were sizing him up. Maybe the Peterbilt would have to wait.
During Buhner's second season at McLennan the major-college offers came rolling in. David wanted Jay to attend Miami, but Jay chose to be a Longhorn. David exploded when told of this decision, and he and Jay had what they both describe as the worst fight of their lives. "I just didn't want him to play for [Texas coach Cliff] Gustafson," says David. "I never liked him or the way he treats his players. I was so mad I think I went up one side of Jay and down the other."
Jay signed a letter of intent to attend Texas, but the Pittsburgh Pirates stepped into the picture, selecting him in the second round of the January 1984 secondary free-agent draft. He signed with the Pirates and restored family harmony. After less than a year in the Pittsburgh organization, Buhner was dealt along with Dale Berra and Alfonso Pulido to the Yankees for Tim Foli and Steve Kemp.
David says that Jay has always been "one of those kids who could fall in a pile of crap and come out wearing a diamond ring," and being traded from Pittsburgh to New York was the baseball equivalent of that, according to Jay. "The Yankees organization was first-class all the way," he says. "The great thing about the Yankees was that every level I played at, we won. Bucky Dent was my manager at every level, and he was awesome. He taught me how to win. Then when I moved up to the big leagues, I was surrounded by veterans who were great to me: Dave Winfield, Jack Clark, Jose Cruz, Rickey Henderson, Don Mattingly. I couldn't have asked for a better place to break in."
There were better places for a young player to break into the lineup, however, and Buhner was soon traded to one. In July 1988, New York, desperate for lefthanded power, sent the then 23-year-old Buhner to Seattle for the then 33-year-old DH Ken Phelps. Buhner immediately became a starter for the Mariners. "As a young player you understand that New York is notorious for trading young players," Buhner says. "So I wasn't surprised. I knew Seattle wasn't a very successful organization, but I knew I was going to get a chance to play every day in the big leagues. That's everyone's dream."
Buhner got his chance to play, but the losing atmosphere in Seattle was often more than he could take. He had some solid seasons--he is one of nine players who have hit 20 or more homers in each of the past five years--but his talent was less apparent than his temper. Seattle fans wondered if Buhner was going to be another monumental flop, like ex-Seahawk Brian Bosworth. "I just think it was a matter of growing up for Jay," says catcher Dave Valle, Buhner's friend and former Mariners teammate who now plays for the Texas Rangers. "His first couple of years in Seattle he had no confidence, and he had a bad temper. He was not an easy player to handle."
Bonehead the hothead. Once, while playing golf with Mariners teammates a few years ago, Buhner was not content to fling a club in disgust, so he tried to fling his whole bag. When he couldn't unstrap the bag from the motorized cart right away, he did the next logical thing. He flipped the whole cart. "It's something we've worked on with him a lot over the years," says David. "And I think anyone will tell you that he's come a long way."
One of the last great eruptions of Mount Buhner came one day during the 1990 season when Jim Lefebvre, Seattle's manager at the time, pulled Buhner for a pinch hitter. "Jay took a bat and went [into the tunnel] behind the dugout and started smashing the wall just in back of where Lefebvre was sitting," says Valle. "So Jimmy gets up and goes around the corner to confront him, but Jay is just in a fit of rage. He had the craziest look in his eye, and we were afraid what he might do. So [DH] Alvin Davis and I jumped up and grabbed Jay and dragged him into the locker room. His temper got him in trouble a lot in those days. He's just got a fire in his belly, and I think he's learned to use it in a more positive way."
Buhner has another renowned habit, but he would be hard-pressed to use it in a positive way. What he likes to do is ... throw up. On cue. For kicks. Sometimes he does it to try to nauseate some poor rookie. "I call it 'blurping,'" Buhner says. "It's a combination of burping and vomiting. It's a great hidden talent."
"It's disgusting," says Leah. "He only does it because he knows it bugs me."
While it may not fill Mom and Dad with pride, it at least proves that Buhner is not one of those contrived flakes who are hoping to land an invitation from Letterman. Blurping goes beyond the pale of Stupid Human Tricks. During a game last season Buhner blurped in the dugout and forced manager Lou Piniella, who has a notoriously weak stomach, to dash up the runway to the trainer's room and throw up.
"One time our whole outfield was throwing up during a game," says Griffey. "Jay was doing it just because he thinks it's funny, but Kevin Mitchell saw him and got sick. Then I saw Jay, and I got sick. So there we are, all three of us, throwing up on the field."
It's 10 minutes past midnight, New Year's Day 1996. At the Buhner house plenty of guests are still enjoying a New Year's Eve party, but Jay has the vacuum cleaner out. It's never too early to tidy up. Of the many contradictions in the life of the nasty-looking nice guy, this could be the strangest: The man who throws up for fun and flips golf carts out of frustration is a neat freak. His locker at the Kingdome is as orderly as a museum exhibit. "It makes sense," says Valle. "He looks like Mr. Clean."
Buhner doesn't attach any great significance to his hair, or lack of same. In 1994 he concluded that he would be as bald as a frog in a few years, so he decided to beat Mother Nature to the punch. Buhner prefers the hairless look because it's neat and unusual--two of his favorite qualities. He doesn't follow the trends of other self-styled rebels in pro sports. "No earrings, no tattoos," he says proudly. "In the past I've always done something stupid with my hair, so I just shaved it all off. And now this is it forever. How can I change after what we went through?"
How can he change? His friends and family say Buhner will find a way. He always does. While he remains true to himself and to his Texas roots, he has evolved as a ballplayer and as a person. The simple, uninhibited free spirit from League City has grown into a simple, uninhibited star who enjoys the rewards of his life and takes on its responsibilities with equal passion.
"When I first met him, he was wearing Wrangler jeans and cowboy boots and Brush Poppers shirts--and if you don't know what they are, believe me, they're ugly," says Valle. "Now I look at him in his Armani suits, with his fine wines, and I say, 'Man, I knew you when you were a dumb cowboy.' But I went to a banquet with him in Seattle this fall, and I just sat back and watched the way he handled himself. It was amazing. He really knows how to deal with the fans and all the people, and he seems to enjoy it as much as they do. At the end of the night I pulled him aside and said, 'Jay, you've become a man.'"
Buhner says he will finish the two years on his contract and play two more seasons after that. He insists he will play in Seattle or not play at all. He and Leah want to buy 100 acres and raise horses and bring a little Texas to the shores of Puget Sound. Move over, Bill Gates. Bonehead is here to stay.
This is home now. This is where lightning struck through all that rain, where an unlikely bunch of ballplayers sent a magnificent jolt of energy through an entire region. This is where the dumb cowboy became a man. "I'd like to get into acting when I'm through playing," Buhner says. "I think I'd make a great bad guy."
The bad guy? The truth is, Jay Buhner has more experience playing the hero.
COLOR PHOTO: COVER PHOTOGRAPH BY V.J. LOVERO COVER PHOTO Boys of Summer Seattle Mariners slugger Jay Buhner is a kid at heart. Just ask his son Chase [Jay Buhner and Chase Buhner biting baseball bat]
COLOR PHOTO: PHOTOGRAPHS BY V.J. LOVERO WHEN HE'S NOT TAKING CUTS AT THE KINGDOME, BUHNER BUZZES THROUGH THE TIMBER ON HIS OWN PROPERTY [Jay Buhner holding chainsaw]
COLOR PHOTO: DAVID LIAM KYLE BUHNER WAS SAFE HERE AGAINST THE INDIANS, BUT LATER THEY TAGGED SEATTLE IN THE PLAYOFFS [Jay Buhner sliding into home plate]
COLOR PHOTO: PHOTOGRAPHS BY V.J. LOVEROGOOD FRIENDS BUHNER AND GRIFFEY GIVE EACH OTHER A LIFT, BOTH ON THE BASEBALL FIELD AND AWAY FROM IT [Jay Buhner being stretched by Ken Griffey Jr.]
COLOR PHOTO: PHOTOGRAPHS BY V.J. LOVEROAS LEAH COULD TELL YOU, HER FAMILY HAS FOUR children: JAY, CHASE (LEFT), BRIELLE AND GUNNAR [Chase Buhner, Jay Buhner, Brielle Buhner, Gunnar Buhner, and Leah Buhner]
COLOR PHOTO: PHOTOGRAPHS BY V.J. LOVERO PEOPLE WHO THINK BUHNER MAY NOW HAVE BOTH FEET ON THE GROUND SHOULD SEE HIM ON A QUAD [Jay Buhner riding four-wheel all-terrain vehicle]
COLOR PHOTO: PHOTOGRAPHS BY V.J. LOVERO BUHNER (FOREGROUND, RIGHT), A TEXAN, SAYS HE IS HOOKED BY THE ALLURE OF THE NORTHWEST [Jay Buhner and others fishing from boat]COLOR PHOTO: BEN VANHOUTENMISTER AND MASTER CLEAN: AS CHASE LEARNED, TO HIS DAD A SHAVE AND A HAIRCUT ARE THE SAME THING [Jay Buhner shaving Chase Buhner's head]