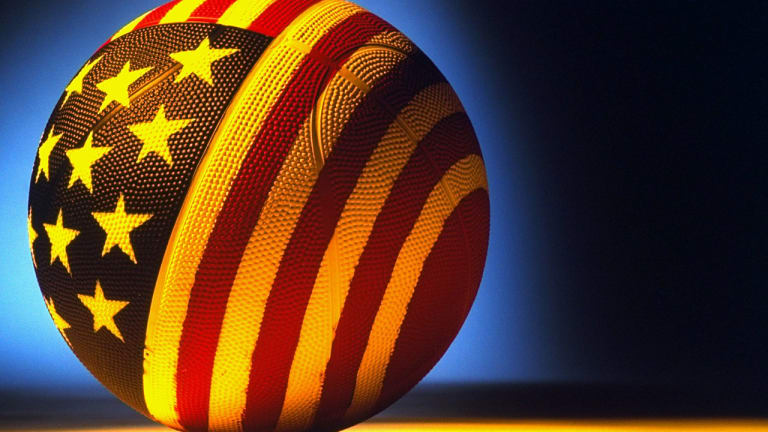 No song in the English language is as routinely mangled and misinterpreted, as frequently tortured and trivialized, as relentlessly debased and diluted as The Star-Spangled Banner. Well, maybe Feelings—but you don't have to get on your feet and take off your hat for Feelings. The words to the U.S. national anthem are elusive, the tune is impossible to carry unless you're Robert Merrill, and the reasons the song is played before virtually every sporting event have long since been forgotten. "I guess they play it because a lot of old people fought in wars, and it means a lot to them," says Kansas State guard Elliot Hatcher, offering what might be called the historical perspective.
But it must be more complicated than that. Otherwise, why would the nation have paid so much attention last week when Denver Nuggets guard Mahmoud Abdul-Rauf became either a heroic symbol of a man acting on his principles or Public Enemy No. 1 by refusing to stand for the national anthem before games? Duck, Mahmoud—there's cross fire. From the left, here's Hamid Algar, a professor of Islamic studies at Cal: "Unfortunately, too many Muslims are too ignorant or intimidated by the propaganda of anti-Islamic rhetoric to stand behind Mahmoud." And from the right, here's pro golfer Mike Sullivan: "I don't think they should suspend him. I think they should shoot him."
The NBA's suspension of Abdul-Rauf, which resulted from his defying a provision in the league's operations manual requiring all players to "stand and line up in a dignified posture ... during the playing of the American and/or Canadian national anthems" lasted just one game (page 52). But, really, the anthem controversy never goes away—and it will surface again. Maybe in Seattle, if SuperSonics fans suddenly get perturbed with forward Sam Perkins. As a member of the Jehovah's Witnesses, who refuse to pledge allegiance to any government, Perkins stands at attention but well out of line from his teammates during the national anthem. Or maybe it will be in Charlotte, where Hornets owner George Shinn—who has also added an invocation to the pregame festivities at Charlotte Coliseum—intimidates his team into compliance. Shinn says he tells the Hornets, "I'm going to be up there in the stands watching, and if you're down there picking your nose and not standing at attention, then you're telling me you don't like it here and want to be traded." Or maybe it will happen when another celebrity strolls to the pitcher's mound, remote mike in hand, ramparts and twilight's last gleamings all mixed up in his brainpan, and carves Francis Scott Key's 1814 paean to war into little pieces.
So it seems like the appropriate time—once Sullivan puts down that two-iron—to ask, Has the national anthem as pregame ritual outlived its usefulness? The practice of playing The Star-Spangled Banner is clearly rooted in wartime patriotic fervor. During World War I it became customary to play the song before baseball games, and it was during WWII that it became de rigueur to play the anthem at all sporting events. There are other nations that take the playing of their national anthem as seriously as the U.S. In Israel Hatikvah (The Hope) used to be played only before international basketball games and soccer matches, but since the 1991 Persian Gulf war it has been a staple at almost all athletic competitions. In Kenya the national anthem, Ee Mungu nguvu yetu (O God of All Creation), is played not just before every sporting event but also before nearly every public gathering. And the '95 Ryder Cup was a virtual anthemfest. Last year at Oak Hill Country Club in Rochester, N.Y., the Spanish anthem was played for Seve Ballesteros; the Scottish for Bernard Gallacher, Colin Montgomerie and Sam Torrance; the British for Howard Clark, Nick Faldo, David Gilford and Mark James; the Swedish for Per-Ulrik Johansson; the German for Bernhard Langer; the Italian for Costantino Rocca; the Irish for Philip Walton; and the Welsh for Ian Woosnam. And, of course, The Star-Spangled Banner for all the guys on the U.S. side. The event started out more like a battle of the bands than a golf match.
In most countries, however, national anthems are reserved for international or championship games. Bemused by the Abdul-Rauf flap, North Carolina center Serge Zwikker, who is from the Netherlands, professes not to know the words to the Dutch anthem. "But maybe I could hum a few bars," he adds hopefully.
Which is exactly what many entertainers—beginning, perhaps, with Robert Goulet, who blanked during a catastrophic rendition of The Star-Spangled Banner at the Muhammad Ali-Sonny Liston fight in Lewiston, Maine, in 1965—have done after accepting the intimidating national anthem assignment. Most people at U.S. sporting events don't even hum along or for that matter stand at attention. Members of the media file pregame notes to the office, peruse stat sheets or stay in the press room munching potato chips. Fans nosh on hot dogs, chat with their neighbors or look for Jack Nicholson. Those who are enthralled with the anthem have become so only because they have turned it into their personal fight song.
The athletes, in most cases, are indifferent. "It gets to the point where you start forgetting about the meaning because you do it so often," says San Francisco Giants outfielder-first baseman David McCarty. Still, players offer some darned fine observations on the anthem. "I guess we sing it to give someone the opportunity to make 50 dollars," says Cincinnati Reds pitcher Mark Portugal. Be serious, guys. "Maybe it's because people are amazed you can play a kid's game and make more money than the president," says Detroit Pistons center Mark West. "You've got to celebrate that somehow." Hey, come on now. "Personally, I use that time to scan the crowd for babes," says Atlanta Hawks forward Matt Bullard. "That's how I met my wife." And St. Louis Cardinals reliever Dennis Eckersley offers this take: "The anthem is part of the game. It wouldn't seem right, would it, if they didn't play it? But I don't like it when the Canadian teams are in town because then we have to listen to two anthems."
Now that The Star-Spangled Banner is again an issue—as it was most potently during the late 1960s and early '70s—in all its red-white-and-blue complexity, wouldn't it be better for pro leagues to turn tail and start phasing it out before this gnarly matter comes around once more? After all, it's not written anywhere that the national anthem must be played, not even, believe it or not, in the NBA operations manual. In Dallas, bible-thumping Mavericks owner Donald Carter has substituted God Bless America for The Star-Spangled Banner, and no one has protested. Isn't America ready for a secular song to be installed as the official let's-play-ball ditty?
Don't bet on it. Though Americans rarely show the anthem proper respect, they seem to like the simple fact that it's there. The Baltimore Orioles stopped playing The Star-Spangled Banner for one week during the 1954 season, hoping to use the song only on holidays and special occasions. In reaction the city council passed a resolution suggesting that the anthem be played before every game, and that's why, four decades later, we're obligated to hear the home fans turn that final "Oh, say ..." into a cheer for the O's. In '66, when the Chicago White Sox tried to pinch-hit with God Bless America, so vehement was the backlash that the fans asked for a special vote on the issue, pledging on their ballots to sing the winning song loud and clear. (The national anthem received 74% of the vote.) Most revealing, after an Atlanta Falcons game in the mid-'70s the Atlanta-Fulton County Stadium scoreboard mistakenly flashed PLEASE RISE AND JOIN IN SINGING OUR NATIONAL ANTHEM instead of THANK YOU FOR ATTENDING THE GAME. The crowd stood awkwardly for several minutes before the P.A. announcer told everyone to go home. Let's face it: Americans are intimidated by the national anthem, fearful that some cosmic chandelier will come crashing on their heads if they put it out to pasture.
How about a compromise? How about sending a DH up for The Star-Spangled Banner? How about not playing it all the time and reserving it for the Final Four, the Super Bowl, the World Series and other big-time events? Perhaps then it would become meaningful to more people. Yes, it might be scary out there without the anthem to kick around every night. But the pregame song doesn't have to be scrapped. Just mix it up, raise America's pop-culture index with other offerings such as America the Beautiful and This Land Is Your Land.
But those are just suggestions. Positively, absolutely, bounce them off Mike Sullivan first.