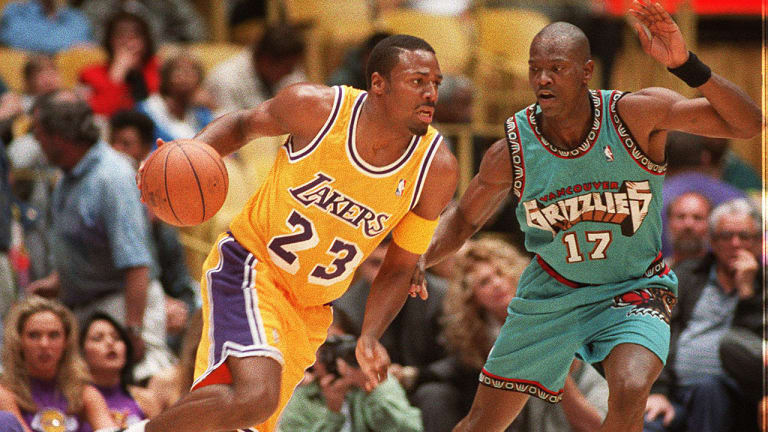 On Spring Break
Cedric Ceballos's unauthorized vacation threatened to destroy the chemistry that had made the Lakers a contender since Magic Johnson's return
The Los Angeles Lakers play so close to Hollywood that they've surely learned that any good drama requires conflict. It was obvious, then, that the return of Magic Johnson to the Lakers was going altogether too smoothly. Magic was whipping no-look passes, tossing in baby hook shots and flashing smiles brighter than the marquee at any Tinseltown premiere, and L.A. was winning. After a 94-71 dismantling of the Seattle SuperSonics on March 19, the Lakers stood at 17-5 since Johnson's comeback and were quickly transforming themselves into one of the postseason favorites in the Western Conference. But as any of Los Angeles's celebrity fans can tell you, this is where a plot twist is called for, a sudden change of mood accompanied by ominous music in the background. Cedric Ceballos, this is your cue.
Ceballos, the Lakers' starting small forward and leading scorer, put at least a temporary halt to the good feelings at the Forum by abruptly skipping out on L.A. after that win over the Sonics. When he missed a team flight to Seattle the next day, the Lakers suspended him without pay, and no one in the organization heard directly from him until five days later, when he and his agent, Fred Slaughter, arrived at executive vice president Jerry West's Forum office Sunday afternoon, about three hours before L.A.'s game against the Charlotte Hornets.
The disappearance was an astonishing display of unprofessionalism, especially because Ceballos, 26, is a Lakers co-captain. By the time he was reinstated Monday, Ceballos had missed the flight to Seattle, two games (both losses), two practices and a shootaround, costing him (given his $2.24 million salary) $54,756 for the two games, plus $2,000 in fines for missing the practices and the shootaround.
Moreover, when Ceballos did resurface, the plot further thickened. Having spent at least part of his time away from the team with a male and two female companions (one of whom, says Slaughter, was Ceballos's wife) at the London Bridge Resort in Lake Havasu, Ariz., Ceballos explained at a Sunday press conference at the Forum that he had been trying to resolve a serious family problem, the nature of which he chose not to reveal. However, he apparently had been able to stop wrestling with the crisis long enough to go waterskiing on the lake and dancing at Kokomo's, a local nightspot. Last Thursday night, around the time Ceballos's teammates were losing 104-93 in Seattle, Kokomo's patrons and employees saw him sipping a beverage and signing autographs. At the press conference he gave no explanation for his failure to inform the Lakers of his whereabouts, other than to say, "That was a mistake I made. There was no reason for that at all. It was a bad situation, and I went about it the wrong way."
Ceballos insisted he did not leave in a huff over reduced playing time since Johnson's return, despite evidence to the contrary. At week's end he still led Los Angeles in minutes and shots per game, but Ceballos's key statistics had declined slightly from the pre-Magic days--through Sunday, his average minutes had dipped from 36.3 to 35, his shots from 16.9 to 14.6, and his scoring average from 23.4 to 22.4. Those who have observed the Lakers say that Ceballos's displeasure at being removed from games by coach Del Harris had been obvious recently, especially in the week leading up to his departure. On March 14 Ceballos had had his streak of scoring in double figures in consecutive games broken at 67, when he scored nine points and took only nine shots in 37 minutes in a 106-103 victory over the Golden State Warriors. Then, in what seemed like a protest, he hoisted 12 three-point shots, equaling a career high (and making three), in the next night's game, a 117-95 defeat of the Milwaukee Bucks. Next he had 18 points in 38 minutes in a 98-97 loss to the Orlando Magic. But then came the win over Seattle, when Johnson logged most of the time at small forward. Ceballos played only 12 minutes, his fewest in his two seasons with the Lakers, took seven shots and scored just two points.
So when he steadfastly maintained at the press conference that his departure was not at all basketball related--"Del's a nice guy and a good coach," Ceballos said; "I don't want to crush his ego, but he's not going to be the reason for my leaving basketball"--there was the distinct feeling that Jack Nicholson was not the only actor in the Forum that evening. Publicly, at least, West and Harris accepted Ceballos's explanation that his absence was the result only of family matters. "Cedric and I discussed some personal issues," West said. But it was telling that neither one of them appeared with Ceballos at the press conference. West spoke to reporters after Ceballos had departed, and Harris did not attend the session.
Ceballos decided to leave the Forum after the press conference without talking to any of his teammates but said he expected that they would forgive him once he apologized and explained his troubles to them. He might have been in for a rude surprise. Asked if he wanted to talk to Ceballos, point guard Nick Van Exel, the Lakers' other co-captain, replied, "Not really. He abandoned us.... If we want to do something [in the playoffs], we have to let it go, but it's going to be hard. He's a team captain, and he just walks out. It's hard to get past that."
And what of Magic? Despite Ceballos's insistence to the contrary, it was Johnson's return from four years in retirement, after testing positive for HIV, that seemed to have triggered his unhappiness. Following Sunday's game against the Hornets, a 103-94 loss in which Magic started and had 28 points, eight rebounds and five assists in 39 minutes, the 36-year-old Johnson sat in front of his stall in the locker room, shaking his head more in sorrow than in anger. "This has taken away from what I anticipated we were going to be about," he said. "It's hard for me to deal with this, with players doing things like this. Maybe I'm just old." When someone asked why he threw himself back into a league in which such irresponsibility is commonplace, Johnson answered, "Maybe I won't throw myself back in it next year."
Johnson was aware, however, that Ceballos wasn't the only player who didn't care for Harris's unpredictable rotation, which Harris attempted to rectify at practice last Saturday. He defined roles, naming Ceballos, Van Exel, center Vlade Divac, forward Elden Campbell and guard Eddie Jones the starters, with Johnson and guards Anthony Peeler and Sedale Threatt the top three reserves. "I think that [clarification] was missing," said Johnson, who prefers coming off the bench.
Very little has been missing from Johnson's game. After the loss to Charlotte, he was averaging 28.4 minutes,14.9 points, 5.4 rebounds and 6.7 assists, and although there were still some signs of rust--he occasionally throws up the air ball three- pointer--he has been playing remarkably well since he came out of retirement. Until Ceballos took his abrupt vacation, the fear that the Lakers' chemistry would be damaged by adding an element as powerful as Johnson appeared to have been unfounded. In fact L.A. had been a study in selflessness since Magic's return. The 44 assists they piled up in his first game back, on Jan. 30 against the Warriors, was at week's end still the highest single-game total in the league this season, as well as the most for the Lakers since 1986. In the 24 games since Johnson's arrival, the Lakers averaged 26.8 assists, compared with 24.8 in the 42 games before he returned.
But Johnson's effect is more obvious on the floor than on the stat sheet. His mere presence seems to cause other Lakers to make the extra pass. On a fast break against the Sonics last week, Campbell, who is having the best season of his career (at week's end averaging 13.7 points, 7.9 rebounds and 2.55 blocks), took a pass as he headed down the lane toward the basket. But instead of shooting, he immediately made a no-look touch pass to Jones streaking in on the wing for a dunk. "Before Magic came back, E.C. probably takes the shot, and maybe he makes it, maybe he doesn't, but he probably doesn't make the pass," said Divac after the loss to Seattle. "That comes from Magic setting the tone."
It is the kind of tone Johnson tried but failed to set in his 17-game stab at coaching the Lakers two seasons ago. He finds it much easier to get his points across while wearing a uniform. "They can tune you out as a coach, but not when you're a player and you're kicking their butt in practice," Johnson says. "See, I can tell Elden something about rebounding when I'm holding a whistle and a clipboard, and he'll probably remember it for a little while, but if I tell him something about rebounding after I've just taken a rebound from him, then he'll remember it for good."
To watch Johnson as he plays so effectively is to realize why he clung so tenaciously to his dream of a comeback. "I knew that I could still make a difference just with what I had up here," he says, tapping his temple. "I understand this game. I understand the angles of it, the little nooks and crannies of it." Johnson has pared his style to the point where not a single movement is wasted, as if he realizes he only has so many strides and jumps left in his career. And he has had to make other concessions to age. A calf injury that forced him to miss four games continues to trouble him, and he doesn't have the stamina of his younger years. When he started and played the entire first quarter at Seattle last week, he was winded when he sat down. Coming off the bench to play a maximum of 30 minutes a game seems the perfect role for him, which is one of the reasons why Ceballos's uncertain status was so potentially damaging. His absence played havoc with the Laker rotation and forced Johnson to spend more minutes on the court.
So far those minutes have come mostly at one of the forward positions, but Johnson thinks there is significant time at his old point guard spot in his future. "I think I can have more options and be more dangerous that way," he says. One potential danger, though, is ruffling the feathers of the talented and headstrong Van Exel. But so far Van Exel has adjusted admirably, ceding some of his control of the team to Johnson while losing none of his trademark cockiness. "I know there are a lot of people checking it out to see how I'm going to respond," Van Exel says. "And I know there are probably going to be times when Magic and I are both standing there with our hands out, calling for the ball. Believe me, I'm not going to change my game. Nick is going to be Nick. But I'm not a selfish player, and I know Magic's not. It won't be a problem."
At least it won't be as big a problem as, say, finding a phone was for Ceballos in Arizona.