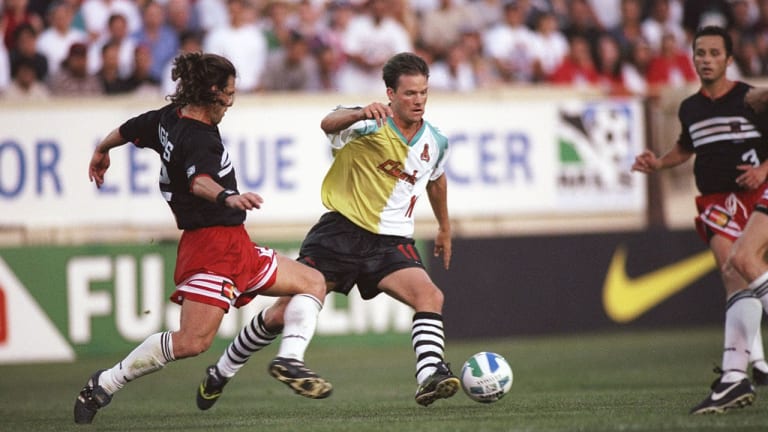 Goal-Poor
Major League Soccer promised U.S. fans high-scoring games but kicked off its season with a quiet night in the nets
Starting a professional soccer league from scratch turned out to be the easy part. The truly Herculean labor at the inaugural game of Major League Soccer was getting someone to propel one of the colorful new MLS balls into the back of one of the virgin MLS nets.
The sight of double goose eggs on the scoreboard 87 minutes into Saturday night's match between the San Jose Clash and D.C. United was more than a little embarrassing to MLS officials, who had assured their investors, their sponsors and the paying public that the league's games would be high-scoring affairs. How desperate were these men for bushels of goals? They had "incentivized" goal-scoring: cash bonuses for increasing the margin of victory. That was after soccer's international governing body, FIFA, regretfully informed the upstart league last February that it would not be permitted to increase the size of the goals, as discussed. (Note to MLS execs: FIFA will probably put the kibosh on blindfolding goalkeepers too.)
• BIRTH OF A LEAGUE: Oral history of MLS' first season
With 2:58 remaining in regulation, it was Waldo to the rescue. After gathering in a sweet pass from Clash teammate Ben Iroha, striker Eric (Waldo) Wynalda dribbled to his left, then put the ball through the legs of D.C. defender Jeff Agoos, a maneuver known in soccer parlance as a nutmeg. (Don't ask.) Having used Agoos for a croquet wicket, Wynalda neatly recovered his own pass and slammed the ball past goalie Jeff Causey for the game-winner. The 31,683 fans gathered in San Jose's Spartan Stadium went bonkers over the first and, so far, only goal in MLS history.
Despite the 1-0 final score neither team played the stultifying defensive game that so many Americans find soporific. The lack of firepower stemmed partly from the fact that it was so early in the season; the players were rusty and even unsure of one another's names. "Normally I'd be building on a nucleus of 15 players, bringing in three or four new guys," says Clash coach Laurie Calloway. "This year I'm trying to put together 18 guys, some of whom didn't know each other three days ago."
Rounding up players for the MLS was the task of deputy commissioner Sunil Gulati, whose first priority was to sign up U.S. national team members who had gained prominence during the 1994 World Cup: John Harkes, Cobi Jones, Alexi Lalas, Tab Ramos and Wynalda, to name a few. A full 75% of the league's players are U.S.-born. To complement this homegrown talent, Gulati spent much of the last year scouring Europe, Africa and South and Central America for international stars to lure to the MLS.
Many of the returning Yankees were lionized last week for doing their part to help the game in the U.S. Bully for them. In truth, though, most of these guys didn't need to be asked twice. For instance, it didn't sound like Lalas, the orange-goateed part-time musician who is a defender for the New England Revolution, was having that much fun playing in Italy. "Sometimes when you're a foreigner and you're not playing well," he says, "they can pretty much make you feel like a piece of crap." San Jose defender John Doyle, a veteran of the '90 World Cup, was underwhelmed by his surroundings in Leipzig, Germany. "I asked one of my teammates, 'Why is everything gray?'" Doyle says, "and he said, 'We have no paint.'"
In addition to signing the best U.S. players, the league inked deals with ABC, ESPN and the Spanish-language network Univision. (Counting regional broadcasts, 94% of MLS's matches will be televised this year.) That helped attract investors, as did the league's sound--if somewhat radical--business plan, which calls for "single entity" ownership (i.e., socialism) and a $1.13 million salary cap. This enables the league to avoid the suicidal salary war that doomed the North American Soccer League in 1985.
The late, lamented NASL was often held up last week as an example of how not to run a league, but there was no escaping the fact that the previous league tilled the soil for the current one. "We all grew up watching the stars of the NASL--Johan Cruyff and George Best and Pele--and we fell in love with the game," said Wynalda, "and then it disappeared."
The NASL vanished in part because it had virtually no homegrown stars, a category into which Wynalda clearly fits. Waldo spent last week holding forth on such diverse subjects as the dullness of baseball, the trouble with German players ("They're self-centered") and his fervent wish that Lalas would submit to a haircut ("You can't go to the mall with the guy"). Following his historic goal, however, Wynalda described the scoring play rapidly and with few details, like a man hurriedly ticking off his sins in a confessional. Later he explained his reticence. "Getting nutmegged--that's an embarrassing thing to have happen to you, and Jeff's my buddy," he said. "After you do something like that, it's just common courtesy not to talk about it."
Sorry, Eric. Sorry, Jeff. This is a goal they'll be talking about for years to come, or until someone else scores one. Whichever comes first.