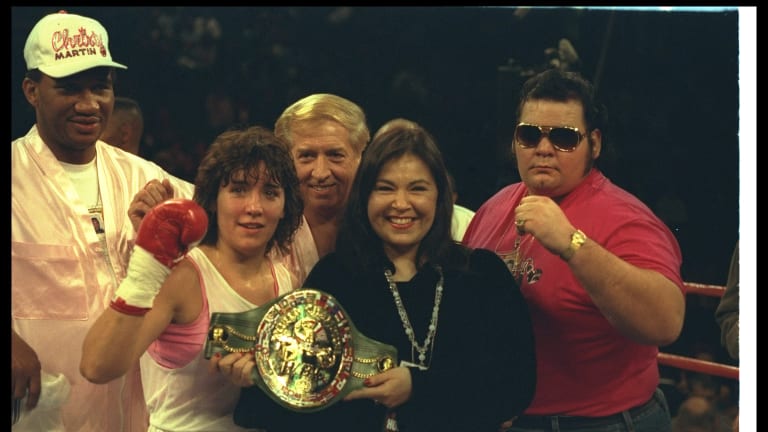 Gritty Woman
Christy Martin is knocking down stereotypes even as she refuses to champion the cause of women in the ring
Now that she's fighting on Mike Tyson undercards and appearing
on the Today Show (and Prime Time Live and Inside Edition and
Extra! and Day & Date) women's boxing has come to seem a fairly
acceptable idea, at least to the extent that boxing is at all
acceptable. But try to see it from Jim Martin's point of view,
six years ago, when Christy Salters appeared in his Bristol,
Tenn., gym with her horrifying little entourage. "My god," said
Martin, a former light heavyweight who had been training
fighters in small-time venues for 25 years. Examining the
embarrassment that was unfolding before him, he thought, I got a
lady in my gym, I got her mother in my gym, and I got a little
bitty Pomeranian dog in my gym. Women's boxing? This was not an
acceptable idea unless you were promoting virtual emasculation.
"So I had it all set up," he remembers, "to have her ribs broke.
A couple of ribs, anyway. But the boss shows up, the guy who
invited her out to the gym, so I thought I'd put that off for a
couple of days. How would it look if I had her ribs broke right
away? See what I'm saying? But I'm sort of a macho guy, and I
didn't think women belonged in the fight game. So there was no
question I was going to have her ribs broke."
But with his boss hanging around and hanging around, it was
difficult. And besides, he says, she was kind of showing him
something. She was tough without being, as he says, a "manly
type woman, if you know what I mean." And in her first few
sessions, she worked hard and listened to just about everything
he said, more so than his men fighters when he stopped to think
about it. Also, the mother and dog were gone after a few days.
So it came upon him that he wouldn't break her ribs after all.
And then came the next step in the ever-grudging relationship
between man and woman, the inevitable enlightenment that Martin
in particular enjoyed, the moment when generational and even
hormonal differences were swept aside. "You know what?" he
remembers thinking, suddenly liberated from his backward gender
bias. "I thought, Maybe this woman can make me some money."
A horrible story, of course, but this is how social progress is
made, in fits and starts and usually for all the wrong reasons.
Today Christy Salters Martin, in addition to being Jim Martin's
wife (a somewhat better story), has become an icon of gender
equality in a society that must now consider glass chins along
with glass ceilings. Yet the fact that Christy (35-2-2, with 25
KOs) has any credibility in this sport as a canvas-breaking
woman--and she does as the first woman boxer to be taken
seriously for her considerable skills in the ring, which are
regularly on display in Don King mega shows--is due entirely to
accidents of personality and circumstance, and not to gender
pioneering. Because, face it, Christy is not much more
freethinking than her husband when it comes to women's rights
and opportunities. The woman's movement? Slip the jab and
counter with an overhand right, that's one such movement.
This is a disappointment to people who see her fight and expect
to find easy answers to all those hot-button questions she
brings into the ring. A woman in boxing is unsettling enough.
It's one thing to encourage women to get out of the kitchen and
become doctors, quite another to allow them to appropriate the
testosterone-driven sports that men have traditionally enjoyed
(and that well-meaning people would hope to wean men away from).
And if it's not confusing enough to see her appear in a white
leather miniskirt at a news conference and then a blood-stained
jersey in the subsequent fight, what about this husband-wife
thing, where the Mr. sends the Mrs. into the kind of combat that
is traditionally reserved for the man, the breadwinner, the head
of the household?
The whole thing is disquieting and disturbing--and it goes right
over the Martins' heads. Because there is nothing calculated or
self-conscious about what they're doing. They are decidedly
old-fashioned in their sexual politics, and whatever causes they
advance are done so inadvertently, in service of the usual
interests: fame and fortune. "I'm not out to make a statement
about women in boxing, or even women in sports," says Christy,
27, who bridles at the media's attempts to cast her as a role
model, to assign so much purpose to her. "I'm not trying to put
women in the forefront, and I don't even think this fascination
[with women in the ring] has much to do with that. This is about
Christy Martin." For crying out loud (not that she ever would),
isn't that purpose enough?
So perhaps Martin is not one to lead the revolution, but for
now, she is not one to be ignored. Her appearance last month on
the Tyson-Frank Bruno pay-per-view card in Las Vegas got her
worldwide attention. Upwards of 1.1 million viewers saw her in
one of the main preliminaries, enviable product placement on the
second-most-watched card in pay-per-view history. And although
headlines the next day trumpeted Tyson's easy victory for the
WBC heavyweight championship, quite a bit of the watercooler
talk in the days following was of Martin's fight with Ireland's
"Dangerous" Deirdre Gogarty.
Not only was the bout between the 5'4", 133-pound Martin and the
5'7", 131-pound Gogarty more competitive than the typical
prelim, but it also had more action and better boxing than the
main event--Bruno clung to Tyson at every opportunity--and there
was gore to boot, all of it Martin's. After Gogarty rocked her
in the second round, Martin bled wildly from the nose; it was a
harmless injury but eye-opening for the fans who were expecting
Foxy Boxing. "She bled like a stuck pig," says her
trainer-hubby, proudly.
Despite the blood, Martin consistently landed solid shots with
both hands and won the six-round fight easily. Martin wins them
all with the kind of technically correct boxing her male
counterparts hardly bother with: sharp jabs, hooks to the ribs.
Like Tyson himself, she stalks her opponents from the opening
bell, seeking to make quick work of them (14 of her knockouts
have come in the first round). Perhaps because of the blood--but
also thanks to her relentless, aggressive style--she won over a
lot of fans in Vegas. She didn't stop, she didn't cry, she did
what every good fighter does, kept going. In her most visible
fight yet, Martin provided drama and excitement. It was
fascinating. No doubt some people were repulsed by the sight,
but many more were probably happy about seeing a pretty good
athletic performance. For sure, everybody was curious.
Afterward, almost before she could apply her makeup and wriggle
into her miniskirt (she shares her husband's aversion to manly
type women, if you know what we mean), she was fielding calls
from 60 Minutes and Late Show with David Letterman. "And it
wasn't even my best fight," she says.
Well, good luck to all the talk-show folks who expect her to
explain the Christy Martin phenomenon. She is not particularly
interested in women's boxing in the first place and doesn't
intend to spearhead the growth of the sport, or even support it.
As far as she can tell, there aren't enough women competing at a
high enough level to give the sport credibility. In fact, the
pool of talent is so shallow that there aren't enough women
fighters to provide sparring partners for her. The Martins feel
that if the other women boxers are good enough to spar, Christy
is better off using them as opponents instead.
"And all-women cards? I would never fight on one of those," she
says. "They seem too much like a ... sex thing." Nor is she
interested in any larger issues. In her view, a woman's place is
mostly in the home, except when she fights, of course. She's
proud to do Jim's cooking and cleaning for him (although Jim
admits somewhat sheepishly that he does the ironing) and expects
soon to quit the game and raise a family. The fact that she's
thriving in a male domain does not particularly impress her. "If
my house is on fire," she says, "I want Mike Tyson carrying me
out, not Christy Martin."
Still, behind this seemingly nonthreatening persona must lurk an
ambition that would impress the most liberated career woman.
Martin got into the sport on a dare, it's true, coming into the
game entirely by chance. But to fight the sexual prejudice in
boxing takes something more than woman's intuition.
Here's the story: An outstanding small-college basketball
player--she starred at Concord College near her hometown of
Mullens, W.Va. (where she truly was, as she is billed, a Coal
Miner's Daughter)--Martin was goaded by teammates and friends to
enter a local Toughwoman contest in 1987, during her freshman
year. It was kind of scary because the women were definitely of
the manly type, know what we mean, smoking and drinking right up
to their bouts. But Martin, despite having never laced up a pair
of gloves, used her athleticism and conditioning to defeat three
of the women and win $1,000. She won the contest in each of the
next two years also. After graduating early with a degree in
education, Martin was prepared to leave the whole experience
behind as a youthful indiscretion.
But then she got a call in 1991 from Larry Carrier, who was
promoting fights in Bristol and was looking for cannon fodder
for his woman fighter. Martin thought, What's one more week of
indiscretion, and signed on. Not knowing a jab from a hook, she
came out of Bristol with a surprising draw. "I only wanted to do
this once," she says, "but I guess I'm not a good loser." It was
no problem to lure her back for a rematch. When Martin won that
bout, Carrier suggested she move to Bristol. She figured she had
the rest of her life to teach school, so why not relax, take it
easy for a year? She moved, met Jim, didn't get her ribs broken
and, as their postfight pecks on the cheek came to be freighted
with more and more meaning, married him a year later.
The romance was a whirlwind affair, going against every one of
Jim's instincts, and those of some others as well. He was 25
years older than his 23-year-old bride and, well, Christy was
his fighter. "I'm old-fashioned, I admit it," he says. "But some
things you just can't stop."
Christy's career took more work. Everybody Jim called for a
booking laughed at him. "So, I'd tell the promoter," he says,
"'If you want my man fighter, you got to take my woman
fighter.'" Even at that, Christy sometimes had to fight for no
purse.
As much as she improved, she was going nowhere. Finally the
Martins, who by 1993 were living in Orlando, visited King when
he was promoting a fighting card in Fort Lauderdale. Jim urged
Christy to show the promoter a few moves, King emitted his
trademark "heh-heh-hehs" and, for reasons that nobody really
understands to this day, signed her to a four-year promotional
contract. It was probably reflex on King's part: He likes to
have everybody under contract. Also, he can't resist a story
angle, and Martin had three--the Coal Miner's Daughter who fights
in pink trunks and sleeps with her cornerman.
But once he had signed her, King wasn't sure what to do with
her. The first undercard King put her on, in Las Vegas in 1994,
made him noticeably nervous. He didn't dare attend the bout
himself, fearing it would blow up in his face. But after that
first-round KO was behind them all, Martin became a fixture on
all his big shows, because she performs well in the ring and at
press conferences. Shy by nature, Martin somehow musters
King-like bravado for those signature self-indulgence sessions
he likes to put on for the media. While promoting the undercard
for the Tyson-Buster Mathis Jr. fight last December, she caused
some of the sleepy millionaire fighters who shared the dais to
pick their heads up and blink in disbelief when she said, "I'll
open the show, and Mike will close it." Even Tyson was seen to
smile.
Those in the boxing community have been more supportive of
Martin than those outside. And not just the ring-card girls who
ask for her autograph. When curmudgeonly 85-year-old Johnny
Tocco watched her work out at his formerly men-only gym in Las
Vegas, he admitted, "It doesn't get any better than that."
Anybody who knows how hard it is to become a good boxer has been
impressed with the level of Martin's skill and her determination.
Yet nobody can be sure that she's as good at putting people in
seats as she is at putting fighters on theirs. Carrier, who
first promoted her, says his fans always hated his attempts to
present women's bouts, and he eventually gave up on the idea.
Certainly King does not mistake her for a main-event draw;
whereas Tyson got $30 million for the Bruno fight, Martin got
just $15,000. That was 50% more than she had ever gotten but
still left her career earnings for six years in the ring at less
than $100,000.
It may be that women's boxing, for all its growing popularity
among the athletes, won't grow beyond the sideshow status it has
sporadically enjoyed (though it must be noted that for the first
time in its 69-year history, the New York Golden Gloves included
a women's bracket last year). As more and more people resist the
idea of boxing in general, women's boxing certainly becomes an
increasingly pointless frontier.
Don't try to discuss this with Christy, though. And don't bother
Jim about it, either. They're unwilling case studies in this
little sociological experiment, just folks trying to get along
in a sport that somehow picked them. As they remind you, this
isn't about anything but Christy Martin, somebody who wants to
be the best at something. And if people don't want to pay to see
that, well, they can always watch somebody's main event instead.