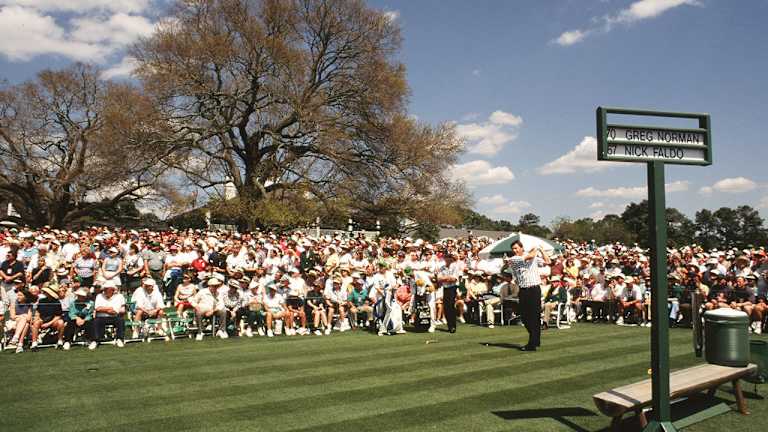 Master Strokes
Nick Faldo won a third green jacket but only after Greg Norman suffered the worst collapse in major tournament history
On the drive to the golf course she saw a graveyard, and she
secretly held her breath, closed her eyes and made a wish. When
your dad is Greg Norman you stop trusting Sundays and you start
working all the angles you can, six-shot lead or no six-shot lead.
But by the end of the day Morgan-Leigh Norman, 13, was just
another mourner in a green-carpeted funeral procession, a
red-eyed witness to the blackest golfing day of her father's
life, the day he somehow spent all six of those shots and five
more besides, stilled 50,000 people and turned a glorious spring
afternoon at the Masters into a 4 1/2-hour cringe. "I been to
several state fairs," an old Augusta native said, trudging home
in the dying light, "and I ain't never seen nothin' like that."
It happened so quickly, it was hard to say what had been seen. A
swing buried in a bunker at the start, three straight bogeys in
the middle, a Maxfli in the water at the 12th and another at the
16th. Suddenly Norman's greatest rival, Nick Faldo, was walking
past him straight into the green jacket that had been fashioned
all week for Norman.
The last 20 minutes were unlike any seen in the previous 59
Masters. Norman became a kind of dead man walking, four shots
behind and all his dreams drowning in Augusta National ponds
behind him. Spectators actually looked down, hoping not to make
eye contact, as Norman passed among them on his way to the 18th
tee. At the finish, as Faldo made a meaningless 15-foot birdie
putt, the champion was unsure how to handle it. He barely raised
his hands above his head, and he didn't yell or dance. He looked
like a man in the back of church who had won a clandestine hand
of gin. After he finally took the accomplice ball out of the
cup, he turned to Norman, hugged him long and hard and said, "I
don't know what to say. I just want to give you a hug. I feel
horrible about what happened. I'm so sorry." Both men teared up.
Even for Norman, who has a master's in how to lose these
things--from ahead to Tom Watson in '81, from behind to Jack
Nicklaus in '86, from nowhere to Larry Mize in '87, from
everywhere to Ben Crenshaw in '95--this was gruesome. So the
morning papers were right after all. They had predicted a
runaway, and they had gotten it. Only the idea had been to hold
an 18-hole parade in Norman's honor to make up for all the
broken hearts and second-place crystal he had lugged home over
the years. It would be his payback for having had to wait longer
than any champion for his green jacket (16 years).
The green-jacket ceremony, however, was conducted as though
Norman had been taken away by ambulance. "Our sincerest feelings
go out to Greg," said Crenshaw, the presenter. "I do feel sorry
for Greg," said Faldo, the recipient.
If you had been there the night before, you would not have
believed what would transpire in less than 24 hours. In
Saturday's third round Norman had stared down Faldo heroically,
played him head-to-head and increased his lead from four to six
shots. Afterward Norman relaxed in the dark of Augusta's
first-floor locker room, the one reserved for nonchampions. He
had been the last one off the course, and the attendant had
turned out the lights and gone home. Norman didn't know how to
turn them back on, so he just sat there in the dark, happily
drained. "Your last night in this locker room," a friend had
told him.
"Damn, I hope so," Norman had replied, laughing.
Then something eerie happened. A well-meaning British friend
accosted Norman, held him by both shoulders, grinned wildly and
said, "Greg, old boy, there's no way you can f--- this up now!"
Norman thanked him with a castor-oil smile and walked out into
the Georgia night alone.
This had seemed like a happy ending that even Norman couldn't
rewrite. Luck was supposed to have left him long ago and taken
the car and the dog with it, but this week luck had been back
with him, nuzzling his face. For instance, on Wednesday his back
was hurting so badly that he left the course two hours early,
unable to make much more than a half swing. "He was just so
frustrated," said his wife, Laura. "It hadn't happened to him in
forever. He kept saying, 'Why now, of all times?'"
So who calls up out of the blue? Fred Couples. He had heard the
Shark was ailing, and he offered to send over his back
therapist, Tom Boers, to fix him up. Boers is the
miracle-thumbed genius who had fixed Couples up two weeks
earlier, allowing him to win the Players Championship. He fixed
Norman up too. On Thursday the Shark opened with a
course-record-tying 63. Couples shot 78. "Well," said Couples's
fiancee, Tawnya Dodds, half kidding, "you picked a helluva time
to make Greg Norman feel like a million bucks."
On Friday, Norman had more Couples luck. At the par-3 12th, his
eight-iron caught the wind, hit a bank and began rolling back
toward Rae's Creek. Only it stopped inches from the water--a la
Couples during his '92 win--and Norman saved par.
Through three rounds, Norman's 63-69-71-203 put him at a garish
13 under par, six shots ahead of Faldo, seven beyond Phil
Mickelson, miles past everybody else. Faldo hadn't contended in
a major in two years. He is in the middle of a $12 million
divorce and a tabloid frenzy over his relationship with
21-year-old Brenna Cepelak, a former Arizona golfer. Faldo had
tried to make his move on Saturday, but Norman had shut him
down. Norman was more relaxed and playing more magnificently
than he ever had among the humps and hollows and biosphere domes
they call greens at the National. "I'd like to see ol' Norman
win," another Augusta native said on Sunday morning. "He's just
had this thing slud out from under him one too many times."
Still, there were some who went out of their way to note that
where there is a Saturday-night Norman lead (seven times in
majors), there are a whole lot of Sunday banana peels (only one
win). "If he blows this," ESPN's Dan Patrick said on Sunday, "it
will be the biggest collapse in modern golf history."
Faldo admitted that he did not expect to win. In fact, he was so
nonchalant about what he assumed would be Norman's coronation
walk that he got caught up watching auto racing on TV and showed
up at the course a half hour behind schedule, unthinkable for
someone as meticulous as he is.
But from the beginning on Sunday something in Norman's swing
made you squirm. He hooked his drive at 1 into the trees and
made a bogey. There was a nasty par save on 3, a bogey on 4 and
a god-awful pull on 8.
Faldo, meanwhile, was as steady as rent, making two-putt par
after two-putt par. (He three-putted once all week.) He drilled
a four-footer on the 6th for a birdie and a 20-footer on 8 to
cut the lead to three. Then came the most catastrophic four golf
holes in Norman's life.
His wedge came up six feet short of the pin on the rockface that
is the 9th green and slid 30 yards back toward him, an ignominy
from which he couldn't save par. Two-shot lead. Still, Norman
had riddled the back nine all week: He had played those holes in
11 under going into Sunday. If ever a back nine could be a
safety net, this was it.
It wasn't. On the 10th Norman put a butcherly stroke on a simple
uphill chip, sending the ball eight feet past and missing the
putt for a bogey. "That's when I knew," said Faldo, "things were
going to be tight." One-shot lead.
Up on the hill Nick Price, Norman's best friend on the Tour,
left the clubhouse looking pale. "I can't stand to watch," he
said and headed to his car.
It got worse. At 11 Norman hit two perfect shots and a sweet
10-foot putt that lipped out. Then the three-foot tiddler coming
back also stayed stubbornly out. No-shot lead.
Now there was an uneasiness among the dogwoods, a sickening
feeling, as Norman came to the one hole you do not want to come
to after blowing a six-shot lead. It is the 12th, the Drew
Barrymore of par-3s: small, gorgeous and sheer trouble. Norman
had left that one ball on the bank on Friday and another in the
water on Saturday, and the way he was swinging, the green must
have looked like a TV tray.
"His routine is so different," said Faldo's coach, David
Leadbetter. "He's standing over the ball an incredible amount of
time. I'd say he's spending six, seven seconds longer per shot,
fidgeting, moving around in ways I've never seen him do."
Behind Greg, Morgan-Leigh was praying and trying to calm Laura.
"It's gonna be all right, Mom," she said. It might be, in time,
but the shot definitely wasn't. Norman pushed it right of
Faldo's ball, which sat happily on the green, and then watched
as it slud back into the pond. Sorry, only one Couples Cling per
Masters. Double bogey, Norman's fifth straight 5. For the first
time all week he did not lead. Unfathomably, Faldo led by two
shots. In five holes Norman had handed Faldo six shots.
The players traded birdies at the par-5 13th, Norman letting
himself get talked out of going for it in two by his caddie,
Tony Navarro, who argued that to hit a shot 213 yards off pine
needles was asking too much of a man who had hit five greens all
day. Norman and Faldo traded pars at 14 and birdies at 15,
Norman missing an eagle by an inch with his chip on 15. As the
ball crawled by the hole, Norman fell to his knees and then
arched back on his haunches so that he looked like the
vanquished Y.A. Tittle in that famous photograph. Then he
toppled over, shot by an imaginary bullet. "Really thought that
was in," he said.
So the world's No. 1-ranked player had three holes to make up
two shots and avoid being the answer to the question, Who blew
the biggest final-round lead in a major? "I needed to hit a hook
in there," he said. "I sure hooked it." It was left. It was wet.
Double bogey. Faldo by four.
Golf is the cruelest game, because eventually it will drag you
out in front of the whole school, take your lunch money and slap
you around. Golf can make a man look more helpless than any
other sporting endeavor, except perhaps basketball when you
air-ball a free throw in the clutch, and nobody we know has
air-balled free throws for an afternoon on national TV. Norman
shot 78. He had taken his glorious victory parade and driven it
off a pier.
Afterward Faldo, whose 67 was the best score of the weekend,
still couldn't believe what had transpired. Cepelak went back to
their rented house to change for the traditional champion's
dinner, and Faldo was left to wait outside Butler Cabin in the
dusk, shoeless and almost wordless. "An amazing day," he said
quietly, shaking his head. "Amazing. I don't know how it
happened. He had played so great. It was the strangest turn of
events I've ever seen. I genuinely feel for the guy. I feel so
sad for him."
Cepelak is new at this business of escorting greatness to
functions. When she came back, she kissed Faldo and said, quite
seriously, "What are you going to wear?"
"What do I wear?" Faldo said with a grin. "Well, I've got a
little something right here." He pulled on the cuffs of his
Fashion Don't, the green jacket you cannot trade for with
helicopters, Ferraris or money.
This day will wear on Norman forever, like it or not. This
Masters will not be remembered as the third in Faldo's string of
blazer thefts (he has come from three, five and six shots behind
on the last day to win). Sunday will be remembered as the day
Norman carved a little monument as the most tragic Masters
figure since Roberto De Vicenzo, who signed an incorrect
scorecard after tying for the lead after 72 holes in 1968 and
penciled himself into infamy.
"I screwed up," Norman told the world's press, smiling. "It's
all on me. I know that. But losing this Masters is not the end
of the world. I let this one get away, but I still have a pretty
good life. I'll wake up tomorrow, still breathing, I hope." He
paused and then added, "All these hiccups I have, they must be
for a reason. All this is just a test. I just don't know what
the test is yet."
Later, as he was packing a red Suburban with Laura and
Morgan-Leigh and his eighth second-place finish in a major and
his third second in a Masters, he no longer looked like anything
close to a million dollars. But whatever this day had done to
him, it hadn't destroyed him. He is golf's black box, its
unmeltable survivor. "I'll win here," he said. "I will.
Something great is waiting for me down the line in golf. I don't
know what it is, but I have to believe that. If I don't, hell, I
might as well put my clubs away for good."
There were handshakes and keep-your-chin-ups all around, but
something changed in Norman's face as he started the engine.
Something in his eyes. Nobility and chins are easy enough to
keep up in front of the crowds, but the more alone you get, the
heavier they become.
And as her father wheeled slowly down Magnolia Lane,
Morgan-Leigh probably didn't notice the Sunday newspaper in the
back of the Suburban. She probably hadn't read in it what she
will learn someday in school, that 84 years ago, on this same
April 14, another unsinkable ship on its way to certain glory
listed, gurgled and sank.
The Titanic.