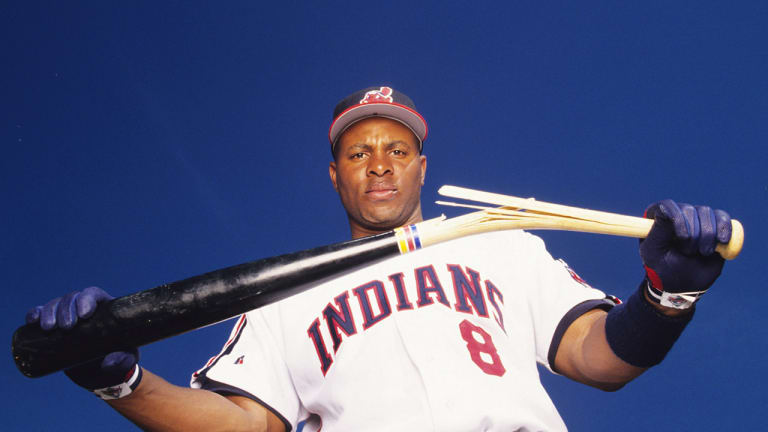 He Thrives on Anger
Albert Belle is all the rage in Cleveland, because he can turn his fury into prodigious power at the plate
You're walking up a wide set of steps, sun-drenched concrete under your feet. The clubhouse door at the Cleveland Indians' spring training complex in Winter Haven, Fla., pops open, and through it tumbles the awesome personage of Albert Jojuan Belle, the Indians' 29-year-old slugger. You see his face. It is cherubic, intelligent, at odds with his reputation (which is for surliness) and with the rest of his body (which is built for war). He's on his way to the weight room, and he's falling into the effortless half-trot of the elite athlete. His arms bend and his shoulders rise, and he's about to pass you, a stranger, when he says three words that let you know he knows there's life beyond his own.
He says, "How you doing?"
Albert Belle is capable of small kindnesses, and in small kindnesses there are whole worlds.
Mostly we hear about his rudeness, his anger, his temper. He once refused to shake the outstretched hand of Dr. Bobby Brown, the former American League president. He once chased trick-or-treaters off his property with his car, threatening to kill them if he caught them. He once fired a baseball into the chest of a spectator.
If you had the chance to ask Belle about these incidents, he would tell you they didn't begin with him. Brown's repeated suspensions of Belle were, to the player, unjustified, so why should he shake the man's hand? The trick-or-treaters egged his home and embarrassed him in front of his visiting parents. The spectator goaded Belle, a recovering alcoholic, about drinking, and the leftfielder snapped.
But Belle won't talk about the events of his life. He won't let you find out who he is. Politely you ask him for an interview. Earlier on this March day he said, "How you doing?" recognizing you as a fellow human being. Now he knows why you exist. He says, "SPORTS ILLUSTRATED can kiss my black ass."
Belle's friends, relatives and teammates are left to explain the man, which is not easy. They can illustrate his perfectionism (he has followed a homer with a trip to the batting cage, upset that he didn't catch all of the home run ball), but they don't know where it springs from. They can tell you about his intense drive (he wants to be the highest-paid player in baseball), but they don't know its roots. They say he is often playful and loose (when you hear singing in the Indians' clubhouse, it's often Belle), but they also say his capacity for anger is ever present. They're wary of delving into the source of that anger, but they know the feeling is real--and, to Belle, useful.
Last October, when the Indians played the Atlanta Braves in the World Series, Cleveland lost the first two games. Belle had just one hit, a soft single, in those games, but it was his bland response to his ineffectiveness that left his teammates worried. They wanted to see his anger erupt again, and his bat along with it. In the aftermath of the second loss, Omar Vizquel, the Indians shortstop, reminisced about Belle's heaving watercoolers and smashing telephones. Kenny Lofton, the Indians centerfielder, said, "Albert has not been as frustrated as I want him to be. I want to see him break a bat." But Belle--or Snapper, as he was known early in his career--spared the wood. He went for a television reporter instead.
More than two hours before the third game of the Series, Hannah Storm of NBC, along with other reporters, felt the leftfielder's wrath in the Indians' dugout. According to witnesses, Belle walked in and started shouting, "All you media a-------, get the f--- out of here now." Most of the reporters left, even though their presence was sanctioned by Major League Baseball. Storm, preparing to conduct an interview, stayed.
"I'm talking to you, you a------!" Belle screamed at Storm. "Get the f--- out!" Storm did not budge. Belle's tirade lasted five minutes. Only when he was finished did Storm begin to shake.
Belle drove in his first World Series run in Game 3. In the next game he hit a home run. In the game after that he homered again. "He uses his emotions to propel him," says Frank Mancini, an Indians clubhouse attendant and one of Belle's closest friends. "Especially anger."
On Feb. 29, Major League Baseball announced that Belle would be fined $50,000, a record, for his outburst against Storm. He was also directed to undergo intensive anger-control counseling. Belle was outraged at the fine. The next day, in Cleveland's first exhibition game, he homered in his first at bat, off New York Yankees ace David Cone. "Albert thrives on his anger," Mancini says.
In 1994 Belle was suspended by Brown for seven games for using a corked bat. When Belle returned to the lineup he was not contrite, as another player might have been. He claimed he had never used a corked bat. He said he was being singled out. He was furious, and his bat sizzled. In the next 20 games, before the players' strike ended the season, Belle batted .476 and crashed 10 homers.
"He looks at a game as a battle," says Mancini. "It's war. Anybody who's not on his team is against him. That's the enemy."
The most convenient enemy for Belle is the press. Newspaper reporters, TV and radio interviewers and magazine writers are often around the Indians' locker room. Belle cannot control them, and he is a man, his friends say, who needs to be in control. The press interferes with his pregame routine, Belle says, and he is manic about his pregame routine. So he has taken a defensive position: When notebooks and microphones hover at his locker, he often becomes surly and rude. And then, Belle's friends say, he wonders why so many of his press clippings are negative.
On April 6, after photographers on assignment for SI had focused on Belle during the opening week of the season in preparation for this article, Belle threw two baseballs at Tony Tomsic, one of the magazine's photographers on the field. One ball cut Tomsic's hand when he raised it to protect his face. Tomsic was treated in the Indians' clubhouse and did not file a complaint against Belle, but after the incident came to light two weeks later, Belle was summoned to the American League office in New York City on April 24.
To Belle the most offensive thing about the press is its intrusion into his personal life. He is a guarded individual, and there are subjects he doesn't want to address in public. He doesn't need or want attention. He wants to be measured solely by his baseball accomplishments.
Belle's lone sibling, his fraternal twin, Terry, is his public relations adviser. Like Albert, Terry has a good head for numbers. He has an MBA, and he has been calculating how much money his brother loses in potential endorsements because of his bad press. Terry seeks to improve his brother's image. "Is this story going to have the word alcohol or Halloween in it?" Terry asks a writer.
Probably, he is told.
"Then he's not going to talk to you," Terry says.
Halloween is a reference to last Oct. 31, when several teenage trick-or-treaters, after being informed by Belle's father that there was no candy for them, pelted Belle's suburban Cleveland home with eggs. Belle called the police and said, in a tape-recorded conversation, "You better get somebody over here, because if I find one of them, I'll kill them." Belle then ran the teenagers off his property in his Ford Explorer. Later he was found guilty of reckless operation of a motor vehicle on private property and fined $100.
Alcohol is a reference to Belle's sketchy drinking history. During the 1990 season he spent two months at a hospital called the Cleveland Clinic, where he received treatment for alcoholism and counseling in temper control. Since he left the program, Belle has said, he hasn't had a drink. But his temper has remained erratic.
When he entered the program Belle was known in his family as Joey, a shortened version of his middle name. He emerged from the Cleveland Clinic as Albert, a name he shares with his soft-spoken father, a retired high school coach. The new name was supposed to symbolize a fresh start. The ballplayer's strong-willed mother, Carrie, a retired math teacher and a devout Baptist who remains a primary influence in Albert's life, resisted the name change; she saw no reason for a second beginning for her first-born son. But when he left the hospital, he made a public statement under the name Albert Belle: "While in the clinic, I discovered that I have had problems with concentration, motivation, attitude and temper. I have found a new way of life through the clinic's program and a 12-step recovery plan."
Some people who know Belle believe his aftercare statement was disingenuous. Concentration and motivation have never been his weaknesses. "When they coined the term tunnel vision, they had Albert in mind," says Mike Hargrove, the Indians' manager. Some of Belle's former coaches--in Shreveport, La., where he was born and raised, and later in college--agree.
As for alcoholism, Belle's college coach and his mother, among others, never saw any evidence that he had a drinking problem. But during his first three seasons of professional baseball, most of which he spent in the minors, Belle struggled with his own expectations and became, according to a person with knowledge of Belle's treatment, a closet drinker, imbibing in the privacy of his room and sometimes showing up for work the next day hung over and moody. In one tantrum, his last before entering the clinic, he dislodged a porcelain sink from a clubhouse wall and smashed it to pieces with a bat.
The Indians were eager to get Belle's psychological house in order. They felt Belle could become a big-time big leaguer if he could get his head together. Indians officials confronted Belle and coaxed him into the clinic, where doctors and counselors said he exhibited alcoholic tendencies. In time Belle came to believe that himself. For a man whose pride is said to be colossal, the admission of a flaw was wrenching.
The Indians were relieved. Alcoholism gave a socially acceptable name to erratic behavior; it gave the Indians' management hope. Carrie Belle never believed it. "Joey goes along with it because if he doesn't, the Indians will dump him," she said after he left the clinic. (She declined to be interviewed for this story.) The Indians took Carrie's phone calls, heard her out. But they were convinced they had the problem licked. They still feel that way.
"He had a problem, and he came to terms with it," says John Hart, the Indians' general manager. "That's in the past. Albert Belle is the most popular player in Cleveland. He does what we pay him to do."
The general manager is a practical man, not prone to psychobabble. "We ask ourselves, What has this guy not done for the organization, except be accessible to the media?" Hart says. "He's done everything. We support our players; we are a family. Ninety-five to 98 percent of the time, Albert's a delight to be around. The times he's not, we deal with it, internally, like a family. We hope we have him for the rest of his career. He'll probably play until he's 40. And he's going to have one of the most prolific offensive careers in baseball history." Maybe so, but three weeks ago the Indians broke off contract negotiations with Belle after he reportedly rejected a five-year, $38 million offer. The deal would have made him the second-highest-paid player in the game, behind Ken Griffey Jr. Unless Cleveland re-signs Belle, he will be a free agent at the end of the season.
Belle is the rare modern player who is actually a student of baseball history. He knows numbers, knows what Hank Greenberg and Jimmie Foxx and Henry Aaron had accomplished by the time they were 29. "He knows his baseball history because he wants to be part of baseball history," says Dan O'Dowd, the Indians' assistant general manager. "When he was a minor leaguer, like most minor leaguers, he was selfish. Now he knows that great players are usually associated with great teams."
Major league scouts and managers classify Belle as an adequate leftfielder, maybe slightly below average, with an ordinary arm. He runs well for a big man--he's 6'2", 210 pounds--and in one season, 1993, he stole 23 bases. But his earning power comes in the batter's box. As the Indians' cleanup hitter, Belle has been central to the team's ascent over the past five seasons. During that period he led all of baseball in homers, with 186, and was second in runs batted in, with 563, only one short of Chicago White Sox first baseman Frank Thomas.
Belle hits for average (he's a career .291 hitter), he hits with power to all fields, he's willing to hit behind the runner. He's a righthanded line drive hitter with a classic compact stroke. This season, as of Sunday, he is hitting .322 with nine homers and 21 RBIs. Last year, in only 144 games, he had 50 homers and 52 doubles, becoming the first player in major league history to reach 50 in both categories. And he plays his home games in a park that doesn't reward righthanded power. He was the runner-up, to Mo Vaughn of the Boston Red Sox, for last year's American League MVP award. The prize is voted by members of the Baseball Writers Association of America. Do you think Belle even had a chance?
The Indians have no significant reason to worry about Belle's strained relationship with the press, for Belle is immensely popular in Cleveland. His popularity is rooted in his greatness on the field and the victories it brings. There's even a candy bar named for him. But the Indians worry whether Belle's volatile nature will interfere with his productivity. They recognize that his behavior, at times, makes no sense.
Consider, for instance, Belle's recent spring training experience with Roy Firestone, the ESPN interviewer, who spent three days in Florida in March gathering material for a profile of the player. Belle was given a memo from an Indians public relations official reminding him that the interview was scheduled for the third day of Firestone's stay and noting that Firestone would avoid Belle's least favorite subjects. In the hours leading up to the interview Firestone was almost jubilant, telling reporters in the Indians pressroom how eager he was to portray a side of Belle that is seldom seen. Then Belle, without giving a reason, blew off the interview. As Firestone and a four-man crew waited, Belle jumped in his truck and split. Firestone was furious. He picked up the phone. He called Belle's agent. He called Hart. He called an official in the players' union. After speaking with the official, Firestone relayed this: "He says to me, 'The problem is, you think you're dealing with a rational person. You're not.'"
Others have used stronger language. During the 1994 season Bud Shaw, a sports columnist for the Cleveland Plain-Dealer, wrote a piece describing how Belle records the outcome of all his at bats on index cards, which he stores in his locker. After the piece appeared, Belle saw Shaw and went berserk, spewing profanity and accusing the columnist of rummaging through his locker. Shaw tried to stay calm; he told Belle he had never touched the locker. Belle became angrier; he got in Shaw's face. The two men were nose-to-nose, and it appeared that the confrontation would become physical when Sandy Alomar Jr., the Indians' peaceable catcher, wrapped his arms around Shaw and pulled him away. The catcher, according to two people who were present, told the newspaperman, "You don't understand. He's crazy."
Crazy is not a clinical term, and Alomar is not trained in psychology. But the catcher's meaning was clear: You cannot know what Belle is going to do. And Alomar likes Belle, likes him a great deal. "He's one of the most popular guys on this team," Alomar says. "There's nobody in here who wants to produce more than he does. Nobody wants to win more. He's just very intense."
And very complex. Even to his friends, Belle can be sharp and biting, sometimes mean. But when Cleveland pitchers Tim Crews and Steve Olin were killed in a boating accident during spring training three years ago, Belle was a spiritual fortress for his teammates, leading them in prayer.
Autograph sessions are a nightmare for Belle. He doesn't enjoy signing, but he does it regularly, sometimes for an hour or more. At the end of one recent session there were fans who had not gotten autographs. One fan yelled, "What about me?"
Belle responded, unpleasantly, "You should have been here earlier." Then he ducked into the clubhouse, where he spent the next 10 minutes worrying about having been caustic with a kid and wondering about the value of signing at all.
"When people only want things from you, that causes you to go into a shell and lock everything out," says Belle's friend Mancini. "He's done that."
Mancini, one of Belle's regular golf and chess partners, says the player has developed a fundamental mistrust of people--clamoring autograph seekers and intrusive representatives of the press in particular--because they always want something from him, and he realizes that no matter how much he gives, it won't be enough. "I spend four months a year in Third World countries," Mancini says. "There are a lot of beggars. The first time they ask you for money, you might give them something, but by the fifth time you reach a breaking point. So finally you say, 'No!' Then they don't come back. That's Albert. If he doesn't want to give an interview or an autograph, he says, 'No!' He says it in a way that you know he means it."
Their friendship, Mancini says, is rooted in shared feelings about the role of Jesus in their lives. (Most days Belle's only jewelry is an ornate gold crucifix.) Mancini says the real Albert Belle may be found on days off, when he's at his Cleveland church, Liberty Hill Baptist, and when he talks to teenagers at schools about the perils of drinking. Belle's true self, Mancini says, is also revealed in his extreme closeness to his parents and brother, and in his relationship with his longtime girlfriend, Julie Shimko, formerly an administrator at the Cleveland Clinic and now a graduate student. "He knows that she doesn't want anything material from him," Mancini says. "And she sees the good in the man: that he's loyal, caring and sensitive."
Sensitive is not the first word most people associate with Belle. It is the first one that comes to Mancini. "One time we're in the batting cage, preparing for a game, and he's incredibly focused and intense before a game," Mancini says. "He sees something in my eyes, from a distance of 60 feet, and says, 'You're really down, aren't you?' And I say, 'Yeah.' And he says, 'Your dad?' And I say, 'Yeah, he's really sick, because of his drinking.' And he says, 'Do you want me to talk to him? I know I can help him.' I've been around professional athletes. Most professional athletes are just not like that."
Belle is not only sensitive. He's also funny. "He's very funny," says Dave Nelson, the Indians first base coach and a friend of Belle's. "He's got routines." One is a rap song called Potbelly Nellie that Belle composed and performs on bus rides. Another of his routines is a demonstration of how Nelson's waistline has expanded during his years with the Indians. Belle sprints to the coach's box to depict Nelson in 1992 and then does a heavy-legged trot to depict the coach now. Belle also does, according to Nelson, a killer imitation of the coach's Midwestern diction. Still, despite their friendship and their constant, playful needling of one another, Nelson is not exempt from Belle's tantrums.
"Albert's snapped at me," Nelson says. "He's gone off at other coaches. You never know which Albert's going to show up. Sometimes he's laughing with everybody, sometimes he wants to be off by himself, doing the crossword puzzle. It's hard to understand what makes him tick. He's extremely proud. He doesn't say he's sorry easily. People want him to apologize with tears. He's not going to do that. But there are more positive aspects to him than negative ones. I love him."
Over the years Nelson has won Belle's trust. So have Lofton, Mancini and Shimko. But few others have. Lofton and Nelson agree with Mancini that mistrust is a fundamental part of Belle's personality.
It wasn't always. Growing up in a middle-class section of Shreveport, Belle gave no signs of becoming the public misanthrope he is today. "I remember after one of Joey's high school playoff games, he and Terry came running after my truck, real exuberant and yelling, 'Hey, when's this going to get in the paper?'" recalls Teddy Allen, then a young sportswriter for The Times of Shreveport. "Joey was a good guy."
Which is not to say he was ordinary. "I brought him up to excel in everything," Carrie Belle once said. At Huntington High he ranked sixth in a graduating class of 266. He was an Eagle Scout and an all-state baseball player, and every Sunday he was at Galilee Baptist Church. (Today, a modest baseball stadium behind the church is being restored and will be named for both Belle and Riley Stewart, a Negro leagues player from Shreveport.) People in Shreveport who know Belle say he was sheltered and pushed by his mother.
"He wants to be perfect," Carrie once said. And when he wasn't, he would throw bats, helmets, tantrums. Old baseball hands will tell you that the game is about handling failure as much as anything, and in this regard Belle showed little promise. Even though his physical gifts were impressive, professional baseball ignored him when he came out of high school, and few big-time college programs recruited him. An exception was Louisiana State, in Baton Rouge, about 4 1/2 hours down the road from Shreveport. LSU coach Skip Bertman signed not only Joey but also Terry.
Joey spent three years at LSU, and in those years Bertman, who is the U.S. Olympic baseball coach, sensed in him extreme anger and low self-esteem. He thought Joey needed counseling. He knew Carrie would have to approve it. She rebuffed him, Bertman says, though Carrie denies ever discussing the matter with him. According to Bertman, Carrie said, "People will talk."
Joey knew trauma at LSU. During his junior year Bertman pulled him out of a game after he had struck out and flung his bat. While Belle was standing on the top step of the dugout, pulling off his batting gloves, a spectator yelled, "Nigger!" Belle seethed, but he said and did nothing. Bertman tried diligently, he says, to learn the identity of the offending spectator, but he was unsuccessful. Later, according to the coach, Belle came to believe that not enough was done on his behalf, and the incident contributed to the mistrust that is so characteristic of him. Carrie, Bertman adds, had a fundamental mistrust of whites. Although Carrie denies it, Bertman says, "The attitude she conveyed to Joey was, Don't let the white man sell you short. Given the history between blacks and whites in this state, it's understandable."
But what most upset Belle, according to Bertman, was that the coach benched him during the 1987 College World Series for repeatedly failing to run out balls and for throwing bats and helmets. The pro scouts knew that Belle's stroke was a thing of beauty, that his numbers were spectacular, that his commitment to improvement was intense, that he was competitive in the extreme, that he had big leaguer all but tattooed under the brim of his cap. He looked like he would go high in the first round of the draft. What the scouts couldn't understand was why Bertman would drop his best player for the team's most important games.
The Atlanta Braves' scouts decided that regardless of Belle's talents, they would not draft him in any round. They concluded that Belle had no respect for anybody or anything. Other teams became nervous, too. Belle was not drafted until the second round, which might have cost him as much as $40,000 in signing bonus money. Belle, however, believed it cost him more. He was angry then, and he's angry still. After learning that a writer had talked to Bertman about him, Belle told the writer, "What the f--- are you doing that for? F--- LSU."
Others say Belle was changed by his LSU experience. Allen covered Belle during those years for the Times-Picayune of New Orleans. Early in Belle's rookie season in the minors, the paper sent Allen out to catch up with Belle. The player didn't want to talk. Allen had seldom known Belle to be silent. "But what about the folks in New Orleans?" Allen asked.
"F--- the people in New Orleans," Belle said.
"Joey Belle, as I knew him, was gone," Allen says. In his place was an enigma.
Bertman believes that for all of Belle's drive and intensity, there's a basic aspect of his personality that is not suited to the pressure of major league baseball, the pressure of expectations, the pressure to perform, the pressure to satisfy his mother. He rebels by being rude and disrespectful, even antisocial. The Belle who uses corked bats, Bertman believes, is the one overwhelmed by his need to succeed. Remove Albert from the world of baseball, and he's Joey again, pleasant and witty and smart. But with each home run, with every new success, Belle's profession becomes a more central part of his identity.
"In his junior year, when the talk of the baseball draft started, he realized for the first time that he was in a position to make a lot of money as a ballplayer, and you could see the pressure mounting in him," Bertman said. He had been talking about Joey Belle for an hour now. The breakfast crowd in a hotel dining room had cleared out.
"I always tried to do the right thing by him," Bertman continued. "I know he hates me. If he needs that hate to succeed, it's fine by me. I always liked him. He was a good kid. He just had a hard time with the pressure."
The old baseball man made a fist and grimaced. "The pressure, the pressure, the pressure."