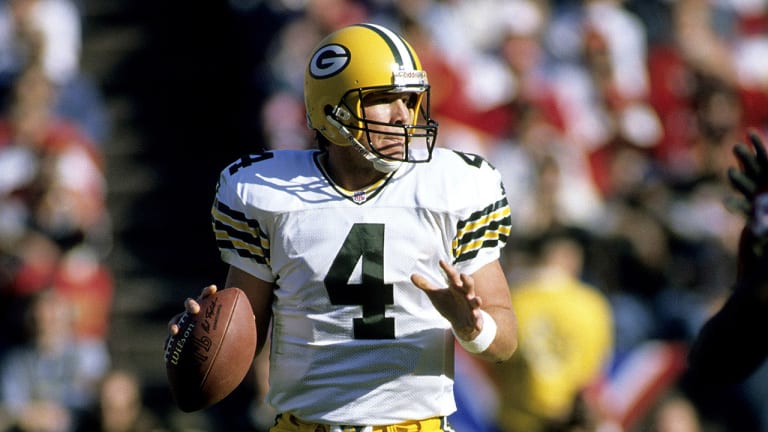 Brett Favre Details How the Pain of Playing in the NFL Led to His Addiction to Painkillers
Green Bay Packers quarterback Brett Favre can pinpoint when, where and why he got scared straight. It happened on Feb. 27 in room 208 of Bellin Hospital in Green Bay, where he had just undergone surgery to remove one bone spur and several bone chips from his left ankle. One minute Favre, the NFL's MVP last season, was talking to his girlfriend, Deanna Tynes, their 7-year-old daughter, Brittany, and a nurse. The next thing he knew, there were tubes and IVs coming out of him everywhere.
He doesn't remember the 20 minutes in between, during which his limbs thrashed, his head banged backward uncontrollably, and he gnashed his teeth. During those minutes his body told him in a loud wake-up call to stop popping painkillers as if they were Lifesavers. He never heard Tynes scream to the nurse, "Get his tongue! Don't let him swallow his tongue!" He never heard a terrified Brittany ask, as she was being whisked from the room, "Is he going to die, Mom?"
After the seizure had ended and he had come to his senses, Favre looked into a sea of concerned medical faces and saw Packers associate team physician John Gray. "You've just suffered a seizure, Brett," Gray told him. "People can die from those."
Favre's heart sank. Upon hearing from doctors in the room that his dependence on painkillers might have contributed to the seizure, he thought, I've got to stop the pills, I've just got to.
Last season Favre went on such a wild ride with the prescription drug Vicodin, a narcotic-analgesic painkiller, that Tynes feared for his life. He scavenged pills from teammates. At least once he took 13 tablets in a night. But on Tuesday of last week, during his final telephone call before entering the Menninger Clinic, a rehabilitation center in Topeka, Kans., to treat his dependency (and also to evaluate his occasional heavy drinking), Favre told SI that he hadn't taken Vicodin since the seizure. "I quit cold turkey," he said, "and I entered the NFL substance-abuse program voluntarily. I don't want a pill now, but I want to go into a rehab center because I want to make sure I'm totally clean. The counselors I've seen think it's best for me. The one thing they've taught me is that there will always be a spot in your brain that wants it."
A source close to Favre told SI that Favre initially balked at entering a rehab facility. The source said Favre also did not want to comply with a demand from his NFL-appointed addiction counselors to sign a 10-part treatment plan that called for him, among other things, to stop drinking for two years. Favre claims he doesn't have an alcohol problem. However, the league's substance-abuse policy mandates that a player who turns himself in for treatment comply with his counselors' recommendations. Had he refused to sign the treatment plan and enter a rehab center, Favre could have been considered in noncompliance with the policy. That could have triggered the penalty clause, under which he could have been subject to a four-game suspension in 1996 without pay (which would cost him $900,000). So he signed the document, revealed the depth of his problem in a press conference in Green Bay on May 14 and traveled by private jet to Kansas at 5 a.m. the next day.
The news hit the quarterback-starved NFL hard. Favre is the newest star in the NFL galaxy, a fresh-faced 26-year-old savior with Bradshawesque leadership skills, charisma and Deep South backwoods likability. Outside of the Dallas Cowboys' Troy Aikman and Emmitt Smith, he's probably the most significant player in football, both for what he has done on the field at a young age and for what he means to the league long-term. Many of the NFL's star quarterbacks, including John Elway, Jim Kelly, Dan Marino and Warren Moon, are in the twilight of their careers, and most of the Generation Xers--Drew Bledsoe, Trent Dilfer, Rick Mirer, Heath Shuler et al.--are struggling to make an impact. Not Favre. In the last two seasons he has thrown 71 touchdown passes, including a team-record 38 in 1995. His two-TD machine-gunning of the San Francisco 49ers in a 27-17 playoff victory last January put the Packers in the NFC Championship Game, their first title contest in 28 years, which they lost to Dallas 38-27.
But in building the longest starting streak among active quarterbacks, 68 games, Favre has paid a painful price. He has had five operations in the last six years, dating back to a July 1990 car accident before his senior season at Southern Mississippi. "Brett's not coming out of the game unless a bone's sticking out," said Ty Detmer, his Packer backup of four years, who signed with the Philadelphia Eagles in the off-season.
Like many pro football players Favre would--almost without thinking--take a numbing injection or a painkilling pill to get through a game. It's tough to determine just how widespread this practice is, because painkillers aren't detected in annual NFL drug screenings. But in the wake of Favre's revelation, Robert Huizenga, a former team doctor for the Oakland Raiders and a past president of the NFL Physicians Society, said, "This is not an isolated incident. We want people to play hurt, and when someone doesn't play hurt, he's no longer our hero. We need a system where a physician, without fear of losing his job, can say to an athlete, 'The injury is not healed. You cannot play.'"
As he walked out of the Chicago Bears' training complex last Thursday carrying a small box of club-prescribed anti-inflammatory pills for a bulging disk in his back, linebacker Bryan Cox said that he thought half of the players in the NFL needed painkillers or anti-inflammatories to make it through a season. Phil Simms, who quarterbacked the New York Giants for 14 seasons before retiring in 1993, estimated that each NFL team would need a roster of 250 players to make it through a season if games were played with only healthy, nonmedicated players.
"I'm sure there are a ton of NFL players out there--I mean it, a ton--who'll watch me come out and say to themselves, 'Man, that's me,'" Favre said last week. "That's one reason I'm talking. I hope I can help some players get help. I realize now how dangerous it is to keep using these things."
It didn't seem so dangerous to Favre when he first experienced the wonder of painkilling medication, in his seventh NFL start, on Nov. 15, 1992, against Philadelphia. A second-year player at the time, he had separated his nonthrowing shoulder in the first quarter, and the pain was so intense that he didn't think he could go on. "I saw [backup] Don Majkowski rarin' to go, and if he'd gotten back in there, I may never have gotten my spot back," Favre said. "At halftime the doctors said, 'It's your choice, but we can shoot it up [with Novocain] without further injury.' I said, 'Let's do it.' They had to pull my shoulder out, and they stuck the needle way down in my shoulder. In a little while I didn't feel any pain. I played well, and we won the game. I thought, damn, that was easy."
He was thinking much the same thing in the wake of surgery in January 1995 to repair a herniated muscle in his right side. Doctors estimated it would take 12 months for the muscle to heal normally; Favre played a preseason game less than eight months after the surgery.
As the injuries mounted during the 1995 season, Favre began using Vicodin heavily. By Week 7 he had a throbbing turf toe, a bruised right shoulder, an arthritic right hip, a bruised left knee and a sore lower back. "I knew there was something wrong," Tynes said last Saturday. "He'd ask me to ask friends for Vicodin, but I wasn't going to do that."
Favre said he believed he was hiding his addiction well, but Tynes, then-Packers quarterbacks coach Steve Mariucci, and best friends and teammates Mark Chmura and Frank Winters sensed late in the season that he had a serious problem. Mariucci even told the Green Bay training staff to monitor Favre's Vicodin use. However, according to Tynes and Favre's agent, Bus Cook, in addition to the prescribed doses he received from the team, Favre also scored Vicodin from teammates who didn't finish their prescriptions and from doctors outside the organization, including one who had treated him for a past ailment. "I started finding pills everywhere," Tynes said. "I'd catch him throwing up so badly, I'd be looking for blood. And he didn't come to bed at a normal time all season long. He'd just sit there in front of the TV for hours. Sometimes I'd wake up at four o'clock and find him in front of the TV or playing solitaire on the computer. I'd say, 'What's wrong with you? You've got meetings at eight, and you haven't been to bed.'"
Despite the heavy use of painkillers, Favre was playing the best football of his life, and that complicated Tynes's efforts to get him to quit taking the pills. He was also working out like a madman with strength coach Kent Johnston. "I'm in the best shape of my life," he said in October. When Tynes would beg him to stop--she flushed down the toilet countless pills she found in his hiding places--he would reply, "Why should I stop what's helping me get through this?"
Said Chmura, Green Bay's Pro Bowl tight end, "We'd tell him time and again: 'You've got to cut this out.' But players think they're invincible, and Brett was no different. He'd be fine for the games because I think he didn't do much of it on the weekend. But some weekday nights he'd be zapped."
Tynes, whose relationship with Favre dates back to 1985, said she considered leaving Favre but worried that he might increase his Vicodin consumption if she did. Finally, at the Pro Bowl in early February, she demanded that he quit taking the pills. Favre promised he would. He didn't. At the ESPY Awards in New York on Feb. 12, she noticed that despite the fact he had not been drinking, he was slurring his words more and more as the night went on. When they returned to their hotel room Tynes confronted Favre. "Why are you acting like this? What have you been taking?" she said.
"I took a couple of Vicodins," he said.
"A couple? No way!" she said angrily.
"Well, five or six," he said.
"How many? Tell me the truth!"
"Thirteen."
Later, Tynes said Favre told a doctor he was in pain and that the Packers usually prescribed Vicodin for it. According to Tynes, the doctor wrote him a prescription for 30 pills and four refills.
"I was worried he was going to die," Tynes said.
She called Gray to tell him of Favre's dependency. Yet only after the seizure did Favre realize that getting professional help was the only way out.
For the next 2 1/2 months Favre was on a roller coaster, confronting the addiction in sessions with his NFL-assigned counselors in Chicago and New Orleans. Tynes said Favre has beaten himself up emotionally. In one down moment he told her, "I may be a successful football player, but I feel like such a failure. How could I let this happen?"
"He told me he could feel we were disappointed in him," said Chmura on Friday. "He told me if it took not drinking for two years to help beat this, he'd do it. I told him, 'No problem. We'll just drink Coke with our pizza instead of Miller Lite.'"
"Maybe I'll find out in two years I can drink," said Favre, who after he leaves rehab will be subjected to as many as 10 unannounced urine tests a month for drugs and alcohol. "I don't know. But I'll find out. That's what this treatment is for." Tynes, who was prompted to quit drinking as a result of Favre's problems, said that all alcohol will be removed from their Green Bay house. Among other things, that means emptying the rec room refrigerator, which was stocked with only one thing: light beer.
Oddly enough Favre may get help in fighting his addiction from the negotiation of a new contract with Green Bay. His current deal expires after the 1998 season, but the Packers are talking about extending it into the 21st century. The Pack may try to tie a significant bonus clause to a stipulation that Favre, who splits his time between Green Bay and his hometown of Kiln, Miss., make his off-season home in Wisconsin.
NFL player after NFL player last week expressed sympathy for Favre, who was worried he would be cast as a druggie if he stepped forward and admitted his addiction. "I'm not blaming anyone," he said. "It's my fault. The only reason I ever did this was because I had to. Had to. I had to play. Injuries have cost a lot of guys their jobs in this league, and there was no way an injury was ever going to cost me my job. Then it just got out of hand."
Said Arizona Cardinals quarterback Boomer Esiason, "The worst thing in this league is getting an injury tag. I hope this opens the eyes of some players, but I doubt anyone will show the guts Brett showed in standing up there and admitting his problem."
After his news conference Favre spent much of the night on the phone calling stunned friends. Only once in his conversation with SI did his voice dip a few octaves and show how deeply his tough outer shell has been dented. "I'm 26 years old, I just threw 38 touchdown passes in one year, and I'm the NFL MVP," he said. "People look at me and say, 'I'd love to be that guy.' But if they knew what it took to be that guy, they wouldn't love to be him, I can guarantee you that. I'm entering a treatment center tomorrow. Would they love that?"
Counselors denied Favre's request to delay reporting to rehab so he could host the first Brett Favre Celebrity Golf Tournament in Gulfport, Miss. The event went on without him last Friday and Saturday at the Windance Country Club. Tynes was there. As she sat in a golf cart under a shade tree near the 18th green, she talked about why she had hope for Favre. "A couple of years ago Brett told me he wanted to be the best quarterback in the NFL," she said. "He committed himself to it, and he did it. He'll commit himself to this. He knows his career and his life are at stake."
Tynes wiped her eyes. She took a deep breath. She sniffled a few times. "You know," she said, "he's changed already. He talks to me again. He takes Brittany and me out. He pays attention to us. A few days ago he hugged me and he thanked me for everything I've done, and he said some really nice things to me."
She wiped her eyes again. "I said, 'I can't believe it. The old Brett's back!'"
Time will tell. The true test will start in September.