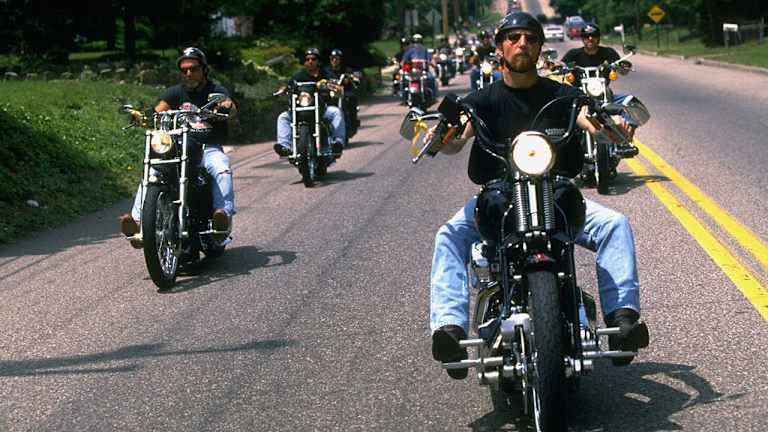 Publish date:
Full Throttle
Hard-driving Pat Croce, trainer turned team president, hopes the No. 1 pick will rev up his sluggish Sixers
Pat Croce has invited his biker gang over to the house for
pretzels and orange soda. Which is why he and the Road Pirates
are revving their Harleys down Croce's swanky street on
Philadelphia's Main Line. They're a scruffy, furry, mildly
menacing band of cops, mechanics and even an orthopedic surgeon,
with skull-and-crossbones on their helmets and enough tattoos to
cover Independence Hall. In fact, one biker--an aspiring
Pirate--has Independence Hall inscribed on the back of his right
hand, directly above knuckles that read L-O-V-E. Of course, the
knuckles of his left hand read H-A-T-E.
The guy who just moved into the baronial fieldstone across the
street from Croce's house watches this racketing procession in
goggled awe. "Yo!" yells Croce as he roars past his neighbor.
"Welcome to the neighborhood."
Mr. Croce's Neighborhood is a domain that keeps expanding. His
latest acquisition is a small chunk of the Philadelphia 76ers
and will soon include parts of the NHL's Philadelphia Flyers and
the two teams' arenas, CoreStates Spectrum and CoreStates
Center. Over the past 15 years he has risen from conditioning
coach to self-made millionaire and team president--a reality as
fantastic as discovering you're an Elizabethan sea dog
plundering treasure from a Spanish galleon. "Everyone told me
the Sixers' owner would never sell," he says, "but I jammed my
foot into the door of opportunity and refused to take it out.
For months I banged and slammed on that door until finally it
opened. Everyone has a dream. The question is How bad do you
want that dream. I wanted it bad."
He wanted it bad, and he got it. Croce bought into the franchise
that had the second-lousiest record (18-64) in the NBA last
season. And the Sixers have been getting progressively lousier
since 1990-91. But Croce applied the power of positive thinking
to the nationally televised NBA lottery on May 19 and virtually
willed the Ping-Pong balls that would be used to determine the
13 lottery teams' draft order to bounce his way. While NBA
commissioner David Stern ticked off the names of the teams in
order from 13 to 1, Croce sat restless and uneasy on the dais.
He fumbled in his pocket with his father's lucky medallion. He
looked like a point guard on the bench itching to enter a tie
game in the closing seconds. "I was a volcano ready to explode,"
he says. And when probabilities prevailed and Philadelphia, the
worst team eligible, got the first pick in the June 26 draft
(page 58), he did. Leaping from his seat, Croce pumped his
fists, high-fived each representative of the other lottery teams
and, on-camera, laid a big, sloppy kiss on Stern's cheek. "No
one's going to do as good a job as I will," he says excitedly. "No one has the passion I have. No one has the pride. I'm
the one who's going to bring a winner to Philadelphia. I know it."
The 41-year-old Sixer Fixer is an ingratiating go-getter with
flashing eyes, a fast-breaking smile and a mouth that often
parts in midthought. "Pat bursts into rooms and overwhelms you,"
says Orlando Magic general manager Pat Williams. "He's the most
enthusiastic guy I know, and enthusiasm, like mumps and measles,
is contagious."
Though Croce's philosophy may sound like refried Yoda, his
self-interest is obvious and fundamentally good-natured. "I've
been called corny as an Iowa silo," says Croce, adjusting his
granny glasses, which are, naturally, rose-colored. "A lot of
what I say is corny, but I believe it." Croce is so relentlessly
upbeat that he used to ask callers to his radio show about
health and fitness: "How do you feel?" If they answered, "All
right," Croce would say, "That's not good enough," and repeat
the question. Even if his caller's thumb had just been sliced
off in a garbage disposal, Croce wouldn't let up until the
caller said, "I feel great!"
Talk-show host was just one of Croce's many sidelines. He has
been a recreational helicopter pilot, a karate champ, an
inventor, a fitness guru, an antidrug crusader and the co-owner
of two pirate-themed miniature golf courses. "I've got a pirate
mentality," he says. "Set a goal and go for it. No rules, man.
Dead ahead. Go. That's how Black Bart captured 400 ships in less
than four years. He was the Chicago Bulls of his time."
Pirates are an obsession with Croce. He has a pirate's parrot
tattooed on his back and a pirate ship on his left forearm. An
1804 Barbary Coast cutlass reposes in his home office alongside
martial-arts weaponry, Ninja books and a boxed set of Beverly
Hillbillies videos. "Actually, I never watch reruns," he says.
"I don't dwell on the past. The future is so exciting that I
can't wait to get there." He carries a pad and a Pilot Razor
Point pen everywhere. As one of his exercise disciples, Chuck
Barris of Gong Show fame, once told him, "Always have a pen
handy to write down your dreams."
Croce began dreaming in 1954, the year that Roger Bannister--he
reminds you--"did the impossible" by running a sub-four-minute
mile. Croce grew up in and around Philadelphia, the oldest and
wildest of four boys. "I was a baby face who never turned the
other cheek," he says. "If you looked under Conduct on my report
cards, you'd always see a D in red ink." Croce's love of
orderliness comes from his father, a stern insurance salesman of
Italian heritage. From his Irish-American mother, says Croce, "I
got the dream genes."
Young Pat dreamed of starring for the Philadelphia Eagles.
Though squirty, he became the starting free safety on his high
school football team. "It was a reckless-abandon position," he
says. "On a safety blitz you could just dive in there and whack
'em." Reckless abandon later helped him snag his wife, Diane,
whom he married in 1978 (they have two children). He met her at
a party while her boyfriend was out of town. "I was a pirate
going after booty," he says. Did the boyfriend put up a fight?
"He knew better," says Croce. "I don't lose."
Karate, which he took up when he was 18 years old, calmed Croce
down and centered him. He liked the quick, distilled payoffs of
the martial art Tang Soo Do and found tranquillity in its
discipline. Croce's master, Young Kwan, made him walk barefoot
on hot asphalt in the summer and through snow in the winter. "I
had to punch a padded board until my knuckles bled," Croce says.
He still has knuckle callouses the size of radishes. Croce quit
competitive karate in 1977. He didn't take it up again until
'93. "I had sold my helicopter," he says, "and I needed a new
challenge." That challenge came last year during a tournament at
Penn State. In the final, Croce got a little carried away. He
wheel-kicked his foe in the forehead and got disqualified for
excessive contact. "He should've ducked," Croce says.
Croce's ascent as a businessman has been better than a kick in
the head. After earning a degree in physical therapy from the
University of Pittsburgh in 1977, he talked the board of a Main
Line hospital into establishing a sports-medicine center. That
summer he showed up at an Eagles minicamp and told a team
bigwig, "I'd like to apply for the position of physical
therapist."
"There isn't one," Croce remembers the bigwig saying as he shut
the door in Croce's face.
Croce poked his head in again. "Wait a second!" he said. "I'll
do anything. I'll volunteer."
"Not interested." Slam!
Since then the ratio of Croce's successes to his attempts has
run one-to-one. In 1980 the Flyers sent him a young goon named
Paul Holmgren, who was having trouble with balance. Croce taught
him karate and boxing. "I knew I'd gotten through to Paul,"
Croce says, "when he socked me in the jaw and knocked me through
a fence." The blow so impressed the Flyers that they made Croce
the first conditioning coach hired by an NHL team. At first
veterans wanted no part of Croce. "In the off-season, the Broad
Street Bullies just fished and drank," says former Flyer Dave
Poulin. "They'd get in shape at training camp. But Pat broke
down those barriers with energy and enthusiasm."
By 1984 Croce had opened his own training and rehab center.
Pretty soon it became a mecca for big-name local
athletes--Julius Erving, Garry Maddox and Charles Barkley, whom
Croce shaved down from 295 pounds to 250. When Mike Schmidt won
the National League MVP award at age 37 in '86, he thanked Croce
for tuning his body. By '93 Croce had built his Sports Physical
Therapists into a 40-clinic chain in 11 states. He sold the
outfit that year for a reported $40 million.
The workout regimen Croce offered the elite among his clientele
was the toughest north of Parris Island. Not only did he
supervise the punishing drills, he also took part in them. "He'd
jump right in and match us exercise for exercise," says Maddox.
"When the session was over, we'd be exhausted, and he'd run 10
miles."
The body count was high: Some trainees failed to finish, still
others lost their lunch. "Go outside if you're going to throw
up," Croce would bark. "And don't puke in my flower beds,
either!" The reward for completing basic training was a black
T-shirt with the inscription: I SURVIVED PAT CROCE.
Harold Katz didn't. Croce wore down the longtime Sixers owner in
a way the Philly fans, players and media couldn't. Last
November, Croce offered to buy 10% of the team. According to
Croce, Katz laughed and said, "It's all or nothing." Two days
later Croce called Katz at home. Katz laughed again and said,
"It'll cost $125 million, but I'm not willing to sell yet." All
Croce heard was the "yet." He enlisted Comcast Corp., a
Philadelphia-based cable and communications giant, which had the
means to bankroll the deal and also possessed the motive, since
it was considering a regional sports network. All Comcast lacked
was the opportunity.
Croce kept Katz on the hook for four months. "I called him a
couple of times a week," Croce says. "I dropped in at his house
in Florida when I was conveniently in the neighborhood. Harold
could run, but he couldn't hide." The sale was finalized in
March with Croce, who won't disclose how much of his own money
he put in, getting 10% of the team. Thus Comcast completed a
megadeal that made it not only the majority owner of the Sixers
but also of the Flyers and both teams' old and new arenas
(Comcast bought the buildings from Flyers owner Ed Snider, who
is part-owner and managing partner of the new venture). When
Katz was asked why he had unloaded the Sixers, he snapped,
"Because Pat Croce called me 50 times!"
Croce wants to remake the team in his own image. Betsy Ross be
damned; he would even like to change the team color to buccaneer
black. "As a physical therapist I had to evaluate an injury and
select a treatment plan," he says. "My job now is to make the
injured good and the good better." The "injured" Croce refers to
is Derrick Coleman, the pouty, paunchy power forward with a
severely sprained right ankle. "I've already had a nutritionist
[working with] Derrick," says Croce. "I want to show him how to
shop for the right food." The good is Jerry Stackhouse. Croce
hopes to help the sensational 2-guard improve by using that top
draft pick on a point guard--probably Allen Iverson from
Georgetown. Although the Sixers have no center under contract,
Croce only has about $4 million to play with under the salary
cap, which rules out Alonzo Mourning, Dikembe Mutombo and other
top prospective free agents. Still, Croce promises, "This is
just the start of the rehab."
Despite his hands-on style, Croce says he'll leave the
basketball side to his new general manager, Brad Greenberg, the
former vice president of player personnel for the Portland Trail
Blazers. Croce knew straight off that Greenberg was his man.
"I'd heard only two negative things about Brad," Croce says. "He
was overly ambitious and opinionated. I thought, Great, I love
that attitude."
Croce was equally rigorous when grilling former Blazers player
and, most recently, assistant coach Johnny Davis for the Sixers'
head coaching job. "I grew up on the street, and I know when the
con's coming," Croce says. "So I went down in Johnny's soul. And
I liked what I saw." He also liked what he heard. "Johnny told
me about a realization he'd had as a rookie while sitting on his
porch during the 1977 NBA Finals," says Croce. "He realized he'd
be willing to cut open his chest and rip out his heart to win. I
love that attitude too."
The new spirit of the 76ers goes public on draft night when
Croce hosts a free shindig for season-ticket holders and fans at
the CoreStates Spectrum. Just thinking about the fanfest revs
him up, and suddenly his hands are performing lovely semaphores.
"I'd love to wear a championship ring on my finger," he says.
"I'd get my biker buddies to lead the parade down Broad Street.
It sounds premature, but you've got to think positive."
If Croce has ever thought any other way, it has gone unrecorded.