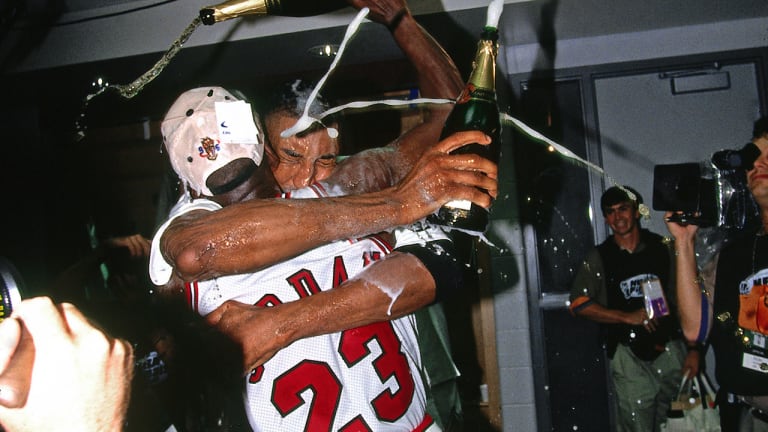 Publish date:
Vintage
After they had subdued the surprisingly feisty Sonics for their fourth NBA title in six years, the Bulls popped their corks over their record-setting '95-96 season
Are they the best ever? Who knows? Let the barroom historians wrestle with that one into the night. The Chicago Bulls told us all along that they were not playing against history, that there was quite enough competition right here in the present--and, thank goodness, they were right. It was much more satisfying to see them with their feet finally held to the fire, to watch them compete not against the fuzzy image of some team of decades past but against a living, breathing adversary that was staring them defiantly in the eye. And let us take a moment to applaud the Seattle SuperSonics for being the team that at last returned the Bulls' gaze without blinking. Chicago's run to a championship turned into something of a stagger at the end, and if that means that a name or two might be mentioned before the Bulls when the roll of the NBA's greatest teams is called, so be it. As Michael Jordan wept on the floor of the trainer's room in Chicago's United Center on Sunday night after regaining his throne, history seemed a trivial pursuit.
Chicago won its fourth NBA championship in six years by disposing of the Western Conference-champion Sonics in six games, which was a game or two more than most observers had expected. But that detracted from the Bulls' achievement not one whit. After finishing with a record 72 wins in the regular season and an 87-13 mark overall, Chicago owed no apologies. "It was hard, but winning a championship is supposed to be hard," Jordan said after the Bulls wrapped up the title with an 87-75 victory. "I think this is the way it was meant to be."
Had the Bulls cruised through the Finals in four or even five games, think of what we would have missed. We would never have seen how Chicago responded in a nearly desperate situation, which Game 6 was. We would not have seen guard Ron Harper ignore the pain of a sore left knee, which had limited him to 15 minutes in the previous three games, and play 38 minutes in Game 6 simply because the Bulls needed him to. We would not have seen forward Dennis Rodman strip his game of its goofy theatrics and simply play like a demon, tying the Finals record of 11 offensive rebounds for the second time in the series and grabbing just about every loose ball. "Dennis Rodman won them two games in this series," Seattle coach George Karl said, referring to Games 2 and 6.
And we would not have been as moved when Jordan was overcome by the bittersweet satisfaction of winning the title on Father's Day. His grief over the murder of his father, James, three years ago had helped send him into temporary retirement from basketball. "There were a lot of things going through my heart and my mind," Jordan said. "My head was geared toward what's most important to me. That's my family and my father, who's not here. But my teammates were able to pull me through." Jordan, who was named the Finals MVP (his fourth such honor), was not at his best in Game 6--he made only 5 of 19 field goal attempts and scored 22 points--but that was somehow fitting, because, in this season of near perfection, it was the Bulls' ability to overcome their imperfections (like the lack of a dominating center) that cemented their greatness.
If it's history you want, consider Chicago's recent past and how this championship team almost didn't come together. Only 15 months ago Jordan was a minor league baseball player, Rodman was helping to lead the San Antonio Spurs to the best regular-season record in the NBA, and Harper, late of the lamentable Los Angeles Clippers, was a $19 million free-agent bust with the Bulls. Forward Scottie Pippen was demanding to be traded, and Chicago seemed likely to grant his wish.
On the night of Feb. 23, 1995, just hours before the '94-95 season's trading deadline, the Bulls were in Miami. Tom Smithburg of Chicago's media services staff ran into Pippen in a Coconut Grove restaurant. "Scottie, what are you doing here?" he said. "Didn't you hear? You're going to the Clippers for three first-round picks." A look of panic crossed Pippen's face--he wanted to be traded, not incarcerated--before he realized Smithburg was joking. More seriously, a deal that would have sent Pippen to Seattle for forward Shawn Kemp, who would play brilliantly for the Sonics in this year's Finals, had nearly gone through just after the '93-94 season, but Seattle had pulled out at the 11th hour, for which the Bulls will be forever grateful. "Nothing against Shawn Kemp," Jordan said Sunday night, "but I'm so glad that trade didn't happen. If Scottie hadn't been here, I wouldn't have been here either."
That was just one of the many twists of fate that twisted the right way for Chicago. If major league baseball players hadn't been on strike in the spring of 1995, Jordan might still be trying to hit a curveball, in which case Pippen might well have been traded. The Bulls would not have considered themselves only a rebounder away from a championship, as they did at the end of last season, which means they would never have had the chance to fall in love with Rodman, whom they acquired from the Spurs last October. In fact, before Jordan returned in March 1995, Chicago had descended into mediocrity, and the only question about the Bulls was whether they would be better off missing the playoffs and going into the draft lottery. "Rebuilding was thought about very seriously," says Bulls general manager Jerry Krause.
And now that the Bulls have another championship team, can they keep it together? All indications are that they will. During the Finals coach Phil Jackson, whose contract is due to expire July 1, floated the idea of taking next season off, but the Chicago front office considered that little more than a negotiating ploy. Jackson isn't likely to take a sabbatical, if for no other reason than that he realizes his time with the 33-year-old Jordan is growing short. Thus he is expected to return to the Bulls for a salary somewhere between the $1.65 million per season he reportedly has been offered and the $3 million per year the New Jersey Nets agreed three weeks ago to pay NBA newcomer John Calipari to become their coach and executive vice president of basketball operations.
Jordan, of course, will be a free agent on July 1, but he would like to stay in Chicago, assuming Jackson does. That was apparent from the relatively low figure of $18 million per season he has set as the starting point for negotiations.
The future of Rodman, the Bulls' other key prospective free agent, is the most uncertain. After a game late in the regular season, the Worm handed Bulls owner Jerry Reinsdorf a note that read, "Thanks for having me, $10 million per year." Reinsdorf laughed, but the unpredictable Rodman may have been quite serious. He already has the endorsements of Jackson, Jordan and Pippen, which makes it likely that he will be back. "Dennis has proven he belongs on this team, and we're going to work like heck to sign him," Krause says. "He had one incident [his head butt of referee Ted Bernhardt during a game in New Jersey on March 16], and we had a very short conversation: I told him if it happens again he's got a problem, not with the league, with me. And nothing else has happened." Rodman continued to make a case for himself in Game 6. His 19 rebounds, nine points, five assists and three steals helped the Bulls hold off the Sonics, who had avoided elimination by winning Games 4 and 5 in Seattle.
The Sonics may have lost the series, but they entered the playoffs with the rap of being chokers and underachievers and left having earned a reputation as a resilient, gallant group. No one did more to improve his image than Kemp, who did a bit of public speaking that changed the Sonics' mood after the Bulls had rolled over them in the first three games. At a media session the day after Seattle's abysmal performance in Game 3, a 108-86 loss at home, Kemp lashed out at his teammates, accusing them of having given up and implying that they would be cowards if they allowed the Bulls to "beat us and kick our butts."
In past years Kemp's words might have divided the Sonics even more. This time his diatribe galvanized them. "I thought it was just the right statement," guard Nate McMillan said after the Sonics' 89-78 victory in Game 5. "A lot of times you don't want to criticize your teammates, but sometimes it can help if it's said at the right time and it comes from the right person."
For Kemp it is finally the right time, and he has become the right person. Known in the past for his ability to make spectacular dunks and miss just about everything else--especially team flights and clutch shots--Kemp has matured both on and off the court. Through the first five games of the series, in contrast to the in-and-out performances of guard Gary Payton and frontcourtmen Sam Perkins and Detlef Schrempf, Kemp was the Sonics' most consistent player, stroking an unerring medium-range jump shot that is a relatively recent addition to his repertoire. And some other elite big men who were more like brick men at the foul line in this postseason (the Orlando Magic's Shaquille O'Neal and the Utah Jazz's Karl Malone, this means you) should take note that the 6'10" Kemp was 42 of 49 (85.7%) from the line in the Finals.
Kemp also showed admirable self-control in his dealings with the annoying Rodman, and the other Sonics followed his lead. It was no coincidence that Rodman, who had 14 rebounds in Game 4 (a 107-86 Sonics win) and 12 in Game 5, wasn't nearly the factor on those occasions that he had been in the first three games. There was no better indication of how the tables had turned than the sight of Seattle frontcourtman Frank Brickowski, the chief victim of Rodman's baiting in the first three games, applying the needle in return after Game 5. "I thought Dennis Rodman was kind of yelling at his teammates, which was disrespectful as far as I'm concerned," Brickowski said. "We were glad to see that. He did that with San Antonio last year, and he's starting to do it now."
It must have been particularly galling for Rodman to hear the lyrics of a song from his favorite band, Pearl Jam, blaring in Key Arena after Game 5: "I'm Still Alive." No one who saw the first three games thought those words would still apply to the Sonics two games later, so it was hard to blame the Bulls for thinking that they should have been returning to Chicago not for Game 6 but for the traditional championship celebration in Grant Park. Most of the questions the Bulls had fielded after Game 3 dealt with their ranking among the greatest teams in history. If you hadn't known better, you might have thought Game 4 was to be against the 1971-72 Lakers instead of the '95-96 Sonics.
After the two losses in Seattle, the Bulls were determined to avoid tempting fate again in Game 6. Following Chicago's win, someone asked guard Steve Kerr's wife, Margot, where the players would be celebrating that night. "I don't know," she said. "Nobody wanted to plan anything, because we did so much planning in Seattle." But no planning was necessary. The Bulls could have stayed all night in the United Center, where their delirious fans were turning the arena into the biggest juke joint in the city. As Jordan held the championship trophy, there was a feeling that it belonged nowhere but in his arms, that he had just rented it out to the Houston Rockets the last two seasons. The championship was back, as the old blues song has it, in its sweet home, Chicago.
COLOR PHOTO: ANDREW D. BERNSTEIN/NBA PHOTOS Emotions and bubbly flowed freely as Jordan and Pippen reveled in their latest title. [Michael Jordan and Scottie Pippen embracing each other while holding bottles of champagne]
COLOR PHOTO: MANNY MILLAN Despite subpar shooting, Jordan flashed his all-court brilliance to earn his fourth Finals MVP award. [Gary Payton and Michael Jordan]
COLOR PHOTO: DAVID E. KLUTHO The rascally Rodman and the majestic Kemp (with ball) took turns dominating on the inside. [Dennis Rodman, Shawn Kemp, Scottie Pippen and Detlef Schrempf]
TWO COLOR PHOTOS: ANDREW D. BERNSTEIN/NBA PHOTOS (2) While Jordan was in the crush, Sonics Perkins (above, center) and Schrempf were just crushed. [Michael Jordan holding NBA Championship trophy in crowd; Sam Perkins and Detlef Schrempf in locker room]