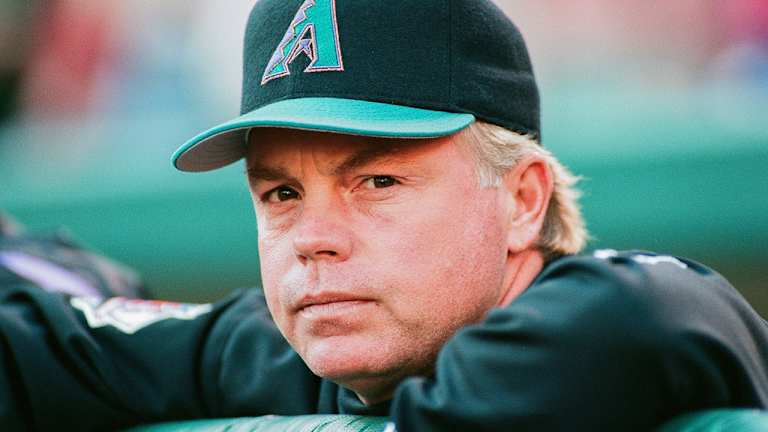 One Lucky Buck
Showalter is managing just fine as he plans Arizona's 1998 major league debut
Every morning when the man with the most secure managing job since Connie Mack rises from bed, his first thought is not about the paychecks guaranteed to bring him $7 million through 2002, or the complimentary leased car, or deciding which country club to join at the team's expense, or the invitations to play golf in the Phoenix Open and the Greater Hartford Open pro-ams, or the two-year, all-expenses-paid vacation from dugout decisions and, worse, the second-guessing. No, when Buck Showalter's feet hit the floor of his Scottsdale, Ariz., home, the manager of the 1998 expansion Arizona Diamondbacks thinks about this: What can I do today to make this organization better? Another workday has begun. The clock beside his bed reads 4:30 a.m.
Showalter does not need to think long for answers. Order shower shoes for the players just drafted out of high school and college. Teach those kids at the Diamondbacks' first minicamp when to throw the baseball in a rundown. Decide whether the uniform belts should be black, purple or turquoise and made of leather or stretch nylon. Make contacts on scouting trips to Mexico, Japan, Canada and Korea. Craft a players' code of conduct and a Diamondbacks' how-to manual that is so specific that it lists the third baseman's responsibility on a base hit to centerfield (remain in the area of third base). Obsess about everything in the not-yet-completed stadium, from the alignment of lockers in the clubhouse to the location of complimentary seats for the families of staff members and players. Keep searching for the correct shade of purple for the uniforms. All of those things--and more--have been on his to-do list.
The franchise is owned by Jerry Colangelo, the wizard who helped bring the NBA (the Suns), the NHL (the Coyotes, formerly the Winnipeg Jets, who are relocating beginning this fall) and Major League Baseball to Phoenix. But if you could dust the team for fingerprints, you would find that they would match those of William Nathaniel Showalter III. When 60 Diamondback draftees reported to minicamp in Peoria, Ariz., about 20 miles from Phoenix, in early June, they signed Showalter's code of conduct pledge, swearing off hightop spikes, earrings, goatees, long hair, caps worn backward, designer sunglasses propped up on the bill of the cap and uniform pants that cover the stirrups. Though such rules might make it difficult these days to fill out a 25-man roster, Showalter intends for the code to apply to the club's major leaguers.
"If you put those things before team goals," he says, referring to the stylish quirks, "then you're probably not worth having around anyway."
Showalter was 28 years old when, after a seven-year minor league career, he became a manager. That was in 1985 with the Class A Oneonta (N.Y.) Yankees, and he would take his work home with him, even after night games. His wife, Angela, would prepare a fried-bologna sandwich with a pickle, which he would devour while studying a videotape of the parent New York Yankees' game that night. She was under orders never to reveal the score to him. "That," he says, "was living."
He climbed through the organization with the persistence of a Sherpa, working his way to the top spot on the big club by 1992. He was the kind of manager who scouted umpires, and he would sometimes tweak his rotation to get the best possible matchup of his pitcher and the strike zone of the home plate ump. He knew which two American League managers didn't change their catcher's signs with runners on second base during a game. Showalter, of course, would routinely change signs during the same inning. He worked such long hours that during the '94 strike, when he went home to Pensacola, Fla., he found himself inside a grocery store for the first time in three years.
Maybe it has to be that way when George Steinbrenner is your boss. In Arizona, though, it's not Steinbrenner who causes Showalter to awake at such an early hour. It is not the prospect of a baseball game that day, either. "It's his drive," Angela says. "Even I had this false sense that maybe things would be different. But it wasn't the Yankees that drove him. He's exactly the same now. He doesn't know how to do it any other way. People kept asking us, 'What are you going to do for two years?' There's a lot to be done, starting from scratch. The stress has lessened, but not the workload."
Competitive? Showalter can barely get through a dinner without winning at something. Once he sat next to a writer at an off-season banquet. The dinner choice was prime rib or chicken. Showalter took the prime rib; the writer opted for the chicken. When the meals were delivered, Showalter sized up both plates and declared proudly, "You got out-ordered." How is that sort of guy going to make it to 1998--when the Diamondbacks and the Tampa Bay Devil Rays begin play--without a scoreboard?
"Oh, yes, there is a scoreboard," he says. "At the end of each day I know when we've accomplished something or when we are just spinning our wheels."
Says Colangelo, "He's even better than I thought. People wondered about signing a manager two years before you start playing. If the right guy becomes available, why let the timetable interfere? I feel it's been money well spent."
Colangelo's original timetable after being awarded the franchise in March 1995 was to have a manager in place before the expansion draft in November 1997. Then late last season he began reading that Showalter's job with the Yankees was in jeopardy. That despite his .539 winning percentage (313-268), his 1994 Manager of the Year award and a 1995 season in which he took the team to the playoffs for the first time in 14 years, ending the franchise's longest postseason drought since it won its first pennant in 1921.
The rumors multiplied when the Seattle Mariners came from two games down to beat the Yankees in the best-of-five division series. Steinbrenner decided he wanted to retain Showalter, who was finishing out a three-year, $1 million contract, but only after dictating the terms, which included firing some of Showalter's coaches. It was a deal Showalter found unacceptable. "How could I go back under that arrangement?" he says. "At the first bump in the road people begin to wonder if you're going to give them up next. How do you look at yourself in the mirror?" Showalter was finished with the Yankees after spending 19 years--nearly half his life--in the organization. In private, he broke down and cried.
He became a free agent at the stroke of midnight on Nov. 1. One minute later Colangelo called. "I couldn't find anyone in baseball who said anything derogatory about him," Colangelo says. "His background and his age were very appealing."
A week later Showalter, who also interviewed for jobs with the Detroit Tigers and the Oakland Athletics, headed to Arizona for the first time in his life. Within a few days he signed a seven-year deal with the Diamondbacks.
Showalter is an architect's nightmare. He has literally cut up plans for the Diamondbacks' retractable-roof stadium and rearranged pieces to his liking. In the clubhouse, for instance, he noticed that the three specially designed catchers' lockers, which are wider than normal to accommodate equipment, were placed side by side. He asked that they be spread out in the room so that a disgruntled second-or third-string backstop need not dress next to the guy who's keeping him on the bench.
When he saw a conference room planned for the visitors' clubhouse, he wanted it removed. Why aid the enemy? When he asked for a full clubhouse in the yet-to-be-built Tucson spring-training stadium that the Diamondbacks will share with the Chicago White Sox, the planners told him it wasn't possible; he would have to use the one at the practice field a half mile away. "That," he told them, "is a deal breaker." He got the clubhouse.
Showalter spent his first five months with Arizona attending to such details, as well as visiting the team's baseball academy in the Dominican Republic, lunching with Phoenix business leaders, giving speeches to corporate sponsors and generally acting more like an ambassador than a manager.
"I can justify his contract as an actual start-up expense," Colangelo says, "because he gave the whole effort momentum. Signing him told everyone we were for real. We began signing tremendous corporate sponsorship agreements. We will debut in 1998 with the fourth-or fifth-highest revenues in baseball and the largest season-ticket base--we think it will fall between 36,000 and 40,000. All 69 luxury suites have been sold."
Showalter spent most of spring training in his 11th-floor office wearing business attire. One day, before Angela and their children (Allie, 9, and Nathan, 4) moved to Scottsdale from Pensacola, he phoned home with an admission that Angela had never heard from him before: "I'm lonely." It wasn't just that he had to summon Chris Guth, the Diamondbacks' equipment manager, to do his laundry. "And it wasn't just us," Angela says. "It was his coaches and players. He didn't have that camaraderie. That's like family to him."
On May 23 he spent his 40th birthday alone in his office. "When I called him," Angela says, "he sounded grumpy. I said, 'Cheer up. If you turned 40 in New York, it would be all over the back pages.'"
The order returned to his world on June 10 when mini-camp opened with a 13-man staff that included his old friends and former Yankees coaches Brian Butterfield, Mark Connor, Nardi Contreras and Glen Sherlock. "This will be the most overcoached minicamp in the history of baseball," he joked to the players before the first workout.
His team last year included Steve Howe, a seven-time drug offender. This one included a 17-year-old, 143-pound shortstop named Juan Bautista, who wept with joy when he was told he was going to be able to leave the Dominican Republic to play baseball in America. So frisky were these Diamondbacks prospects that they were in the field 15 minutes before workouts began and ran all the way to the clubhouse when they ended.
Showalter had to talk one overwhelmed pitcher out of quitting after the first practice. During bunt drills Showalter corrected players who shouted, "Ball! Ball!" as if there had been a fumble. "It's, 'I got it!'" he said. He taught them the simplest rules of rundown plays. "Make sure you leave enough time so that the guy catching the ball can make the tag with two hands," he instructed. "If he has to make a swipe tag, you're giving him the ball too late. This is a two-handed game. Dos manos."
By the third day of camp Joshua McAffee, a high school catcher drafted in the fourth round, told him, "I've learned more in the past three days than I did in my whole life before this."
Six fans, at most, watched the workouts. The Diamondbacks share the Peoria facility with the Mariners, and Showalter had the Mariners' folding chairs removed from the Diamondbacks' clubhouse and replaced with purple chairs trucked over from the America West Arena in Phoenix. He hung Diamondbacks banners and pulled down every Seattle logo except one, which was bolted to a concrete wall. He pushed a soda machine in front of it.
Butterfield, who is listed as the team's defensive coordinator, sidled up to Showalter during one workout and said, "Do you believe this? There's no fear factor. Nobody looking over their shoulder. It's pure baseball." It made Showalter smile.
The Fox TV people called him and offered a fat paycheck for Showalter to provide commentary on the Yankees' game in New York on June 16 against the Cleveland Indians. Showalter declined, in part because his presence would create a media frenzy he thought unfair to his replacement, Joe Torre. Also, he did not want to lose three days of minicamp. "It's almost like time with your family," he says. "You can never get those days back."
There is too much work for him to do now. He has the chance to build his team the way he wants, which is why he departs from tradition by drilling first-year players on team defense and by forbidding the pitchers to throw splitters and sliders. Better, he thinks, that they develop a changeup rather than those pitches that can put a young arm at high risk of injury.
He'll see these players again with rookie league teams this summer in Lethbridge, Alberta, and in Phoenix. He'll be in Japan next month to develop contacts there. He'll scout big league players this year and next, with an eye toward the '97 expansion draft and potential free agents. The organizational manual, a three-ring binder, is not nearly full. "We used rings that open for a reason," he says.
Everywhere he turns, the only undefeated major league manager sees another job that needs to be done, even as he relaxes in his office after a workout in Peoria. As right as it feels to wear a uniform again, Showalter could not help tugging on his purple stirrup socks. "I don't know," he says, shaking his head. "I still don't know if this is the right shade of purple."