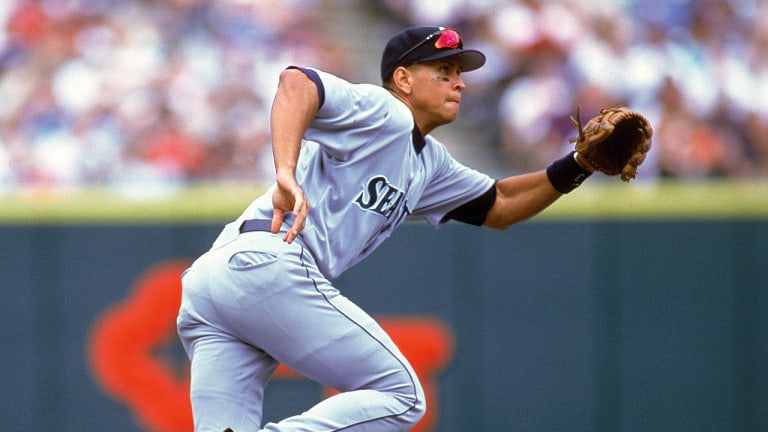 The Fairest of Them All
When Mariners shortstop Alex Rodriguez looks in the mirror, he sees the best young player in baseball
In the off-season he lives with his mother, Lourdes Navarro, and shares a bedroom with his best friend, a three-year-old German shepherd named Ripper. He plays golf each morning and hoops each evening, and by 10 p.m. he is nestled in bed with his Nintendo control pad. He makes Roy Hobbs look like John Kruk, and he makes you wonder if you're missing something: A guy this sweet has to be hiding some cavities.
On July 27, Alex Rodriguez will turn 21, making him old enough to have a beer with his Seattle Mariners teammates. He says he's not interested. "Can't stand the taste," he says. Rodriguez has always felt more at home among milk drinkers.
He grew up in the Miami suburb of Kendall with a poster of Cal Ripken Jr. over his bed and number 3 on the back of his baseball uniform, tribute to another of his idols, former Atlanta Braves star Dale Murphy. "My mom always said, 'I don't care if you turn out to be a terrible ballplayer, I just want you to be a good person,'" says Rodriguez. "That's the most important thing to me. Like Cal or Dale Murphy, I want people to look at me and say, 'He's a good person.'"
Most people don't yet know what kind of person Rodriguez is, but they are quickly learning that as a ballplayer he's almost too good to be true. He is 6'3" and 195 pounds of pure skill and grace, an immensely gifted shortstop who routinely leaves baseball people drooling over their clipboards. He can run, hit, hit for power and make all the plays in the field. He's the youngest position player in the American League, but already he has turned his potential into performance. "He's the type of kid you build an organization around," says Seattle rightfielder Jay Buhner. And sure enough, when SI polled the general managers of the 14 teams in the American League and asked them what one player they would most like to have if they were starting an expansion team right now, Rodriguez got the most votes, with six. "Kids like him don't come around very often," says Buhner. "He's like [Ken Griffey] Junior. He does everything, and he does it effortlessly."
Rodriguez is the sweet-swinging, righthanded answer to Griffey. In fact, you might call him Junior Jr. At week's end Rodriguez was sixth in the league in hitting at .341 and had 15 home runs and 57 RBIs in just 63 games (he missed 13 games early in the season because of a pulled left hamstring muscle). He had committed only seven errors. After moving into the second spot in the batting order on May 8, ahead of Griffey, Edgar Martinez and Buhner, Rodriguez went on a tear, hitting .361 since then and making the Mariners' high-powered lineup even more frightening.
Rodriguez is a big reason Seattle, through Sunday, was still leading the league in runs scored despite the loss of Buhner for more than a week in June with a sprained thumb and the continuing absence of Griffey, who broke his hand on June 19. Says Cleveland Indians general manager John Hart of Rodriguez, "He's a big, physical shortstop like Ripken, but he's a better athlete. He probably has more power than Cal, and he might be a better all-around hitter."
"The way he's going, someday he might bat .400 and hit 60 home runs," says Boston Red Sox general manager Dan Duquette, never known for hyperbole. "He's the best young talent I've seen in years."
Rodriguez is also a devout Christian, a former honor roll student and a really sharp dresser. He calls his mother five times a week, gives all the credit for his success to his high school coach and shows an almost fawning respect for his veteran teammates. He doesn't just sign autographs for anyone who asks in the hotel lobby—he thanks the pests. He appears to be as flawless as a hot fudge sundae, so finally you ask one of his Mariners teammates if Rodriguez is on the level. Is he really this polite, this smart, this sweet, or am I being played like another Nintendo game?
"Well, he's definitely a good kid," says the teammate. "But you know all that stuff like, 'Oh, gee, I'm just happy to be in the big leagues?' Well, that's an act. Don't let him fool you. He knows how good he is. And he knows how good he's going to be."
You have to give the kid credit. It's not easy being humble when you're as talented as he is.
Hours before a Mariners game in early June, Griffey calls over his pal Buhner and proudly holds out a photograph as if it were a mint-condition Honus Wagner card. It's the latest snapshot of Griffey's eight-month-old daughter, Taryn, and Buhner, a father of three, offers the standard compliments. Rodriguez, standing a few feet away, edges closer and attempts to peek at the picture. Griffey reacts as if Rodriguez were trying to spy on his hand in a poker game.
"Hey, get out of here—this is grown-up business!" says Griffey. "You're just a kid. Go do kid's stuff." Junior went through the same sort of initiation when he came up seven years ago as the 19-year-old prince of the Emerald City. Veterans Jeffrey Leonard and Alvin Davis didn't just step back and let Griffey take over the Seattle clubhouse. He had to earn their respect and camaraderie, and Lord knows he did. Junior proved he was even better than advertised and became arguably the best all-around player in the game.
Now it's Junior Jr.'s turn. Rodriguez was the first player chosen in the June 1993 draft. It took the Mariners nearly all summer to sign him. At times the negotiations turned ugly, with Rodriguez's family and his adviser, Scott Boras, allowing correspondence to take place only by fax. No face-to-face or telephone conversations were permitted, a stipulation that led some disgusted baseball fans to conclude that the inmates had officially seized control of the asylum. Just the fax? Who did this kid think he was?
Finally, on Aug. 30, just hours before Rodriguez was to begin classes at the University of Miami, he and the Mariners agreed to a three-year, $1.3 million contract. Now Rodriguez had to prove himself. In 1994, his first full season as a professional, he played at all four levels in the Mariners organization, including a month with the big club. He made his major league debut at 18—becoming just the third shortstop to do so since 1900—but hit only .204 in 17 games and was sent back to Calgary, which at that time was where the Mariners' Triple A team played. After the '94 season Rodriguez played winter league ball in the Dominican Republic, where he had spent part of his childhood. "It was the toughest experience of my life," Rodriguez says of his three months of winter ball, in which he batted only .179. "I just got my tail kicked and learned how hard this game can be. It was brutal, but I recommend it to every young player."
Rodriguez was born in New York City, but his parents moved to the Dominican Republic when he was four. His father, Victor, was a catcher in a Dominican pro league and introduced Alex to baseball. The family, which included Alex's older brother, Joe, and sister, Susy, moved back to the U.S. four years later, settling in Florida. When Alex was in fifth grade, his father left. Alex's mother raised him by herself, working as a secretary and a waitress to put him through private school. "I kept thinking my father would come back, but he never did," says Alex. "But it was O.K. All the love I had for him I just gave to my mother. She deserved it. Sometimes people ask why I still live at home, and I say, 'Why shouldn't I? I like living with my mother. She's one of my best friends.'"
When Rodriguez was drafted by Seattle, he looked at a U.S. map and thought, No way, too far. He was 17 years old and didn't like the idea of moving to the other corner of the country. But by the end of last season he realized how lucky he was. After bouncing back and forth between Triple A Tacoma and Seattle for most of the year—he ended up hitting .232 in 142 at bats with the Mariners—he was recalled to Seattle for the fourth and final time on Aug. 31. From that point on he served as the backup to shortstop Luis Sojo as the Mariners completed a historic comeback to win the American League West, outlasted the New York Yankees in an unforgettable first-round playoff series and finally were eliminated by the Indians in the league championship series. Rodriguez spent most of his time on the bench, an unusual vantage point for him, but he was having too much fun to complain.
"It was an awesome experience," he says. "I was 20 years old. It would have been ludicrous for me to think I should have been in there. I understood my role—I was there to pinch run or fill in if someone got hurt—and it didn't bother me at all."
Rodriguez played in just two games in the postseason, one against New York and another against Cleveland. He was hitless in two at bats. "I think he learned a lot just being around down the stretch last season," says Seattle manager Lou Piniella. "Even though we all knew he was our shortstop of the future, it wouldn't have been fair to the guys on the field or to Alex [to put him in the starting lineup]. Our veterans were doing a great job, and we were winning games."
Still, this was Alex Rodriguez, Junior Jr. Even at his age, he had to be as capable as the pedestrian Sojo. "Quite frankly, Alex was ready," says Piniella. "He just needed more at bats. But he's always had a great attitude. He's constantly asking questions and trying to improve. He's probably our fastest player right now. Unless, of course, Junior has to score from first to win the game."
No one has to describe to Rodriguez Junior's dramatic dash home from first base during last fall's playoffs—he had the best view in the Kingdome. The Mariners trailed the Yankees 5-4 with no outs in the 11th inning of Game 5 when Martinez roped a double into the leftfield corner. Joey Cora, who was on third base, scored easily but it appeared that Griffey, who was on first, would have to stop at third, leaving the season in the hands of the next batter, Rodriguez. But Griffey never broke stride and easily beat the throw to the plate to win the game and the series. Rodriguez would have to wait his turn to be a hero.
Rodriguez says tears welled up in his eyes as he signaled for Griffey to slide. As his teammates joined him in the celebration at the plate, Rodriguez knew he was part of something special. The series victory was the highlight of his baseball career.
"It's kind of ironic, isn't it?" he says. "At first, I didn't want to play in Seattle. Now I can't imagine playing anywhere else. This is the perfect place for me."
The current class of young, highly touted shortstops is a tight fraternity. In high school Rodriguez lived five minutes from his friend Alex Gonzalez, the current Toronto Blue Jays shortstop. In the off-season Rodriguez worked out at his alma mater, Westminster Christian High School in Miami, with Rey Ordonez, the New York Mets rookie who defected from Cuba three years ago. Last January, Rodriguez spent time at an orientation camp for young players with the Yankees' Derek Jeter.
When Rodriguez checks out all the big league box scores each morning, he pays special attention to the progress of his shortstop buddies. "I talked to Derek the last time we played, and I just said, 'I don't envy you, man, playing in New York,'" says Rodriguez. "He says, 'Hey, I like New York. If you can get it done here, you can get it done anywhere.' But I don't know. I used to be the biggest Mets fan in the world, when they had Doc [Gooden] and Darryl [Strawberry] and [Gary] Carter. But I love Seattle. It's got great fans, and it's an easy city to play in. I wouldn't trade places with Rey or Derek for anything in the world."
In Seattle, Rodriguez knows that he can always look across the clubhouse and follow the lead of Griffey. There isn't much pressure in Seattle to begin with, and as long as Griffey is around, he will deflect much of it. The comparisons between the two Mariners were inevitable; Rodriguez, predictably, has been handling them without a hitch.
"To me, Junior is just so special and so unique, I hate to hear any kind of comparisons," Rodriguez says. "It's an insult to him. He's the best. I can't wear his jock." Griffey says of Rodriguez, "He works hard, he's a smart kid, I think he's in the right situation. He just has to listen and learn the game. Everyone knows he's going to be a special player."
Rodriguez already has learned to shorten his swing and make more consistent contact. The one thing he has always disliked is the notion that a good fielding shortstop doesn't have to hit. "That's an insult," he says.
Seattle batting coach Lee Elia, a veteran of 13 seasons as a big league manager and coach, says Rodriguez's bat speed is as good as any he has ever seen. "I had Mike Schmidt in Philly, Don Mattingly in New York, Ryne Sandberg in Chicago," says Elia, "but I haven't seen too many guys who can get their bat through the hitting zone any faster than Alex. With his ability, there's no telling what he can accomplish."
Someday Rodriguez may bat .400 and hit 60 home runs, but for now he is doing the next best thing—he is living up to expectations. When you are the next Ripken, the next Junior, the next great player in the game, that is saying something. It's not going to be easy to act humble much longer.
COLOR PHOTO: SCOTT JORDAN LEVY COVER PHOTO Baseball Heats Up HOT PLAYER SEATTLE SHORTSTOP ALEX RODRIGUEZ, THE GAME'S NEXT
SUPERSTARCOLOR PHOTO: JOHN W. MCDONOUGH [Alex Rodriguez looking at himself in fitting-room mirror]COLOR PHOTO: JOHN BIEVER Like his boyhood idol Ripken, Rodriguez is big (6'3"), steady in the field and potent at the plate. [Alex Rodriguez fielding]COLOR PHOTO: TOM DIPACE [See caption above--Alex Rodriguez batting]COLOR PHOTO: JOHN BIEVER Junior Jr. has learned by watching Griffey and other veterans. [Alex Rodriguez]
PRODIGIOUS PRODIGY
Alex Rodriguez is on pace for a remarkable season: He will finish with a .341 batting average, 31 homers and 118 RBIs if he keeps hitting at his current rate. And he doesn't turn 21 until July 27. We took a look at the greatest performances ever by players who were not yet 21 on Opening Day and found out that Rodriguez is in very good company.
Batting Player Avg. Year
Ty Cobb .350 '07 Alex Rodriguez .341 '96* Al Kaline .340 '55 Mel Ott .328 '29 Rogers Hornsby .327 '39
Player Homers Year
Mel Ott 42 '29 Frank Robinson 38 '56 Tony Conigliaro 32 '65 Alex Rodriguez 31 '96* Ted Williams 31 '39
Player RBIs Year
Mel Ott 151 '29 Ted Williams 145 '39 Alex Rodriguez 118 '96* Ty Cobb 116 '07 Al Kaline 102 '55
SOURCE: Elias Sports Bureau. *Stats through June 30, projected for 162 games