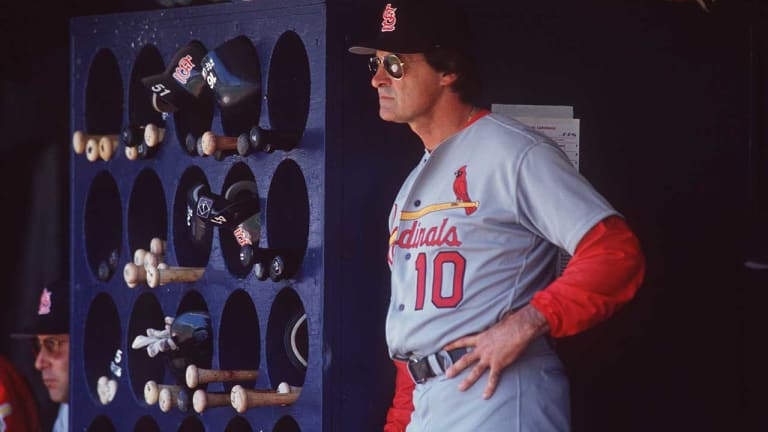 BRAVE NEW WORLD
MANAGER TONY LA RUSSA HAS VENTURED INTO VIRGIN TERRITORY--THE NATIONAL LEAGUE--AND HE HAS THE CARDINALS IN FIRST PLACE FOR THE FIRST TIME IN YEARS
He is writing again, this time at the desk in the visiting manager's office at Pittsburgh's Three Rivers Stadium, one more place the 51-year-old man has not been before. Tony La Russa is always writing. Before him lie a handful of blue lineup cards, all of them with the same soft crease where he folded them around his pen before stuffing them in the back pocket of his uniform pants. The cards are crammed with marginalia, the notes he jots down in his tiny handwriting during games.
Now he is transcribing those notes into a spiral-bound notebook with a plain white cover. The manager of the St. Louis Cardinals has already exhausted three of these books in only half a season. Unshaved, cloistered in this cell made of concrete blocks, he has the look of a cartographer working below decks on a ship that is sailing uncharted seas. And that is why he goes on writing. La Russa is mapping his New World.
"I never did this before this year," he says. He is talking about keeping detailed records, but he might just as well be talking about managing in the National League--dealing with the subtleties of the double switch, the complexities of having a pitcher in the lineup instead of a designated hitter, the challenge of getting roughly 14% fewer runs per game than in the American League and the perils of having to learn the boiling points of a new group of umpires. After managing 2,503 games (with a .527 career winning percentage) and winning three pennants and a world championship in 17 seasons with the Chicago White Sox and the Oakland Athletics, La Russa is managing in the senior circuit for the first time. And he's succeeding. At the All-Star break the Cardinals were in first place in the National League Central with a record of 46-41 (.529), one percentage point ahead of the Houston Astros. That's a fast-forward improvement; St. Louis finished 19 games below .500 last year and had not been in first place at the break since 1987.
The Cardinals took three of four games from the Pirates in Pittsburgh at the end of last week, further demonstrating that after getting off to a frosty start together, La Russa and this reengineered team have learned their lessons well. The Cardinals went 24-12 from May 29 till the break, the best in the league in that span.
"I feel better than I did when the season started," La Russa says, "which is still not good." Woody Allen has played characters with a higher comfort level than La Russa usually exhibits. La Russa's micromanaging style--some have called it overmanaging--has fared well in the National League. Last Thursday in Pittsburgh he changed pitchers with two outs in the ninth inning and a six-run lead. The next night he yanked reliever Dennis Eckersley, a closer with Hall of Fame credentials, with two outs in the ninth and a three-run lead. The Cardinals won both games. La Russa hasn't used the same batting order in two straight games all season, and St. Louis tied a National League record earlier this season by using six pitchers in a shutout win.
La Russa is as thorough as a third coat of paint. He lifted Eckersley, for instance, because he remembered that Al Martin, who was due up for the Pirates, had cracked a home run off Eck in spring training. "He doesn't miss anything," says Ron Hassey, La Russa's bench coach, who spent the past three seasons coaching with the Colorado Rockies. "He's always writing. I think he notes when I go to the bathroom."
Their recent run to first place has made the Cardinals more comfortable with their manager, but there were adjustments to be made along the way. After six seasons under the more relaxed hand of Joe Torre, the Cards had to adjust to the fiery La Russa. Says Eckersley, one of six Cardinals who played for La Russa in Oakland, "At first it was kind of rough. We'd be up 5-1, 6-1, and guys would be high-fiving and styling in the dugout, and all of a sudden Tony would yell, 'Hey!' Maybe he was yelling at the runner, but he'd get the message across. When you've got a team down, you've got to step on its throat."
In one game La Russa sent in outfielder Willie McGee as part of a double switch, instructing McGee to tell rightfielder Brian Jordan to move to first base. Jordan, who had played first base only once in his career, thought McGee was joking. He jogged in and planted himself on the bench. La Russa rousted him and told him, "Yes, you are playing first base." The Cardinals have learned that their manager is not a kidder. He may have many tricks in his bag, but there is no whoopee cushion.
"I think it's getting better," says Jordan, the former Atlanta Falcons defensive back, about playing for La Russa. "I think it was a little intimidating at first. I mean, this guy is Jerry Glanville [the former Falcons coach]. He's got that type of intensity. It's good to see that in baseball. To a point."
St. Louis fell to a season-low 17-26 on May 19, the day the Colorado Rockies finished a three-game sweep of the Cards in Denver. St. Louis was winning the second game of that series 8-4 in the ninth inning and had Eckersley on the mound, but Eck gave up homers to Ellis Burks and John Vander Wal and lost the game 9-8. "That was as devastated a clubhouse as you're ever going to find," La Russa says.
But this veteran team bounced back by sweeping three games from the Astros in Houston, starting its climb to the top of the Central Division. When the Cardinals beat the Pirates 9-5 last Saturday to move into first place, La Russa celebrated by grunting, "I ain't saying s--- about first place or anything else.... I think we've been playing good for a long time, six weeks or so. That's what I feel good about."
Despite his unyielding style, La Russa clearly is enjoying the challenge of a league that requires more button pushing during games. "If you're a casual sports fan, you probably like the DH better, because there's more action," he says. "But if you're a real baseball fan and appreciate the subtleties of the game, there's no doubt that National League baseball is more interesting. If there's a double switch, the casual fan will say, Who cares? Someone else who understands more of the game could argue about the switch for hours."
When La Russa tried one of his first double switches, on April 5, he botched it. In the 11th inning of a game in Atlanta, he headed toward home plate umpire Greg Bonin to inform him of the move but motioned to the bullpen before reaching the umpire. That violated the rule that the manager must notify the umpire first, and Bonin disallowed the double switch. Welcome to the National League, Skip.
"We're always reminded to help move the game along, and that's what I thought I was doing," La Russa says. "I think what the umpires were doing was letting me know that you have to be on your toes and know the letter of the law, which is fine."
Since then La Russa has placed his imprint on the Cardinals, a grinding, opportunistic team. Only four teams have more sacrifice hits than St. Louis. Last Thursday, for instance, number 3 hitter Ron Gant went to bat in the third inning with no outs, teammate Ray Lankford on second and a 2-0 lead--and he bunted. To all appearances it was just the kind of thing that would be a rarity in the American League, where going for the big inning is more the rule.
"The sign was to get the runner over any way he could," La Russa says. "Ron chose to bunt. I did the same thing with Oakland and Jose Canseco. The game itself is really not that different in this league."
Two innings later, with one out and Lankford on third after a base on balls, a stolen base and a wild pitch, La Russa put on the contact play--in which the runner breaks for home when the batted ball hits the ground--even though Pittsburgh had its infield in for a play at the plate. Jordan hit the ball directly at second baseman Carlos Garcia, but Lankford, with a terrific break at third, scored standing up when catcher Keith Osik dropped Garcia's throw. Meanwhile Jordan dashed all the way to second. He moved to third on a grounder and scored on a wild pitch, giving St. Louis two runs in the inning without a hit.
In a 7-4 win the next night, the Cardinals stole five bases--their most in a game in three years--including two in the first inning when Lankford started a double steal with Jordan, the cleanup hitter, batting. "I saw a big leg kick from the pitcher and a way to get two runners in scoring position," says Lankford, who ran on his own. "Early in the season it was more like we'd go when Tony said go. But now we're getting more rope. I think he sees we have smart, aggressive base runners who can make things happen."
La Russa is loath to accept any accolades for his contribution to the team's rise. His natural modesty intensified after George Will's 1990 book Men at Work elevated him to the status of managerial guru. He even cringes when he sees his picture on the cover of this year's St. Louis media guide.
If La Russa doesn't want articles done on the occupant of the manager's office, there are plenty of stories to be found in the swaggering Cardinals clubhouse. This is a team with 18 world championship rings among its players and coaches. The top of the lineup--shortstop Royce Clayton, Lankford, Gant and Jordan--can carve up a defense in more ways than a Swiss Army knife. These players have swiped 52 bases in 69 chances. Jordan has been especially dangerous; after hitting .042 (2 for 48) with runners in scoring position two years ago, he is batting .400 in such situations this season.
The Cardinals have feasted on the Pirates, taking six straight games from them in a nine-day span before losing 8-2 on Sunday. La Russa found the wins uncomfortable, though, because they came against one of his best friends, Pirates manager Jim Leyland. "At the end of a game someone's always going to be suffering," La Russa said. "And you don't like to see a friend suffer."
The two managers, born less than three months apart in 1944, go back together to the Southern League in 1967, when La Russa, then a second baseman for Birmingham, noticed a certain presence about Leyland, the second-string catcher for Montgomery. In his fourth season as manager of the White Sox, in 1982, La Russa added Leyland to his staff. "Jimmy's always had the gift of being able to chew somebody out today and be laughing with him tomorrow," says La Russa. "He was the one who told me in 1982 that I had to let the players see the other side of me, a lighter side, or else they would flame out."
Now in the same division the two friends have had to cut down on their frequent conversations. When they ring each other, they are so circumspect, it's as if the phone were bugged. They avoid talking about their own personnel and about players they would like to obtain.
La Russa's awkwardness about beating the Pirates is likely to find its way into one of those white spiral notebooks. It's funny, La Russa has noticed when he has reread the books, how he finds anger in his words after the losses and a less strident tone after the wins. "Almost just like a diary," he says. Every day the log of the journey grows; every day another mile is mapped.