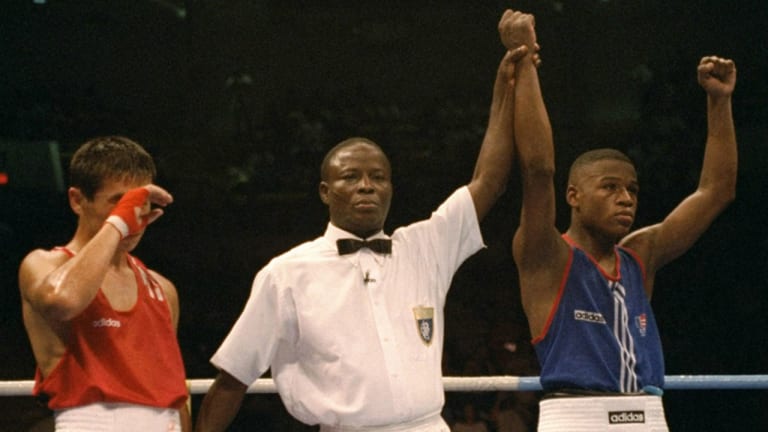 The Golden Son
That's what Floyd Mayweather Jr. wants to be at games' end.
He has his father's name, and he proudly competes in his father's game. Yet U.S. boxer Floyd Mayweather Jr. feels alone whenever he steps into the ring at Alexander Memorial Coliseum for an Olympic bout. For three years now there has been no familiar voice to rouse the 19-year-old Mayweather for his morning roadwork, no practiced eye standing beyond the ring ropes and critiquing the arc of his punches or the snap on his jab. And Mayweather wants it that way.
His father, Floyd Sr., a onetime welterweight contender, used to be his cornerman and his coach. Then a cocaine-trafficking conviction brought down Floyd Sr. in December 1993 and a judge sent him to a Michigan federal prison for 5 1/2 years. Since then Floyd Jr. has trained himself in the same Grand Rapids, Mich., gym where his father also trained. He's determined to make good on his dad's once-upon-a-time boasts that an Olympic gold medal was in Junior's future.
"People hear my name and expect more of me, and I'm here to deliver, I'm here to win the gold medal," Mayweather says. "God gave me the gifts to take guys out. My dad taught me slickness and defense. When I'm in the ring, I really feel no man can outthink me. I grew up watching fight tapes of all the greats. I was raised in a gym." And it shows.
His dad had a 33-bout pro career that hit its zenith with a rugged nine-round loss to Sugar Ray Leonard in 1978, and two of Floyd Jr.'s uncles still fight as pros. Roger, 35, is a former WBA and WBC junior welterweight champion who now lives and trains in Las Vegas. Jeff, 32, still competes as a lightweight. Floyd Jr., who may be better than any of them, says he has stolen a little from them all.
His first Olympic bout--a scintillating first-round stoppage on Monday of bloodied Bakhtiyar Tileganov of Kazakhstan--was a four-minute primer on what makes Mayweather the best pound-for-pound fighter on the U.S. team. He's equally adept at fighting on the run or slugging toe-to-toe. Though he stands 5'7" and boxes in the 125-pound division, he's one of the rare fighters who carries knockout power in either fist yet still has the lightning hand speed to rip off the head-snapping three- and four-punch combinations that make ring judges swoon.
Mayweather's fresh-faced good looks and flashy flurries of punches are already prompting experienced boxing observers to make tentative comparisons to Leonard. Though Mayweather clearly enjoys the compliment, he says he remains his father's son.
When Floyd Sr. was still free, he and Junior were nearly inseparable. They studied boxing tapes. They talked about the fight game. Floyd Sr. says, "I started taking Floyd to the gym when he was still in his stroller." And Floyd Jr. says, "My dad is the one who got me here. I want to win the gold medal for him."
In the months leading up to the Games, Floyd Jr. tried everything to hasten his father's release from prison, including a dogged letter-writing campaign to President Clinton. ("He didn't respond," Floyd Jr. says sadly.) Floyd Sr. says he did his best to coach his son over a prison pay phone.
"When my dad was still in training, we used to go to the gym together," Floyd Jr. says. "When I was three or four, I remember my dad putting me on a chair so I could reach up and hit the speed bag. If my dad did sit-ups, I'd do sit-ups right next to him. It's rough every time I go to prison and see him caged like some animal. I get a hard lump in my throat. I want to cry. Then I think, 'No. I'm a man. I'm a man.' I want to make him proud."
He already has. And should Mayweather get by Armenia's Artur Gevorgyan tonight, as expected, he will most likely face Lorenzo Aragon of Cuba in a quarterfinal bout. A win there would be doubly significant because it would break the United States' 20-year losing streak against Cuban fighters in Olympic competition and it would give Mayweather clearer sailing toward that gold medal he desperately wants for his father.
If--or when--that happens, Floyd Sr., speaking over the telephone from prison, says he already has a congratulatory statement prepared. "To me, my son has always just been Little Floyd," says Floyd Sr. "But I think I'll start calling him Champ."