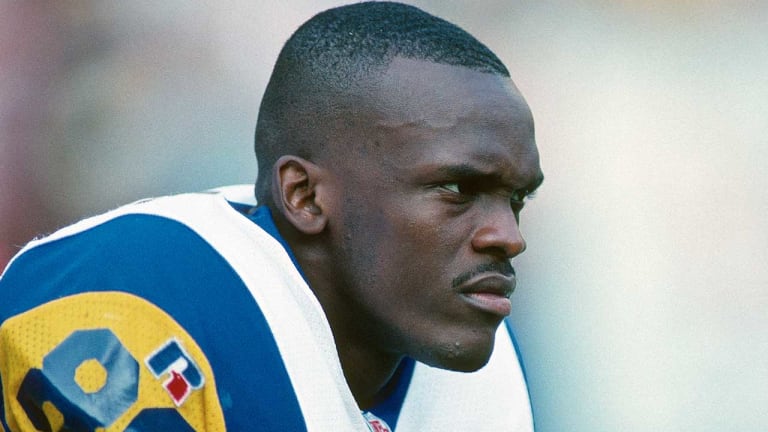 SILENT BUT DEADLY
RAMS WIDEOUT ISAAC BRUCE FAKES OUT DEFENDERS AND TEAMMATES WITH HIS SEEMINGLY SOLEMN NATURE
The thing about St. Louis receiver Isaac Bruce is that there are two of him. There is Isaac, a decorous, godly young man, and then there is Bruce, a jaw-happy revelation. Isaac is the well-mannered, reticent guy. Bruce is the strutting, chest-thumping scourge who broke four Rams receiving records in 1995. Recently, as Isaac contemplated his duality over a plate of chicken wings in a St. Louis sports bar, he visibly struggled to contain his alter ego. His solemn expression wavered. He sighed. Isaac tries to be self-effacing, but sometimes Bruce gets the better of him. Finally, Isaac gave up. "It's hard to be humble on the field," he said hopelessly.
Before last season few would have suspected that the Reverend Ike, as some of his St. Louis teammates call him, harbored such a divided nature. As far as they knew, Bruce was a deeply devout and painfully shy second-year receiver, the 13th of 15 children from a staunchly Pentecostal family. After all, Bruce, who aspires to be a minister, went through his entire rookie season without uttering a single complete sentence. He went to and from practice every day with a Bible tucked under his arm. Rams quarterback Chris Miller tried to engage him in conversation, but Bruce would just nod or shake his head, silently, and return to the Book.
When running back Johnny Bailey moved into Bruce's suburban apartment complex in Crevecoeur, Mo., last summer, he did the neighborly thing and invited his teammate out for a night on the town. "No," Bruce replied, without elaboration. Bailey persisted and on another evening said enticingly, "I'm going to a club tonight." Bruce stared at Bailey and answered in his monotone: "I'm not."
Bailey rolled his eyes. "I know," he said. "I know you're not. I don't even know why I ask you."
Gradually, however, the Rams noticed there was something else lurking in Bruce's habitually reverent expression. "He has a kind of a smirk," says receivers coach Mike Martz. One of the first indications that Bruce was not all he outwardly seemed occurred during training camp last July when he booby-trapped a watercooler to erupt into a geyser as Martz tried to get a drink. Then, in a preseason game at Oakland on Aug. 12, Bruce spiked a ball against the end-zone wall after a 26-yard touchdown catch. The gesture drew the ire of a bunch of biker dudes in that section of the stadium. Bruce stayed in the end zone, threatening to take on the Raiders' faithful, until his teammates pulled him away.
St. Louis coach Rich Brooks likened Bruce's transformation to something that ought to take place "in a phone booth." Bruce played like the Rams' own personal stealth bomber, a skinny projectile who rose out of nowhere to finish the season with 1,781 yards on 119 catches, both team records. In one midseason stretch, he had six straight games of 100 or more yards receiving. "One thing I know now is that there's no such thing as a sophomore jinx," says Bruce, who made his first Pro Bowl appearance in February.
The team's fortunes rose as Bruce's stock did. His number 80 jersey became the hottest-selling sports item in town. Despite his seemingly frail six-foot, 178-pound build, Bruce was both unstoppable and durable, catching balls over the middle and playing on special teams. In the first start of his NFL career, the 1995 season opener against Green Bay, he blocked a first-quarter punt and then recovered the ball. Five seconds later he caught a 23-yard TD pass.
On Oct. 12 Bruce schooled Atlanta with 10 catches for 191 yards and two touchdowns, and contributed a 51-yard punt return. The following Sunday he gouged San Francisco for 173 yards on nine receptions. "People have to start double-covering that guy," 49ers receiver Jerry Rice declared. Not that it mattered. When Philadelphia doubled up on Bruce the next week, he just stepped up the back talk. "Oh, I feel so special," he said after catching nine passes for 105 yards.
But once the uniform came off, Bruce receded and Isaac took over again. In street clothes and a cap he goes virtually unrecognized off the field, looking like an adolescent mall rat. "He's the biggest star in town no one knows," Rams assistant p.r. director Kirk Reynolds says.
Even Bruce's mother, Kairethatic, pokes fun at her son's reticent public persona. "He has to show an I.D. card before anybody believes he plays pro football," she says. Just 23, Bruce is wondrously inexperienced at celebrity. Once, as he was browsing through a local galleria at midseason, an autograph seeker approached. Bruce cowered under his cap. The fan quietly made him a deal. "If you sign this, I won't tell anyone who you are," the fan said. Bruce gratefully cooperated.
The Rams have developed an obvious affection for Isaac and his evil twin. Although he still refused to go out on the town, Bruce did invite Bailey over for a Sunday dinner or two. In return, Bailey dragged Bruce to a riverboat casino for some blackjack. There Bailey discovered an extrovert trying to break loose: Bruce quickly won $600 and proceeded to gamble it all away. Last fall Bailey even dragged Bruce to a player bash, although Bruce hesitates to admit it. "Yeah, I went to a party once, just to see how it was," he says. "It's nothing I could get used to."
When some college teammates from Memphis State came to visit and talked Bruce into going to one of the city's most popular nightspots, he had to ask for directions. When the group arrived at the club, Rams defensive end Robert Young crowed in amazement. "How'd y'all get Mr. St. Louis out of the house?" he said.
Bruce will never be mistaken for a social butterfly. He claims the only reason he goes out is so he will stay awake past 7 p.m. He has a bad habit of dropping off on his couch and then rising at 3 a.m. ready to start the day. Sometimes he goes mall strolling just so he won't fall asleep. He's rarely looking to buy anything.
Life without luxury is all he has ever known. The four-bedroom, two-bath home on 29th Avenue in Fort Lauderdale where he grew up with his eight sisters and six brothers was no palace. Bruce's father, Jesse, worked long days as a roofer. His mother, a Pentecostal minister who calls herself K, ruled the household with nonnegotiable discipline and a Bible in her hand. "I never allowed defiance in my house," she says. Every morning as the children got ready for school, K would sit in the hallway outside their rooms and read Bible verse aloud. On Sundays they went to church for six hours. "Church is all this family knows how to do," says Bruce's sister Charlotte.
Isaac's dual nature first showed itself in a peculiar episode of surreptitious disobedience. His siblings vividly remember a 13-year-old Isaac stepping out of a crowd to deck a bully in a schoolyard fracas and then vanishing back into the mob. "My brother can put on that innocent face," Charlotte says. "He learned how to sleep with his eyes open in church."
After leading Dillard High to the Florida State 4A championship his senior year, Bruce earned a scholarship offer from Purdue. When he failed to make the grade on the SAT, he landed at West Los Angeles College. Finding himself buried in the Oilers' option offense, Bruce soon transferred crosstown to Santa Monica Junior College. For two years he lived with two teammates in a dingy one-room apartment on the edge of Los Angeles International Airport, listening to jets roar overhead every night. Every morning he rode a city bus across the sprawling metro area to school.
Bruce was recruited by a bunch of Division I-A schools: Cal, Colorado State, Fresno State, Memphis State, San Jose State, Virginia and Western Michigan. When Tigers receivers coach Randy Fichtner visited Bruce during a West Coast trip, he took one look around the apartment and wondered if his prospect could surmount the long odds he was fighting to graduate. "It wasn't a question of whether he was talented enough to make it," Fichtner says. "It was a question of whether the elements would let him."
At Memphis State, Bruce finally blossomed, becoming the school's first 1,000-yard receiver, in 1993. During his two years in Memphis, the Tigers appeared just once on national television, against Miami in the last game of his college career. Bruce, of course, wanted to make the most of the exposure, but in the first half he got blindsided and bit partway through his tongue. He took three stitches at the half but did not miss a snap, finishing the game with two touchdown receptions. The Rams selected him in the second round of the 1994 draft.
Bruce spent his rookie year utterly dumbstruck at being in an NFL locker room. In retrospect, his teammates have learned, he wasn't standoffish so much as determined not to waste his chance. He slaved in the weight room and listened with rapt attention at meetings, two traits the veterans eventually took approving notice of. "Isaac has gotten here all by himself," Bailey says. "He's done it with his own discipline."
But he could use some more discipline. As the season wore on, he faced growing harassment from defensive backs and didn't always handle himself well. "I get a little shaky in the head," he admits. When he got frustrated, the Bruce in him jumped out chin first. On Nov. 19 he had to be restrained from going after the Falcons' Darnell Walker when, in a long day of jousting, the cornerback held him to 91 yards, breaking his 100-yard streak. "They're going to slap you around and try to disrupt you," 11-year vet Jessie Hester counseled. "You have to wait for your opportunities, and your moment will come."
Bruce listened and obeyed. He closed the season with a career-high 15-reception performance against Miami. It was clear that if the defenders weren't going away, neither was he. Bruce spent this off-season working on sprint drills, hoping to crank out another fraction of speed. "I'll just keep catching passes until the defenders give up," he says. "I think I'm a guy who can outrun them."
Bruce's productivity in 1996 will depend in part on who is throwing him the ball. The Rams are in transition at quarterback: Miller was released in March after team doctors advised that he take a year off to recover from a series of concussions. Bruce will have to develop a relationship with journeyman signal-caller Steve Walsh, who signed with St. Louis in April. "I'm just going to be open-minded," Bruce says.
This much seems certain: Bruce, who is already being talked about in the same breath as Rams greats Elroy Hirsch and Henry Ellard, is a receiver of surpassing grace who runs routes like epigrams, his patterns serving as his chief mode of self-expression. "He's a quiet man, but game day brings out whatever emotion he has tenfold," says Hester. "He just explodes on every snap. It's scary how good he can be."