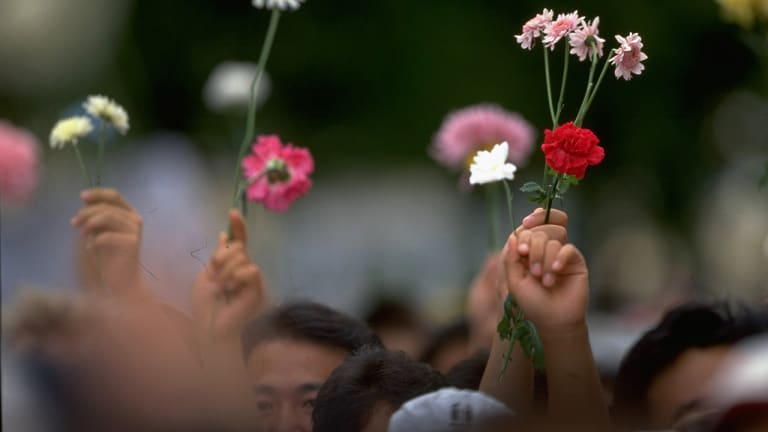 Flower Power
Blossoms raised to honor the bombing victims, the people retook Centennial Park and set in place the legacy of these Games
These things that I saw one night last week, let me just put them down on paper. I can't fuse them and tell you what they mean, or break them into parts and find the truth in a single fragment.
Here's what I have: Darkness falling over Centennial Olympic Park in Atlanta, one day after it has been reopened to the world. Fifty thousand people dancing on the grass and the bricks and the concrete where just a few nights before there were bodies moaning and writhing from the fragments of metal and wood that had been sprayed into the dark by a bomb. Carlos Santana on the stage, nearly three decades after Woodstock, speaking about love and peace and unity again and playing Oye Como Va once more, this time with the gigantic corporate logos of AT&T, Budweiser, Coca-Cola, GM and Swatch looming over him and his audience. One small clearing in the dense crowd, a little mound of grass covered with hundreds of American flags and flowers, along with New Testaments, T-shirts, scribbled messages, Olympic pins and ticket stubs, a fake gold medal, a cigar holder, a Boston Celtics cap and a piece of cardboard with a one-word question: WHY?—all left to commemorate the death and agony that had stopped the dancing here a half week before. On the edge of the memorial, young American women spinning, gray grandmother heads bobbing, a small Brazilian boy pulsing on his father's shoulders, and a man whose arms end at his elbows clapping rhythmically with the crowd by thumping together his two stumps. In their midst a marketeer moving from person to person, conducting a survey, accruing a profile. Please answer yes or no, ma'am: Which company names do you associate with the Olympics? AT&T? MCI? Coca-Cola? Pepsi? "Oye como va, mi ritmo. . . . " If offered equal services for equal value, sir, would you be likelier to choose the services of a company affiliated with the Olympics? "Bueno pa' gozar, mulata. . . . "
What are you to feel as you stand in this crowd? Does it make you want to cry, or to laugh, or to whoop, or to dance, or to purchase? I can no longer separate them. Can anyone ever disentangle them again after the Atlanta Games?
Thirty-one sports were played in all variety of stadiums, arenas and halls in the 1996 Olympics, but somehow a 21-acre downtown Atlanta park became its most important playing field, and millions of people wearing no credentials or uniforms became the Games' most significant performers. These were the Olympics that turned everything upside down and inside out and blurred around the edges. The Olympics at which the security became the source of insecurity, the Games that commenced on July 19 with a man in security guard's clothing being caught at Olympic Stadium carrying a knife and a semi-automatic weapon containing 11 rounds during the opening ceremonies and ended 16 days later with another security guard suspected of planting the bomb in Centennial Park that led to two deaths and more than a hundred injuries. (In Sydney, should we hire the fans to frisk the guards?) The Games that inspired the building of a park, which was intended to make people lose their fear of coming downtown at night but which would become the very symbol and center of fear. The Olympics that somehow were at once the most commercial and corporate Games in history and the friendliest, grittiest, most down-to-earth. The Games at which buying and selling became so completely intertwined with the Olympic spirit of love and peace that no crowbar may ever be able to pry them apart.
The city was stunned when the bomb ripped through the rock concert at the park in the early morning hours of July 27. Then the city was sad. Then it was angry. These leaps occurred with astonishing speed. A day after the explosion, people began gathering on the perimeters of the park, staring at the barricades, soldiers and policemen that now prevented them from entering it. Something else was already at stake, something very deep and American that had to do with movement and individual freedom. "People are pissed," growled Bob White, a 52-year-old former policeman from Oakland. "We want to go into that park, and we can't go where we want to go because of some idiot. Personally, whoever did it, I'd like to crush his testicles into the pavement."
At dawn on Tuesday, July 30, thousands of people, having learned that the park would reopen at 8 o'clock, awoke in darkness and waited in line to be the first ones in. By 10 a.m there were 30,000 in the park, and by darkness it was estimated that 350,000 had come through, and the words they spoke were so similar that they became a chorus. "That bomb in our park was akin to a rape," said a 50-year-old downtown resident named Anne Thacker. "I've never been raped, but I felt raped. I needed to show them: You can't do this to us. I feel wonderful now, coming back here. Another bomb? Let it come!"
Four more bomb scares occurred in the park over the next five days. Folks simply cleared a space while security people investigated the threat and then refilled the space the instant they were permitted. Parents clutching children. Teenagers hand in hand. Old folks leaning on canes. Everyone patiently enduring the long entrance lines caused by the increased security, the need to check every bag. It was as if the people, who had sat in their living rooms for so long drawing vicarious gratification from the endless procession of Olympic stories about individuals overcoming steep odds and adversity, now saw Centennial Park as their chance to be the heroes, the comeback kids, the underdog medalists, to reaffirm the American myth in front of all the world's eyes. "Wow!" local newscasters kept crowing as images of the jammed park played relentlessly on TV. "Look at those crowds! Atlanta has retaken its park!"
Billy Payne, the head of these Games, watched too, from the balcony of his sixth-floor office in downtown Atlanta. "Just look at them all!" he said, grinning widely, the wind flinging his necktie back over his shoulder. "Incredible!" It was on this balcony that the park was conceived. Payne had stood there during the summer of 1993, gazing down at all the derelict buildings and crumbling parking lots below, and an idea came to him. Tear them all up, he proposed, and give the city a place to gather and celebrate, a green space around which new homes and restaurants and nightclubs could flower, pulling people back from the suburbs to the downtown, which became a ghost town each night by 6 o'clock. And do it fast, because the Games would begin in just three years, and do it the true American way, by god, without a single red cent of the taxpayers' money. It was a grand idea, because Atlanta was a city in such a hurry to become shiny and important that it had forgotten to leave space at its core for people to feel, to talk, to gather, a place just to be, not to do. So the rot was razed and the $50 million park was built with remarkable speed, but the reliance on corporate coffers came at a cost. The park that greeted the world three weeks ago was a 21-acre commercial, full of logos and pavilions pushing products and slogans, such as AT&T's "A World Without Limits"—its only real human space being its amphitheaters and the Olympic ring fountain. The fountain had not been designed for people to dance and scream and laugh in, but they did, by the thousands, spontaneously.
Then came the bomb, and somehow the human-hating hands that constructed it accidentally had created something very human. "The park feels different now," Ann Morris, a director of the volunteer staff there, said late on the day that the park reopened. "It has acquired a personality, a soul." The city that had bulldozed its past at last had a story that it could share with the world—a piece of common experience—and a place right at its heart for people to gather and feel it.
And, oh, yes, a place to gawk as well. The patch of resodded turf in front of the sound-and-light tower was now a must-see for visitors and locals alike, a site to be photographed in front of—Atlanta's Texas Book Depository, Atlanta's grassy knoll—a site that would no doubt be preserved after the Olympics when the pavilions are dismantled and trees take their place. The first question people asked upon entering the park was, "Where was the bomb?" In three days Centennial Park had been transformed from a place of terror to a snapshot for the family album.
Only one of the 750 volunteers staffing the park begged off the job after the bomb, but 60 others requested extra hours. Darlene Dickinson of McDonough, Ga., listened quietly as her husband declared she would never go back to work in that cursed park again, waited until he had gone to work and then dressed, slipped out of the house and went right back to her post. Sonia Fernandez, a 55-year-old volunteer who had fled Havana after Castro's revolution, had to get back to the park, as a way to thank America for giving her refuge and opportunity, as a way to show that the terrorist bombs that had killed her cousin 3 1/2 decades ago in Havana and had kept her holed up in her home in fear could not do that to her now as an adult U.S. citizen. "All the memories of the bombs that Castro's followers set off in Havana when I was young came back to me," she said. "I had to go back to the park. Everyone did, and it was a victory for Atlanta and the American people. A total victory."
And so she was there two mornings after the bomb, scrubbing blood from benches and trash cans, scrubbing and crying, readying the park so that tens of thousands more could come to the memorial service and cry too, so that a spectacular slice of Americana could unfold. Renee and Jordan Pilzer of Marietta, Ga., came through the mob pushing a double stroller. Their six- and four-year-olds were not in it. Instead, the stroller carried a pair of helium tanks the Pilzers had rented so they could inflate hundreds of balloons and pass them out to celebrate this triumph of the little guy. "For two days after the bomb," said Jordan, "I kept saying, 'We've got to do something, we've got to turn this negative into a positive.' This is better than any of the Olympic events I went to. This park will be our legacy, our memorial to hope and peace."
Around him, some people were dropping to their knees to pray at the site. Some were clinging to each other, some strumming guitars, some beating on tambourines and singing hymns. Some began leaving mementos on the grass. Some began chanting, "U-S-A! U-S-A!" Others, hoping to get on the Today show being telecast live by Bryant Gumbel and Katie Couric from the grassy knoll, chanted, "BRY-ANT! BRY-ANT!" Andrew Young took the stage to deliver a short, strong speech about renewal, about comeback. Then, with slow-motion images of athletes playing across a giant screen topped by huge blue letters proclaiming at&t global olympic village and a woman singing the sort of song that can be heard in every other commercial on TV—"No matter where you are, reach for your own star, to realize the power of the dream!"—people of all colors clasped hands and wept honest tears once more, at which point two men hired by AT&T picked up microphones and announced, "Welcome back to Centennial Park! And welcome back to AT&T Global Olympic Village!"
The selling could begin anew, with even more zest, now that it could ride piggy-back on the feeling, now that the spirit of the people and the spirit of the merchandising were in perfect harmony, both singing of overcoming all limits, of endless possibility. And no matter how long you stood there and tried to sort it out, to split one from the other, you couldn't—that's how masterfully the two had been welded together by this phenomenon known as the 1996 Olympic Games. Who but the hardest of men could have taken it all in and not welled up?
The memorial site kept growing as the Games drew to their close, as did the variety of mementos. Here and there among the flowers and flags and Olympic pins on the piece of land set aside to remember the injured and dead, there were now business cards.