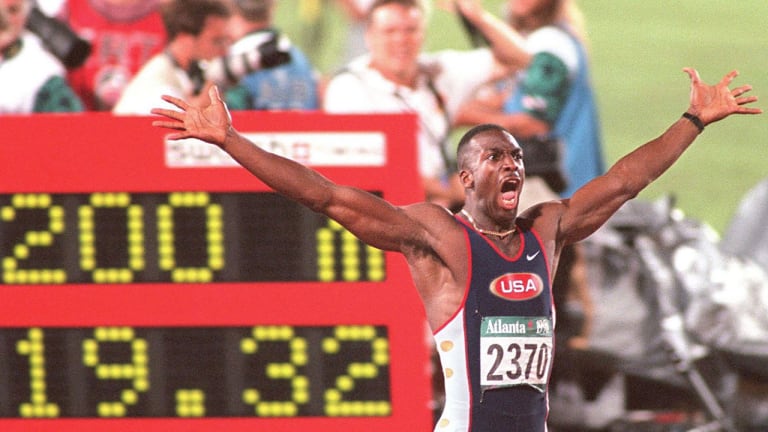 The Man
'I am rarely shocked by my own performance,' Michael Johnson says as he looks back on his record-shattering 200-meter run. 'And I'm shocked.'
There was a delay. The officials had escorted the Olympic men's 200-meter finalists to their marks a few extra minutes before the scheduled start of the race, so Michael Johnson, warm and grim, sat on the box with the number 3 on it that marked his lane. His mustache was perfectly shaved. If he was nervous, it had not affected his razor hand.
Throughout the stadium, people called his name, screaming, "Michaelllll!" as if he were their last thought as they fell from a burning building. He no longer heard them. In this unwonted moment the whole shape of his mission was suddenly clear to him.
He was back in Barcelona, four years earlier, mortifyingly weak from his famous case of food poisoning. He was watching the final of this race, the 200, which he, the prohibitive favorite, had not even made. He was taking an oath.
The fates may have taunted him--a man to whom control is paramount, a man who plans against every possible hindrance--by slapping him with this freakish weakness, dashing his orderly dreams with something as unpredictable as a toxin in a revered restaurant's mixed grill. Well, so be it. If ever there was a man born to take revenge against the fates, it was Michael Johnson. He would return.
In 1996 he would employ the fury he was feeling to pursue a great 400-200 double, never accomplished by any man in any Olympics. So for the next four years he trained and raced to build and test the incredible sprint stamina needed to achieve that quest. He became the first man to rank first in the world in both distances in the same year. He became the first to break both 44 seconds in the 400 and 20 seconds in the 200, the first to win that double at the world championships.
For years he had seemed capable of world records in both events, yet he didn't set one until his 19.66 in this year's Olympic trials because achieving the double--with its eight races in five days, its premium on raw durability rather than pure speed--was more vital to him. He came to Atlanta and won the Olympic 400 in a near record 43.49, moving halfway to that precious double, and felt he had energy left to spend. He stood on the 400 victory stand, exultant, yes, but primarily relieved. "I had always been afraid," he said, "of ending my career without having won an individual gold medal." (He had a relay gold from '92.) Now that fear was stilled.
In Atlanta there were no unhinging interventions of fate. In fact, after the 400, Johnson's main worry was making sure he held the flag right-side-up on his victory lap. "Everything was going to plan," he said. "No surprises. I was surprised there were no surprises. The Centennial Park bombing was tragic, but the way the athletes and city responded and were able to acknowledge Alice Hawthorne's death and feel sympathy for her daughter and come back, it was all so positive, it made performance even more important."
The first two rounds of the 200 exacted a price. Johnson's left Achilles tendon was aching. The tendon behind his left knee, already sore coming into the Games, was worse, and he needed repeated adjustment of his sacroiliac joint.
"Since the 200 is more intense attack sprinting, I woke up the day of the semi and final with my whole body sore," Johnson said. He put it out of mind. "In what I like to call the danger zone, there are certain unimportant things you block out."
He won his semifinal in 20.27, coasting in, then watched Namibia's Frankie Fredericks win his semi in 19.98. In Oslo on July 5, Fredericks had beaten Johnson over 200 meters, and in Atlanta on July 27 had run a 9.89 to take the silver in the Olympic 100 behind Canada's Donovan Bailey, who set a world record of 9.84. The danger was clear.
Now the starter called the runners to stand behind their blocks for the 200 final. Johnson did so, staring straight ahead. The boisterous crowd was quieted by the announcer, and Johnson consciously let all the rivers of pressure flow through him. "There was the pressure from the 80,000 people there who expect you to win," he would say two days later, his tone still one of relish. "Not to mention having the Olympic schedule changed for you, and all the years of magazine covers, photo shoots, people calling, people calling to try to take off the pressure but just making more pressure, and the fact that Frankie and [Trinidad and Tobago's] Ato Boldon were running really, really well. I thought, If I don't win this, a lot of things are going to be said that I will not want to hear."
He let the pressure fill him to bursting. (Later it would shock him to hear Fredericks admit that he hated pressure. "I crave it," Johnson would say. "I live for that very moment in the blocks when you may win, but you don't know, and now you're going to find out.") Then his mind cleared away all the chaff and printed one defining sentence: The 200 is the one I want, this is the reason I'm here. That thought had not come to him these whole Games, not until now.
"It was perfect," Johnson would say. "It dumped a whole other ton of pressure into the mix. It was like one of my competitors coming up and hitting me."
This was the full-circle moment. This was when he would strike back at the fates, take what he had been owed for four years.
At the command the finalists rose to the set position. A second before the gun, a tremor ran through Johnson's body, and he flinched but held steady. He would not know he had done this until he watched the tapes. He would say, "I was focused only on the gun."
It fired. Johnson reacted well, in .16 of a second, but on his fourth step he stumbled slightly. Then he was on his way. Fredericks led early, but Johnson caught him at 80 meters, and there, feeling strong and in control, he lifted into a gear neither he nor anyone else had attained. "I did know, off the turn, I was running faster than I ever have," he would say. "So I went to my endurance."
In the stretch his effort was engraved on his face. His gold chain sawed back and forth across the straining cords of his neck as he drew two, three, four meters ahead of Fredericks. The great crowd stood as one, calling him home.
He hit the line, looked left at the clock, and for an instant his expression was, as he later put it, "Where the hell did that come from?" The clock read 19.32. Johnson had broken his world record by .34 of a second. It was a time statisticians had not projected would be run until a couple of decades into the next century. There are thousands of people who have burned into memory the bug-eyed face of a friend to whom they turned that night, staggered, as the seatmate mouthed silently in the bedlam, "Nineteen-point-thirty-two! Can it be, 19.32?"
Johnson was no different. Later he wondered why he hadn't thought something was wrong with the clock. "I thought I could do 19.5," he said. "But not this, not 19.3. I'd have lost a lot of money betting that I wouldn't get 19.3."
Fredericks, who was clocked in 19.68, the third-fastest time in history, was beaten by four meters, the largest winning margin in an Olympic 200 since Jesse Owens defeated Mack Robinson 20.7 to 21.1 in 1936. Boldon was third in 19.80 and made a comic little bow of obeisance to Johnson. "Nineteen-point-thirty-two," said Boldon. "That's not a time. It sounds like my dad's birth date."
For a while Johnson could only sort happily through all the things that were his to savor: the win, the completion of his double, the dizzying time. He walked a lap of flag-wrapped joy with an ice pack on the back of his right knee, having felt a low hamstring twinge in the last five meters. The slight strain, which would keep him out of the 4x400 relay on Saturday, mattered not at all in the giant shadow of this towering record.
Later one of Johnson's friends, Denver Broncos cornerback Ray Crockett, would phone and yell at him that when he came off the turn, he looked as if he was driving a car, for god's sake, and Johnson would realize for the first time how the sight of him must have affected his competitors. "I am rarely shocked by my own performance," he would say. "And I'm shocked. I can't think what 19.3 really means. It is so much more than I expected or predicted, I can't understand it yet."
The fates had done it again. They had risen up and clobbered Michael Johnson with the same lesson he had refused to bend to in Barcelona: There are things no one can predict. This time he was hurled clear to the other end of the emotional spectrum, but 19.32 was a time as devastating in its way as food poisoning.
He was only too eager to try to explore, if not explain, just where the time came from. "Part of it was the crowd," he said. Atlanta's crowds for track were the largest in memory. "The first round of the 200, 10:45 in the morning on a Wednesday, I walked out there, and the stands were packed, people howling my name," said Johnson. "I've never seen a crowd like this, the size of it, not even in Europe. They deserve the world record. Without them, it would have been 19.5."
Johnson's best times have all come at the end of a day that included preliminaries. Is it conceivable that running rounds helps his performance? "In part it does," he said. "In your warmup you can't really simulate running a 20.27, so doing it in the semifinal gets my body, my fast-twitch muscle fibers, ready for that kind of speed. But remember, the only time you run that many rounds is in the worlds, the Olympics or the Olympic trials. The big races. The races that put me in the zone, when I'm more focused and aggressive."
As he ticked off the variables, Johnson became more and more sure that the record was the result of the sudden joining of many forces, all that glorious pressure being turned into speed. It was a record, therefore, that required a man with a great sense of occasion, a man preternaturally eager to go out and shoulder the weight of millions of vicarious hopes. "I know a lot of people say when they succeed, suddenly it's like throwing off a huge weight," Johnson said, "but I enjoy it so much.... Well, it's not like it's exactly fun, not birthday-party fun, but I love it so, I do."
Maybe the question is, Where did that come from? That willingness to be depended upon? "It flows from wanting control," says Johnson, a self-analyst of some clarity. "All my life, if I have to depend on others, I'd rather have them depend on me."
Thus he finds himself in an Olympian's paradox. Does he insist that the rest of the world live up to the standards to which he holds himself? Johnson smiles, knowing he has made progress. "I think I've learned I can't control anyone but Michael," he says. "I can't control people. I've learned I can't expect from others what I expect from myself--which is a lot."
And, efficiency expert that he is, he sees the payoff: "I work better with people. It's freed me from doing a lot of things I couldn't expect others to do right."
After the 200 record Johnson celebrated quite capably at a party thrown for him and for decathlon victor Dan O'Brien at Atlanta's Planet Hollywood. Johnson's black silk singlet and the Florentine gold buckles on his shoes put to rest the idea that he is all solemnity and grind.
"There are a lot of contrasts in me," he would say later. "People see one side, then they seem shocked by any other. A lot of people thought I wouldn't get into it [celebrity], but I'm not a shy person. I like to make people laugh. This Olympic fame might seem all of a sudden, but I've had it in Europe for six years, so that's been good training. There are impositions on my privacy, but for me the trade-off is good. It lets me perform the way I want to on the track." He doesn't even have to say that if his performance starts to suffer, the balance will be adjusted.
As he set out from Atlanta, Johnson was back to exuding his usual sense of control. He plans on going undefeated the rest of this season. He plans on putting his business training to use as a part owner of the Dallas Mavericks. ("I'm going to be figuring out why we're paying one guy $9 million," he said.) There are contracts to renegotiate with his own sponsors.
He plans to run in Sydney in four years. Yet Johnson, 28, has felt no need to form a plan that might enable him to marshal all the conditions that had moved him so in Atlanta, that had contributed to an experience that he termed "almost perfect."
"I have to say," he said with a certain wistfulness, "that all that has happened here just seems impossible to top."
Fates, are you listening?
COLOR PHOTO: BILL FRAKES GATEFOLD COVER 19.32 Michael Johnson blazes to a record for the ages
COLOR PHOTO: HEINZ KLUETMEIER Fredericks, heading home with the third-fastest 200 time in history, couldn't come close to Johnson. [Frankie Fredericks and Michael Johnson in race]
COLOR PHOTO: TOM LYNN Coming off the turn, Johnson (2370) says, he knew he was "running faster than I ever have." [Ato Boldon, Frankie Fredericks, Michael Johnson and others in race]
COLOR PHOTO: HEINZ KLUETMEIER When Johnson glanced over at the clock, his thought was, Where the hell did that come from? [Michael Johnson running past clock which reads "19.32"]
COLOR PHOTO: BILL FRAKES Johnson shared his emotions with the fans and later said, "Without them, it would have been 19.5." [Michael Johnson with arms raised in victory]