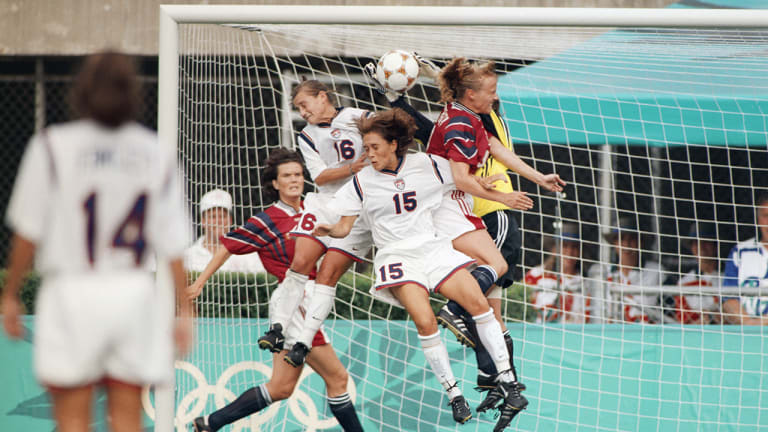 Score One For Women
The Americans' gold medal victory over China was one for the record books, and one for the next generation of female athletes
Joy Fawcett stood transfixed under the stands of a college football field turned Olympic football field. She had a gold medal around her neck and her two-year-old daughter, Katelyn, in her arms. It had been 90 minutes since the U.S. had edged China 2-1 in the first Olympic women's soccer final, in which Fawcett had made a brilliant run from her right-back position to help create the winning goal. But she considered the U.S. triumph less a win for herself or for her team than a victory for her extended family: the 76,481 spectators who had filled Sanford Stadium in Athens, Ga., last Thursday, the little girl named Lindsay who had sent U.S. players homemade red-white-and-blue twill anklets and bracelets, and every schoolgirl who had written to say, "Sorry I'm bugging you, but I think you're the greatest."
This victory was also for Katelyn. "I hope she can do the same thing," said Joy, 28. "I hope she has more opportunities and finds it a lot easier than I did. If she chooses this sport and gets to this level, there should be much more recognition."
U.S. Soccer Federation executive director Hank Steinbrecher couldn't agree more, and he fumed about the skimpy airtime (four segments totaling a mere 20 minutes from the gold medal game) that NBC accorded women's soccer. Steinbrecher had 76,481 valid arguments. The spectators, who made Sanford Stadium the seventh-most-populous city in Georgia for one night, voted with their voices and wallets, paying as much as $133 per seat for the privilege of watching the game. It was the largest crowd to watch a women's soccer contest and the largest ever to see a women's sporting event in the U.S.
Even if the television coverage didn't reflect it, this was a red-letter date on the timeline of U.S. women's soccer. Ten years ago, if these women had played on your lawn, you would have drawn the drapes. Six years ago, when Briana Scurry, the 1996 U.S. Olympic goaltender, was at the University of Massachusetts, she didn't know there was a women's national soccer team. Five years ago, after America won the first women's World Cup, the family that knew and cared about the title hardly extended beyond the players' uncles and cousins. Two years ago the U.S. was the host nation for the men's World Cup--and after that the earth moved for the sport.
How much did it move? Two weeks ago, when the U.S. women played their first game of the Olympics, in Orlando, the team bus was escorted to the stadium by nine motorcycle cops. (Scurry can only be thankful that none of those cops made the trip northward to Georgia, where at 2:07 a.m. last Friday she made good on a vow to "run naked through the streets of Athens" if the U.S. won the gold medal. Witnessed only by a friend with a video camera, Scurry says she ran 20 yards along a side street, with her gold medal around her neck and nothing else on. "I was very naked," Scurry says.)
August 1, 1996, will not be the last red-letter date on the women's soccer timeline. By December, U.S. players might have a league of their own. Nike, Reebok, Adidas and Umbro have discussed the possibility of creating a women's professional circuit. But even if the league doesn't get beyond the talking stage--"Right now we haven't even come up with a structure," says Sandy Bodecker, vice president of Nike Soccer--it is inconceivable that the women's national team ever again will play in front of crowds of 400 people on lawn chairs and three Frisbee-catching dogs. Says defender Brandi Chastain, "People are going to see our gold medal and say, 'We want a piece of that. We want to see them play.' This team's lawn-chair days are over."
This team also gave the U.S. its first soccer superstar, Mia Hamm. Hamm, a 24-year-old former middle school wide receiver and cornerback in Wichita Falls, Texas, is sloe-eyed and quick-footed, and, by almost everyone's reckoning but her own, the best female soccer player in the world. Even before she made a Nike commercial (which has replaced being processed at Ellis Island as the symbol of arriving in America), Hamm had evolved into a poster player for U.S. soccer. O.K., she's not Shaq, but two years ago, while Hamm was walking into the subway in New York City, a teenage boy recognized her. "That was awesome," says midfielder Tisha Venturini, Hamm's former roommate at North Carolina (the school that supplied the U.S. team with seven of its 16 players). "But Mia's something special. I compare her to Barry Sanders. She just explodes out there. She'll go full speed, stop and change direction like that. She's got incredible feet."
Hamm also had an injured foot. Shortly before the end of a match against Sweden, in the second game of the tournament, she collided with the Swedish goalkeeper, hurt her left ankle and had to crawl off the field. Hamm missed a 0-0 tie with China in the round-robin because of the ankle, but she returned for the 2-1 overtime victory over archrival Norway in the semifinals, during which she was thumped to the turf seven times. She hit the ground another eight times during the final against the Chinese before leaving the pitch on a stretcher in the final minute, battered, bruised and thoroughly worn out. (It would appear that in Olympic soccer, they waive the three-knockdown rule.)
Hamm, who also had injured her groin slightly in practice the day before the final, considered sitting out the second half against China. Although the score was 1-1, and Hamm had been the catalyst of the U.S. goal--midfielder Shannon MacMillan tapped in a rebound of Hamm's hard shot--Hamm asked several teammates if they thought she was hurting the team. "I told her, 'Mia, we need you,'" Scurry said afterward. "'You have 45 minutes of your entire life to do this, and if you do it, you'll never regret it.' Mia's impact on a game is tremendous even when she isn't 100 percent. The Chinese have to worry about her, which means someone else might get loose."
That's exactly what happened in the 68th minute, when Fawcett got loose, sprinting to take a nifty short pass from Hamm. Fawcett promptly raced down the right side and centered the ball to an unmarked Tiffeny Milbrett, whose kick found the net for the American victory. When the game had ended, Hamm leaned on two trainers as she limped across the field to join in the celebration.
Afterward the team repaired to the Kappa Alpha Theta house off the Georgia campus for a party with friends and family. A sorority house was the perfect setting for a celebration by a group of women who had become sisters. A month earlier the players had survived a day of team-bonding skills, including a wall climb that scared some of them witless. Between early-round Olympic matches they had carved cars out of squash, zucchini and potatoes and pushed them down an incline in what they called the Fresh Produce 500, no doubt proving the theory that a team that races legumes together zooms together. Some of the players took the togetherness thing so far that they even discussed getting tattoos to commemorate their Olympic achievement. But judging by the adoring gazes of the girls who watched the U.S. team make history on a steamy night in Georgia, the indelible mark of this Olympic soccer tournament was left not only on the players but also on another generation.
COLOR PHOTO: DAVID E. KLUTHO In a semifinal collision with Norway, Milbrett (16), Venturini and women's soccer were the winners. [Tiffeny Milbrett and Tisha Venturini in game]
COLOR PHOTO: ROBERT BECK Heady play by MacMillan (8) and mates spurred talk of a pro league. [Shannon MacMillan in game]
COLOR PHOTO: DAVID E. KLUTHO Hamm (dribbling past China goalie Hong Gao) was a dashing figure even when she was injured. [Mia Hamm in game]