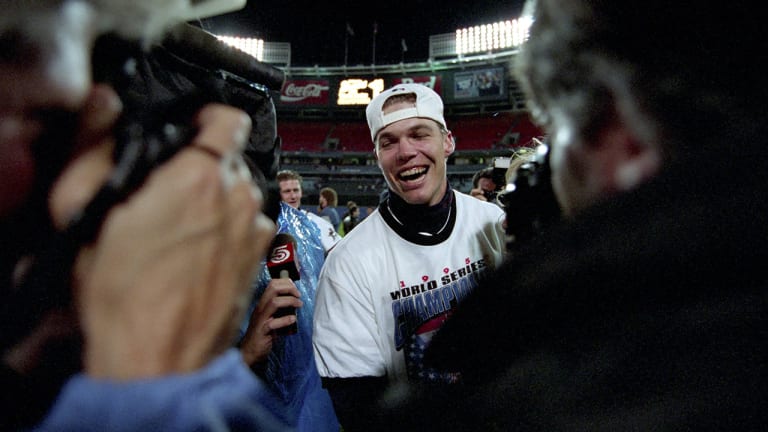 Riding High
Life isn't a roller coaster for Braves star Chipper Jones, who's on top of the world no matter what position he's asked to play
Nobody calls him Larry. Well, that's not entirely true. His teammates call him Larry. Pedro Borbon and Ryan Klesko and Mark Lemke, they can get away with it. But to everyone else--his wife, his parents, his neighbors in suburban Atlanta waving at him as he takes out the garbage--Larry Wayne Jones Jr. is Chipper. And just about every afternoon, when Bobby Cox, the Atlanta Braves' skipper, fills out his lineup card, he enters the name of Chipper Jones right before the name of Fred McGriff, Atlanta's cleanup hitter. At week's end Jones, a sophomore in the big leagues, was switch-hitting .308, with 30 homers, 105 runs batted in and 105 runs scored. He's 24, and he's making a national name for himself in the pastime. Last year he was an affable, unselfish and promising player who helped the Braves win the World Series. He remains affable and unselfish, but this year he's a budding star--and Atlanta has the best record in baseball.
Chipper. Cox writes in that cheerful name day after day, but he doesn't always know what position he'll put after it. Last year Jones was the Braves' every-day third baseman, and he was the National League starter at that position in this year's All-Star Game. But on Aug. 15, a month after Jeff Blauser broke a bone in his left hand, Jones returned to his ancestral home, shortstop, where, through Sunday, he has had but three errors in 95 chances. His teammates may call him Larry, force him to wear clown pants through the Montreal airport, mock his discards when he plays hearts in the marathon games that help pass afternoons on the road. Cox takes no such chances. He calls Jones by the old-time nickname, Chipper.
Until Blauser, who was activated last week, is ready to play every day, Jones will be the regular shortstop. What will happen next month and next season and in the years beyond is unknown. For a long time to come, Jones--a line drive hitter who has surprised nobody with his average but many with his home run power--will bat in the middle of the order, but he might be at short or third, or in left or right. All he cares about is playing. Career-counseling sessions with Jones are rare and brief. "What can one say about the Chipper?" Cox asks, sitting in a visiting clubhouse office recently, a stubby cigar in his fingers. Jones is out of earshot, in the clubhouse, absorbed in a game of hearts. "His attitude is, 'Whatever's best for the team.' Where does it come from? Look at his family. Good people, his mother and his father. His father's a baseball coach. Good man." Lynne, a professional horsewoman, and Larry Wayne Jones, a school teacher, have one child: the Chipper.
"Chip off the old block," Chipper says, explaining his nickname. He has quit the card game and stretched to his full 6'3". His body, now 200 pounds, became bigger and stronger during a long rehabilitation from knee surgery two years ago, gaining muscle that has added 15 feet to his fly balls. He has big, square teeth, a score of juvenile hairs on his chin, an Eisenhower-era haircut, a little nose with an upward tilt and green, widely spaced eyes. Same eyes as his father, a college shortstop at Stetson who later had a tryout with the Chicago Cubs.
"Chipper is a good name," Chipper says. "If I was called Larry Jones, who'd remember that? Chipper is one of those first names people remember. Think of Cal, Emmitt, Mickey. You hear those names and you say, 'Those were some of the best to ever play the game.' I'd like to be thought of like that someday." The Chipper has dreams. He would like a membership in the Hall of Fame. He would like nine more World Series rings, so he would have one for every finger. But he's ambivalent about fame. "From 2 p.m., when I arrive at the park for a night game, until I sign my last autograph after a game, I'm Chipper," he says, speaking in full sentences and with a Southerner's laconic ease. "The rest of the time I think of myself as Moe Jones, leading an ordinary, upper-middle-class life."
His name, though, already resonates in Atlanta, which he calls, with an earnestness that belies his years, "my home." He's on the AM dial almost daily, talking baseball with Neal Boortz, the Rush Limbaugh of local radio. Before the Braves' radio broadcasts, he does a spot called "Ask Chipper," during which kids pose questions such as, "Why do you wear your socks the way you do?" (He wears them with a lot of stirrup showing: He's a traditionalist.) He's featured in a full-page ad for a BMW dealership that runs regularly in The Atlanta Journal-Constitution. He's often seen at charity events or having lunch in a local school, sometimes in a downtrodden neighborhood, as part of a program to encourage children to eat nutritiously.
When the Braves vacated town for nearly three weeks to make Atlanta-Fulton County Stadium available for the Olympics, Jones wrote--or, more accurately, dictated to a ghost writer--a short daily column for the Journal-Constitution. He used the space to praise the ease with which his remote control changed television channels in his Los Angeles hotel room. He also recounted his terror at being trapped in a Houston elevator for 15 minutes and his dismay at a cab fare that rose to $40 because of a map-challenged driver. He wrote, briefly but movingly, about the fatal explosion in Centennial Olympic Park. And when, during that monster road trip, Atlanta hit a bad patch and lost three straight, Jones said in his column, "I don't like the way some people are going about their business."
Those were words of warning, words you might hear from a veteran with established leadership credentials. They aren't words one would expect from a 24-year-old, second-year player. But they were Jones's words, and he regretted them. "I knew the next morning I shouldn't have said that," Jones says. "Nobody said anything to me; nobody needed to. I just regretted it. I was frustrated when I said it. But what happens in this clubhouse should stay in this clubhouse. I made a mistake."
It's hard to say which words demonstrate more maturity, his stern assessment of his teammates during a slump or the honesty of his regret. Either way, Jones's voice carries well in the Atlanta clubhouse. Even as a rookie he took steps to initiate a team meeting. There's not a Brave who won't listen to him, particularly when he's discussing an opposing pitcher. He has an almost photographic memory of at bats, his own and others'. He has been heard to say to a teammate, "Don't you remember what that guy threw you? You homered off him, dude!"
Although Jones has been in the majors only two years, he's already a veteran of the organization. He was drafted by Atlanta in 1990 after a phenomenal schoolboy career at The Bolles School, in Jacksonville. Jones was in the same draft as Todd Van Poppel, the high school pitching sensation from Arlington, Texas, who had said before the draft that he would sign only with the Oakland A's. Those were different days for the Braves. They had the first pick in the '90 draft and desperately needed pitching. Atlanta officials camped out in Arlington to see if Van Poppel was signable. They decided that they couldn't take the chance that he might not be. Choosing Jones was plan B.
That's how Jones came to be the top pick. From the first day he was low maintenance. It took the Braves an hour to come to terms with him. Two Atlanta front-office guys showed up at the Joneses' house in Pierson, Fla. The Braves suggested a certain figure as a signing bonus. The Joneses named a higher number. The men from Atlanta said it was too high. The family asked to be excused. They went upstairs to Chipper's bedroom to discuss the offer. They had no agent.
"Chipper, you know we can get more money than this," Larry said. "I don't care about the money. I want to be playing professional baseball in two weeks," Chipper said.
Father, mother and son walked downstairs. Larry said, "If you'll meet us halfway, you have a deal." The Braves officials smiled and extended hands.
It was a scene out of the old days. Jones signed for $350,000. (Van Poppel signed for $1.2 million, and through last weekend had struggled to a 20-30 record in five seasons, with Oakland and now the Detroit Tigers.) Two weeks later he was at shortstop, the position he had played growing up, for the Bradenton Braves in the Gulf Coast League. Last year Jones earned the major league minimum, $109,000. In the spring he signed a four-year deal worth $8.25 million, with an option for a fifth year. He and his wife, Karin, are planning a big house in the far reaches of suburban Atlanta. Something with a nursery. For now, though, it's just the two of them and their two golden retrievers and off days on roller coasters, at the movies, cruising the malls.
Some players, including some teammates, mocked Jones for his contract. They told him that if he had waited and then put up the numbers he has now, he could have received much more money, vast sums. "When I hear that, I just laugh in their faces," Jones says. "I don't play baseball for money; I play for love of the game. I have no desire to be the highest-paid player. I'm happy with my life."
Chipper and Karin have a memory. In 1994, with Blauser entrenched at shortstop, Jones was expected to be the Braves' starting leftfielder. (Cox believes that Jones--because of his size, his athleticism, his arm and his attitude--can play short, third, left or right.) But during spring training in '94, Jones tore the anterior cruciate ligament of his left knee avoiding a tag at first base and missed the season, the season that was aborted by the strike. There were house payments and car payments, credit cards to pay off and no paychecks in the mail. There was strain in the Jones household.
"Chipper's heart beats for baseball," Karin says, "and in 1994 he lost baseball two ways. He had an injury that made him realize that you never know when the game is going to be taken away from you. And then the strike. We were two months away from having to sell our house. I took a job as a substitute teacher. Then in that same year, my parents got divorced. We cried a lot, and we prayed a lot." After that, $8.25 million for four years, guaranteed, sounded pretty good.
Chipper was a 19-year-old minor leaguer when he told his father about the love of his life.
"I don't know about this," Larry said.
"Dad, Karin's just like Mom," Chipper replied.
Larry was speechless at Chipper's argument. The wedding was a year later.
"Chipper and his father are absolute clones," says Lynne. "They stand the same way, they walk the same, they field the same. Watching Chipper play shortstop in high school was like watching Larry play shortstop in college. They are both competitive--to a fault. When Chipper comes home and wants his father to throw him a little batting practice, the next thing you know, Larry's trying to strike him out and Chipper's trying to hit home runs. But that's what makes them so good at what they do."
Larry grew up in Vero Beach, Fla., where the Los Angeles Dodgers have conducted their spring training since 1948 and where his father was an Assembly of God minister. As a boy Larry used to dream at night about playing for the Dodgers and spend his days trying to avoid his father's wrath. His father was strict. Larry raised Chipper the same way. "I'd say once or twice a year, from the time Chipper was five or six until he was 13 or 14, I'd get out the belt," Larry says. "I gave the usual speech: 'This is going to hurt me a lot more than it's going to hurt you.' And Chipper would say, 'I won't do it again,' and I'd remember my father saying, 'If you let a child off once, it will be only harder the next time.' I think every now and then, pain is a powerful motivator. I firmly believe children will do what you demand of them, not what you ask of them. We've been very fortunate with Chipper. When people say, 'Chipper reminds me of you,' I couldn't be prouder."
The Joneses are old school. Larry is not saying his methods are right for everybody. What he's saying is that they worked for him and for his son, Larry Wayne (Chipper) Jones Jr., a budding star and a decent man.