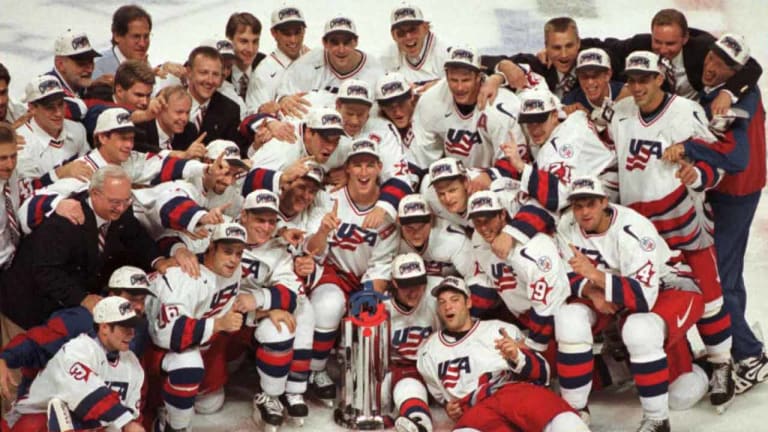 USA Over DNA
Canadians may be born to play championship hockey, but it was the Americans who, surprisingly, won the World Cup.
Ron Wilson, coach of Team USA, sidled up to forward Tony Amonte
on the morning of the most important game in American pro hockey
history and told him, "You're going to be our Paul Henderson."
Amonte answered, "Who the hell is Paul Henderson?"
"I was kidding," Amonte said later. "Sure, I had heard of Paul
Henderson. But Ron said, 'Let me put it in your terms. You're
going to be our Mike Eruzione. You both went to Boston
University. You're both Italian. And you're both not the
best-looking guy in the world. But you're going to do something
special for us.'"
In literature, Wilson's chat with Amonte would be known as
foreshadowing. In real life, it was a premonition. Certainly
Amonte relished its retelling last Saturday night an hour after
the U.S. had defeated Canada 5-2 in one of the most compelling
matches in hockey history to win the inaugural eight-nation
World Cup. Amonte's disputed goal with 2:35 remaining--maybe he
scored with his stick, maybe he kicked the puck in illegally
with his skate--was one of four goals the Americans scored in
the last 3:18 of Game 3 of the best-of-three Cup finals to
secure the U.S.'s position as an elite hockey nation. Just as
important, the victory, occurring in Montreal in a tournament
formerly known as the Canada Cup, gave American professional
hockey its "Once upon a time...."
On the day before Game 3, Wilson didn't lament that he had no
Wayne Gretzky or Mark Messier in his locker room, but he did
lament that his players had no lore to sustain them, something
that Canadian stars like Gretzky and Messier had in abundance.
If Canada is hockey's enduring home, U.S. hockey had been a
Potemkin village, a facade constructed from the surprising
American triumph in the 1960 Olympics and the 1980 Miracle on
Ice, in which Eruzione and his U.S. teammates beat the Soviet
Union and went on to win the Lake Placid Games gold. As wondrous
as those accomplishments were, they paled next to Canada's rich
hockey legacy.
"It's like tribal storytelling," said Wilson, the Mighty Ducks
of Anaheim coach, of Canada's heritage in the sport. "The
information is passed on from generation to generation. But the
U.S. hasn't won anything in professional hockey, so there's
nobody in our room telling stories of our great victories of the
past. If we could put ice in Yankee Stadium, maybe the ghosts of
Mickey Mantle and Babe Ruth would help us."
Wilson had only fresh, strong legs to pit against Canada's
societal memory in the final series, which began with a 4-3
Canadian win in overtime in Philadelphia. That was followed by a
5-2 U.S. victory in Game 2 in Montreal. Beneath their scars and
dental plates, Canadian players have a hockey DNA that's
supposed to remind them who and what they are in the dying
moments of important one-goal games. Thirteen of Canada's 20
players in last Saturday's showdown were five years old or
younger when Henderson's goal for Canada in 1972 beat the Soviet
Union in the concluding game of the Summit Series, the first and
best of the mega-international hockey events, but that goal
remains their lodestar. Last week the U.S. players looked around
cavernous Molson Centre in Montreal and saw Maple Leaf flags and
signs boasting THIS IS OUR GAME. Canadians are not shy about
their birthright. The T-shirt that Canada's backup goaltender
Martin Brodeur wore to practice last Friday read, CANADA IS
HOCKEY. PERIOD.
Of course, if there were truth in sloganeering, the shirt would
have been emblazoned CANADA IS HOCKEY. EXCEPT IN THE THIRD
PERIOD. Just when Canada was supposed to act on its primal
hockey instincts, the Americans were starting story hour.
Once upon a time...but when does the story really begin? Was it
last Friday night when Wilson woke up from a dream three times
screaming, "We won! We won!" Or does it begin with the
Amonte-Wilson dialogue at the morning skate on Saturday? Or when
U.S. goaltender Mike Richter frustrated Canada for the first
39:55 of Game 3--until Eric Lindros finally scored on a power
play? Or does it begin in the third period when Brett Hull of
the U.S. deflected a shot with his stick near his shoulder to
tie Canada 2-2 with 3:18 left, a goal that sent referee Terry
Gregson scurrying to the telephone to speak with the officials
in the video-replay booth to determine whether Hull's stick was
legally below the height of the crossbar? Forty-three seconds of
playing time later Gregson was on the phone again to discuss
Amonte's shot, which he might have Pele'd in. Wilson wasn't
dismayed by the video verification. In fact, he said it allowed
Team USA to cheer twice for each of the disputed goals. On each
score the Americans exploded when the puck went in, waited for
the replay officials' decision and went nuts again when Gregson
signaled that the goal counted.
Canada had a chance to spoil the party with 50 seconds left, but
Gretzky, national icon though he is, failed to redirect a pass
from Paul Coffey into a yawning net for what would have been the
tying goal. Eight seconds later U.S. defenseman Derian Hatcher
iced the victory with an empty-netter.
Or should the story begin 10 years ago when Hull, who was born
in Canada but has dual U.S.-Canadian citizenship, accepted an
invitation from the Americans to play in the world
championships, a lower-level event held every spring? Canada
wasn't interested in a gifted but reputedly lazy and
self-absorbed college goal scorer, which explains why Hull has
since played for the U.S. in international games. In the World
Cup he had a tournament-high seven goals, including two on
Saturday, and left Gretzky wondering, "Who was the guy who cut
Brett Hull?" Each time Hull scored on Saturday, the 21,273
partisan fans at the Molson Centre broke into a chant of
"TRAI-tor! TRAI-tor!"
In the hockey world the 49th parallel is less a line of
demarcation than it is a suggestion. Like Hull, U.S. forward
Adam Deadmarsh was born in Canada--and so, for that matter, was
Wilson. Seven of the Americans in the finals played junior or
minor hockey in Canada; some, like Vermont-native John LeClair,
grew up a slap shot from the border and watched Hockey Night in
Canada as kids. The Americans knew the hockey culture--Amonte
could not help but be familiar with Henderson's goal--even if
they had not shared in all of its glories. "We've all said we
could beat Canada," center Doug Weight said last Friday, "but
when you're alone in your room, do you believe it? This team
does."
The U.S. brought to the World Cup a physical presence and a
snarling attitude, which had been the trademarks of Canada in
previous meetings with fancy-dan Russians and Swedes and mostly
Smurfish American teams. The U.S. has always been able to rustle
up good goaltending and solid defensemen--although nothing that
matched Richter's World Cup MVP play and the punishing,
breakthrough performance of the 24-year-old Hatcher--but the
biggest difference between this and U.S. teams past were the
young, quick, tough forwards. Deadmarsh, LeClair, Keith Tkachuk,
Bill Guerin and Bryan Smolinski (average age: 24) banged the
Canadian wingers and were almost impossible for Canada's
defensemen to dislodge from the slot.
"They've got the two premier power forwards in the game--Tkachuk
and LeClair--and that's something they didn't have a few years
ago," said Theoren Fleury, the terrier-tempered 5'6" Canadian
forward. There's no mystery why the power forward has become the
U.S.'s position. "At least in my case, it's lack of skill," says
LeClair. "You don't need as much skill if you're going to bang.
Americans usually learn to skate first and then put the rest
together. Not many of my goals are scored from more than three
feet."
LeClair was being unduly modest, although, like American pro
hockey in general, he's a late bloomer. Early in his career,
while playing for the Montreal Canadiens, he was as unsteady on
his skates as Bambi was when he took to the icy pond with
Thumper. However, LeClair exploded with 51 goals for the
Philadelphia Flyers last season, and if there had been
suspicions that he was simply an appendage of Lindros's, he
dispelled them by scoring six goals in the World Cup while
playing on the No. 3 line with Amonte and Smolinski. LeClair has
one of the hardest shots in the game, but he does his best work
in close. There's a physical price to be paid for getting into
position to score LeClair-type goals. Saturday night's World Cup
finale, which included 47 minutes of penalties and a slashfest
that resulted in Tkachuk's ejection with a game misconduct,
served as a reminder that fierce hockey has an aesthetic value
of its own. "I don't think you can look back in the annals of
hockey and find three better games," Hull said of the World Cup
finals.
The message should be translated into Russian. Canada versus
Russia, long the gold standard of international hockey, has been
devalued, if for no other reason than that Russia is no longer
the Soviet Union. Apparently lost in the upheaval in the former
U.S.S.R. has been pride in performance in these global
competitions; the Russians treated the World Cup as a tune-up
for the NHL exhibition season. After his team was ousted from
the tournament, Sergei Fedorov noted that September is not the
optimal time for such an important event, but then Fedorov's
Russian-laced Detroit Red Wings, last season's Stanley Cup
favorites, demonstrated with a six-game loss in the semifinals
that May isn't their favorite time of year, either. May.
September. Gentlemen, you are running out of months.
The U.S. clearly has climbed past Russia on the hockey ladder.
David Ogrean, executive director of USA Hockey, notes that until
recently America had barely enough elite players to fill one
international-caliber team and now could fill two. Of course,
Ogrean adds, Canada could probably field four such teams.
Canadians still account for a disproportionate number of NHL
players (62% last season, compared with the Americans' 18%) but
at the game's top level there is little difference between
Canada and the U.S. The World Cup trophy that the USA players
triumphantly paraded around the Molson Centre doesn't prove that
American hockey is No. 1, though for a special month, the kind
of September people used to write songs about, it was. "This put
to rest what a lot of people said out loud and are probably
saying now in hushed tones--that the Americans didn't have the
character and grit to play the great game of hockey," Wilson said.
They did. They do. Too bad you probably missed it. Maybe you
found the World Cup while searching for an old In Living Color
episode on fX. Maybe not. Two years from now, when hockey's
Dream Teams meet in the Olympics, U.S. television viewers will
lap all this up. Then, bearing the five-ringed seal of approval
and distanced, in February, from the start of the football
season and the pennant races, top-level international hockey
will dazzle a country that adopts the sport only occasionally.
At the same time, the just-concluded World Cup, played at a
higher emotional pitch than Septembers warrant, is going to make
the upcoming NHL season seem insufferably dull.
So once upon a time some Americans without a story of their own
won the World Cup of hockey by rallying in the third period to
beat Team Canada on its home ice, turning Canadian DNA into DOA.
Because the major U.S. networks didn't show it, and it happened
in late summer, the Team USA victory wouldn't mean that much
beyond the hockey community. But, gee, wasn't it a story?
COLOR PHOTO: PHOTOGRAPHS BY DAVID E. KLUTHO Even a goalmouth scramble couldn't distract Richter from preventing the puck at the end of Fleury's stick from going in. [Theoren Fleury and other Canadian hockey players attempting to score against Mike Richter]
COLOR PHOTO: PHOTOGRAPHS BY DAVID E. KLUTHO In lending a hand to Canada's effort to save face, Adam Foote certainly didn't spare Mike Modano's. [Adam Foote grasping Mike Modano's face in game]
COLOR PHOTO: PHOTOGRAPHS BY DAVID E. KLUTHO In future tests such as the '98 Olympics, Canada won't be looking down on Tkachuk (17) and the U.S. [Keith Tkachuk in game]