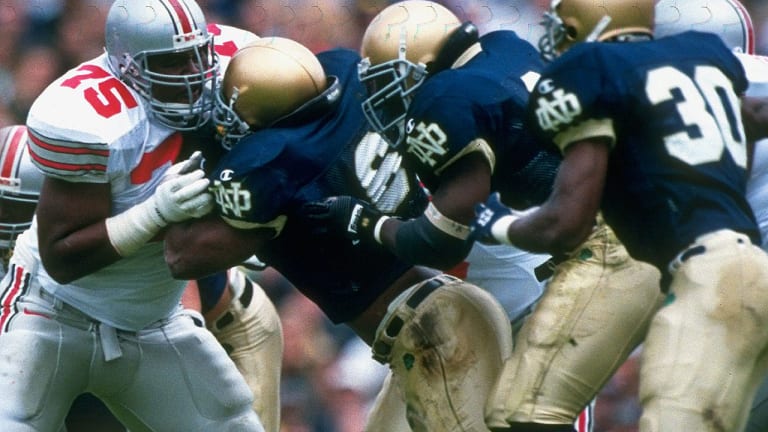 Show Stopper
Not much gets past Ohio State's Orlando Pace. Notre Dame couldn't. Bring on Penn State
The best college football player in the country didn't score any touchdowns last Saturday afternoon. He didn't rush for hundreds of yards. Didn't throw the ball, didn't catch it, didn't kick it. He didn't sack any quarterbacks or intercept any passes. When the tape of his most recent game is broken down and all the statistics are put on paper and disk, the log of his performance will read more like the menu at Denny's than the resume of a Heisman Trophy candidate: seven pancakes. The best college football player in the country stands 6' 6" (at least) and weighs 320 pounds (at least), with the girth of a grizzly bear and the feet of a ballerina. His job is to move people, and this is sweetly appropriate because, more than any other player, offensive tackle Orlando Pace has moved Ohio State into the race for the national championship.
More than 10 months have passed since the Buckeyes' brilliant 1995 season was trashed in a 31–23 loss to Michigan in Ann Arbor, a defeat that kept the Buckeyes out of the Rose Bowl and still haunts them. "When will I get over that loss?" said coach John Cooper early last week. "Absolutely never." From that team Ohio State lost four splendid offensive players to the NFL: Heisman Trophy-winning tailback Eddie George, wideout Terry Glenn, tight end Rickey Dudley (all taken in the first round) and quarterback Bobby Hoying (third round).
Yet Ohio State has rushed back into the Top 5 in the polls (No. 3 heading into this Saturday's home game against unbeaten and fourth-ranked Penn State). It has done so with laughably easy wins over Rice and Pittsburgh (combined score: 142-7) and with last Saturday's 29-16 defeat of Notre Dame in South Bend. George has been replaced by junior Pepe Pearson, who rushed for 173 yards on 29 carries and scored two touchdowns against the Fighting Irish; Glenn by a six-deep corps of receivers that underscores Ohio State's recent recruiting success; Dudley in part by sophomore John Lumpkin, who like his predecessor also plays basketball for the Buckeyes; and Hoying by the quarterback team of junior Stanley Jackson and junior college transfer Joe Germaine, who against Notre Dame combined for 13 completions in 20 attempts for 185 yards and two touchdowns. "Looks like we're in reload mode around here," said junior offensive tackle Eric Gohlstin after the game. Amid so many riches, which include a voracious defense that limited Notre Dame to less than three yards a carry on the ground, the biggest star, literally and figuratively, is the 20-year-old Pace, who last season became the first sophomore to win the Lombardi Award, given to the nation's best lineman.
Pace emerged from the locker room on Saturday afternoon, resplendent in a houndstooth check sport coat and light brown slacks, and signed autographs for fans gathered at the north end of the stadium, a duty that is customarily reserved for quarterbacks, running backs and wide receivers. "I thought I had a pretty good game," Pace said dryly. "I thought we all had a pretty good game."
He was followed by Cooper, who clutched the game ball in his right hand. A small boy wearing a replica of Notre Dame quarterback Ron Powlus's blue number 3 jersey came toward Cooper, begging for the ball, a trophy from Cooper's 150th career victory and his 100th game as Ohio State's coach. "Not this one," he told the kid. Moments later Cooper spotted Pace and nodded in his direction. "You probably noticed," Cooper said, "we spent an awful lot of time today running behind the Big Dog."
It is late afternoon, six days before the Notre Dame game. The Buckeyes are nearing the end of their practice on a grass field outside the Woody Hayes Athletic Center, and they are straining through torturous 200-yard sprints. Four waves of players are running from one goal line to the other, stopping for a beat, then running back. Pace is unmistakable among the linemen. He is the broadest and tallest of them, with such a wide chest and neck that his round head seems to sit on his round shoulders like a snowman's. He sprints with stunning economy. There is no thud with each stride; Pace simply rolls along, gliding over the turf like a much smaller man. By the last of a dozen killer runs, Pace is leading his group, eating earth in soft, giant bites.
"The guy is unbelievable," says Jim Lachey, a former Ohio State and three-time Pro Bowl offensive lineman who retired last spring after 11 years in the NFL and covers the Buckeyes for a Columbus radio station. "I mean, he's got the whole package: great feet, great hands, long arms. I try to tell people that you just don't see guys who are this big and this good. He could be in the NFL right now, and he'd easily be among the top 10 or 15 left tackles. Right now."
Pace's impact on the Ohio State offense has been palpable. "We've become obviously lefthanded," says offensive coordinator Joe Hollis. "We try to self-scout, to watch for our tendencies, but if you're a pitcher and you've got a 98-mile-per-hour fastball, you're going to throw it, even if the batter expects it."
To wit: Leading Notre Dame 15–7 late in the second quarter, Ohio State ran a touchdown-scoring toss-sweep to Pearson from the Irish's one-yard line, with Pace leading the play. It is rare to give the ball off so deep in the backfield, so close to the goal line. Cooper laughed at the retelling after the game. "Toss-sweep from the one," he said mocking his own team's call. "We can do that because of Orlando Pace."
This utter reliance on Pace took hold a year ago, when George was running for 1,927 yards en route to the Heisman. The signature game was against Illinois on Nov. 11, when George carried for 314 yards on 36 carries and Pace dominated All-America linebackers Simeon Rice and Kevin Hardy. "Simeon was a good challenge for me in my first year," says Pace. "Not too much of a challenge last year."
George, now with the Houston Oilers, says, "When situations were crucial, we always ran to his side. Every time I ran behind him was a guaranteed five yards, because he'd push his man that far backward. He's the best I've ever seen."
Pace came to Ohio State in the fall of 1994 from Sandusky, a northern Ohio town of 33,000 on Lake Erie that splits the difference between Cleveland and Toledo. He became the starting left tackle on his first day in double sessions, an ascension of unprecedented swiftness at Ohio State. Says Korey Stringer, who at the time was the team's right tackle and would leave early for the NFL (he now starts for the Minnesota Vikings) after Pace's freshman year, "We knew during fall camp that he was going to be a player. He was just so advanced technically, so smooth and natural. He's just a great athlete."
This they also knew in Sandusky, a blue-collar town that embraces its high school heroes and stockpiles their highlights in a rich, collective memory. College football pundits have taken to praising Pace's sprint alongside wide receiver Michael Wiley on a 49-yard reverse against Rice on Sept. 7, marveling at the vision of a 320-pound man steaming downfield and throwing one last block at the goal line. The good people of Sandusky saw a similar effort in 1993, Pace's senior season, in a game at Vermilion High for the league title. On a variation of the Washington Redskins' counter-trey, Pace pulled from the left side and led tailback LeAndre Moore through a huge hole on the right side. As linebackers and defensive backs alike looked for grass to grab—"Who wanted to get in Orlando's way?" says Sandusky coach Larry Cook—Pace just kept running ahead of Moore, 55 yards into the end zone. "Moore never caught him," says Cook. "Orlando looked like a sleek automobile out there."
The good people of Sandusky also witnessed Pace's athleticism on the basketball court, where Pace was a self-professed "garbageman, with a few low-post moves." In the league title game against Lorain Admiral King High his senior year, Pace scored the go-ahead basket on a putback with seconds to play in overtime. While Pace's teammates celebrated prematurely, King inbounded and rushed up the floor for a last-second shot. Pace, the only Sandusky player to get downcourt, was waiting, and when a King guard released a jump shot, Pace leaped to swat the ball out of bounds as the buzzer sounded. "Truly a remarkable athlete," says Cook.
Pace and his sister, Katrina, 24, were raised by their mother, Joyce Pace Caffey (she married Sherman Caffey last March), and maternal grandmother, Idella Pace. Joyce has worked in Sandusky for 20 years, holding a variety of jobs at the Dixon-Ticonderoga plant famous for those ubiquitous yellow No. 2 pencils. She presently operates a machine that makes colored pencils. Idella also works at the plant, hand-packing boxes of chalk. The two of them kept Orlando clothed when he was a child, dealing with his prodigious growth by buying him adult wear when he was in junior high school. Together the mother and grandmother tried to appreciate the violent game that their little man was built for. "I didn't like football," says Joyce. "I would hear from other people that children could get hurt. My son is teaching me more about it, but I still worry."
Away from the playing field, Pace conveys a disarming gentleness, thoroughly disconnected to the mayhem he creates on the field. "I definitely go through a change," says Pace. "I'm a different person out there with a uniform on."
George will vouch for this. "The thing that separates Orlando from most linemen is his attitude," says George. "He's nasty. He'll do whatever it takes to kill his opponent. He's not content to just demolish his guy. After he does that, he takes off down the field sniffing for more blood."
Pace savors the contact. "The hitting, that's what I enjoy," he says. "When I was little, I played football because I was big, so I had to play. But I've grown to love the game, the physical part of it."
He will soon need a new outlet for his aggression, a new backdrop for his metamorphosis. Much as high school football was never difficult for him, so the challenge of the college game has melted away. There is little doubt that this is his last year at Ohio State. "Once you get to a level where you're dominant and there's another level for you to go to, you have to go there," says Pace.
Short-term goals remain, a checklist that expires in January. "Rose Bowl," says Pace. "Win the Lombardi again, win the Outland Trophy [awarded to the nation's best interior lineman]." He pauses, and decides not to say the word Heisman, not to press the absurd. Then he continues. "To be the best college football player in the country."
Widespread acknowledgment that he is the best could shake the ridiculous Heisman system to its core. A lineman? An offensive lineman? Perhaps to spice Pace's candidacy, Cooper has offered to put him in the offensive backfield in the Buckeyes' goal line offense, a la William (Refrigerator) Perry with the Chicago Bears a decade ago. Pace has thus far declined, but not out of humility. "I'll go back there if they give me the ball," he says. "I don't want to be a blocking back. I can do that on the line." A touchdown or two would provide Pace with those two most hollow of Heisman essentials: highlights and statistics. Yet there is something more energizing about a lineman challenging for the crusty award on merit alone.
Three buses waited outside Notre Dame stadium for Pace and Pearson to finish a postgame television appearance. Coaches and players had been spilling from the dressing room for more than 30 minutes, stopping to assess their performances, often laying credit at Pace's feet. "The most gratifying thing was that we dominated the line of scrimmage," said Hollis.
"A couple of times out there, I knew Orlando was pulling across to block," said center Juan Porter. "Now I know he's going to crush his guy every time, which he did, so I'm just thinking I have to clear out or he'll crush me, too."
The cool, satisfied laughter of victory was in the air. Pearson and Pace—the running back and his escort—returned from the interview in a security van. As the big man walked toward the bus, he stopped to embrace his mother. She shed a small tear for her son's continued good health and survival and held him tightly. A man shoved a ticket stub in front of Orlando, asking for an autograph. Pace borrowed a reporter's pen and at that same moment he laughed out loud, throwing his head back. "Nice to be recognized," he said. Then he signed his name on the ticket in neat, flowing script.