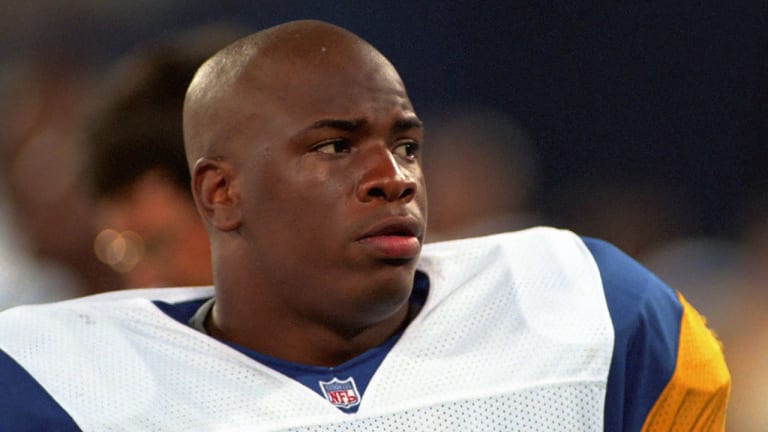 The Face of Uncertainty
The St. Louis Rams aren't yet sure what prized rookie running back Lawrence Phillips will amount to, but four games into his NFL career he is a liability on the field and a potential embarrassment off it
Lawrence Phillips stands on the sidelines, watching. As the sky spits rain, activity swirls about him: Coaches shout, the ball is snapped, 22 Rams collide. It is 72 hours before Sunday's showdown with the hated Arizona Cardinals, but all this hustle has more to do with the desperate fact that despite a glittering new training facility and the warmth of a born-again NFL city, the Rams of St. Louis remain the Rams of old--straining just to be mediocre. It is a position Phillips, the prized and troubled rookie running back out of Nebraska, never imagined for himself. Yet on this day the Rams' first-round draft pick and vessel for all hopes of building a winner is about to lose his starting job.
"Hut!" Quarterback Tony Banks drops, plants and fires a sweet bullet to seven-year veteran Harold Green, curling out of the backfield. Green, a free-agent pickup in the off-season, is where Phillips should be, serving as Banks's go-to guy against the blitz. However, only three games into the 1996 season it became clear that Phillips is more a minus than a plus in the passing offense, that he has too much to learn--and that's not good for a young team likely to be playing plenty of catch-up. So he stands, helmet in his left hand. Now Phillips, who last year was the red-hot center of college football, whose six-foot, 230-pound frame became a crossroads for burning issues from domestic violence to higher education and upon whose back a national championship was won, isn't doing much at all.
He begins to wander in a tight circle, limping slightly. The week before, in an attempt to feel less constrained, Phillips played without knee pads during a 17-10 loss to the Washington Redskins; now his left knee is braced and swollen. He shakes his cupped right hand as if he is about to toss dice. The rain streams down his neck. It is not a flattering picture. But for the moment it tells plenty about the Rams' ambivalence toward their rookie. Lawrence Phillips can't be trusted.
You won't hear that in so many words. The first thing Rams coach Rich Brooks will say about Phillips is that he's "a pleasure to coach"--diligent, a team guy who, given time, "will be a big-time back in this league." Brooks goes on to say that he will start Green against Arizona because he wants "maturity" in the St. Louis backfield to steady the rookie Banks in his first start.
But the fact is, at a time when fellow rookie backs Eddie George of the Houston Oilers and Karim Abdul-Jabbar of the Miami Dolphins have carved out starring roles, Phillips has struggled--and never more so than on Sunday, when he carried five times for a net gain of one yard in the Rams' 31-28 overtime loss to the Cardinals, giving him 110 yards on 49 carries for the season. Phillips was the first running back taken in last April's NFL draft, but he has had trouble reading the blocks of his admittedly sievelike offensive line, has no experience in reading pass coverages and is a liability when it comes to protecting the quarterback. Phillips admits all this, even pays lip service to Brooks's pulling him as a starter.
"I don't even argue," Phillips said last Thursday. "If he's going to start someone else, he does; if not, he doesn't. When he puts me in, I'm going to do the best I can. That's all I can do."
Still, there's little question that the decision to bench Phillips rubbed him wrong. After learning of his demotion last Friday, he bolted from the Rams' facility, blowing off reporters and breaking an appointment with a photographer. And that was only the latest--and smallest--embarrassment for the Rams since the front office closed its eyes, crossed its fingers and took Phillips with the sixth overall pick in the draft. St. Louis selected Phillips only after deciding that his notorious Sept. 10, 1995, assault on former girlfriend Katherine McEwen (he pleaded no contest to misdemeanor trespassing and assault charges and is serving a year's probation) was an isolated incident. Since then, however, the 21-year-old Phillips has been embroiled in a series of events that, had they happened sooner, "would've lessened the probability of us drafting him," says Rams president John Shaw.
Before the draft a psychological evaluation of Phillips commissioned by the Rams concluded that he had "maturity" problems. Phillips then seemingly set out to prove it, first by missing the third day of the team's April minicamp after having stayed out late the previous night with rookie wideout Eddie Kennison. Then on June 13 Phillips was spotted in Los Angeles, speeding, with a flat tire on his gold Mercedes. He was arrested and charged with drunken driving. Before the California highway patrolman could handcuff him, Phillips pulled off his Nebraska national championship ring and threw it in the dirt. Meanwhile the Rams also found out that in the weeks leading up to the drunken-driving arrest, Phillips had attended a raucous party at a condominium in Lake Havasu, Ariz., where police were called in to investigate. No charges were filed, but the combination of events dating back to the minicamp absence was enough for Shaw. "Obviously that created another whole level of concern," he says. When Phillips was summoned to Shaw's L.A. office a week after the party, Shaw told him to get his life in order. Still unsigned at the time, Phillips was also told to forget about receiving a signing bonus--virtually unheard of these days for a player taken so high in the draft.
From there the Rams took steps to protect themselves.The three-year, $5.625 million contract Phillips signed includes some $2 million in guarantees should he get through this season without further incident, but it is largely a pay-for-play deal: If Phillips isn't on the team, he doesn't get paid. Phillips also signed a unique, self-policing "social agreement," which stipulates that he must adhere to an 11 p.m. curfew, a limit of two alcoholic beverages a day, punctual attendance at all practices and meetings and a promise to leave any party that threatens to get out of control. That pact contains no mention of punishment if the terms are violated, but the Rams hope that by signing his name to it Phillips will become more disciplined. "I'm not making any predictions," Shaw says. "There's sufficient level of concern in this organization that this athlete has behavioral problems. He should address those problems, first for himself. We want our athletes to be responsible people."
But even after he signed the contract, Phillips didn't seem remorseful. He hired famed O.J. lawyer Robert Shapiro to represent him in his DUI case, and when asked at a press conference after his July 30 signing with the Rams if he feared going to jail, Phillips replied, "No, because I don't think I will." Asked if he did any soul-searching after the drunken-driving arrest, Phillips said, "When I go into a club, get a limo." The give-and-take degenerated from there, with Brooks threatening to end the proceedings if the "off-the-field" questions didn't stop. Since then, Phillips, on the advice of his lawyers, will answer only questions about football. "It's been tearing him up inside," said Rams strong safety Toby Wright, who played with Phillips at Nebraska. "A couple of times he just outright said, 'I'm sick of this. Why don't they just leave me alone? I can't say I'm sorry too much.'"
However, Phillips's troubles won't go away easily. His probation is scheduled to end in late November, but in early September, Lancaster county attorney Gary Lacey said he would seek to have the probation revoked because of the DUI arrest; if that happens, Phillips could face up to six months in jail. The same week, it became public knowledge that McEwen had filed a civil suit in circuit court in Kansas City, Mo., alleging a pattern of abuse by Phillips that included beatings, sexual assault and this threat from Phillips if she dated anybody else: "I'm going to shoot you in the kneecaps and then shoot you in the elbows. This is Los Angeles gang-style of dealing with people." The suit was settled quietly last week.
"I have a lot of empathy for him," says Brooks. "He's under one of the biggest microscopes anybody could possibly be under--and most of it he created for himself. I'm amazed that he's been able to go out to practice, line up, take the snap counts and not fumble 10 times, with all the things that have to be going through his mind."
Brooks, of course, has plenty to ponder himself. After a 4-1 start in his--and the organization's--inaugural 1995 season in St. Louis, the Rams have lost 11 of their last 15 games. Brooks didn't help himself when he said that this year's team should make the playoffs, and while Phillips's potential to be a prime NFL running back is unquestioned, Brooks could use some results now. Besides, Phillips owes him. During the running back's senior year in high school, Brooks, then the coach at Oregon, arranged a recruiting visit at Phillips's home in West Covina, Calif. At the appointed time Brooks found himself sitting alone in a strange house, with Phillips nowhere to be found. One awkward hour of waiting passed. "He never showed up," Brooks says.
Before the draft Brooks met with Phillips for lunch. First thing, the coach asked the player if he remembered the last time they were scheduled to meet. Phillips didn't. Brooks then told him the whole story: the appointment, the waiting. Brooks told Phillips, "I just want you to know I didn't forget that."
Should Phillips master the Rams' offense, he may well be the next incarnation of Marcus Allen, a slashing back with speed enough to outrun anyone. "We didn't see how we could pass on him," Brooks says. "We had him on the board as the best player in the draft."
Then again, he could find himself sitting in a jail cell six months from now. Every Monday, in accordance with the terms of his probation, Phillips spends several hours in anger-management counseling. Who knows if he takes it seriously or is just going through the motions? No one--not the Rams, not Brooks and certainly not Phillips--can be sure that some night he won't be found slumped over a steering wheel or venting his indecipherable anger on someone's skull. He can't be trusted. Not yet.
But the consensus seems to be that Phillips couldn't have landed in a better place. St. Louis is one of the last old-fashioned sports towns, proudly provincial, hyperprotective of its stars and politely asking only one thing in return. "I've been told by a lot of the fans, 'Listen: We'll support you, but don't embarrass us,'" Brooks says.
Phillips has endured no citizen protests since his arrival in St. Louis, no picketing by women's groups, no rude banners in the stands. "St. Louis has embraced him," says assistant head coach Johnny Roland. "It's a conservative community, and if he's out, people will be watching. They will wrap him up in a cocoon and embrace him."
The football staff has done its best to make that clear. The first time Phillips scored a touchdown in St. Louis, during a preseason game against the Jacksonville Jaguars, the packed house at the Trans World Dome responded with a rain of grateful cheering. "You hear that?" Brooks yelled in Phillips's ear. "They want to love you here!"
There is a concerted effort to keep the focus off Phillips's off-the-field travails, a tendency among his teammates to blame the media for his woes, even a small-scale attempt at softening history. "Everybody deserves a second chance, sometimes a third and a fourth," Roland says. "What Lawrence did had nothing to do with drugs. It was harassment. He didn't kill anyone. He didn't stab anyone."
On Sunday, Phillips returned to the Tempe, Ariz., stadium in which, during the second quarter of his final game as a Cornhusker, he romped 42 yards for a touchdown in the Fiesta Bowl. Nine months later, though, Phillips walked into Sun Devil Stadium with a Rams team that had already lost more games in a month than he had lost in his final two years at Nebraska. He was a backup now, and in the days before the game he seemed somehow resigned to it, oddly fatalistic, as if he had already played a dozen years and was low on gas and had no illusions about his value to anyone except as a man who can run with a football.
"I haven't done much, so I guess you could say I've had a slow start," Phillips said last Thursday. "Hopefully things will get better. If they don't, I'm not going to argue with anybody. I can't worry about what everybody says. I just do the best I can. If that's not good enough, they'll cut me or trade me. That happens all the time."
His gold Mercedes waited outside. He had a rented house to go back to. He is rich and young and, he insisted, holding up just fine. "Yep," Phillips said. "Yep."