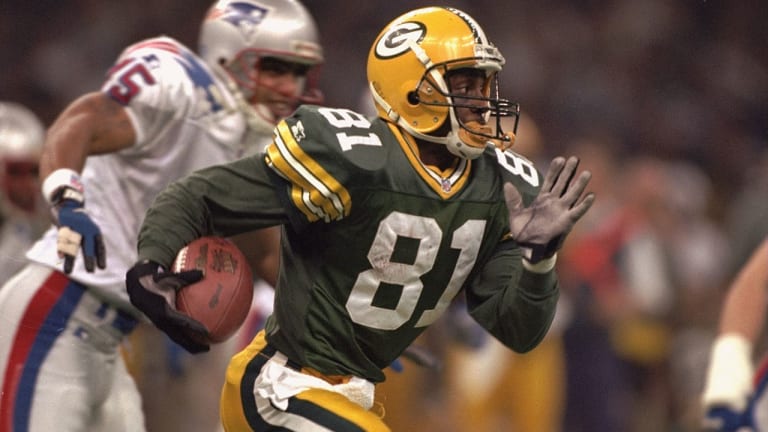 Publish date:
Return To Glory
After suffering through a week of Patriots blather, the Packers got on with the business of winning their first NFL title in 29 years.
In the heat of a moment that will forever define Super Bowl XXXI, Desmond Howard couldn't escape the chill of wounded pride. Even as Howard, the Green Bay Packers' nonpareil return man, raced down the Louisiana Superdome field on Sunday with the New England Patriots' kickoff-coverage team in his wake, he carried a Tuna-sized chip on his shoulder. With an estimated 800 million people worldwide watching him seize the day, Howard thought only of one man—Patriots coach Bill (Tuna) Parcells—and said to himself, I can't believe he's rolling the dice and kicking me the ball. After the game Howard said, "I knew that sooner or later I was going to scorch 'em."
As he reached the midpoint of his Super Bowl-record 99-yard kickoff return, Howard ran right past Parcells, who at that juncture probably had as good a chance of tackling him as anyone. But as Howard raced for the touchdown that turned a tense game into an emphatic Green Bay triumph, Parcells could only stand helplessly on the sideline and watch. For the Packers, whose 35–21 victory in Super Bowl XXXI gave the storied Green Bay franchise its first NFL championship in 29 years, that was precisely the point: After a week's worth of media coverage dominated by a 55-year-old man who craves attention the way teenage boys crave Beverly Hills Ninja, the game was decided by the men who play it.
Of all the big plays pulled off by the Packers this season, including long touchdown passes on Sunday from quarterback Brett Favre to wideouts Andre Rison (54 yards) and Antonio Freeman (81 yards), none was as dramatic as Howard's dash for cash. After playing for a near-minimum salary of $300,000 in 1996, Howard, a free agent, will reap huge financial rewards by becoming the first special teams player to be voted Super Bowl MVP. As he crossed the goal line with 3:10 left in the third quarter for what turned out to be the final points of the game, Howard should have been screaming, "Show me the money!" Instead, he was uncharacteristically barking at the Patriots, a team that had ticked off the Packers through the magnitude of its coach's ego. On Sunday, for the first time all week, Green Bay was back in the spotlight.
"This is a team that plays together, and for that reason we deserve this," said Packers tight end Keith Jackson. "Nobody is more important than anybody else, whether you're Reggie White or Brett Favre or a guy blocking on special teams. We don't get down on anyone else for making mistakes, and for that reason people don't worry about messing up. That's rare. I wish every junior high school and high school team could be around this and sniff this and sense what it's like to be a champion."
Green Bay's long-awaited return to the Super Bowl was an uplifting—almost hokey—story, but during the week leading up to the game it took second billing to the speculation about the Tuna's uncertain future. Give Parcells credit for two things: engineering a brilliant game plan that at one point had the Pack reeling, and sucking up more of the media's attention than any other coach in Super Bowl history. After preaching "no distractions" to his team all season, Parcells, whose contract with New England would effectively end with the final gun of the Super Bowl, thrust himself so forcefully into the public eye that he became a distraction not only to his own players but also to the Packers. "What really pisses me off is that no one gave Coach [Mike] Holmgren his due," Green Bay strong safety LeRoy Butler said Sunday night. "Everything was Parcells, Parcells, Parcells. I know Coach Parcells wants attention, but next time he should have more respect for Coach Holmgren."
The Parcells soap opera—as SI went to press late Monday, he was expected to sign with the New York Jets and be replaced by San Francisco 49ers defensive coordinator Pete Carroll (page 40)—made the Packers a grumpy bunch. They had also been offended by fawning portrayals of Parcells's coaching acumen in the media and by the Patriots, and by Parcells's boast to his troops that he would "show them what to do" upon reaching the Super Bowl. The Green Bay players got so sick of reading, hearing and being asked about Parcells that Holmgren felt the need to warn them at midweek not to lose their focus. But Holmgren was also bothered by the Parcells overkill. This was clear to everyone who heard his pregame speech, during which, according to one Packer, Holmgren said, "I don't have to show you how to win this game. I've already shown you how to win. You don't need me to hold your hands. Now go out and do it."
And they did it, to the point that another of the NFC's patented Super Blowouts appeared to be in the making midway through the first quarter: Rison's touchdown reception came on Green Bay's second play from scrimmage; New England quarterback Drew Bledsoe threw an interception on New England's ensuing possession; and just like that, the Packers led 10–0.
Though they would become the 13th consecutive AFC champion to lose in the Super Bowl, the Patriots rallied to represent their conference well. They hung tough against the Packers, who committed no turnovers and were called for only three penalties, and at one point in the first half looked capable of blowing out Green Bay.
Attacking the Packers' defense with a mixture of screens, play-action plays and rollouts, the Patriots took a 14-10 lead late in the first quarter on a pair of Bledsoe touchdown passes. "We were completely baffled," said Butler. "We were missing tackles, they were flying right past us, and they were pushing us around. No one had pushed us around all year, and they were killing us, doing stuff we hadn't seen before. It was a great game plan."
Green Bay had assumed, as had everyone else, that New England would try to control the clock by running the ball. That was the strategy employed by Parcells in the second of his two Super Bowl triumphs as coach of the New York Giants, a 20-19 victory over the Buffalo Bills in XXV. But Parcells put this game in Bledsoe's hands from the start, and it was hard to question the strategy when New England moved at will on consecutive first-quarter scoring drives, the second touchdown having been set up by Bledsoe's 44-yard heave to rookie wideout Terry Glenn.
The Packers figured they could unnerve Bledsoe by getting an early lead and jumping on his sideline passes. However, even when Green Bay cornerback Doug Evans picked off a throw intended for Glenn on an out pattern, setting up the 37-yard Chris Jacke field goal that gave the Pack its 10-0 lead, Bledsoe stayed calm. He completed six of his next nine passes for 108 yards, including scores of one yard to fullback Keith Byars and four yards to tight end Ben Coates.
After the Coates touchdown, Green Bay defensive coordinator Fritz Shurmur called together the leaders of his unit and delivered a scolding. As Butler recalled it, Shurmur screamed to him, ends White and Sean Jones, nickelback Mike Prior and free safety Eugene Robinson, "Enough is enough! Pull your head out of your ass and go do what you're supposed to do." Then, to Butler, he added, "Go get Bledsoe. Do whatever it takes. I'll blitz you every play if I have to—just get in his face. I want him to feel you and worry about where you are all the time."
Eventually Butler and the Packers got to Bledsoe, who threw four interceptions and absorbed five sacks while completing 25 of 48 passes for 253 yards. The Patriots should have seen it coming. Anytime an offense relies on play-action passes without demonstrating a commitment to the running game, the opposing defense ultimately will stop biting on the fakes. Bledsoe threw 15 passes in the first quarter, three more than the previous Super Bowl record for passes in a first quarter (set by the San Francisco 49ers' Joe Montana in a 55-10 win over the Denver Broncos in Super Bowl XXIV), and by halftime New England had called 30 pass plays and only seven runs.
If a quarterback was to emulate Montana in this game, odds were it would be Favre, whose Super Bowl week was a sideshow second only to Parcells's. First, Favre had his life's history dissected by a wave of reporters who visited his hometown of Kiln, Miss., about an hour's drive from New Orleans. There it was learned that when Brett was a kid, the family dog had been eaten by an alligator, that he had preferred to sleep on top of his sheets as a child so that he wouldn't have to make his bed and that he had gastrointestinal powers, said his college roommate, "that could bring tears to your eyes." Then on Tuesday a story broke in the Green Bay Press-Gazette that Favre, who spent more than six weeks in a rehab facility last spring for addiction to a painkiller, would no longer be tested by the NFL for alcohol as part of his aftercare program. With Bourbon Street beckoning, this was big news—until the report turned out to be false (page 86).
The irony was that as this talk of his resuming drinking was going down, the flu-plagued Favre could barely handle chicken soup. He spent last Thursday night in his hotel room, shivering under his covers with a 101 [degree] temperature. "I was worried," he admitted late Sunday. "I'd waited my whole life to play in this game, and now I wasn't going to be healthy. But the night before the game I slept great. I fell asleep at 9:30 with the TV clicker in my hand, and I felt pretty good when I woke up. But I was nervous before kickoff, and I kept dry-heaving all game."
Favre was clearheaded enough to burn New England for two touchdowns after making adjustments at the line of scrimmage. On the first one he detected that the Patriots, with both their safeties up at the line, were about to come with an all-out blitz. Earlier on Sunday, while watching Super Bowl XXIV highlights in his hotel room, Favre had seen Montana audible in a nearly identical situation. So Favre changed the play from 322 Y stick, a safe quick-out to tight end Mark Chmura, to 74 razor, which called for Rison to run a deep post route. It wasn't the smoothest switch—in the middle of the audible Favre yelled "Oh, s—-!" before finally barking out the signal for 74 razor—but it worked perfectly. Rison turned cornerback Otis Smith around and was open by about five yards when he caught Favre's pass at the 20. Rison duckwalked the last few yards to the end zone.
After New England had taken its 14-10 lead, Favre, who would complete 14 of 27 passes for 246 yards, put Green Bay ahead for good with another astute call. Less than one minute into the second quarter, he saw the Patriots' defensive backs line up in single coverage against a three-wideout set, with strong safety Lawyer Milloy on Freeman, the slot receiver. "A safety on me, playing bump-and-run?" Freeman said incredulously after the game. "I liked my chances." Sensing that the Patriots were going to blitz again, Favre audibled to a blocking scheme that was designed to give him maximum protection, then found Freeman down the right sideline. Freeman easily outran Milloy and free safety Willie Clay for an 81-yard score, the longest touchdown from scrimmage in Super Bowl history.
Green Bay added 10 more points to take a 27-14 halftime lead, and it looked as if New England was done. In fact, most of the Packers were surprised the Patriots had hung around that long. Consider what took place during a Green Bay team meeting last Thursday: Upon being cautioned by Holmgren to compliment New England in media interviews, outside linebacker Wayne Simmons finally snapped, "I'm tired of saying how great this team is. I've been watching them on film, and they look like crap." Other players grunted in agreement until, according to one Packer, Holmgren said, "Wayne, I appreciate your restraint. To tell you the truth, I agree with you. Believe me, I'd like to tell the world I'm going to kick Parcells's ass, too."
The Packers viewed Parcells, as one Green Bay assistant coach put it, "as what in Ebonics is known as a media ho." They bristled when Parcells's agent, Robert Fraley, leaked to The Boston Globe a story that Parcells would leave New England after the Super Bowl because of his rift with New England owner Robert Kraft. The Packers were further annoyed when Kraft and Parcells made a mock announcement at a midweek press conference that Parcells had been signed to a 10-year contract to manage the Kraft family's paper mill. The joke landed like Ted Danson's blackface gag at the Friars Club a few years back. "Parcells jinxed his team by starting all that s—-," Butler said while stewing in his hotel room last Friday night. "Mike [Holmgren] is really pissed."
Howard was a tad angry as well. Given his three punt returns for touchdowns during the regular season and his pivotal performance (two long punt returns, one for a score) against the 49ers in Green Bay's divisional playoff victory, he felt the Patriots shouldn't have been so vocal during the week about their intentions to kick to him. Howard broke free for 32 yards on his first punt return, setting up the game's initial touchdown, and helped facilitate a second-quarter field goal with a 34-yard runback of a punt. Still, the New England players were barking at him, saying, "Nothing for you today, baby. We going to shut you down," and Howard returned their affection. "I have never, ever talked so much during a game," he said later, his hoarse voice the proof.
Howard said he told Favre at halftime, "I'm going to take one of these kicks back; it's only a matter of time." He struck at the perfect time, after the Patriots had cut the Pack's lead to 27-21 on a seven-play, 53-yard touchdown drive that culminated in halfback Curtis Martin's 18-yard run.
Cognizant of New England's tendency to kick the ball to the opponent's right side, Green Bay's coaches for this game had switched Howard from the left side to the right for the first time all season. He caught the ball at the one, burst up the middle and swept through the Patriots' coverage for his first kickoff return for a touchdown as a pro. "We were feeling good before that," Clay said, "and then Desmond Howard broke our backs." A two-point conversion put Green Bay up by two touchdowns. New England still had lots of time, but the Packers' defense clamped down, as White got all three of his sacks in the final 18 minutes.
After the game Howard, who finished with a Super Bowl-record total of 244 return yards, and his agent, Leigh Steinberg, shared a limousine ride from the Superdome to the Packers' hotel with a representative from Disney, who discussed a TV commercial and a parade appearance. Chewing nervously on the wrapper of a huge victory cigar, Howard listened as Steinberg filled him in on offers to appear on Leno and Letterman. Then Howard worried aloud about shipping a new car he had recently purchased from Green Bay to his home in Boca Raton, Fla., until the Disney rep interrupted. "Uh, Desmond," he said, "I think after tonight you can afford to have your car shipped just about anywhere you want it, as many times as you want."
Upon reaching the hotel Howard was whisked into a service elevator and up to his room. Eventually he made it back downstairs to the Packers' victory party, a raucous affair from which Favre sought temporary refuge in a nearby stairwell. There Favre reflected upon his tumultuous off-season, which included the death of his best friend, Mark Haverty, in a car accident in which Brett's brother, Scott, was driving.
"Through everything," Brett said, "I really believed I'd be here today." He laughed and continued, "Right here in this stairwell, talking about being world champions. My best friend's gone forever. Trouble never seems to be far away, and the future won't be all rosy, but they can't take this away from me. Thirty years from now, the kids will be getting ready for Super Bowl LXI, and NFL Films will drag out Steve Sabol—he'll be around 102 then—and he'll talk about how Brett Favre fought through such adversity. And there will be other players and coaches. But I know this: We etched our place in history today."