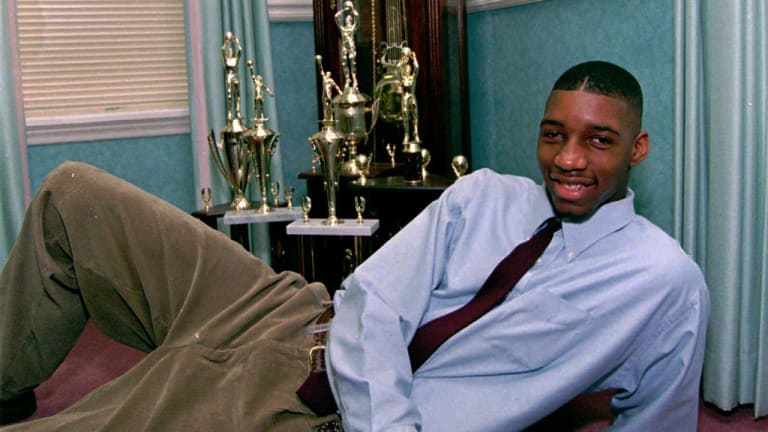 Publish date:
Onward Christian Soldier
A year ago Tracy McGrady was an unheralded high school player looking for direction. he signed up at Mount Zion Academy, and now he's pointing straight toward the NBA.
Eight months ago he was nicknamed Pumpkinhead. Today he's called Showtime. Eight months was Tracy McGrady's gestation period, the time it took him to be conceived, polished, delivered and perhaps even a little corrupted by the basketball star system. In that time he has gone from being an obscure Florida high school player to the brink of the NBA draft. From a nobody to the Man. Tracy always figured he'd need a guardian angel if he was to navigate the incredible journey to the pros that every player dreams of, so it's no wonder he jumped last May when the man on the telephone said he was from Mount Zion Christian Academy.
Maybe it's the 17 housemates. Or the 4:45 a.m. wake-up calls to run five miles in the dark. Or the 15 hours of church services and Bible study every week. Or maybe it's the ban on earrings and phone calls, Walkmans and girlfriends, even trips to the mall. Or maybe it's that Mount Zion plays only six home games this season and 22 on the road, where Tracy is the focal point of hostile crowds and aggressive double teams. Whatever. Several times every day he asks himself how he could have left his doting grandma, Roberta Williford, and sunny Florida for this.
Tracy understands that without both the national exposure and the draconian discipline he has received at Mount Zion, he would not be plotting to skip college and enter the NBA draft in June, to follow in the path of Kevin Garnett, Kobe Bryant and Jermaine O'Neal.
Mount Zion is a coed private school in Durham, N.C., with only 200 students in kindergarten through 12th grade. The Mighty Warriors' basketball coach, Joel Hopkins, refers to his program only half jokingly as "a Christian boot camp," where he shepherds youths like Tracy, players who need some guidance in their lives. Hopkins is a taskmaster who doesn't care that he is compared openly--and unfavorably--by his players to everyone from Bobby Knight to John Gotti. "We're strict with the kids, but that's because we're primarily dealing with the unchurched, the young people who have fallen through the cracks of society," says the Reverend Donald Fozard, who founded the school in 1985. "We're here to give them second chances and benefits of the doubt."
This is a place where the value of faith and mulligans is understood: Fozard is the brother-in-law of former NBA player and coach John Lucas, who runs a drug rehab program that has helped numerous athletes; and Hopkins was expelled from North Carolina Central University in 1990 for smoking marijuana. But Mount Zion is also a fledgling basketball factory, a more pious version of prep schools like Oak Hill Academy in Mouth of Wilson, Va., and St. John's at Prospect Hall in Frederick, Md., that over the last decade or so have groomed some of the nation's best players. The success of these basketball programs, which have consistently earned high national rankings, has served to boost their schools' profiles. While Hopkins claims that Mount Zion doesn't recruit, he does coach players from six states, and he has a budget for scholarships worth over $75,000 that all 13 of his players share to help pay the $8,600 a year tuition. Fozard, an ardent basketball fan who has been known to praise the Lord and castigate a ref in the same breath, proudly proclaims that 90% of the Mighty Warriors' scholarship money is contributed by the more than 1,000 members of Mount Zion Christian Church.
Tracy lives in a 14-room house with Hopkins and his wife, Pam, their three children and the other 12 Mighty Warriors. Living under one roof has helped the Mount Zion players mold themselves into perhaps the finest high school team in the country: They had a 20-1 record at week's end despite playing almost exclusively on the road. The Mighty Warriors were second in the nation in last week's USA Today Super 25 high school rankings, and there may be as many as nine Division I prospects on the roster. It's a team so talented that one senior, small forward Brian Williams, is weighing scholarship offers from UCLA and Maryland, yet he can't crack the starting lineup.
By far the mightiest Warrior is Tracy, a 6'9" senior who was averaging 27.4 points and 9.1 rebounds through Sunday, while playing all five positions on the floor. He is a human Play of the Day. His dunks are the stuffs of legend, but the one they talk about the most on campus is the time he caught an alley-oop pass while soaring past the basket and reached back and executed a reverse jam over two defenders. "There are plenty of moments when I sit on the bench in awe of his skill," Hopkins says. "I'd buy a ticket to watch him play pickup ball."
Says Mount Zion assistant Cleo Hill, "There aren't many 6'9" guys who can score at will in the post and hit the three-pointer. When he turns it on, you can tell he simply doesn't belong here."
In a game against Atlantic Shores Christian School of Chesapeake, Va., on Jan. 10, the first Mount Zion home game in 41 days, Tracy performed like a salesman showing off his wares. In the first quarter he made four poster-quality dunks. In the second he nailed three three-pointers and scored 11 points in a span of only 53 seconds. In the third he played point guard and distributed the ball artfully on the break. In the fourth he stole an inbounds pass and capped the night with a reverse slam. He finished with 36 points, 11 rebounds, seven assists, three blocks, four steals, one turnover and eight dunks in Mount Zion's 92-44 victory. When he left the game with two minutes left to play, some Atlantic Shores fans booed Hopkins for removing him.
Afterward one NBA scout muttered to himself the question that has shadowed Tracy for the last eight months: "Where the heck did this kid come from?"
Tracy McGrady's hoops fairy tale began at the end of last season, his junior year at Auburndale (Fla.) High, where his best friends knew him simply as Pumpkinhead because as a kid the width of his skull was regrettably close to that of his shoulders. Despite averaging 23.1 points and 12.2 rebounds with the Bloodhounds his junior year, Tracy's name did not appear on any recruiting service's list of Division I prospects. Only Florida and Miami had displayed even tepid interest in him, mostly because Auburndale never played in high-profile tournaments and he was never invited to summer camps. He even missed the spotlight of the district tournament last March because he was suspended for talking back to a teacher.
Tracy was living in Roberta's house, as was his mother, Melanise. Tracy, who was raised by Roberta, calls both women mom. He did the minimum classwork necessary to stay eligible to play for the Bloodhounds, and because he lacked the grades to play at a Division I school, he figured he'd wind up at nearby Polk Community College. "The kid has never had much guidance or discipline in his home life, so he has always been a wanderer, and I felt he had reached a crossroads," says Alvin Jones Jr., the basketball coach at neighboring Kathleen High, who has known Tracy since he was 10. "Down one path I saw a scenario in which Tracy might get into another incident at school, lose basketball and then drop out. And he might wind up on the streets. Down the other path I saw the way out. I saw Mount Zion."
Jones, who at one time had considered sending his own son to Mount Zion, phoned Hopkins last May to tell him about Tracy. Soon after, Hopkins drove to Orlando to go to Disney World with his family, and while he was in Florida he went to Auburndale to meet with Melanise, Roberta and Tracy. When Tracy walked into the living room wearing two earrings, Hopkins threatened to leave if the jewelry wasn't removed immediately. He then delivered his pitch and offered Tracy a scholarship. Tracy mulled it over, and when the Hopkinses drove back to Durham, Tracy went with them.
Hopkins put Tracy through a month of vigorous conditioning and basketball drills and then traded on his school's affiliation with Adidas to get him invited to the ABCD camp in Teaneck, N.J., in July. It was a coming-out party. Tracy won the camp's most valuable player award and provided its most memorable moment. During the senior all-star game, he dribbled down the left wing on a fast break and found only James Felton, a 6'9" blue-chipper from Bayonne, N.J., who has signed to play for St. John's next year, between him and the hoop. Without hesitation Tracy cupped the ball in his right hand and executed a windmill dunk over James. Dozens of campers streamed out of the bleachers, hollering and high-fiving each other. "I was trying to put on a show," Tracy says. "After I made that dunk, I had chills run through my body. It's like the moment I knew I had finally arrived."
"Nothing like Tracy had ever happened before at ABCD," says Sonny Vaccaro, Adidas director of basketball, who has run the camp for 13 years. "His name spread through the camp like wildfire. We've had kids come out of the woodwork before, but they were at least known by somebody. Tracy was a complete unknown."
All that week Hopkins, who is overseeing the recruiting process for Tracy, was besieged by the college coaching elite: Kentucky's Rick Pitino, Georgetown's John Thompson and Syracuse's Jim Boeheim were among dozens of coaches who suddenly expressed interest in a player they had never heard of just a week earlier. The recruiting newsletter Hoop Scoop praised Tracy as "the sleeper of the decade." Talent guru Bob Gibbons, who hadn't placed Tracy among his top 500 prospects before the summer, installed him at No. 2 behind forward Lamar Odom of Redemption Christian Academy in Troy, N.Y., who is the other choice as the top player in this year's senior class.
In early December, as Mount Zion's season got under way, Hopkins received a phone call from NBA superscout Marty Blake asking for a schedule. Scouts from a dozen NBA teams have come to Mount Zion to see either a game or a practice, and almost every one of them guaranteed Hopkins that he had a first-round pick on his team. Said one NBA scouting director, who wished to remain anonymous, "I think there'll be a lot of consternation about this kid coming out early, and about how the world is going to come to an end, but when teams bring him in for a visit and compare him with the college seniors who are coming out, I think the kid will fare well. I'd say he'll go in the first 18 picks."
By the time Melanise and Roberta arrived in Durham for a Thanksgiving visit and to lobby for a college education, Tracy had already rehearsed his rebuttal. He told them, "If you're somebody who can be a top draft pick, then why even go to college? That's a chance most kids can only dream about."
Any lingering doubt Tracy may have had about his pro prospects was erased at the Reebok Holiday Prep Classic in Las Vegas in late December. Because of its premier field, this tournament has long been a must-see for college recruiters, but never in its 20-year history had a pro scout attended. This year 15 NBA scouts showed up. Tracy won tournament MVP honors by scoring 24 points in Mount Zion's 63-55 win over Harvard-Westlake of North Hollywood, Calif., in the final. Lamar Odom also played in that tournament and spoke with Tracy about the future. Lamar kept hammering a single theme: "Tracy, you're the best high school player around. You need to go to the NBA."
These days Tracy is listing heavily toward taking Lamar's advice. "As my high school season goes on, it's kind of boring sometimes," he says. "I think I have the potential to make it in the NBA, and I'll go if I'm a top-15 pick. I want to get paid to play so I can help out my mom and grandmother."
Where does a kid develop that kind of hubris? Listen to the hyperbole of his coach. "In my opinion there's Tim Duncan at Wake Forest and then Tracy is the second-best basketball player in the state of North Carolina," Hopkins says. "That includes all of the Charlotte Hornets."
Love letters from colleges around the country are still pouring in, but Tracy hasn't opened any of them. He says if he were to attend college, Kentucky would be his first choice. In fact, Kentucky had to cancel a November press conference at which it expected to announce Tracy's commitment to the Wildcats. According to Hopkins the meeting with the press was called off because Tracy and his mother disagreed on where he should go. Tracy favored Kentucky, his mom wanted him to go to Florida State. Also, Tracy has yet to earn a test score high enough to allow him to play in Division I, which limits his options considerably.
Meanwhile, Tracy indulges in a regular fantasy about what it would be like to play against his idol, Penny Hardaway of the Orlando Magic. Tracy wore number 25 at Auburndale to match Hardaway's number at Memphis State; now Tracy wears 1, just as Hardaway does in Orlando.
That kind of hero worship is just part of the evidence that Tracy is still a 17-year-old. His body is an underdeveloped 195 pounds. He coasts for long stretches of games. The trip to the ABCD camp this summer included the first airplane flight of his life.
For all of the NBA fascination with Tracy, the prevailing sentiment around the league is that he would benefit from some experience in college. Says Golden State general manager Dave Twardzik, "Would McGrady be making a mistake by coming out now? Absolutely."
Even Tracy's teammates question the wisdom of his joining the pros next season. "I'd like to see him go to college because you're only young once," says senior guard Max Owens, who will attend North Carolina. "Heck, Tracy's gained so much fame in such a short time, you wonder if he's too caught up in all that NBA hype and really understands what a huge step he's about to take."
Worse than that, you wonder if the clock will strike midnight in this Cinderella story and Tracy McGrady will turn back into Pumpkinhead.
COLOR PHOTO: PHOTOGRAPHS BY JIM GUND Just about every NBA scout says that it would be a mistake for Tracy to bypass college, but try finding one who wouldn't draft him. [Tracy McGrady in midair]
COLOR PHOTO: PHOTOGRAPHS BY JIM GUND A dress code and long hours in church sometimes make Tracy (second from right) yearn for home. [Tracy McGrady and classmates in church]
COLOR PHOTO: PHOTOGRAPHS BY JIM GUND With 27.4 points and 9.1 rebounds a game, Tracy has led Mount Zion to the No. 2 national ranking. [Tracy McGrady in game]
COLOR PHOTO: PHOTOGRAPHS BY JIM GUND School rules say Tracy can't just shoot, he has to dish too. [Tracy McGrady washing dishes]