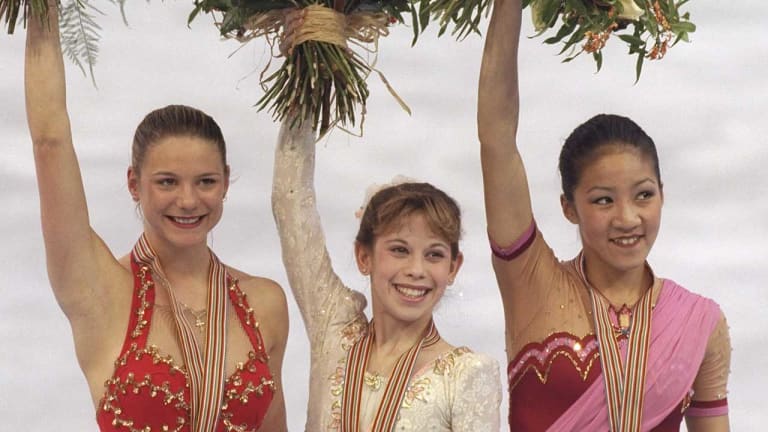 Publish date:
KID STUFF
TARA LIPINSKI, WHO'S JUST 14, WAS SWEETHEART OF THE SKATING NATIONALS, WHILE TO 16-YEAR-OLD MICHELLE KWAN FELL THE ROLE OF THE SPORT'S FALTERING GRANDE DAME
The littlest came last: a girl so young--14--that only last week she'd lost her final baby molar; a girl as tiny, at 4'8" and 75 pounds, as the tooth fairy. But the elfin Tara Lipinski had been cunningly groomed for this moment. So when she took the ice last Saturday night at sold-out Nashville Arena, a buzz of anticipation swept through the crowd for the first time all week. Here, at last, was the drama we've come to expect of the U.S. Figure Skating Championships. Could she win the ladies' crown? Would the judges let her?
Until then the question on everyone's lips had been, Where's the passion? And where, oh where, were the tears? A figure skating championship without tears is like a country music tune without Mama, heartache or a pickup truck. It don't sell. Reigning world champion Todd Eldredge won his fourth men's title and seemed as excited as a man who had just passed through the checkout line at Kroger. "I skated O.K.," Eldredge said, by way of a review of his performance. At these championships, O.K. was good enough to win.
Thus it was left to the women's competition to put a bloom on the week and to remind everyone that in this most precarious of sports--in which entire futures are balanced on a sliver of metal digging into a shaving of ice--there is simply no such thing as a sure bet. Though if ever there was, Michelle Kwan was it.
The 16-year-old Kwan, who is from Torrance, Calif., had been on a self-described roll. Poised beyond her years, confident in her prodigious talent, she had won nine competitions in a row over the past 11 months (including the 1996 world championships) and 14 of 15 since the fall of '95. She had whipped the best of the professional skaters--'92 Olympic champion Kristi Yamaguchi--in something called the Ultimate Four competition and appeared to be a shoo-in, not just to win these nationals and next month's worlds in Lausanne, but to win the '98 Olympics as well. "I want to be a legend, like Dorothy Hamill and Peggy Fleming," Kwan had candidly said to Jere Longman of The New York Times in one of a series of interviews she did before the nationals. At 16 she was a champ with her eye on the ages.
But in a good way, a respectful way. There didn't appear to be any skater in the U.S. or elsewhere who could match her seamless combination of athleticism and artistry, so Kwan had raised her sights toward history. How did Brian Boitano and Katarina Witt do it? she wondered last week after easily winning the short program. How were they able to successfully defend title after title? (Boitano won four national titles and two world championships; Witt won two Olympic gold medals.) How did they maintain their focus?
You just have to concentrate on one event at a time, Boitano told her. Don't get ahead of yourself. The advice of her coach, Frank Carroll, was equally sound. "You have to skate like you're taking the castle, not defending it," he said.
It was with those words in her head that Kwan took the ice as the next-to-last skater Saturday night--confident, poised and aggressive. While getting off to a solid start she landed her second-most-difficult element: the triple Lutz-double toe loop combination. Then she swung right into a planned triple toe-triple toe. She landed the first triple but doubled the second and fell. Hard. She doesn't fall often, especially not in competition, and she became discombobulated. "I was standing up, then I was on the ice, and it was like, What happened?" Kwan said afterward. "I panicked."
A hush of disbelief fell over the audience, and then came a groan as Kwan stumbled badly on her subsequent jump, a triple flip. Next was a triple loop, and Kwan fell again. The fans had seen enough. She needed help, and they clapped and cheered for the defending champion to pull herself together. It worked, too. Kwan fed off the energy and later thanked the crowd for the support. She finished strongly, but the damage had been done: She had landed only four of her seven triples cleanly. The castle gate was wide open.
Lipinski didn't have to be asked through twice--although the invitation came a few years before anyone expected it to. (Richard Callaghan, Lipinski's coach, had said they were building toward the 2002 Olympics.)
Lipinski, an only child, grew up near Newark, Del., and started skating at age six at the University of Delaware Ice Arena. At nine she moved with her parents, Pat and Jack, to Sugar Land, Texas, near Houston, where she trained for two years before it was clear to her mother that Tara's talent had surpassed the level of instruction she could get in the Lone Star State--not exactly a hotbed of figure skating. Mother and daughter moved back to the Delaware Figure Skating Club for two more years while Jack stayed in Houston as vice president of Coastal Corp. so he could pay the bills. At 12 Tara became the youngest gold medalist ever at the Olympic Festival. When Tara was 13 the Lipinskis raised eyebrows as she and Pat went on a whirlwind coaching tour, interviewing and taking sample lessons from the likes of Carlo Fassi and Kathy Casey before settling on Callaghan, who coaches at the Detroit Skating Club. This time the prodigy was discovering the mentor.
Nothing about the rise to stardom of Lipinski, who has reached the ninth-grade level under private tutors, has been accidental. She had an agent, a public relations firm and at least one endorsement contract before she had won anything more substantial than the South Atlantic Senior championship. Her potential was all too apparent; the only question was whether a growth spurt would--or still will--detract from her ability to land her startling array of jumps. At her first U.S. nationals appearance in the senior division last year, Lipinski finished third, and she followed that up with an impressive 15th-place showing at her first worlds, where she landed seven triple jumps in a sparkling long program that pulled her up from 23rd place.
Since then Callaghan has taken a page from the book according to Kwan: He has tried to make his skater appear more mature. Both Lipinski and Kwan have long hair tightly coiffed in buns. Both wear makeup--lipstick, mascara, the works. When Jo-Ann Barnas of the Detroit Free Press wrote that little Tara had lost her final baby tooth last week, Callaghan fumed, fearing such a revelation would reinforce Lipinski's childlike image in the judges' minds.
Other changes for Lipinski were more substantive. She began working three days a week with a ballet instructor, which has reined in her coltishness and helped her move with more grace. Renowned choreographer Sandra Bezic was hired to create programs for Lipinski that expressed delight yet looked adult. Both her short program, skated to a portion of the sound track from the movie Little Women, and her long program, skated to excerpts of the sound tracks from Sense and Sensibility and Much Ado About Nothing, struck the right chord between innocence and stylishness. "I want her to look like she's 14, but a sophisticated 14," Callaghan said.
However the handlers wrapped the package, Lipinski was still a kid. For her to beat Kwan--even on Kwan's worst day--she was going to have to skate the judges into a corner by landing every jump in her difficult program. Callaghan knew it, Lipinski knew it, and the crowd knew it as she took the ice after Kwan's collapse.
Lipinski opened with a line drive of a double Axel that never got more than six inches off the ice. She is not a great leaper, but she spins so fast that she seems to dematerialize, like Tinkerbell, in the midst of her jumps. She followed with a much more solid triple flip, and just like that the crowd, which moments before had been Kwan's, was hers. Clean, fast, polished, Lipinski filled the ice with delicate spins and spirals. Midway through the program, when Lipinski landed what is believed to be the first triple loop-triple loop combination ever done in competition, by man or woman, the audience let out a roar that didn't stop until after the flying camel she unveiled at the end. It was obvious to everyone in the building--everyone except Elaine DeMore of Cleveland, one of the nine judges--that Lipinski had won, becoming the youngest U.S. ladies' figure skating champion, replacing Sonya Klopfer, who was 15 when she triumphed in 1951. "I'm in shock," said Lipinski, her eyes filling half her face. "I'm on a different wavelength. Something high."
Don't think for a moment that this win signifies a passing of the torch. Kwan will be back and may, someday, become the legend she dreams of being. Lipinski now carries the burden of lofty expectations--her own and those of others--on her waiflike frame. She'll find the jumping tougher with that added weight. Neither she nor Kwan is yet in her prime, and in the next few months and years the two will push and pique and poke each other along.
This rivalry is just beginning to grow its teeth.